The New York Trilogy by Paul Auster





Carmine red edition,
numbered from 1 to 1,000
 Free shipping

"It was a wrong number that started it, the telephone ringing three times in the dead of night, and the voice on the other end asking for someone he was not."
(City of Glass, Page 1)
The manuscripts of The New York Trilogy
At the prestigious New York Public Library, on the Berg Collection's shelves, lay historical and literary treasures, such as Paul Auster's archives. Hundred of boxes are filled with manuscripts, drafts, typescripts, pages of famous novels, correspondences… We had the chance to have access to them thanks to the famous writer and the curator, Isaac Gewirtz, who guided us through this captivating labyrinth of documents.
This edition is the reproduction of The New York Trilogy's manuscripts. From a first draft for City of Glass, entitled New York Confidential, then a typed version of Ghosts, entitled Black outs, to a quite advanced manuscript of The Locked Room: reading them is a fabulous dive in Paul Auster's extremely creative laboratory. They allow an accurate eye to understand the layers which compose each novel, and they are the testimony of the work in progress, also highlighting what Paul Auster considers as a full artistic process, the choice of the titles - The Locked Room was initially called Ghosts.
.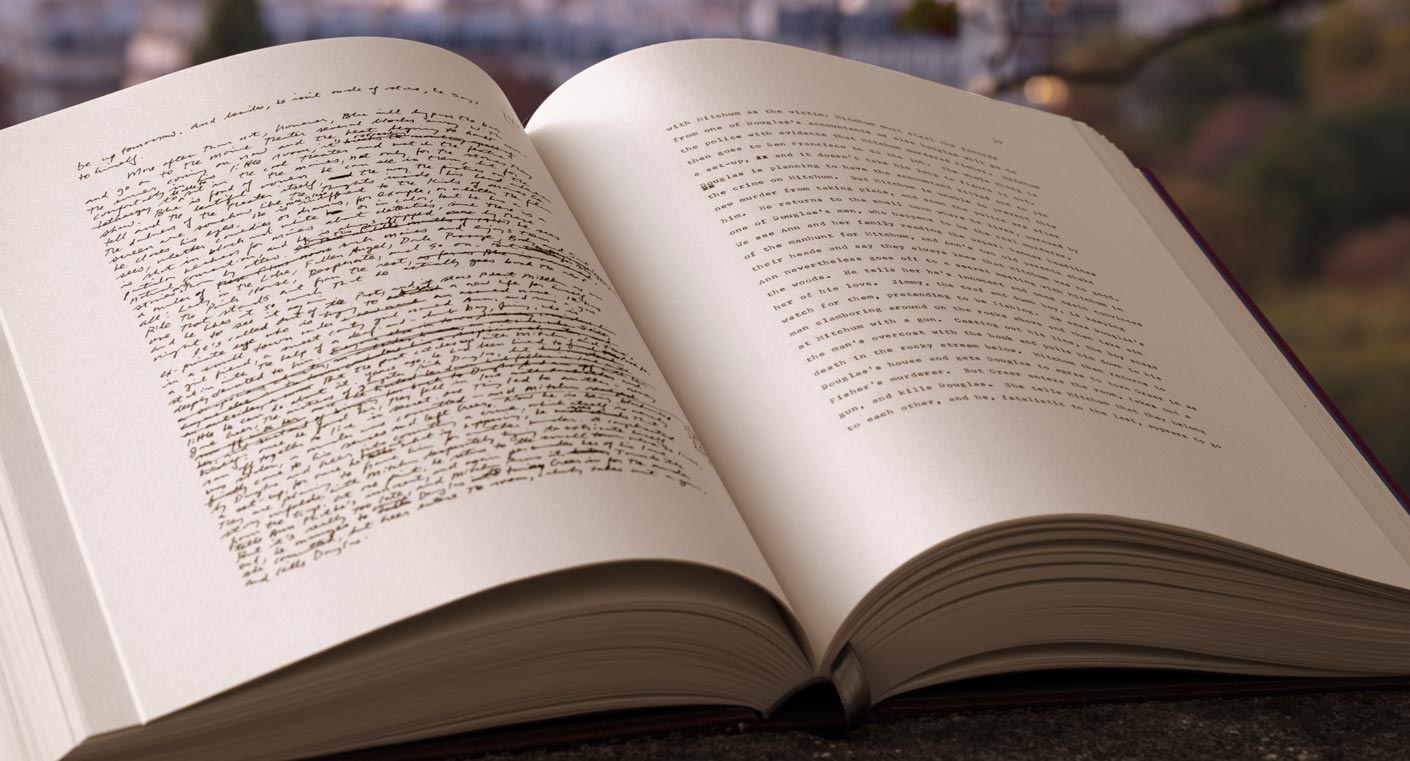 The metamorphosis of the writing
Paul Auster is one of the last authors who still write by hand. And he makes it with a deep accuracy: as he once confessed in an interview, he always begins by sketching the story in very vague terms such as "1. New York. Someone goes home. 2. Pittsburgh. Something about…", before he develops the plot in notebooks, rewriting paragraphs up to seven times and spending sometimes six hours on a single one. Once the hand-writing is over, the text is typed. The typescripts are then covered with many corrections with a pen, in the margins or on the left pages.
Those typewritten versions get loaded again with many corrections in pen, written in the margins or on the left pages. Black Outs gives a good example of this stage of the text.
.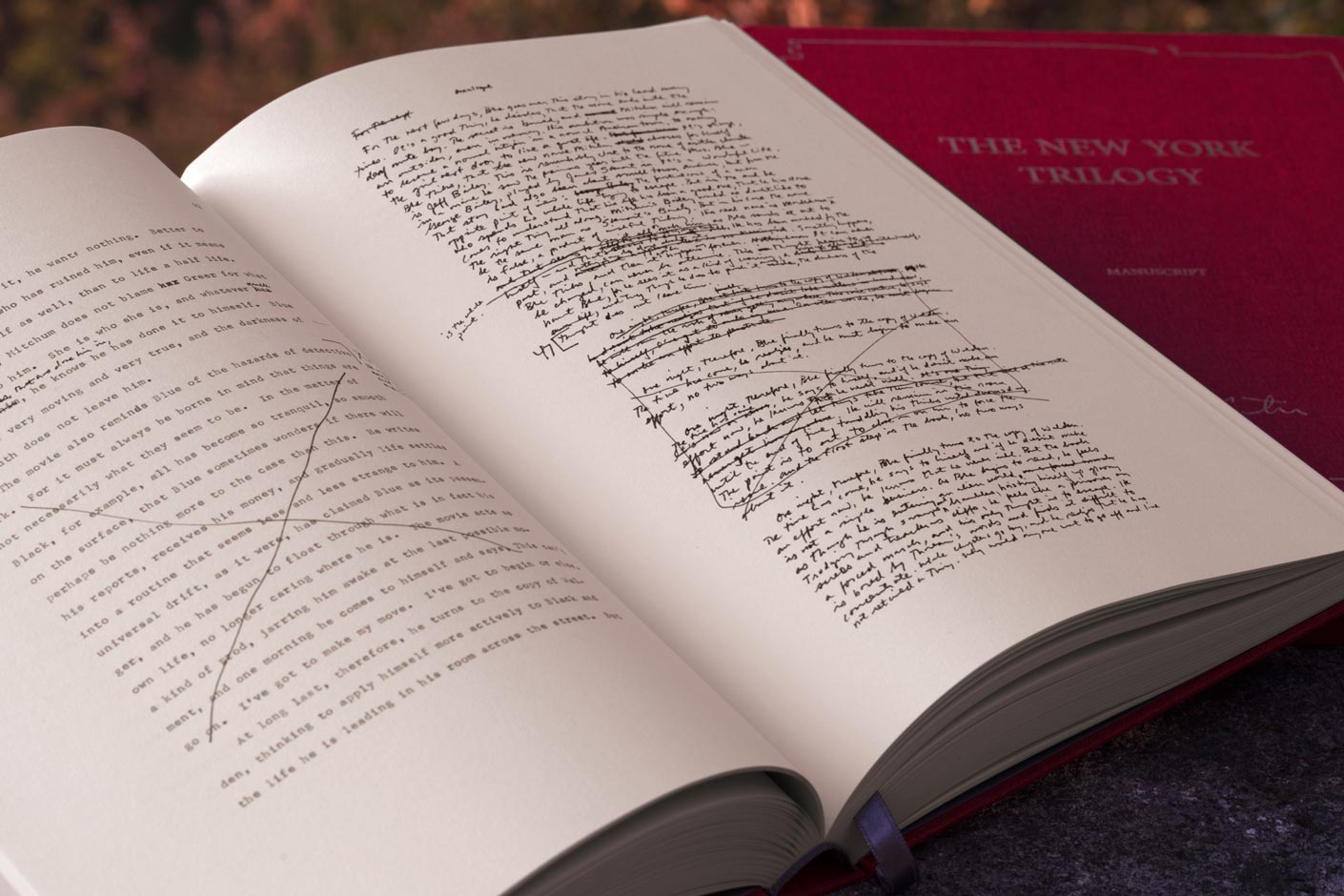 Paul Auster's secrets of composition
The three plots forming The New York Trilogy were written separately. Their brilliant architecture and narration, which contributed to their success and audience, are giving a taste of a certain detective literature. The manuscripts, for example, reveal many references to cinema, American and European literature used by Auster - that do not appear in the final versions the public knows. City of Glass was for instance originally entitled New York City Confidential, in reference to Russel Rouse's movie (1955).
.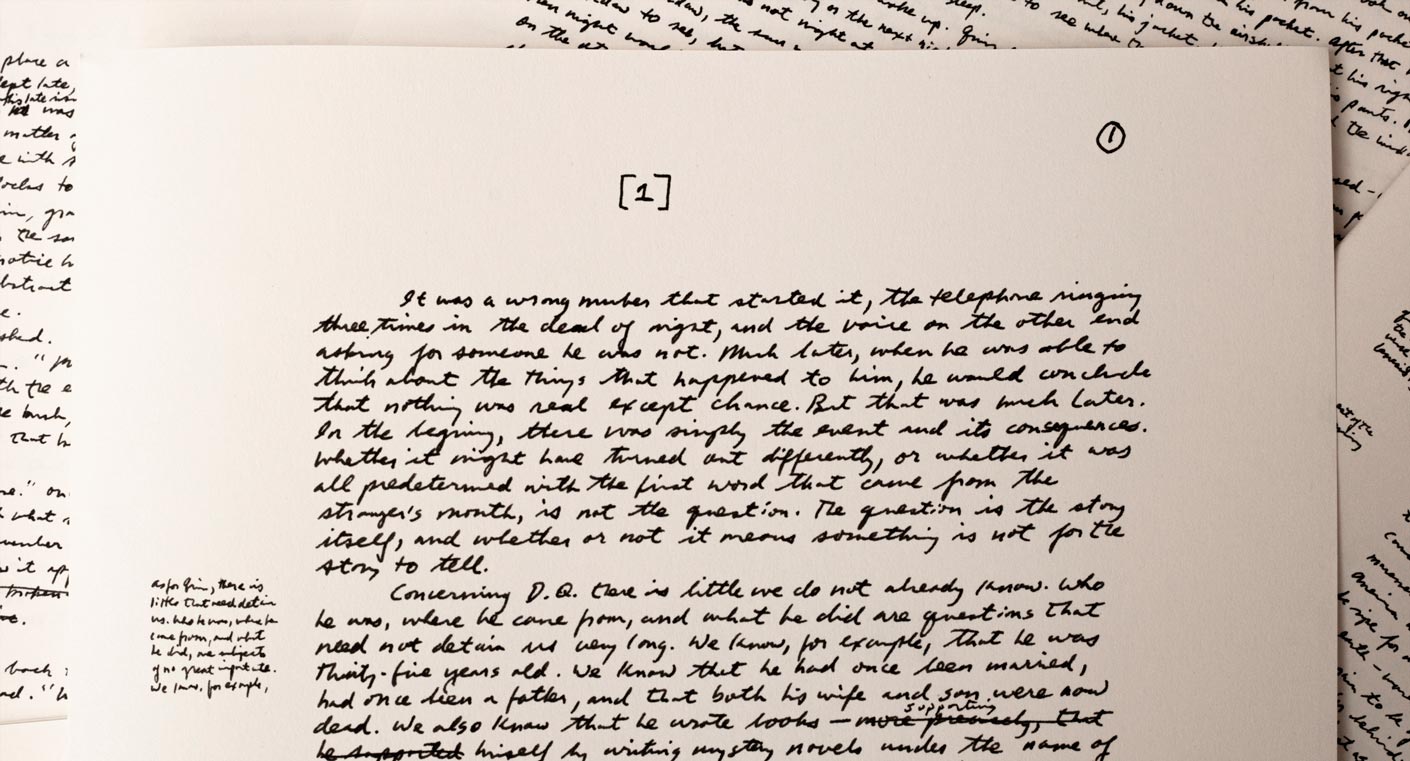 Often considered as Paul Auster's masterpiece, The New York Trilogy earned him a worldwilde success, with a particularly enthusiastic reception in France. However, City of Glass was first rejected by seventeen publishers before it was released and selected, almost immediately, for the prestigious Edgar Allan Poe Awards in 1985. This first volume was followed by Ghosts and The Locked Room in 1986.
Deluxe edition
Numbered from 1 to 1,000, this Carmine red edition is presented in a large format handmade slipcase.
Printed with vegetal ink on eco-friendly paper, each book is bound and sewn using only the finest materials.
Carmine red edition
1,000 numbered copies
448 pages - 10 x 14''
Fedrigoni Avorio Paper
Endband and bookmark
ISBN: 9791095457558

With the release of the New York Trilogy manuscript, the three novels bring newer and even deeper levels to understanding Auster, yet they are still only pieces. "There were many stages of each book," says Auster, "But these are snapshots, I suppose, of each book at one moment or another." The manuscript itself is large and lavish—as Auster puts it, "Vivid.
(...)

In 1985, Paul Auster's City of Glass introduced an important new voice in American postmodern fiction. After City of Glass, Auster wrote Ghosts (1986) and The Locked Room (1986). In 1987, these works were collected in a single volume as The New York Trilogy, a trio of meta-fictional detective stories full of experimental and ironic postmodern touches. French publisher SP Books released a limited edition of The New York Trilogy featuring Auster's original handwritten manuscript and notes
(...)
Bibliophiles, rejoice! French publisher SP Books is releasing a limited edition of this classic trio of novellas.T he book, gleaned from Auster's considerable archive at the New York Public Library and assembled with his cooperation, features the author's original manuscript, including the drafts, marginal scribbles, and other fascinating details that provide a uniquely revealing look into the author's artistic process.
(...)