Ivory edition,
numbered from 1 to 1,000

The original masterpiece of Charlotte Brontë, a manuscript of just over 824 pages, reproduced in a three-volume edition illustrated with engravings by Edmund Garrett.
Jane Eyre, Charlotte Brontë's manuscript
In this three-volume box set, the original manuscript of Jane Eyre is reproduced in a luxury edition restored by our team of specialized graphic designers. This elegantly handwritten document by Charlotte Brontë is illustrated with engravings by the artist Edmund Garrett, created almost forty years after the death of the novelist for an edition published in 1897.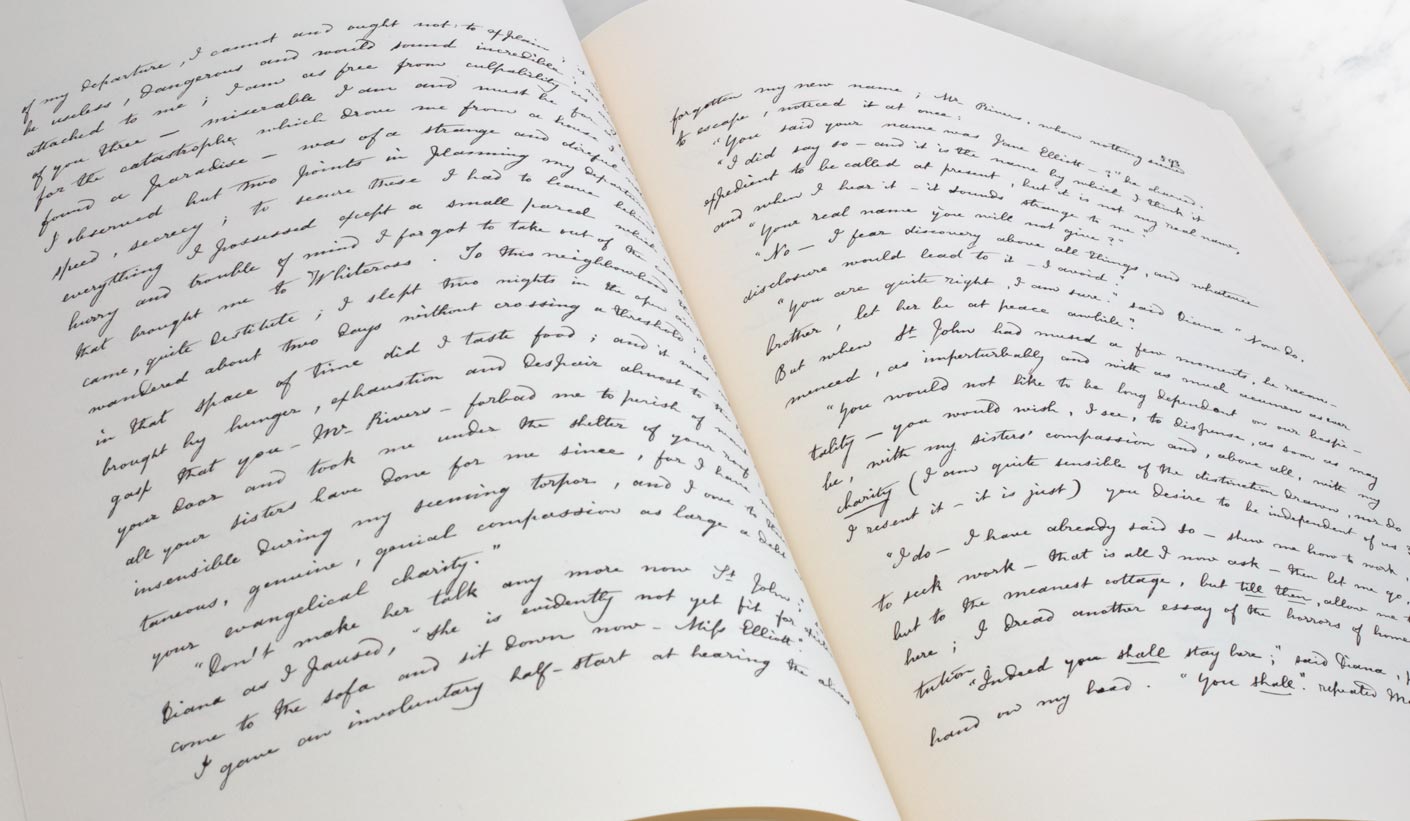 The Brontë sisters' literary childhood and early novels
On a windy moor in West Yorkshire, England, in the parsonage of Haworth, Charlotte, Emily, Anne and their brother Branwell forged a rich and lasting literary bond from a young age. Charlotte, the eldest, one day suggested that they each invent their own island kingdom. This first foray into role-playing marked the beginning of a very long succession. These literary games spawned a multitude of fantasy worlds and realms, shaping the shared imagination of the siblings and of the three future novelists.
After the publication of a joint poetry collection at the end of May 1846, the three sisters conspired to publish a trio of novels in a similar model. Emily embarked on her future masterpiece, Wuthering Heights, Anne penned Agnes Gray, and Charlotte composed her first novel, The Professor. However, they couldn't find a common publisher and decided to publish their texts separately.
Charlotte Brontë's masterpiece, Jane Eyre
Although Anne and Emily found publishers easily, Charlotte's manuscript for The Professor was unanimously refused. Not easily discouraged, she addressed it to one last publisher, Smith and Elder. In August 1847, Charlotte received a letter rejecting The Professor. However, the reasons for their refusal explained in the letter encouraged her to keep writing, specifying that a work "in three volumes", more in keeping with the taste of readers, would be met with careful attention. Soon after, she sent off the manuscript of Jane Eyre, a novel presenting the autobiography of the eponymous heroine: an orphan who refuses to let the pitfalls of her fate overcome her obstinate character, her passion or her independence.
Through her rebellious and passionate heroine, Charlotte Brontë seized her own destiny as a writer. As told by Charlotte's biographer Elizabeth Gaskell, "She told her sisters that they were wrong - even morally wrong - in making their heroines beautiful as a matter of course. They replied that it was impossible to make a heroine interesting on any other terms." Yet Charlotte's response was thus, "I will prove to you that you are wrong; I will show you a heroine as plain and as small as myself, who shall be as interesting as any of yours."
The editor accepted the manuscript and Jane Eyre was published two months later in October 1847 under the male pseudonym 'Currer Bell', making Charlotte the first of the three sisters to have her novel published. Unlike Wuthering Heights, Jane Eyre was an immediate success, even winning over Queen Victoria and sparking immense curiosity: who was this talented and daring author by the name of Currer Bell? Even now, almost 170 years after its publication, the novel continues to inspire writers, artists and filmmakers.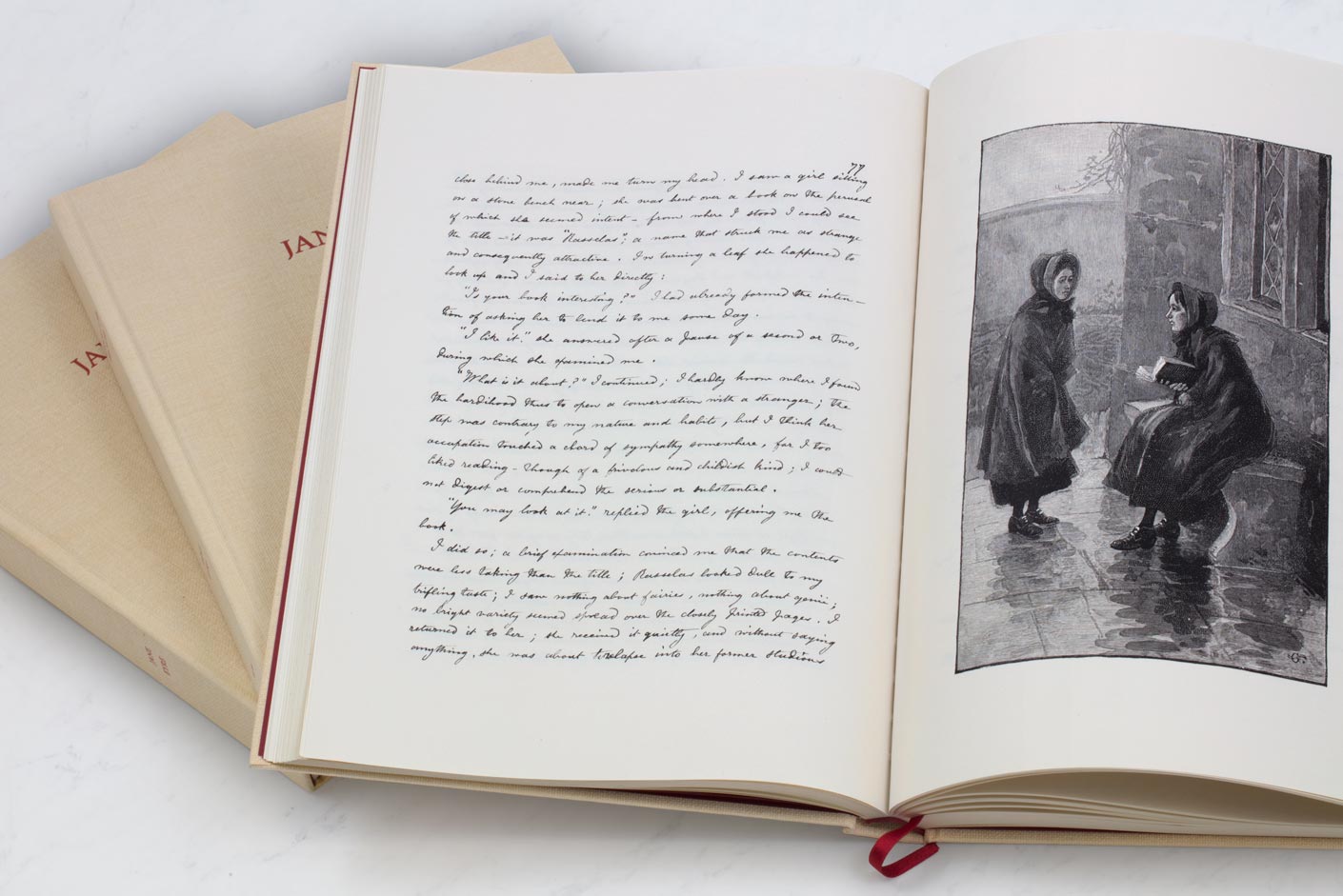 The manuscript
The document presented in this edition is the only manuscript of the novel known to date, that which Charlotte Brontë sent to the publisher Smith and Elder in 1847. Today, it is one of the most precious treasures kept in the British Library. It has never before been published due to the technical difficulties involved in its publication.
The title page, dated 16 March 1847, is signed under the name 'Currer Bell', Charlotte Brontë's chosen pseudonym when she decided to publish under an alias. According to Elizabeth Gaskell, she contemplated her words at length before putting them on paper in elegant handwriting, and consequently the document contains relatively few corrections or crossings-out. However, one of the rare passages that the novelist modifies is the heroine's encounter with Mr. Rochester, to emphasise her strength of will.
In the words of Claire Harman, Charlotte Brontë specialist: What we see is the end of a long process for Charlotte Brontë, the last edits and adjustments to a story that had been with her for several years and that she wanted to present in an almost perfect condition to bowl over the publishers who had been intrigued but ultimately dissatisfied with 'The Professor'. The manuscript shows justifiable pride in her work and control of it – and carefully hides the hard graft she had gone through to get there.
Illustrated by Edmund Garrett
Charlotte Brontë's manuscript is illustrated with forty-five etchings in black and white by the American artist Edmund Garrett (1853-1929) for an edition published in 1897. Compared to more faithful illustrations, his series of etchings reveals a freer interpretation of the universe of Jane Eyre. A prolific illustrator, Edmund Garret is also known for his illustrations of Jane Austen's Pride and Prejudice, poems by John Keats and novels by Alexandre Dumas.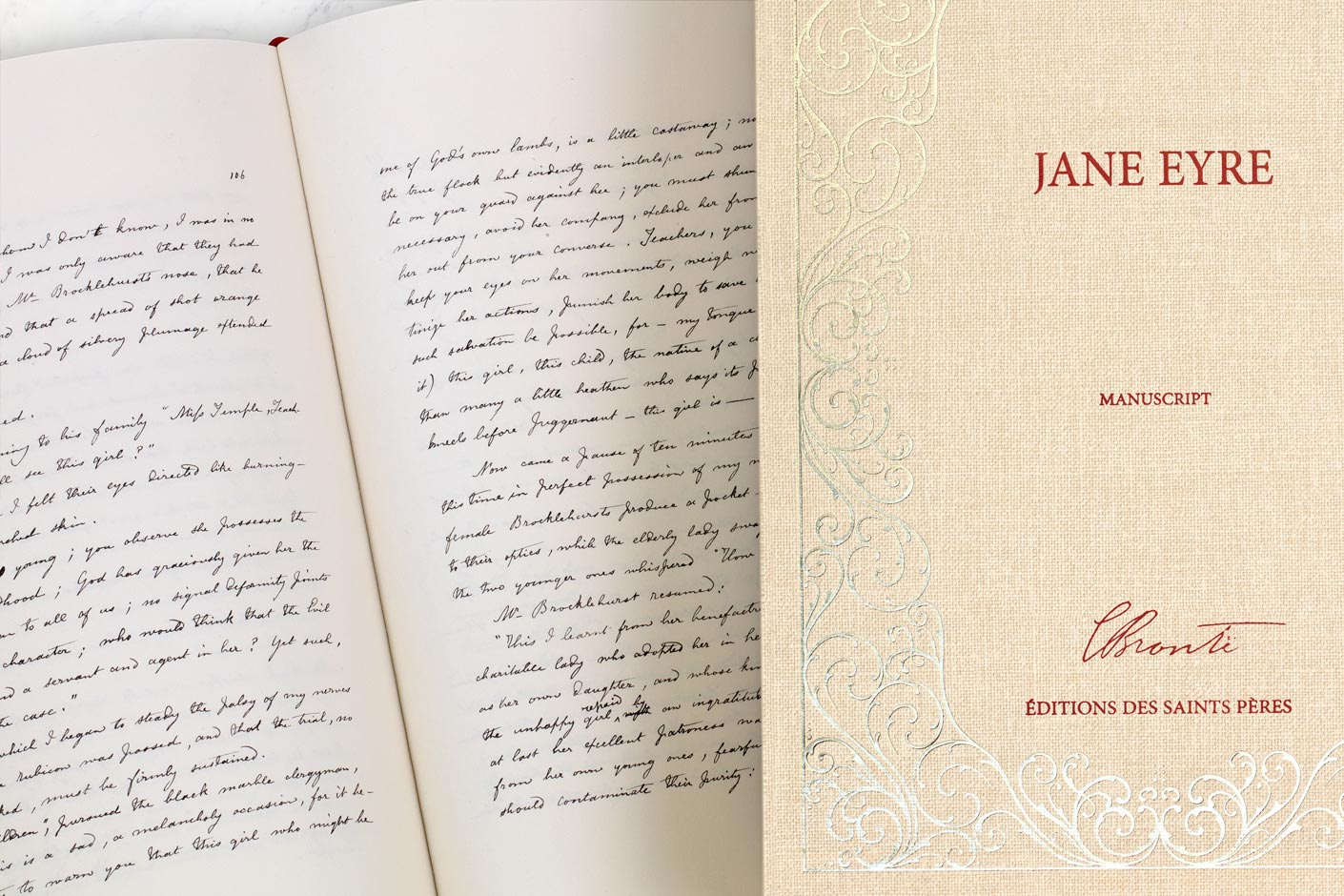 Charlotte Brontë, a life dedicated to writing
Born on 21 April 1816 in Thornton in West Yorkshire, Charlotte Brontë was the third of six children. The family was severely affected by bereavement when the children were still young: their mother died of cancer and the two older sisters succumbed to tuberculosis. Their father, the Reverend Patrick Brontë, raised Charlotte, Anne and Emily together with their brother Branwell. The Brontë children soon took refuge in literature and writing, inventing the imaginary world Glass Town - from which they spun multi-layer stories and fantasies. From an early age, Charlotte was torn between two ambitions, that of teaching and setting up her own school, and the desire to create. During a stay in a boarding school in Brussels between 1842 and 1843, she became attached to her tutor, the headmistress's husband, with whom she would maintain a short-lived correspondence - does the outline of this man appear discreetly in the guise of the future Mr Rochester?
Poems by Currer, Ellis and Acton Bell was published in 1846, while Jane Eyre appeared the following year. The book was received enthusiastically by the public, and Charlotte began work on her third novel Shirley. Yet, struck by misfortune, the Brontë siblings succumbed to fragile health and died in quick succession, first Branwell, then Emily and Anne, all between September 1848 and May 1849. Despite the depression that followed their deaths, Charlotte continued to pursue her journey as a woman and as a writer, and married in 1854, though her conjugal and literary happiness was short-lived. Charlotte died on 31 March in 1855 in Haworth - a village depicted by the Brontë sisters in the works they wrote there, in Jane Eyre, Wuthering Heights and The Tenant of Wildfell Hall, and including the parsonage held by their father, which is now converted into the Brontë Parsonage Museum managed by the Brontë Society.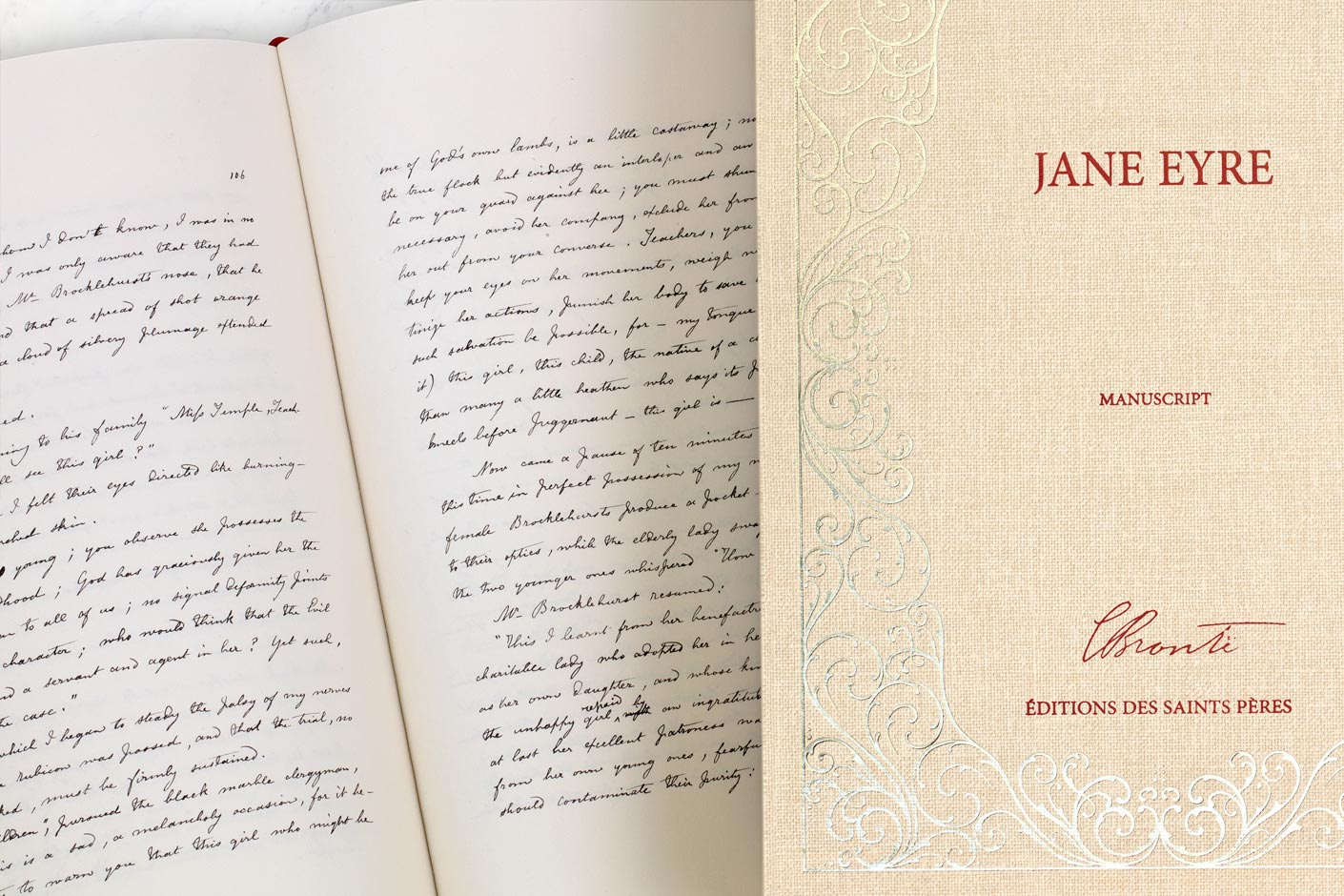 Deluxe edition
Numbered from 1 to 1,000, this Ivory edition is presented in a large format handmade slipcase.
Printed with vegetal ink on eco-friendly paper, each book is bound and sewn using only the finest materials.
Ivory edition
1,000 numbered copies
824 pages - 10 x 14''
Fedrigoni Avorio Paper
Endband and bookmark
ISBN: 9791095457305