Black edition,
numbered from 1 to 1,800,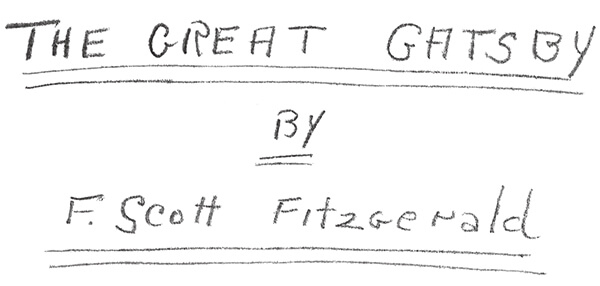 The Great Gatsby, manuscript by Francis Scott Fitzgerald
No one better embodies the ideal of extravagant parties, decadence, fizzing champagne bubbles and roaring youth than Fitzgerald's legendary hero, Jay Gatsby.
In 1922, the young author of twenty-six sent a note to his publisher, writing 'I want to write something new—something extraordinary and beautiful and simple and intricately patterned." Fitzgerald had just married his wife Zelda and had recently published two well-received novels, This Side of Paradise and The Beautiful and Damned. However, he set himself a new challenge, to produce a "consciously artistic achievement" and "purely creative work".
The short story Winter Dreams functions as a first draft of many of the themes later developed in Gatsby. There was also an 18,000 word draft, which no longer exists except for two pages attached to a letter sent to the novelist Willa Cather, now in the archives of Princeton University. This prized document is referred to by scholars as the Ur-Gatsby.
Fitzgerald took up his pen, or more accurately his pencil, to attempt the task, firstly in Great Neck - the city in Long Island that inspired "West Egg", where Gatsby's mansion is located - and then on the French Riviera, partially in Antibes and finally in Paris.
The novel was published on 10 April 1925 by the publisher Charles Scribner's Sons. Fitzgerald had hoped it would sell 75,000 copies, but he saw only a fraction of his expected success in his lifetime. By the time of Fitzgerald's death in 1940, sales had amounted to just 25,000 copies. Even in 1925, the novel started being withdrawn from bookshops due to lack of public interest. It wasn't until the 1950s that it finally found its way to success.
The 'Lost Generation' novel
"In my younger and more vulnerable years my father told me something that I've been turning over in my mind ever since. "Whenever you feel like criticizing anyone," he said, "just remember everyone in this world hasn't had the advantages that you've had."
So opens the manuscript of The Great Gatsby, the epic of its generation. It is a novel of the interwar period and Roaring Twenties - a wild, exuberant golden age in Europe, during which America boomed in blissful ignorance of the tragedies ahead. Fitzgerald was a witness of this new appetite for life, economic growth reminiscent of the Industrial Revolution, the blossoming of Jazz and the Golden Age of Hollywood, and prohibition. He became one of the leaders of the Lost Generation, a literary countercurrent originating with the group of American authors exiled in Paris including Ernest Hemingway, John Steinbeck and Ezra Pound.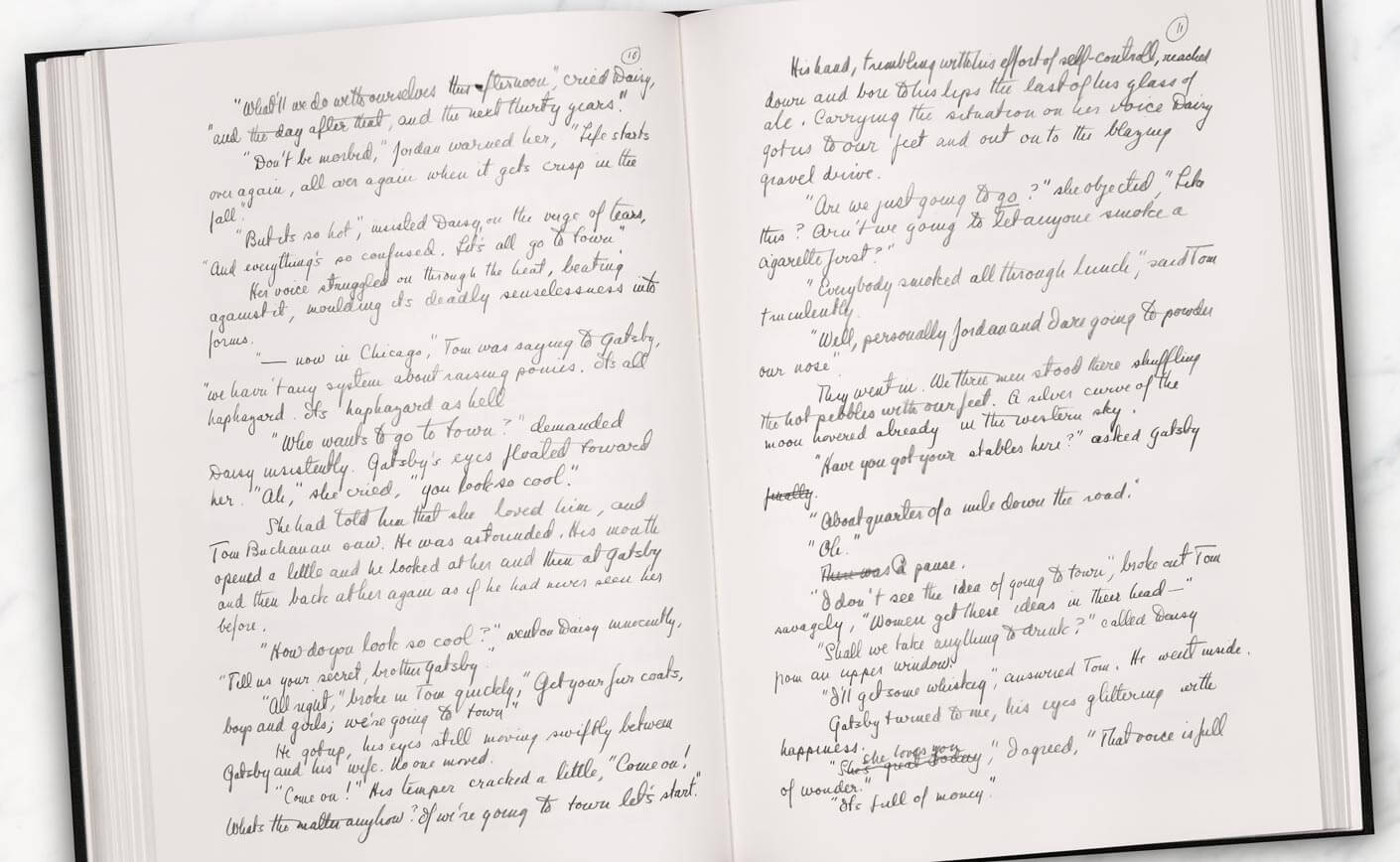 A manuscript full of surprises
Many versions have emerged since its publication, the nuances of which divide critics. However, returning to the manuscript allows Fitzgerald's writing to be seen from a new perspective. His handwritten pages in pencil sketch out the characters of the novel, which he would go on to revise several times. Throughout, there are multiple variations that differ from the finally published text. In particular, the character of Gatsby appears more mysterious; the origins of his fortune are not revealed until near the end of the manuscript. Meanwhile, Nick is more heavily implicated in the Daisy-Gatsby affair - he offers to shelter them in his little house to escape from Tom Buchanan.
The manuscript is replete with unexpected pleasures and unfamiliar details - such as the lyrics to the song Gatsby is supposed to have composed aged fourteen: "We hear the twinkle of the gay guitars / We see the shining Southern moon …". There are many passages in the novel, such as the famous dance between Gatsby and Daisy, which are expanded, crossed out, corrected or annotated in the margins.
On top of the pressure Fitzgerald placed on himself, he was encouraged to keep revising the novel by his editor Maxwell Perkins, who suggested that he reveal the origins of Gatsby's fortune and flesh out his character. Ernest Hemingway is also known to have given Fitzgerald a great deal of encouragement during the writing process.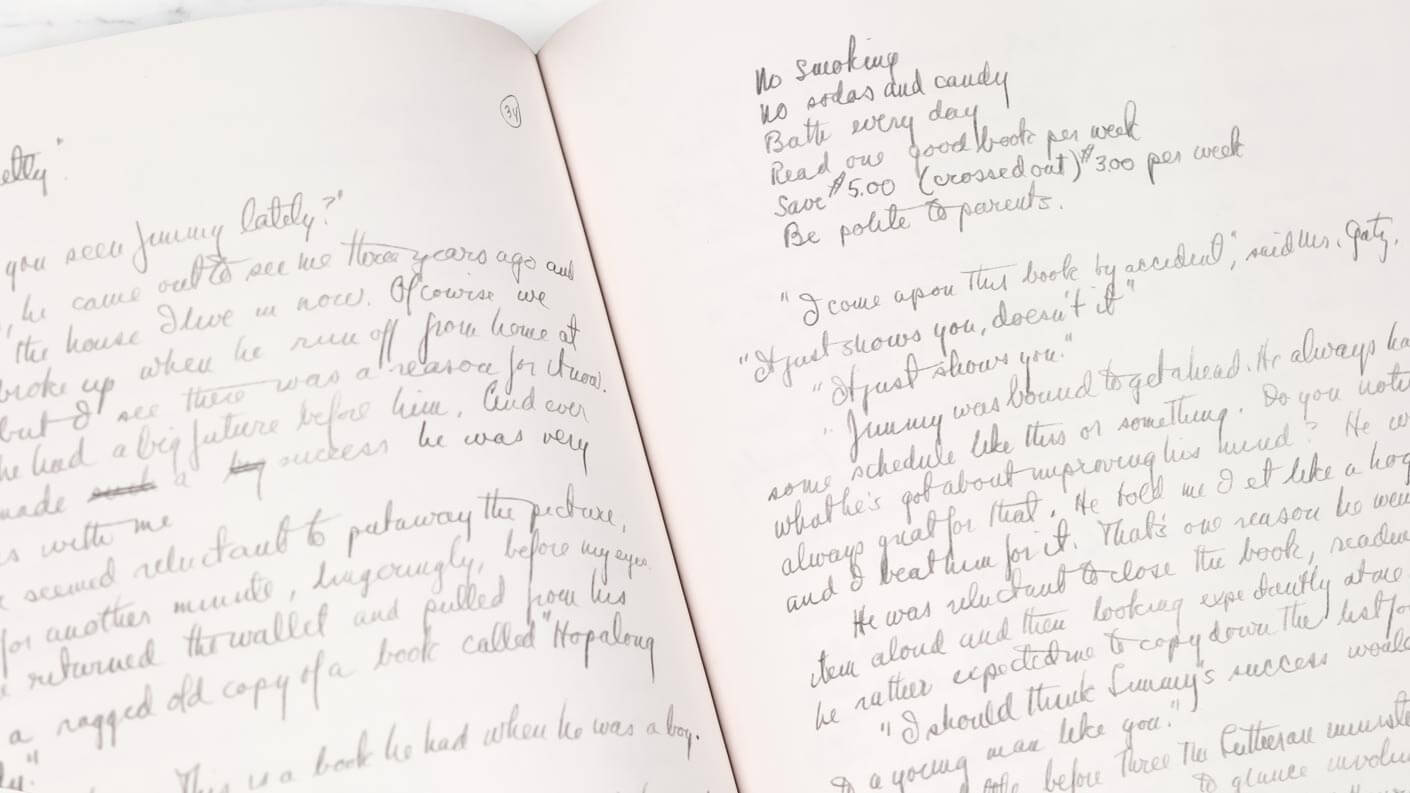 This first version invites the reader to immerse themselves in 303 numbered pages covered with Fitzgerald's easily decipherable rounded and fluid handwriting. The title is written on the first page in red. There are also annotations which mark the author's way around his text as he made connections and cut passages during the writing process.
The manuscript is kept at the Department of Rare Books and Special Collections at Princeton University, where Francis Scott Fitzgerald studied in 1917 - while there he didn't particularly distinguish himself academically, though the environment of excellence did inspire his first novel, This Side of Paradise.
The manuscript is conserved alongside another document with the title Trimalchio, the novel's working title when the publisher Scribner had the proofs made in 1924 - which were later heavily revised.
A preface by Baz Lhurmann
Baz Lhurmann is an Australian director, screenwriter and producer. His work is esteemed by the public and critics alike, especially since Romeo and Juliet (1996) and Moulin Rouge (2001). In 2013 he reunited with an old favourite, the actor Leonardo DiCaprio, whom he directed in his new adaptation of The Great Gatsby alongside Tobey Maguire and Carey Mulligan. Baz Lhurmann was able to consult the original manuscript of The Great Gatsby at Princeton University during preparation for the film. He explores his deep fascination with the novel in this highly personal text.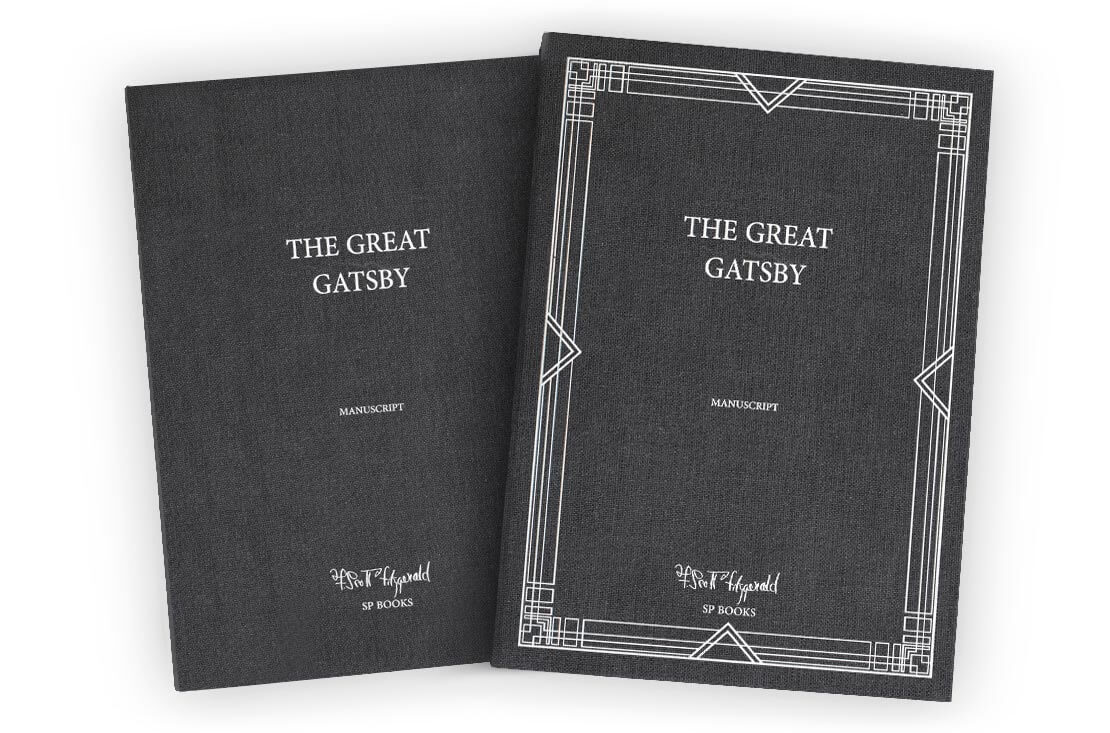 "I think it is safe to say that F. Scott Fitzgerald would be thrilled to know that this edition of Gatsby, written in his own hand almost 100 years ago, is being published right now — so that his green light will stay blinking out there in the darkness, at the end of Daisy's dock, inspiring readers of this generation and many more to follow their incorruptible dreams."
Baz Luhrmann
Video Presentation of the book :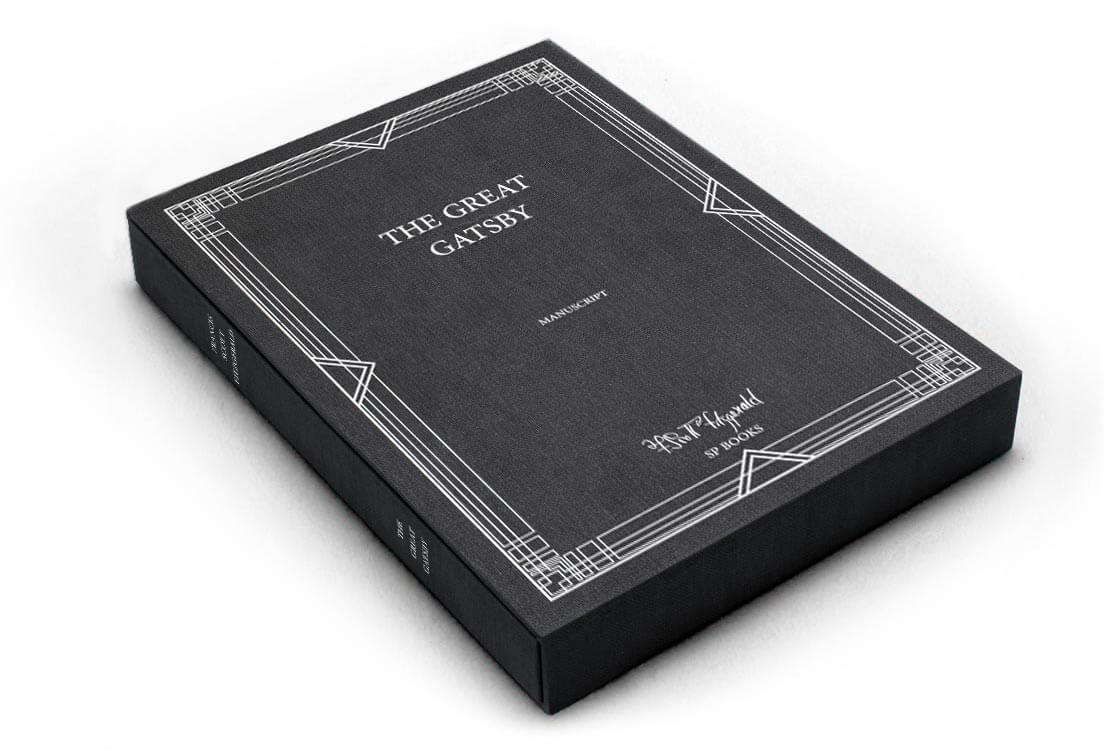 Deluxe edition
Numbered from 1 to 1,800, this Black edition is presented in a large format handmade slipcase.
Printed with vegetal ink on eco-friendly paper, each book is bound and sewn using only the finest materials.
Black edition
1,800 numbered copies
328 pages - 10 x 14''
Fedrigoni Avorio Paper
Endband and bookmark
ISBN: 9791095457428