Numbered from 1 to 1,800
Large format (10 x 14'')
 Free shipping

 Contact-free delivery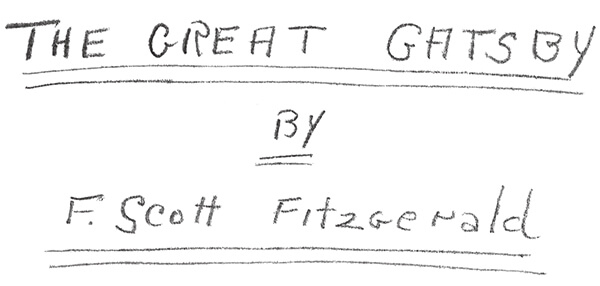 The Great Gatsby
"I want to write something new — something extraordinary and beautiful and simple and intricately patterned."
With these words, written to his editor during the summer of 1922, F. Scott Fitzgerald began planning his magnum opus: the great American novel of the 20th century. Despite the success of his first two novels, the young author wanted this one to be different, a "consciously artistic achievement", a "purely creative work". He put his pencil to paper and worked relentlessly in Great Neck, New York — the Long Island town that served as a model for Gatsby's "West Egg" — then along the much calmer French Riviera.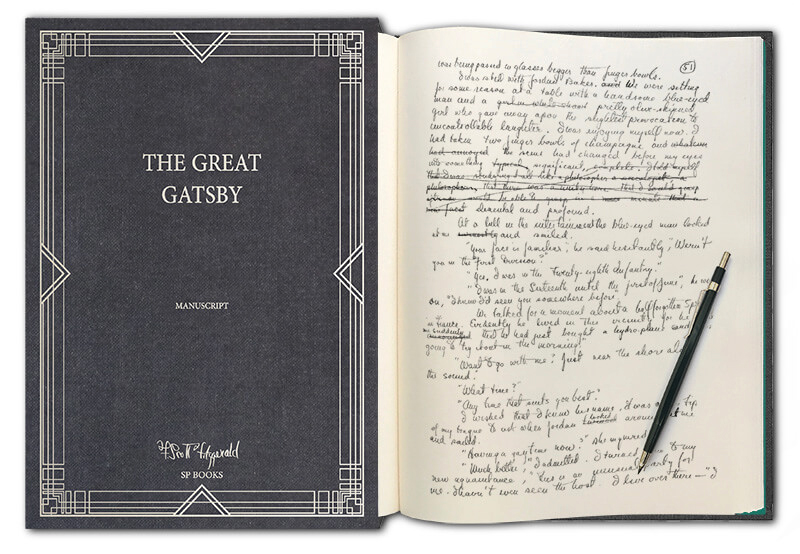 F. Scott Fitzgerald's handwritten manuscript
This document is the only complete autograph manuscript of The Great Gatsby. Throughout its handwritten pages, the novel's characters are sketched, revised, and born. The manuscript is full of surprises. Entire scenes are extended. Passages are crossed out while others are added with a caret. Lots of details change. The main difference is that Jay Gatsby's character is darker than in the published text, and he appears more mysterious: the story of his rise to wealth isn't revealed until the very end of the manuscript.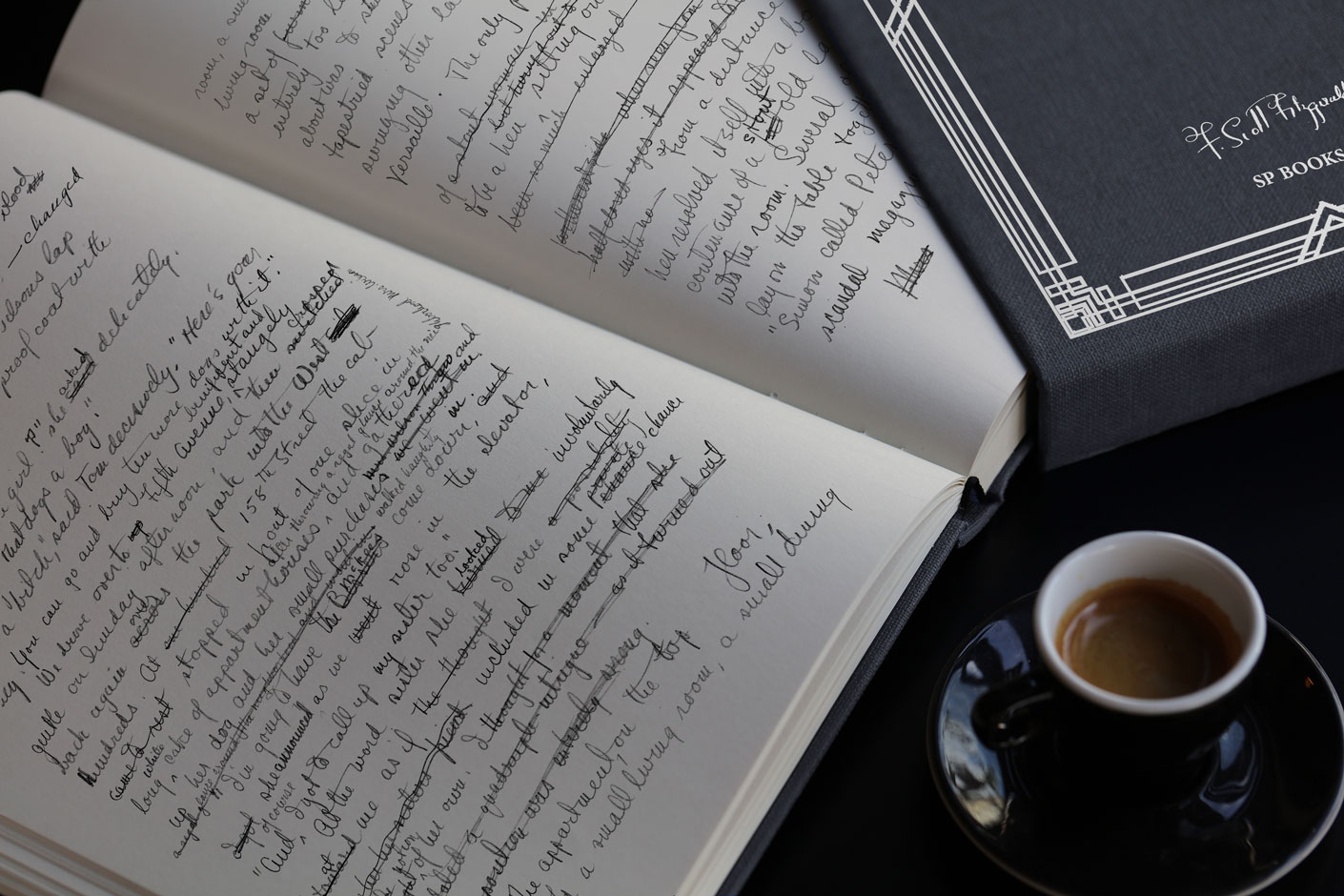 A limited, large format, luxury edition
Hand-numbered from 1 to 1,800, each book is presented in a 14x10 inch slipcase, bound, and sewn using only the finest materials. The slipcase and cover ornamentations are iron gilded, and the pages are printed using vegetal ink on environmentally friendly paper.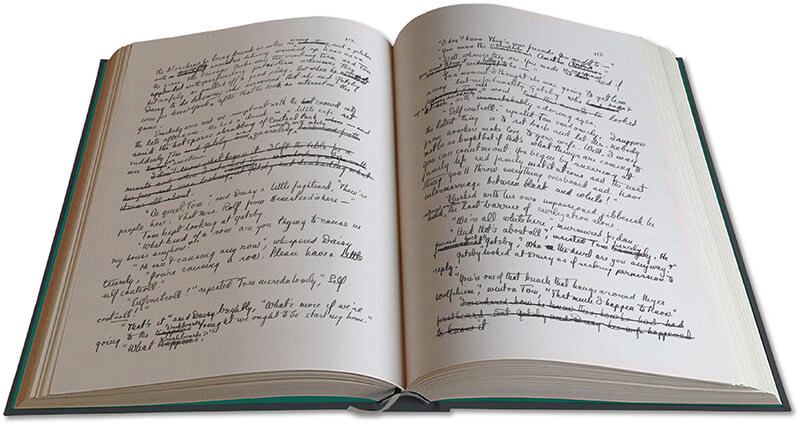 "I think it is safe to say that F. Scott Fitzgerald would be thrilled to know that this edition of Gatsby, written in his own hand almost 100 years ago, is being published right now — so that his green light will stay blinking out there in the darkness, at the end of Daisy's dock, inspiring readers of this generation and many more to follow their incorruptible dreams..."
Baz Luhrmann
| | | |
| --- | --- | --- |
| | | This hand-written version of F Scott Fitzgerald's The Great Gatsby is a must for fans of the novel (...) |
| | | The Great Gatsby was a cautionary tale for the hedonists of the 1920s (...) Baz Luhrmann fears we're heading for a similar precipice (...) |
| | | Les Éditions des Saints Pères annoncent la publication du manuscrit de "Gatsby le magnifique". Leur premier manuscrit américain est accompagné d'un texte, reproduit ici, de Baz Luhrmann (...) |
| | | Fitzgerald might have written with the Jazz Age panache of someone with Champagne swilling in his mouth, but this limited-edition facsimile offers a much more complete portrait of the effort behind his best known manuscript (...) |
| | | The perfect Christmas gift for bibliophiles (...) |
| | | A must-have for any bookworm (...) |
| | | In his preface to a beautiful hardcover edition of the manuscript of 'The Great Gatsby,' the director argues that Fitzgerald's novel is as relevant today as it was a century ago (...) |
| | | We restore the images of the manuscript [in a way similar to] art restoration. We don't want the classic facsimile, but we want you to feel like Fitzgerald [or any other author] has personally given you his notebook (...) |
| | | Michael Dirda: You won't find anything more breathtaking than SP Books 's facsimile of F. Scott Fitzgerald's handwritten manuscript of The Great Gatsby, showing the deletions, emendations and reworked passages that eventually produced an American masterpiece (...) |
| | | Le manuscrit original de Gatsby Le Magnifique vient de paraître aux éditions des Saints Pères - et le résultat est bluffant (...) |