Carmine red edition,
numbered from 1 to 1,000

Alice's Adventures in Wonderland, manuscript by Lewis Carroll
Down, down, down. Would the fall never come to an end? "I wonder how many miles I've fallen by this time?" said she aloud, "I must be getting somewhere near the centre of the earth."
Lewis Carroll, known also by his real name Charles Lutwidge Dodgson, was both a professor of logic at Christ Church college, Oxford, an Anglican deacon and author of mathematical works on algebra. Yet it was in writing the extraordinary Alice's Adventures in Wonderland that he finally let his vivid imagination run wild. Colourful characters unfold from Carroll's pen on pages filled with his neat handwriting, which is conventional in comparison to the whimsical adventure he weaves: a talking mouse, a smoking caterpillar, a raging queen of hearts and an army of playing cards. At the centre of the tale is a little girl who grows and shrinks with every swallow or wish she makes, until she is no longer surprised to find herself playing croquet with a group of flamingos. The manuscript of Alice's Adventures in Wonderland, originally titled Alice's Adventures Under Ground, marks the first exploration of both an extraordinary heroine and of a masterly writer.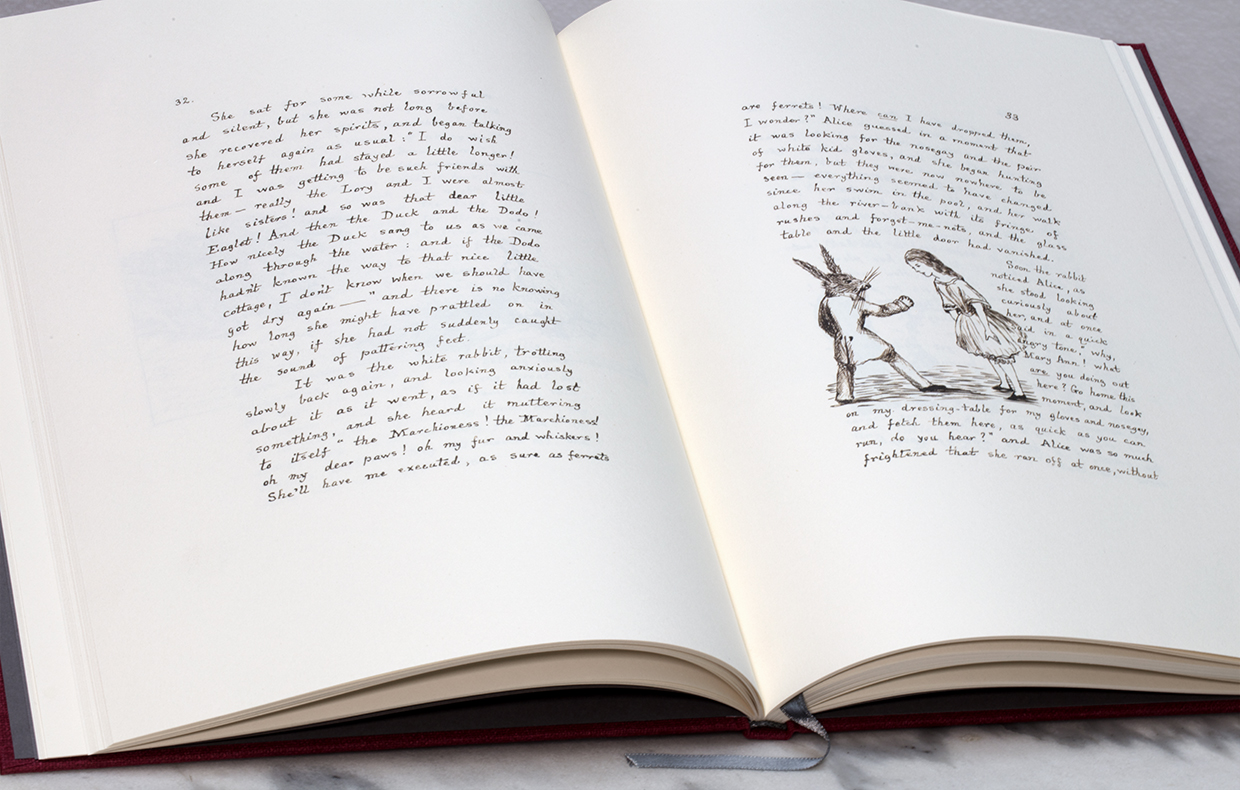 An unforgettable work of literature, written on the water
On 4 July 1862, a peaceful boating scene on the Isis river - a tributary of the Thames in north-west London - was to become the genesis of one of the most legendary novels in the history of literature. Aged barely thirty, Lewis Carroll was on the oars, rowing a teaching colleague and three little girls excited to be going for a sunny picnic. One of the three sisters was Alice, who would serve as the model for the best-selling tale three years later in 1865.
Alice, Edith and Lorina were the daughters of Henry Liddell, Dean of Christ Church college (University of Oxford), a celebrated Greek scholar and a friend and superior of Lewis Carroll. To amuse them, Carroll made up a story about a vivacious and curious child who abandons her dull and unimaginative lessons to chase a white rabbit. Alice proceeds to fall into a bottomless rabbit-hole leading to a mysterious realm filled with peculiar and hitherto unseen creatures. This was the Under Ground, which would later become wonderland.
An illustrated manuscript gifted to the real Alice
Alice was enchanted by the heroine of the tale who bore her name, and she and her sisters were blown away by the reach of Lewis Carroll's imagination. Carroll himself was born into a family of eleven children and raised by an Anglican pastor. Deaf in one ear and suffering from a stutter, an austere manner concealed both his shyness and enormous creativity. From his teenage years he contributed to literary magazines, sharpening his particular interest in portmanteau words and nonsense. An equally talented director, he composed plays and once had a puppet theatre built by the carpenter in his family village.
After listening to Alice's adventures, the youngest Liddell begged her friend to write it down and illustrate it. He wrote it out in a notebook embellished with 38 childlike drawings. His elegant handwriting relates the twists and turns of the plot, offering a portal through which children can escape. The drawings were seemingly done afterwards, and he then found a place for them within the pages. There were four chapters in total, written under the name Lewis Carroll.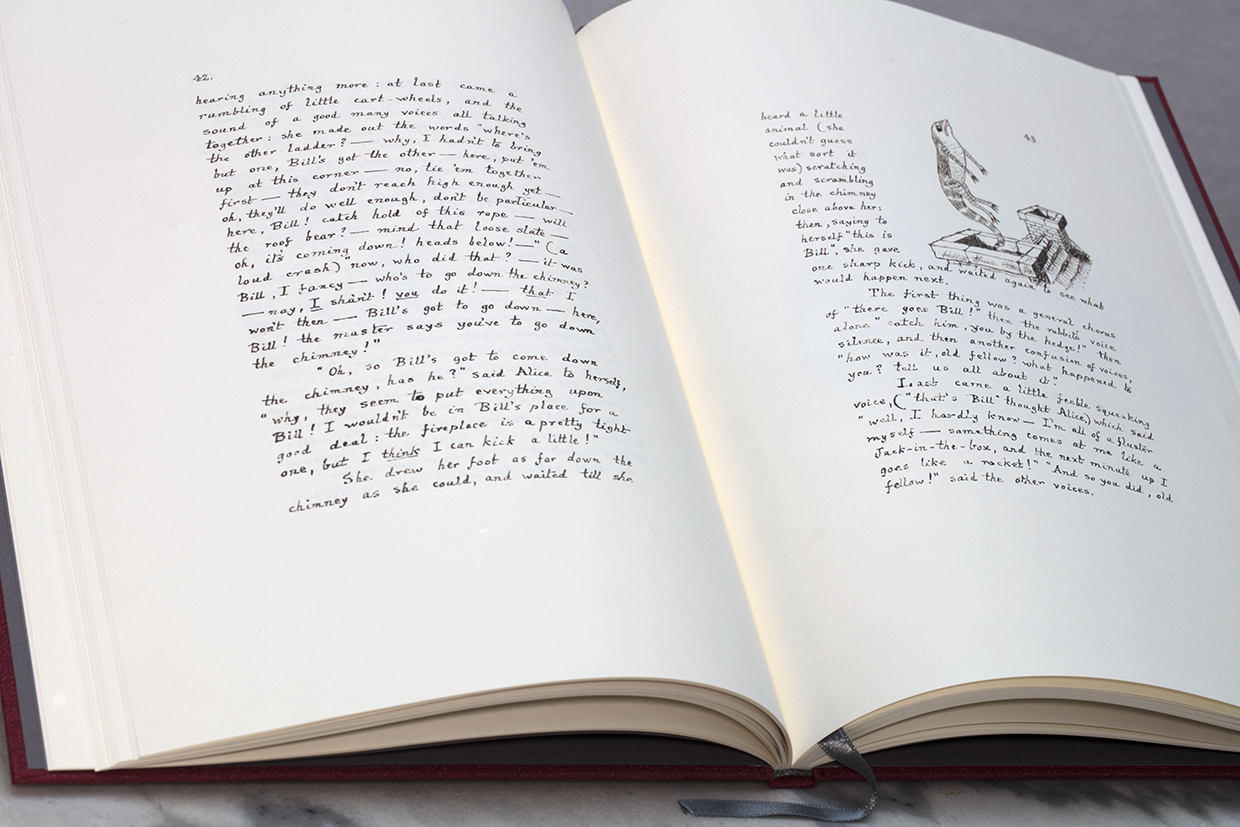 The first page of the manuscript is illustrated with a delicate floral box containing the title, while on the second page is written the following: "A Christmas Gift to a Dear Child in Memory of a Summer Day." Carroll gave it to Alice in November 1864.
A remarkable bestseller
London-based publisher Macmillan & Co released the book in 1865 under the title Alice's Adventures in Wonderland, with two extra chapters featuring scenes with the Cheshire Cat and the Mad Hatter's Tea Party. Although Carroll's drawings in the manuscript are exquisite, Macmillan wanted another artist to complete the illustration. Lewis Carroll settled on Sir John Tenniel, who took inspiration from the author's sketches. The publication was an immediate success, so much so that the author continued Alice's adventures with Through the Looking-Glass, and What Alice Found There in 1872, followed by The Hunting of the Snark in 1876.
Over 150 years later, Carroll's work is still acclaimed by audiences young and old. The story has been adapted hundreds of times in film, theatre, television and cartoons. In 1998, a copy of the first printed edition sold for a record $1.5 million. There are only about twenty copies of the first 1865 edition left on the rare book market.
A document kept at the British Library
Due to financial difficulties, the adult Alice was forced to sell her treasured manuscript at Sotheby's. An American collector purchased it for £15,400. However, a group of benefactors donated the manuscript to the British Museum in 1948, as a token of gratitude for Britain's role in World War II.A limited, large format, luxury edition
Hand-numbered from 1 to 1.000, each book is presented in a 14x10 inch slipcase, bound, and sewn using only the finest materials. The slipcase and cover ornamentations are gilt embossed, and the pages are printed using vegetal ink on environmentally friendly paper.
Deluxe edition
Numbered from 1 to 1,000, this carmine red edition is presented in a large format handmade slipcase.
Printed with vegetal ink on eco-friendly paper, each book is bound and sewn using only the finest materials.
Carmine red edition
1,000 numbered copies
14 x 10" - 112 pages
Illustrated by Lewis Carroll
Fedrigoni Avorio Paper
ISBN: 9791095457664