Emerald green edition,
numbered from 1 to 1,000
An illustrated edition of J. M. Barrie's Peter Pan manuscript
This edition features a reproduction of the original manuscript of Scottish-born writer James Matthew Barrie's novel Peter Pan & Wendy (1911) for the first time.
Springing from his imagination in the early 20th century, Peter Pan has entered millions of readers' consciousness with a touch of fairy dust and a lot of brilliance, inspiring a seemingly endless stream of adaptations for stage and screen. But Barrie's version is much more complex than some of the films would have us believe, and his original manuscript is even more exciting.
The treasured manuscript, which is in the New York Public Library's prestigious Berg Collection, has been a well-kept secret until now. This is the first time it has been reproduced and presented to the public in print form. Its 282 pages are enhanced with colour illustrations that artist Gwynedd Hudson made for a 1930 edition.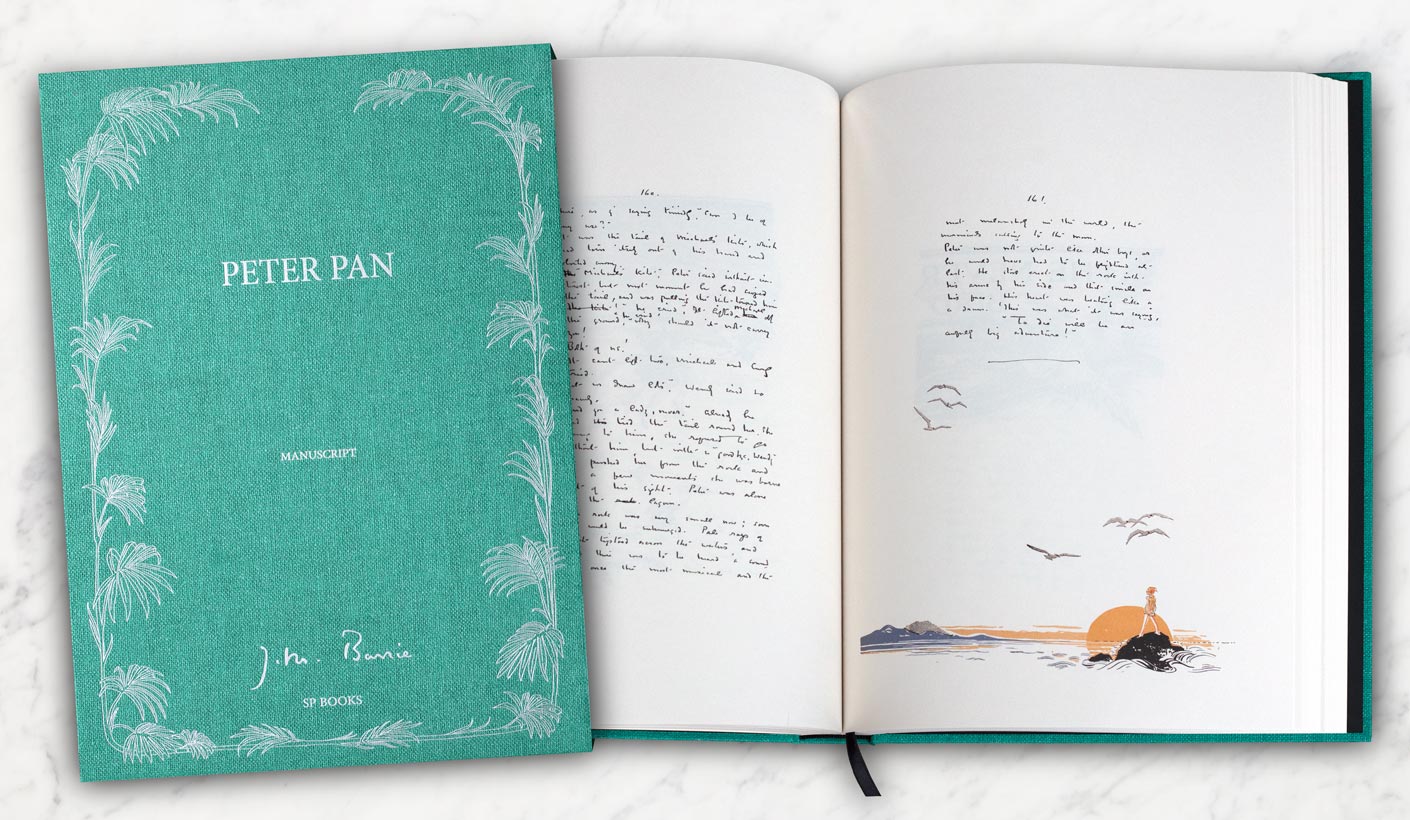 This version of the novel, in James Matthew Barrie's original handwriting, relates the real adventures of Peter Pan, Tinker Bell, Captain Hook and the Darling children
The writing of Peter Pan: from play to novel, Kensington Gardens to Neverland
Since its publication just over a century ago, Peter Pan has continued to spread its magical glow over generations of readers, joining the pantheon of the world's most timeless tales and becoming almost more famous than its author: Scottish-born James Matthew Barrie, who knew from an early age that he was going to be a writer.
Born in 1860, Barrie moved to London in 1885, where he carved out a name for himself as a successful playwright. One day in 1897 he was out walking his dog, a Saint Bernard who inspired the character of Nana, in London's Kensington Gardens when he met the Llewelyn Davies children and their mother Sylvia. A deep friendship developed between them, which inspired the character of Peter Pan in the 1902 novel The Little White Bird. Peter, a magical boy who flies around with fairies in Kensington Gardens, was then very different from the bold practical joker who fearlessly and unscrupulously defies the fiendish Captain Hook.
In 1904, Barrie developed the character further in Peter Pan, or the Boy Who Wouldn't Grow Up, a "magical comedy" first performed at the Duke of York Theatre in London. The play was such a hit that Barrie felt impelled to write a longer novel in 1911, Peter Pan & Wendy. For the first time, our book reproduces the manuscript in a version fully restored by a team of specialised graphic designers and with Gwynedd Hudson's illustrations.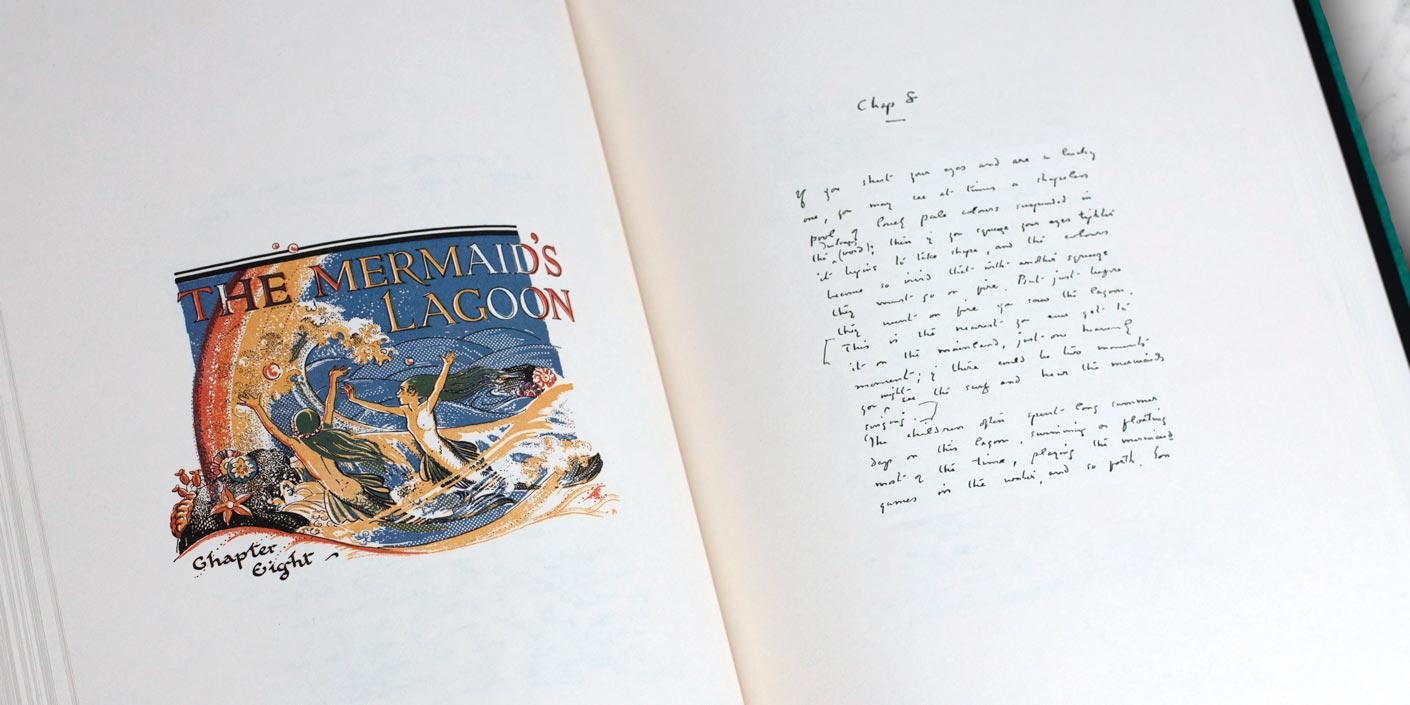 The original manuscript of J. M. Barrie's novel
"Second to the right, and straight on till morning": everyone knows the way to Barrie's imaginary land. But who really knows the story of Peter Pan, the one that unfurls under his pen through his fine, neat, confident writing?
The 282-page manuscript's cross-outs and changes reveal the revisions Barrie made while writing the novel. We discover that Peter Pan was even cheekier and more brazen than in the published book and that the imaginary world where his adventures took place was then called "Never Never Land" rather than "Neverland" — perhaps as a warning to adults tempted to take the risk?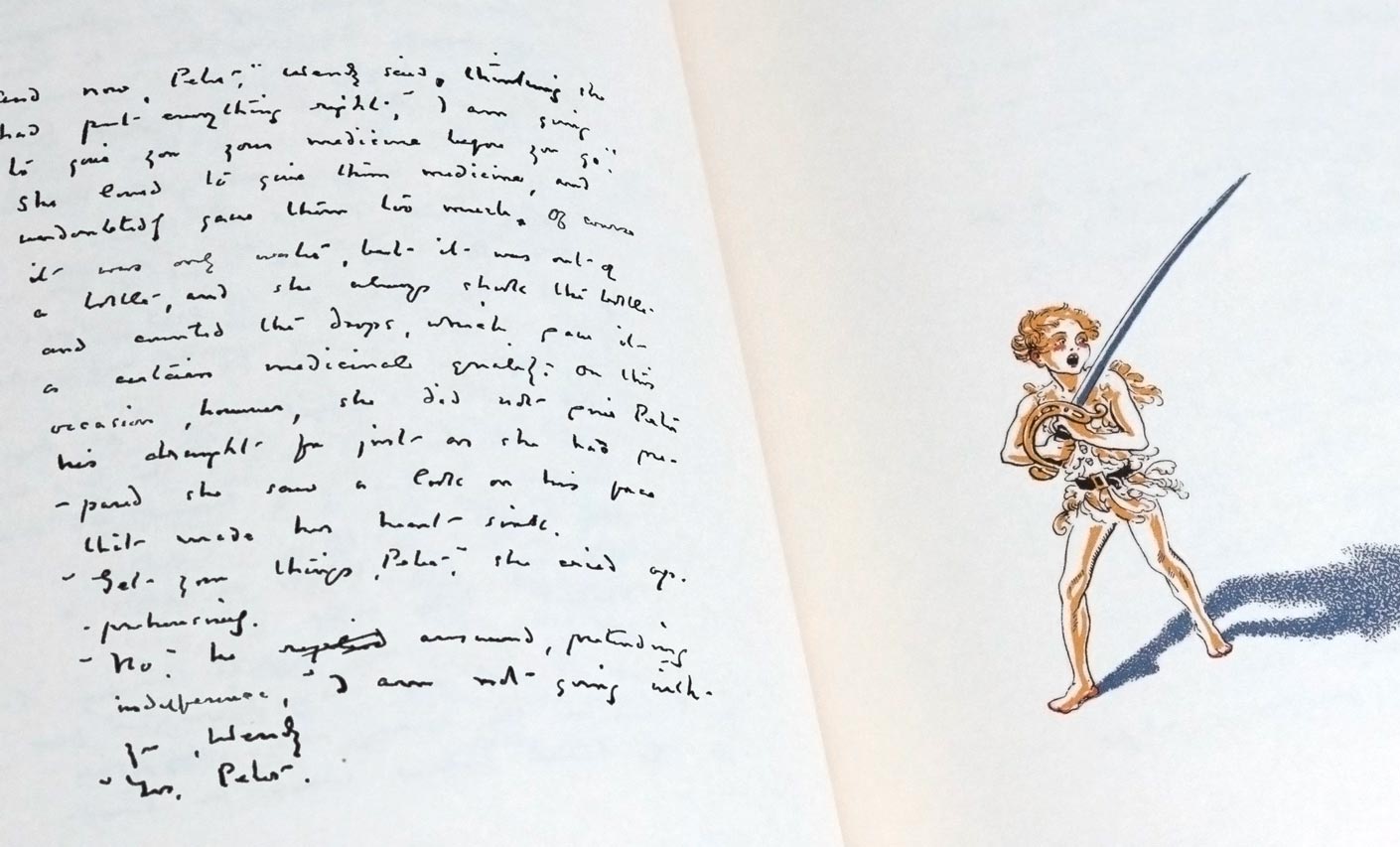 Gwynedd Hudson's illustrations
In this book, the adventures of Peter Pan, Tinker Bell and the three Darling children — Wendy, John and George — are enhanced with many colour illustrations. Artist Gwynedd Hudson produced this series for one of the last editions to appear during Barrie's lifetime. Although her name is little known today, her illustrations for Peter Pan and Alice in Wonderland are popular with bibliophiles.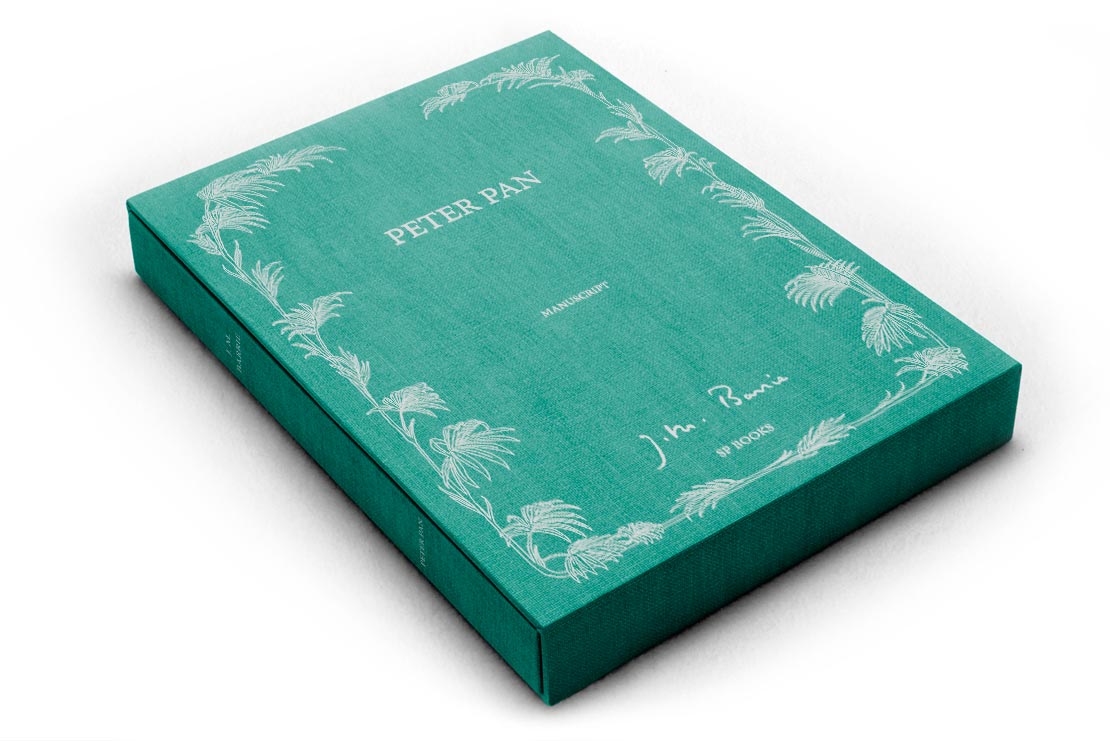 J. M. Barrie's literary and humanist legacy
Barrie may not have been able to fly like Peter Pan, but he spread his guardian angel wings over the Davies orphans, helping them financially when their parents died, and over the Great Ormond Street Hospital for Sick Children, founded in 1852, a few years before his birth. In 1929, he transferred Peter Pan's copyright to the hospital for life, which led to a new legal situation: the British Parliament enacted an unprecedented law allowing the hospital to exercise its right in perpetuity. Great Ormond Street Hospital is now one of the world's leading children hospitals and helps children not just throughout the UK but worldwide.
Deluxe edition
Numbered from 1 to 1,000, this emerald green edition is presented in a large format handmade slipcase.
Printed with vegetal ink on eco-friendly paper, each book is bound and sewn using only the finest materials.
Emerald green edition
1,000 numbered copies
336 pages - 10 x 14"
Fedrigoni Avorio Paper
50 colour illustrations
ISBN: 9791095457695