Siena edition,
numbered from 1 to 1,000
The Grapes of Wrath, by John Steinbeck, the original manuscript
In 1938, John Steinbeck was 36 years old and already well-known. Tortilla Flat and Of Mice and Men had by that time elevated the young man to the ranks of prominent authors. The latter had won awards, been adapted for the theatre, praised and devoured by critics as well as the public. But yet, Steinbeck is not savoring the fruits of his success: he was on the cusp of writing the greatest novel of his life, manuscript, in these two oversized ledgers gathered and reproduced in this very large-format edition.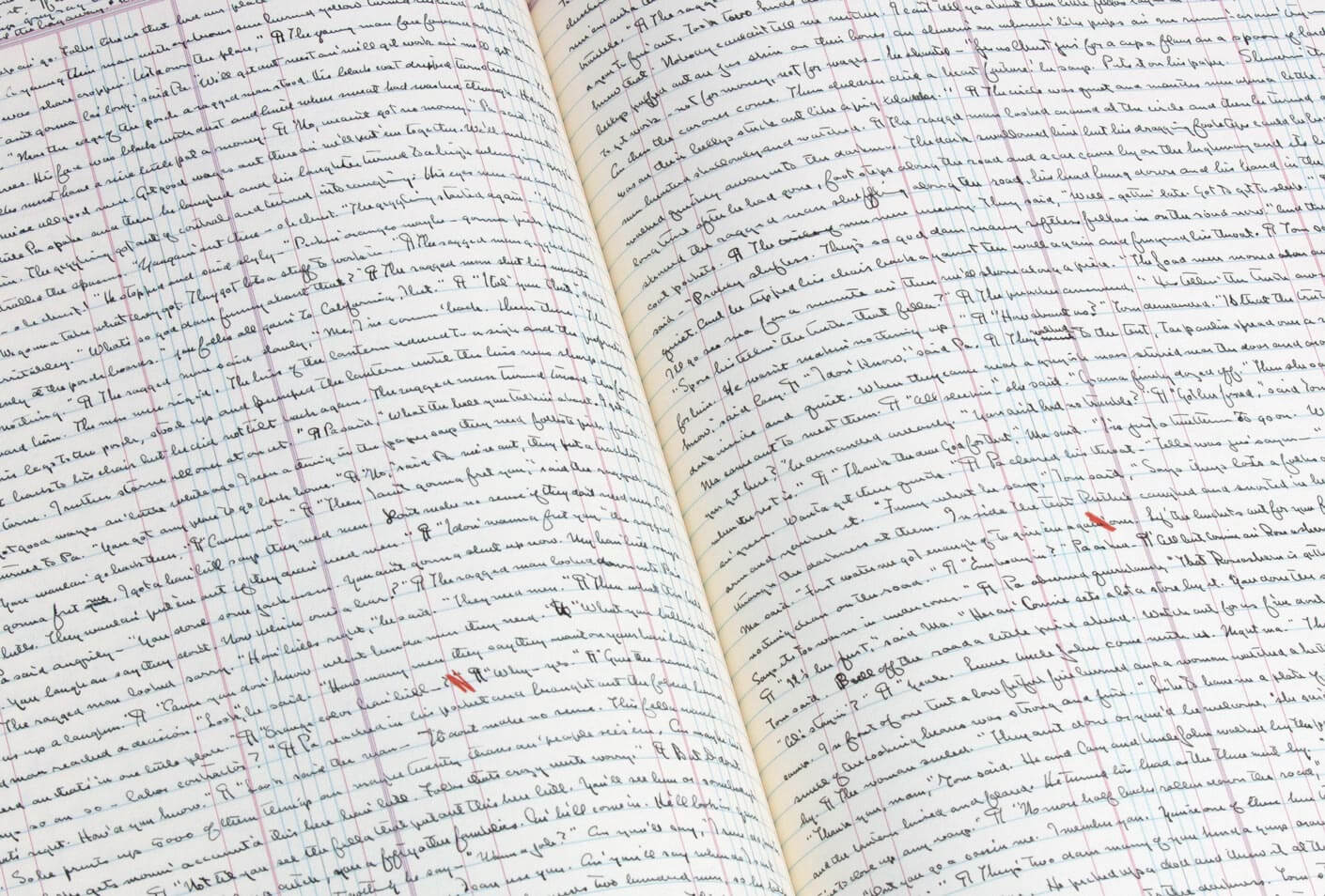 Every book seems the struggle of a whole life (John Steinbeck - August 9, 1938)
Five months of intense writing preceded by failed attempts
During that spring, the novelist thought again and again of the migrants he had met on their desperate journeys in the past several months. He had already written about their plight in a series of articles for The San Francisco News entitled 'The Harvest Gypsies' (October 1938). He was haunted by nightmarish images of Visalia and Nipomo, the towns that amassed thousands of migrant families that had come to try their luck in California, which were ravaged by floods and famine between February and March 1938. John Steinbeck wanted to bear witness to the Depression-era America that had suffered since the 1929 economic crisis, to both condemn it and call for action. He chose the pen and fiction as his weapons, to give a universal human face to the suffering.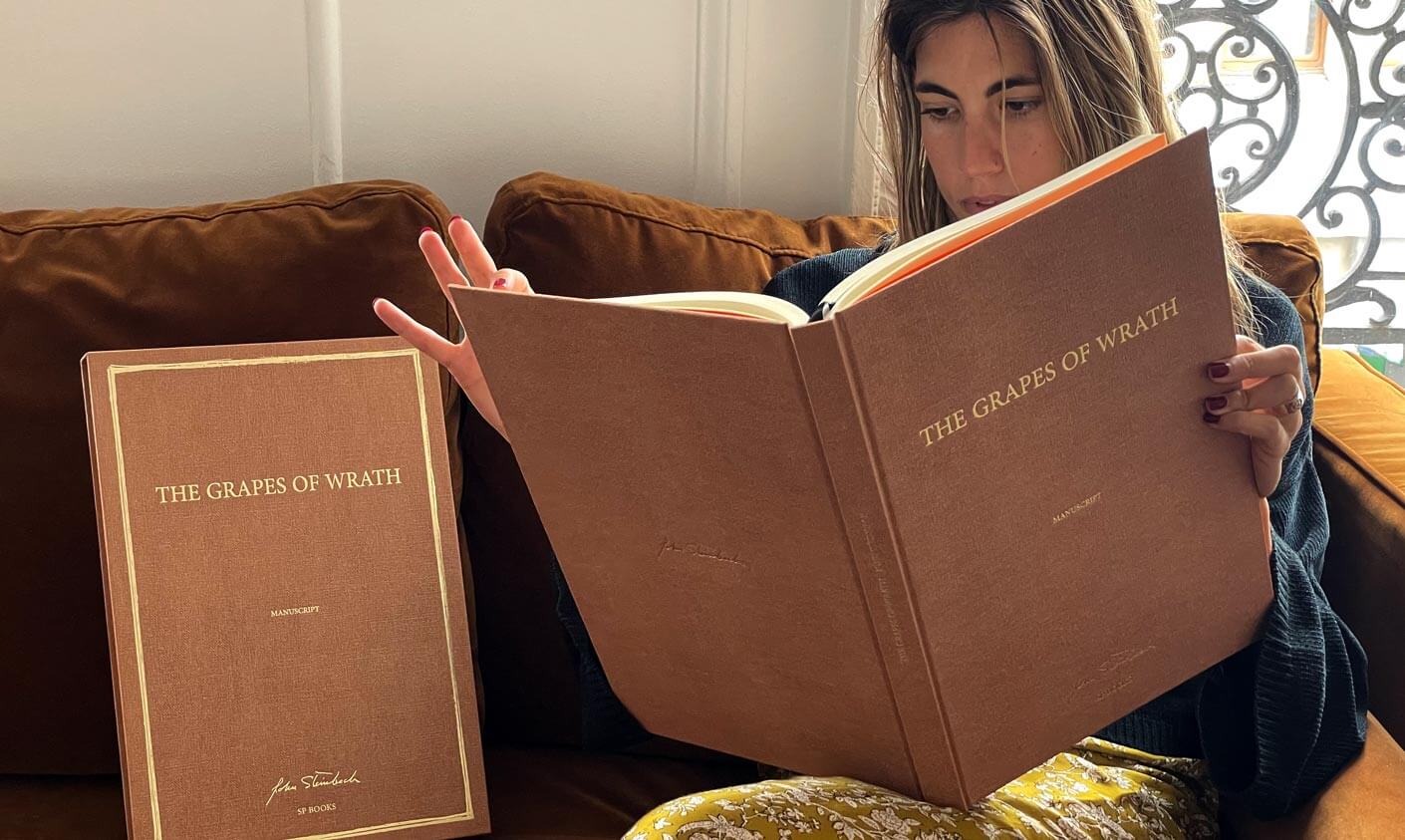 This must be a good book. It simply must. I haven't any choice. It must be far and away the best thing I've ever attempted—slow but sure, piling detail on detail until a picture and an experience emerge (John Steinbeck - June 10, 1938)

Between May and October 1938 he immersed himself in writing, filled with doubts and the ghosts of previous failed attempts. He showed no mercy in destroying the pages of his unfinished novel 'The Oklahomans' and the satire 'L'Affaire Lettuceberg' – a work Steinbeck went so far as to call a 'vicious book, a mean book'. These attempts, far from being in vain, were essential steps towards achieving the power of his masterpiece, The Grapes of Wrath.
Steinbeck at work
In his home in Greenwood Lane, Los Gatos, it was an exhausted Steinbeck who constrained himself to a strict daily routine, completely cut off from society and its distractions. Assisted in this by the vigilance of his wife Carol, the history of the Joads was born, and grew slowly but surely every day. While listening to Tchaikovsky, Stravinsky and Beethoven and trying to ignore the noises of building work coming from the neighborhood, he sat in his tiny office and covered the pages of his oversized ledger books in black ink, unfurling the threads of his plot.
The manuscript opens with the words 'New Start' – in reference to the novels he had previously discarded – and also 'Big Writing'. Prone to microscopic handwriting, the writer must have made a promise to himself to write legibly and stick to the lines of his pad – rather than in between them – so that Carol, his proofreader and typist, wouldn't have to waste time deciphering it. Was 'Big Writing' a promise to keep his writing readable, or to write something extraordinary? In 1936 and 1937, In Dubious Battle and Of Mice and Men evidenced Steinbeck's engagement with social issues. Perhaps disturbed about the fact he had secured a level of financial stability enabling him to move into Biddle Ranch, he felt instinctively that he had to keep devoting his time to something bigger than himself, the pursuit of justice.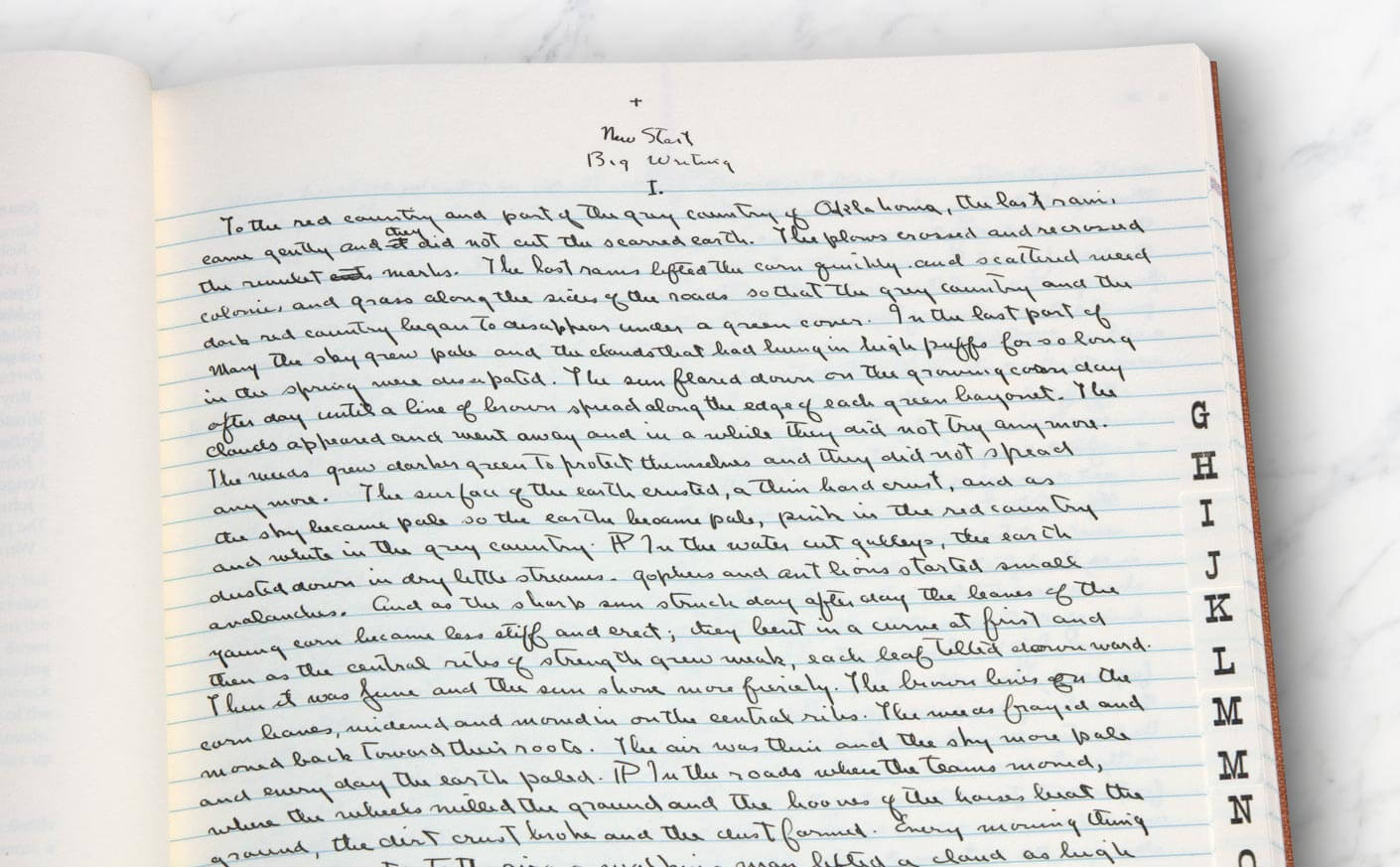 I'm not a writer. I've been fooling myself and other people. I wish I were. This success will ruin me as sure as hell (John Steinbeck - August 16, 1938)

His manuscript – written first in black, then blue ink – is almost devoid of crossings out or rewriting. In its clarity it exudes an overwhelming sense of the author's strength of feeling, contrary to his writing diary – Working Days: The Journals of The Grapes of Wrath – which shows that he was racked with uncertainties.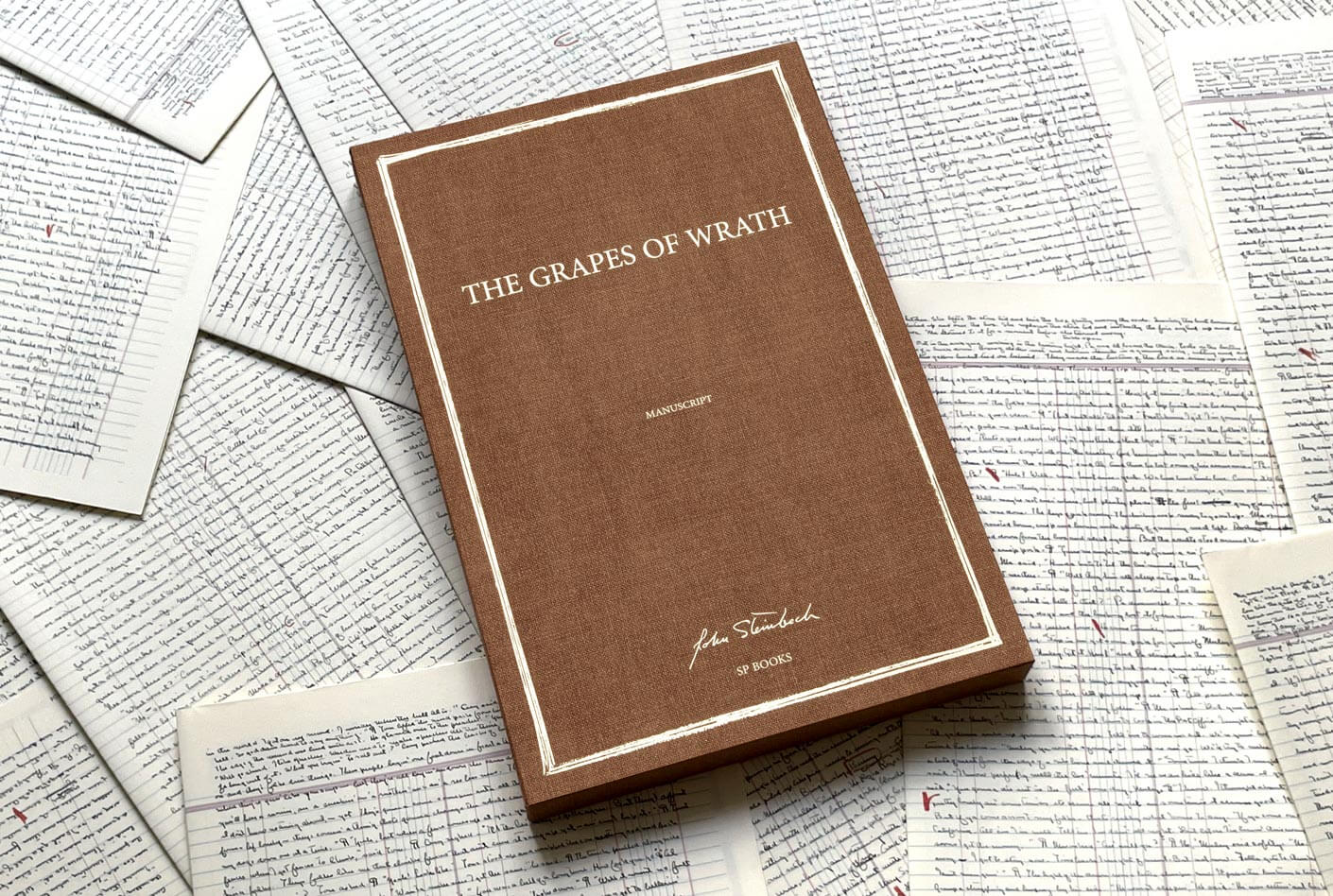 Published for the first time
Each of the thirty chapters is written by a Steinbeck whose mind sometimes wanders, but whose pen never wavers. Indeed, the differences between the manuscript and published version are minimal, mostly arising from Carol – whose red marks are visible in the document –, from the editor who mainly added punctuation, and from his agent who convinced him to tone down his language. On the 98th page of the manuscript the word 'halfway' appears, evidencing the author's need for precision. When he completed the manuscript on 26 October, Steinbeck wrote 'END' in oversized letters below the tightly packed in but much celebrated final line of the novel: 'She looked up and across the barn and her lips came together and smiled mysteriously.'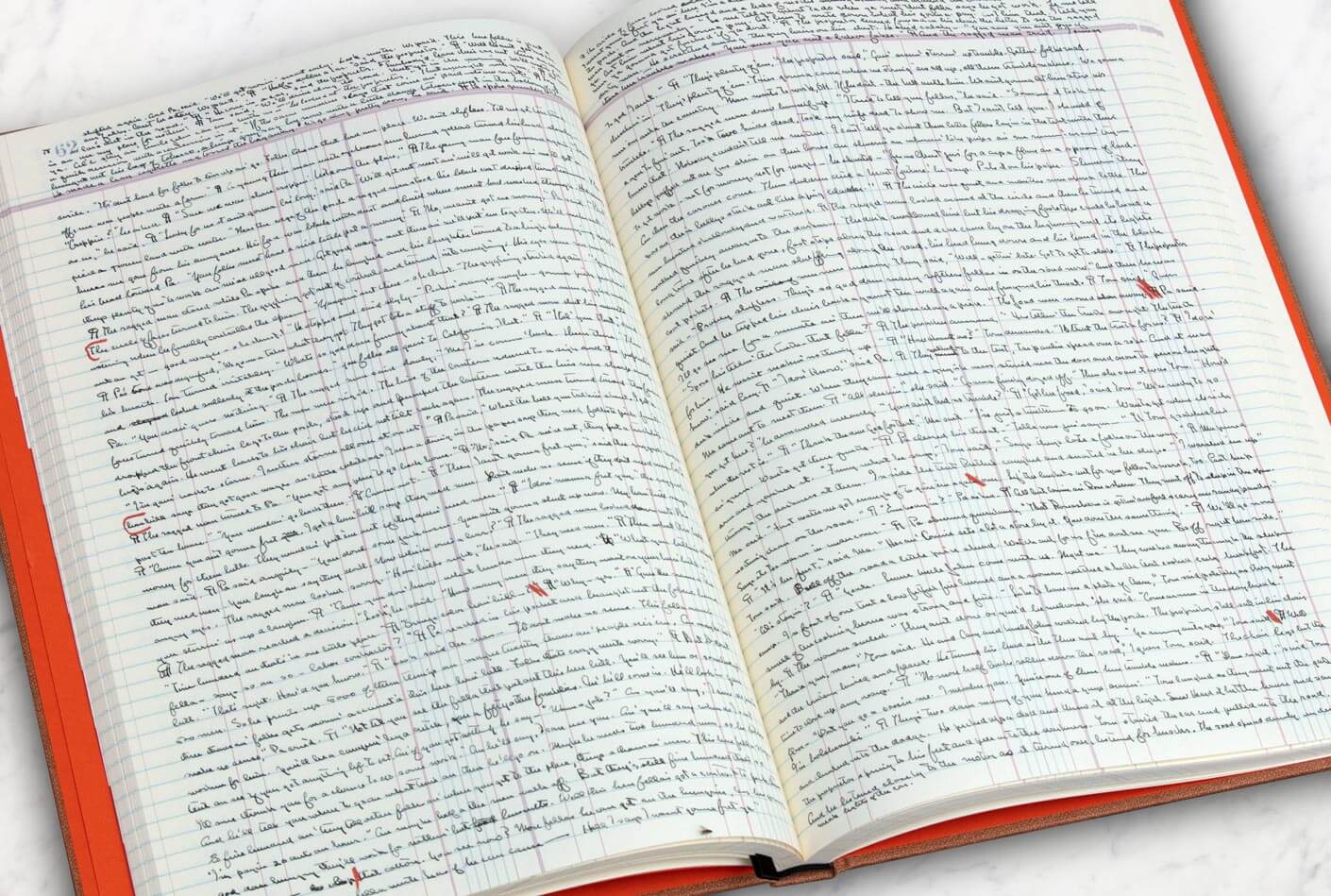 Carol proposed the title The Grapes of Wrath on 2 September 1938. It was inspired by The Battle Hymn of the Republic, a patriotic song by Julia Ward Howe that was featured in Ecce Homo!, a radio drama directed by their friend Pare Lorentz.
'What each reader 'gets' from The Grapes of Wrath will be scaled entirely on his own depth or hollowness', wrote Steinbeck to his publisher Pascal Covici (January 1939). A few months after the publication (April 1939), on May 6, 1940 John Steinbeck was awarded the Pulitzer Prize. But for him, writing the 165 pages of this manuscript was an intense five-month journey which he struggled to come back from, only tackling fiction again with his novel East of Eden.
Large format edition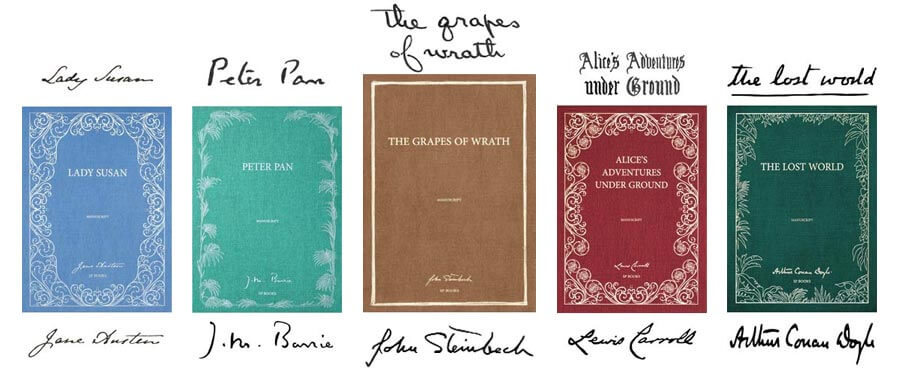 Very Large Format, a facsimile of the original manuscript: 15 x 10"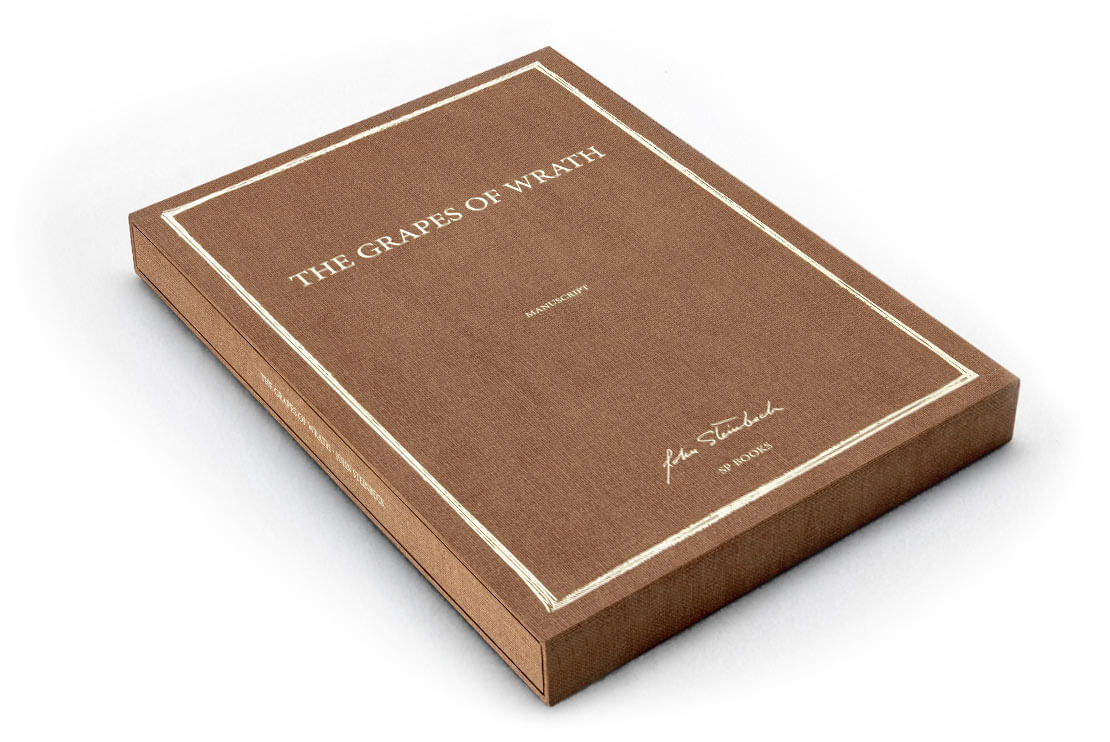 Sources:
- Working Days: The Journals of The Grapes of Wrath, Penguin Books (1990).
- Steinbeck: A Life in Letters, sous la direction d'Elaine Steinbeck et Robert Wallsten, Penguin Books (1989).
- Marie-Christine Lemardeley-Cunci commente Les raisins de la colère, Gallimard (coll. Foliothèque, 1998).
- Robert DeMott (Ohio University), Working Days and Hours: Steinbeck's Writing of The Grapes of Wrath. Studies in American Fiction, Johns Hopkins University Press Volume 18, Number 1 (Spring 1990).
- Warren French, A Companion to The Grapes of Wrath, The Viking Press (1963).
- Susan Shillinglaw, On Reading The Grapes of Wrath, Penguin (2014); Carol and John Steinbeck: Portrait of a Marriage, University of Nevada Press (2013).
- Roy S. Simmonds, The Original Manuscript of Steinbeck's The Grapes of Wrath. "The Grapes of Wrath", A Special Issue Winter, 1990. San Jose Studies, Volume XVI, number 1 (San José State University Foundation, 1990). (The essays in this issue stem from presentations given March 16-18, 1989, at San Jose State University: "The Grapes of Wrath, 1939-1989: An Interdisciplinary Forum.")
Deluxe edition
Numbered from 1 to 1,000, this Siena edition is presented in a large format handmade slipcase.
Printed with vegetal ink on eco-friendly paper, each book is bound and sewn using only the finest materials.
Siena edition
1,000 numbered copies
184 pages - 15 x 10"
Fedrigoni Deluxe Paper
Endband and bookmark
ISBN: 9791095457893