Oxford blue edition,
numbered from 1 to 1,000

Frankenstein's monster has become so famous that its form and features have engulfed those of its creators - firstly the protagonist, the Swiss scholar Victor Frankenstein, and secondly the author of the novel herself, Mary Shelley. He dominates to such an extent that the name Frankenstein is often mistakenly attributed to the monster resurrected from the dead, a formidable reputation which has lasted for over two centuries.
No one could have imagined that these three hundred pages, written in two large notebooks and kept at the prestigious Bodleian Library in Oxford since 2004, would have had such a significant influence on the worlds of literature, cinema, theatre and the arts. For a novel which was published anonymously in only 500 copies on 1 January 1818, the book has been adapted and retold too many times to count.
The text was first attributed to the poet Percy Bysshe Shelley - likely because he wrote the preface to the first edition.
It was the summer of 1816. Aged 18, Mary Wollstonecraft Godwin was holidaying on the shores of Lake Geneva in Switzerland, accompanied by her future husband, Percy Shelley, her step-sister Claire Clairmont and some friends, the poet Lord Byron and Italian doctor John Polidori. They were staying at the splendid Villa Diodati, rented by Byron in Cologny near Geneva. The setting should have been perfect for a group of young people who delighted in each other's company. However, the cold and dreary weather betrayed them, and they were forced to remain locked up for days in the villa.
They amused themselves by discussing the ideas of Erasmus Darwin - grandfather of Charles Darwin - and by reading ghost stories from the book Fantasmagoriana, ou Recueil d'histoires d'apparitions de spectres, revenans, fantômes, etc. (Anthology of stories of apparitions of spectres, revenants, phantoms, etc.)
In need of entertainment during one stormy evening, Lord Byron proposed they should "each write a ghost story", and determine who could come up with the best one.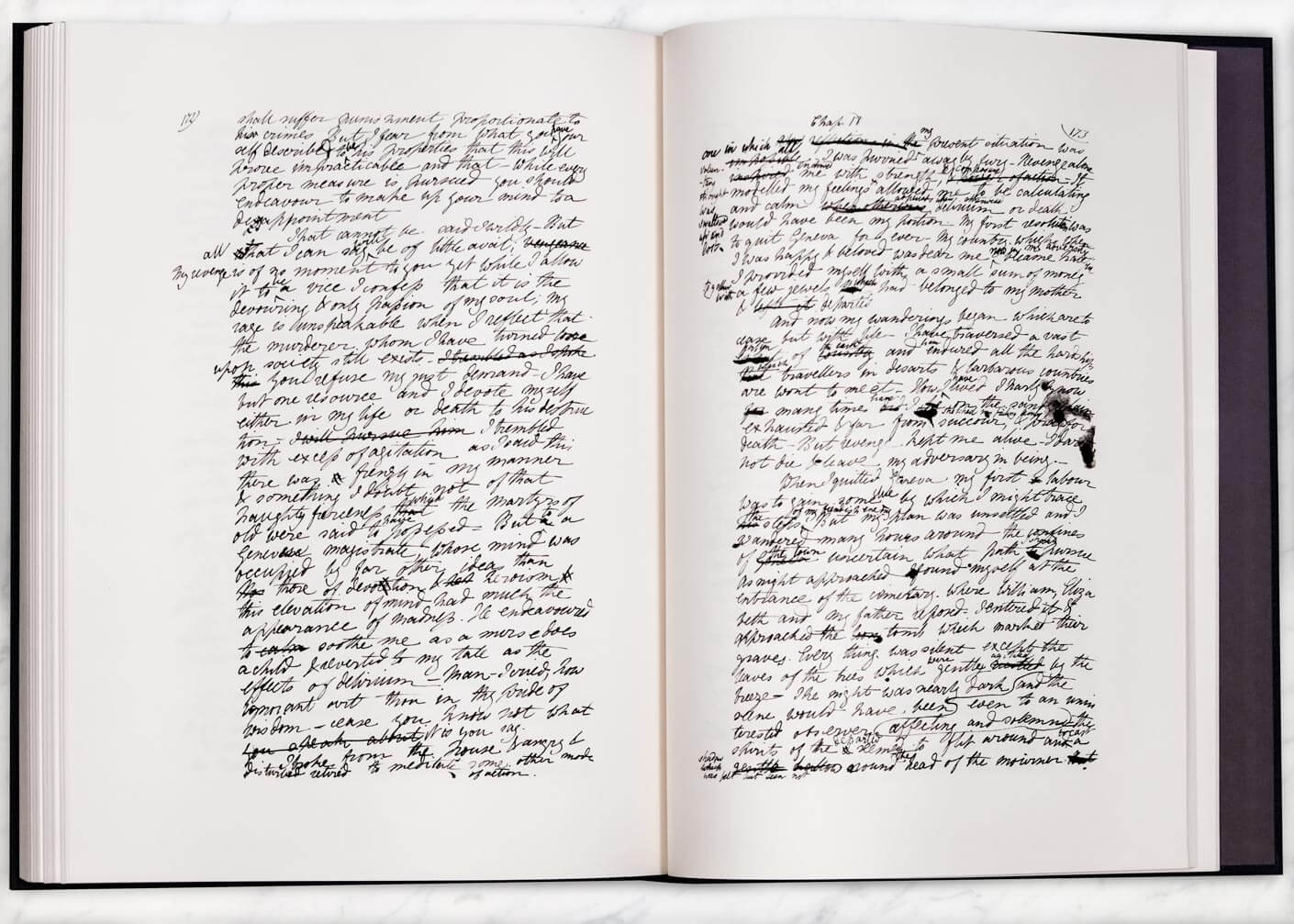 The group were galvanised by the contest: Byron himself wrote a fragment of what would become the basis for John Polidori's novel The Vampyre - published three years later in The New Monthly Magazine. We can assume that Percy also joined in, having at this point gained recognition in the literary world as a poet and recently released one of his major poems, 'Alastor, or The Spirit of Solitude'. His fiancée, Mary, also set her mind to writing a blood-chilling tale. She set to work, without the knowledge that her novel would gain a cult following, inspiring generations of readers, writers and directors.
It is hard to imagine what would have been running through her mind, having just run away from home at an early age in the company of her lover, a man preceded by a scandalous reputation.
Did she want to impress him? Did she take part in the contest for fun or to satisfy an appetite for literature, or was it both? Mary had enjoyed a fairly extensive intellectual upbringing at the hands of her father.
Frankenstein would draw on her knowledge of several genres: gothic, fantasy and horror. Her story encapsulates diverse themes, including the myth of Prometheus and scientific progress. It's possible that she also drew from her personal experience: some scholars believe that the core concept of Frankenstein, namely the ability to bring dead matter back to life, came to Mary through a personal tragedy, the loss of her child at seven months old which had occurred only several months before writing.
The novelist deployed all of her elegance and skill to produce a character that creates equal parts repulsion and fascination. Percy, looking over her shoulder, read her words carefully. He even went so far as to annotate the manuscript, creating a text that shows a literary and intimate dialogue between lovers that emerges through the pages. Their handwriting is so similar that it is not always possible to discern between what Percy may have jotted in the margins and what Mary may have edited herself. We can observe, however, the revisions to the rhythm and meter, Mary seemingly taking particular care to avoid repetitions to her text. It could be partly thanks to Percy that Mary's style became clearer, gradually allowing Victor Frankenstein's monstrous creation to take on a more human face and body.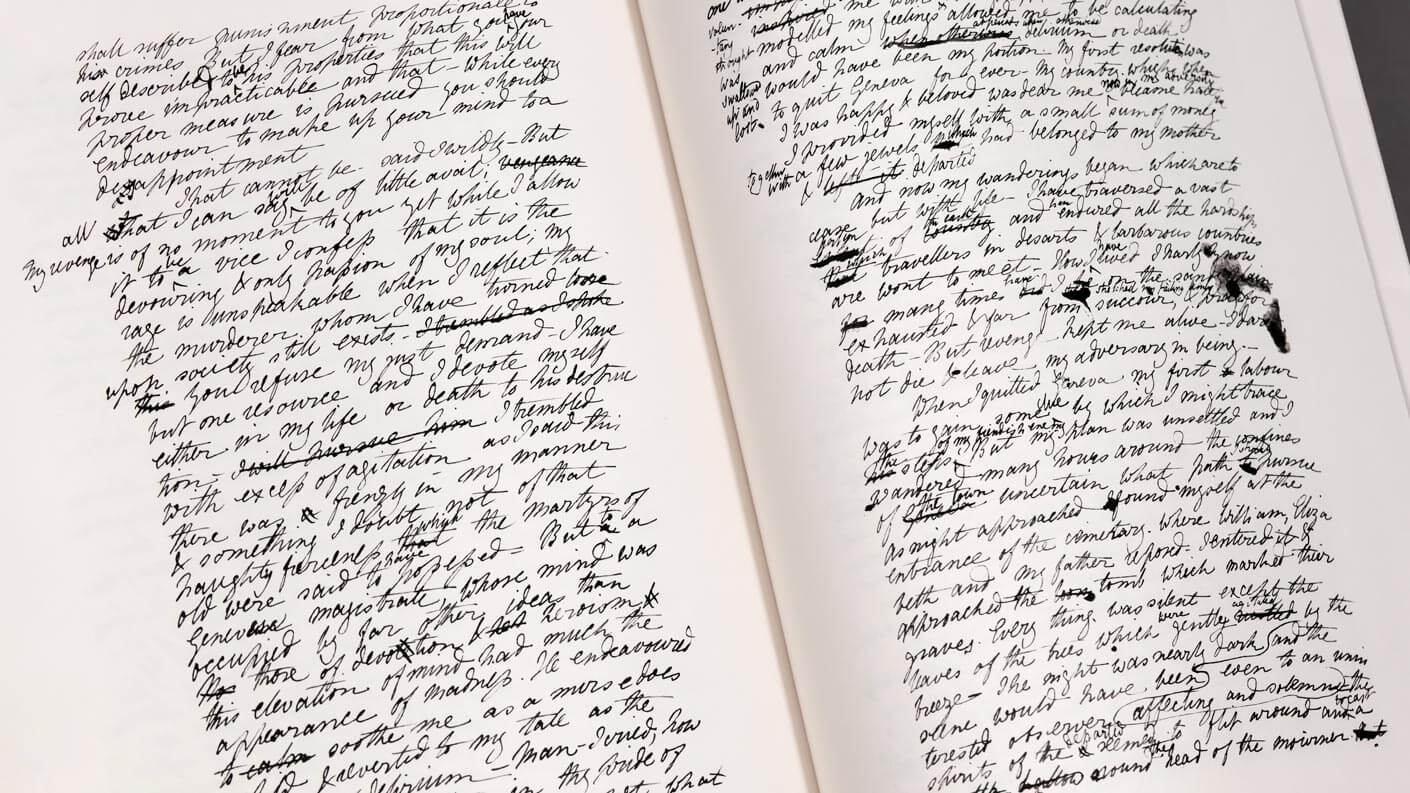 Published in 1818, Frankenstein; or, The Modern Prometheus was an instant success. Nevertheless, Mary Shelley reworked it for the version that appeared in 1831. Despite the further novels, poems and travel writing she published during her lifetime, Frankenstein remains indisputably Mary Shelley's major work.
Daughter of feminist philosopher Mary Wollstonecraft and political writer William Godwin, the novel reflects Mary Shelley's characteristic independence, evident in her decision to devote herself to her writing and to her husband, who died early in a freak accident. It also reflects the many personal tragedies experienced by Shelley, whose existence was marked from childhood by a series of bereavements of those close to her.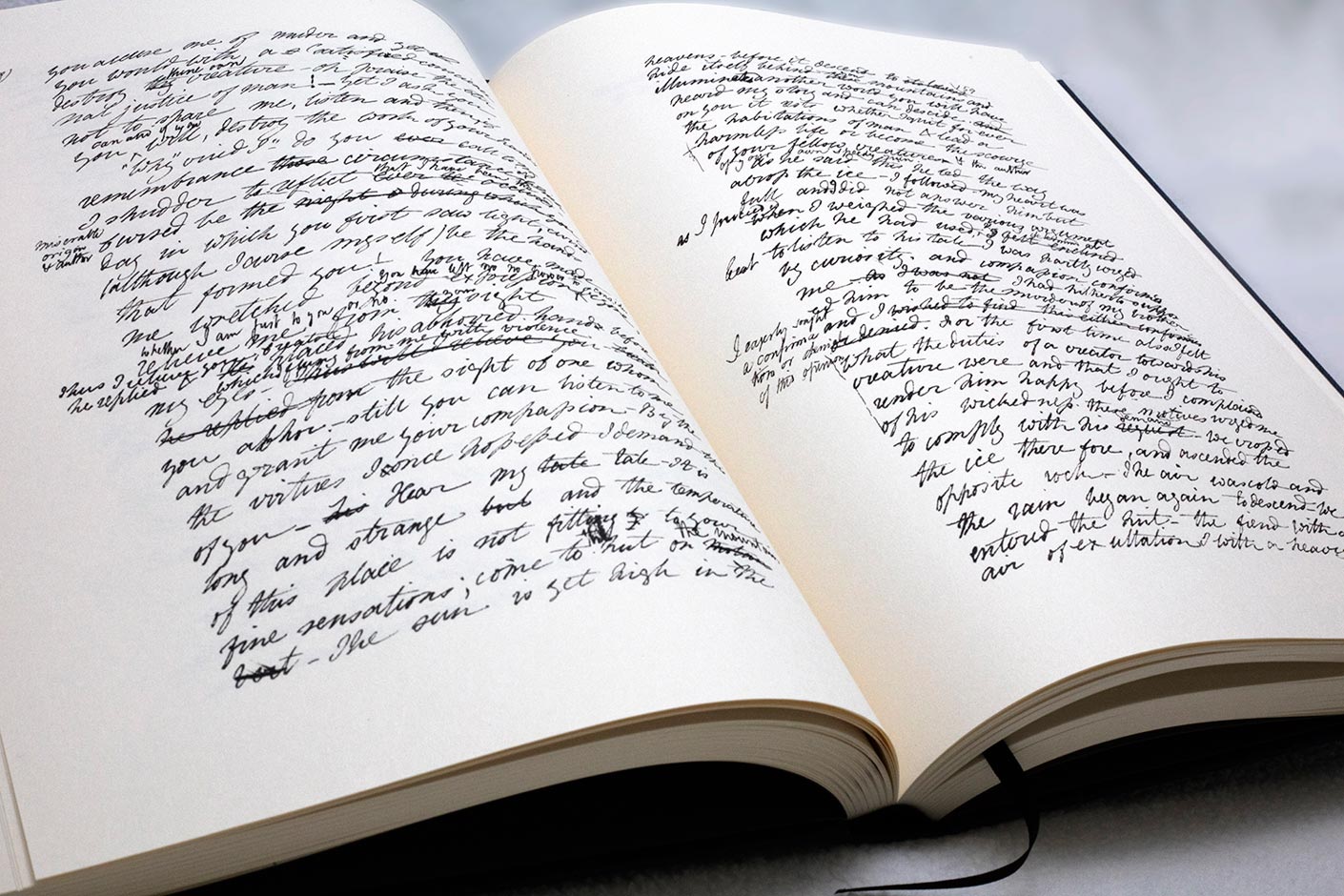 A preface by Maxime Chattam
Maxime Chattam has indisputably become one of the masters of the thriller novel in recent years. Raised on American and Anglo-Saxon culture and inspired by fantasy and suspense literature, he studied criminology and began his literary career in France with the novel L'Âme du mal (The Soul of Evil) (Éditions Michel Lafon, 2002). He is also author of a successful series for teenagers, Autre-Monde (Another World) (Albin Michel, 2008-2018).
Maxime Chattam is a member of the artist collective La Ligue de l'Imaginaire (League of the Imagination). Mary Shelley's Frankenstein and Guy de Maupassant's Le Horla are among the texts that have helped shape the imaginary world of his writing.

Deluxe edition
Numbered from 1 to 1,000, this Oxford blue edition is presented in a large format handmade slipcase.
Printed with vegetal ink on eco-friendly paper, each book is bound and sewn using only the finest materials.
Oxford blue edition
1,000 numbered copies
328 pages - 10 x 14''
Fedrigoni Avorio Paper
Endband and bookmark
ISBN: 9791095457459