Bottle green edition,
numbered from 1 to 1,000
The Lost World, Arthur Conan Doyle's manuscript
In this edition, the manuscript of The Lost World is reproduced for the first time, showcasing Arthur Conan Doyle's handwriting and edits in a graphically restored version of the original.
The manuscript is accompanied with a series of 21 illustrations from French artist Géo Dupuis. The book also includes a foreword by Jon Lellenberg, American advisor to the Conan Doyle Estate Ltd and author of five books about Conan Doyle's life and work.
The edition was produced in close collaboration with the Conan Doyle Estate, without whom this project would not have come to light, and the New York Public Library's Berg collection, where the original document is kept.
Arthur Conan Doyle's extraordinary Jurassic adventure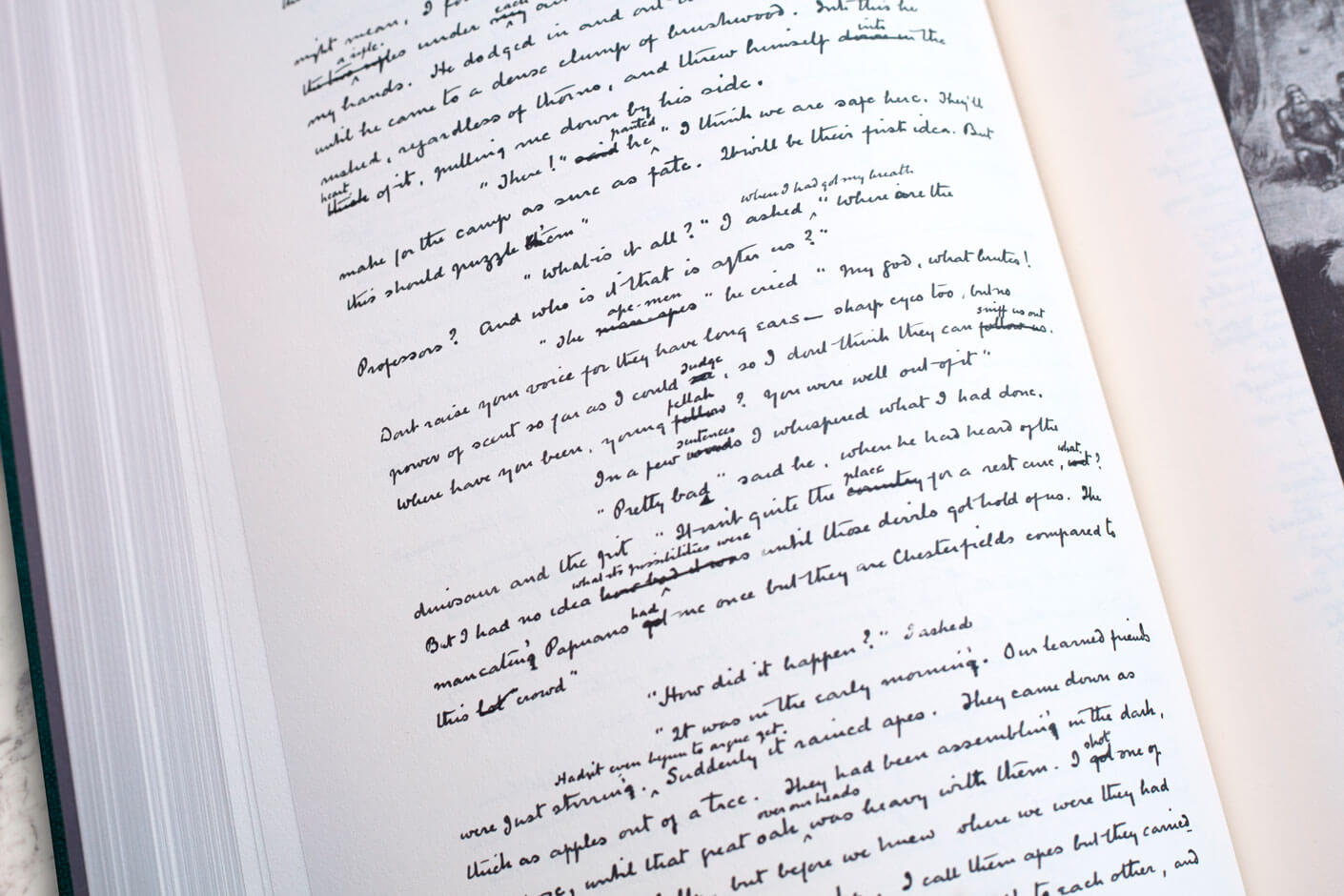 At the start of the 1910s, Arthur Conan Doyle was about to embark on a new voyage of discovery. By that time, the creator of Sherlock Holmes already had eighteen novels and nearly seventy short stories to his name, as well as several plays, essays, articles and some poetry. His famous private detective, appearing first in A Study in Scarlet (1887), was over twenty years old by then and he had also published several historical novels alongside his crime writing.
However, inspired by the visionary works of two authors he much admired, Jules Verne (author of Twenty Thousand Leagues Under the Sea and Five Weeks in a Balloon) and H. Rider Haggard (author of the best-seller King Solomon's Mines), he decided to explore a very different literary genre, somewhere between an adventure story and science fiction.
At the beginning of autumn in 1911, he had already sketched out the plot of his new novel: a scientific expedition into the depths of the unexplored Amazon jungle, to an isolated plateau where prehistoric creatures – among them exotic species of dinosaurs – still roamed. At the time he wrote the novel, the term "dinosaur" had been around for less than two centuries (it was invented in 1841).
He wrote all 292 pages of The Lost World in just a few months at Windlesham Manor, his home at Crowborough (East Sussex, England) and finished it on 3 December 1911. This document, in Conan Doyle's uniformly neat handwriting, is now preserved in the Berg Collection at the New York Public Library, from which it is here reproduced.
An avid reader of philosophical and scientific publications, Conan Doyle "strove to make The Lost World's settings and evolutionary science as factual as expert knowledge would permit within his adventurous and romantic plot" (Jon Lellenberg). Before writing the novel, he had developed a renewed interest in the theory of evolution, reading such scientists as T. H. Huxley (known for his advocacy of Darwin's theory of evolution), French paleontologist Georges Cuvier and naturalist Edwin Roy Lankester.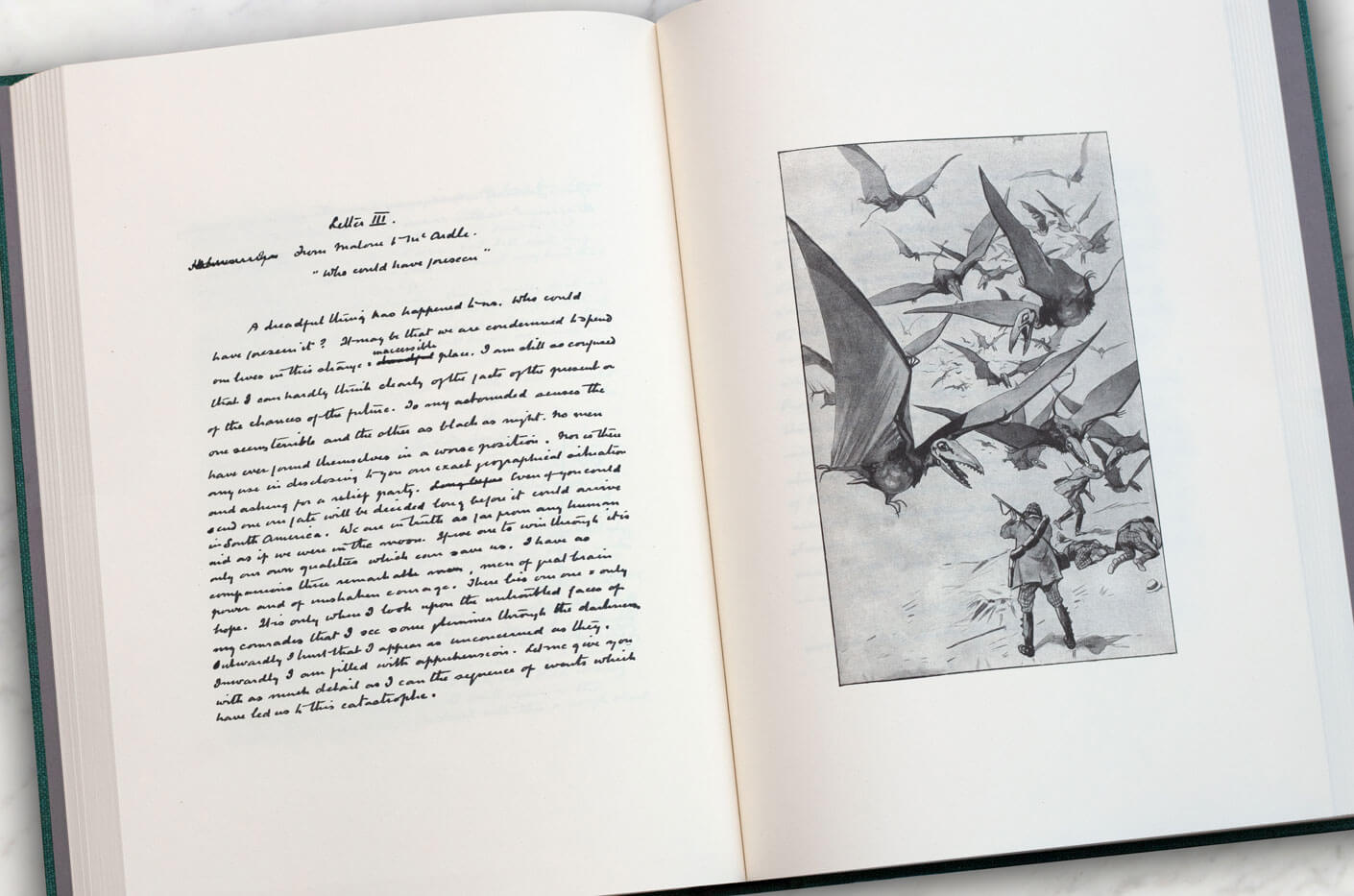 "The big blank spaces in the map are all being filled up, and there's no room for romance anywhere."
The author's colorful new creation: Professor Challenger
Leading the expedition into the "lost world", alongside Edward Malone, Lord John Roxton and Professor Summerlee, was Conan Doyle's newest creation – a brilliant scientist, but given to fits of anger and violence: Professor George Edward Challenger.
"Professor Challenger of Enmore Park? The famous zoologist? Wasn't he the man who broke the skull of Blundell, of the Telegraph?" Conan Doyle's colourful new creation was the exact opposite in character to the coldly cerebral Sherlock Holmes. Inspired by a physiology professor Conan Doyle had had in medical school, the author wrote that this character "had always amused me more than any other which I had invented".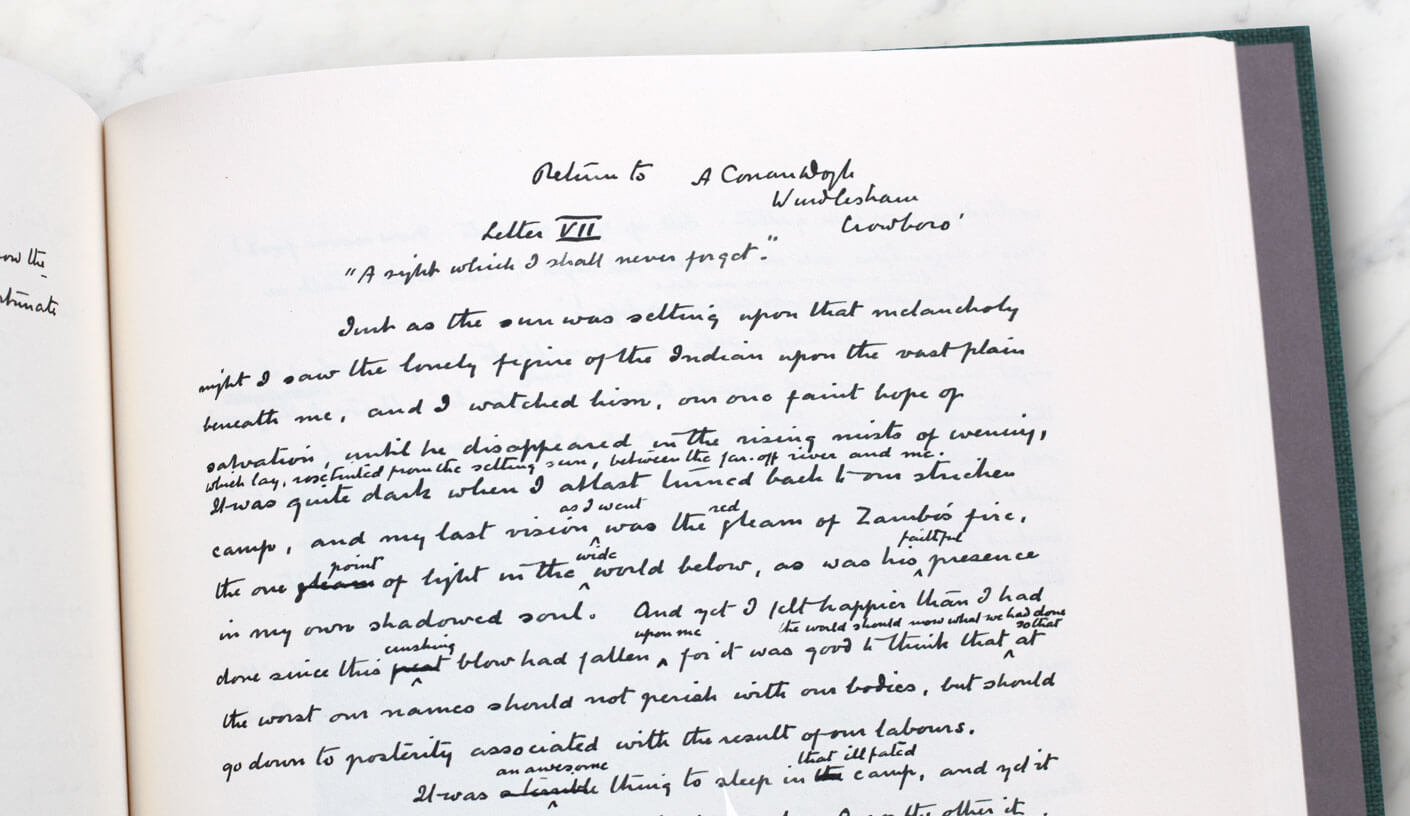 "His appearance made me gasp. I was prepared for something strange, but not for so overpowering a personality as this. It was his size, which took one's breath away-his size and his imposing presence."
A "great joke" devised by Conan Doyle
In the process of writing, Conan Doyle got "so enamoured" with his character, notes Jon Lellenberg, that with the help of his two friends he prepared a series of fake photographs featuring them as the novel's main characters – a "great joke" which appealed hugely to his sense of adventure. Conan Doyle himself was disguised behind a voluminous false beard and bushy eyebrows as Professor Challenger, with his brother-in-law as Ned Malone and the photographer himself doubling up as Summerlee and Roxton.
Conan Doyle himself confessed: "In an impish mood, I and two friends made ourselves up to resemble members of the mythical exploring party, and were photographed at a table spread with globes and instruments... I had an amusing morning touring London in a cab and calling upon one or two friends in the character of their lost uncle from Borneo."
The Lost World: an instant and popular success
"It promises to be a great success, I should not be surprised if it is not the best seller of any book I have ever done", wrote Conan Doyle.
When the novel first appeared in London's Strand Magazine (April-November 1912), it was published without the photos Conan Doyle had fabricated since the editor was concerned that readers would be confused by them. However, in October the story was published in book form by Hodder & Stoughton, this time with Conan Doyle's photos, treating his readers to what seemed to be genuine photographic "portraits" of the participants of the scientific expedition.
The novel – the first that Conan Doyle had published since Sir Nigel in 1906 – became an instant and popular success. It marked the start of a long and diverse series of imitations and adaptations – including Michael Crichton's The Lost World (published in 1995 as a sequel to his 1990 Jurassic Park), which partly inspired the famous film by Steven Spielberg. According to Michael Crichton, "In The Lost World, Conan Doyle did something far more influential than invent a character, he invented a particular kind of fantasy story, and demonstrated a successful way to tell it."
"So tomorrow we disappear into the unknown. This account I am transmitting down the river by canoe, and it may be our last word to those who are interested in our fate," writes the narrator Ned Malone. Yet on the contrary, the explorers of The Lost World were far from uttering their "last words". With this facsimile edition of the manuscript, readers can now join them on their extraordinary Jurassic adventure alongside their creator, Arthur Conan Doyle, in his own handwriting.
The manuscript of The Lost World: Doyle's beautiful calligraphy
Through the author's fluid handwriting, the reader will discover several differences between the manuscript and the published version. For instance, there are two versions of Chapter I in the manuscript, one of them suggesting that Conan Doyle first thought about writing his novel in the third person instead of the first. Certain details about the characters also differ, for example, Edward D. Malone was originally named James Herbert Malone and he worked for the Courier or London Courier instead of the Gazette. The manuscript also reveals that Conan Doyle first gave Professor Challenger the same birthdate as his own (1859), perhaps another indicator of his self-identification, even if he broadly based the character upon an old Edinburgh University professor.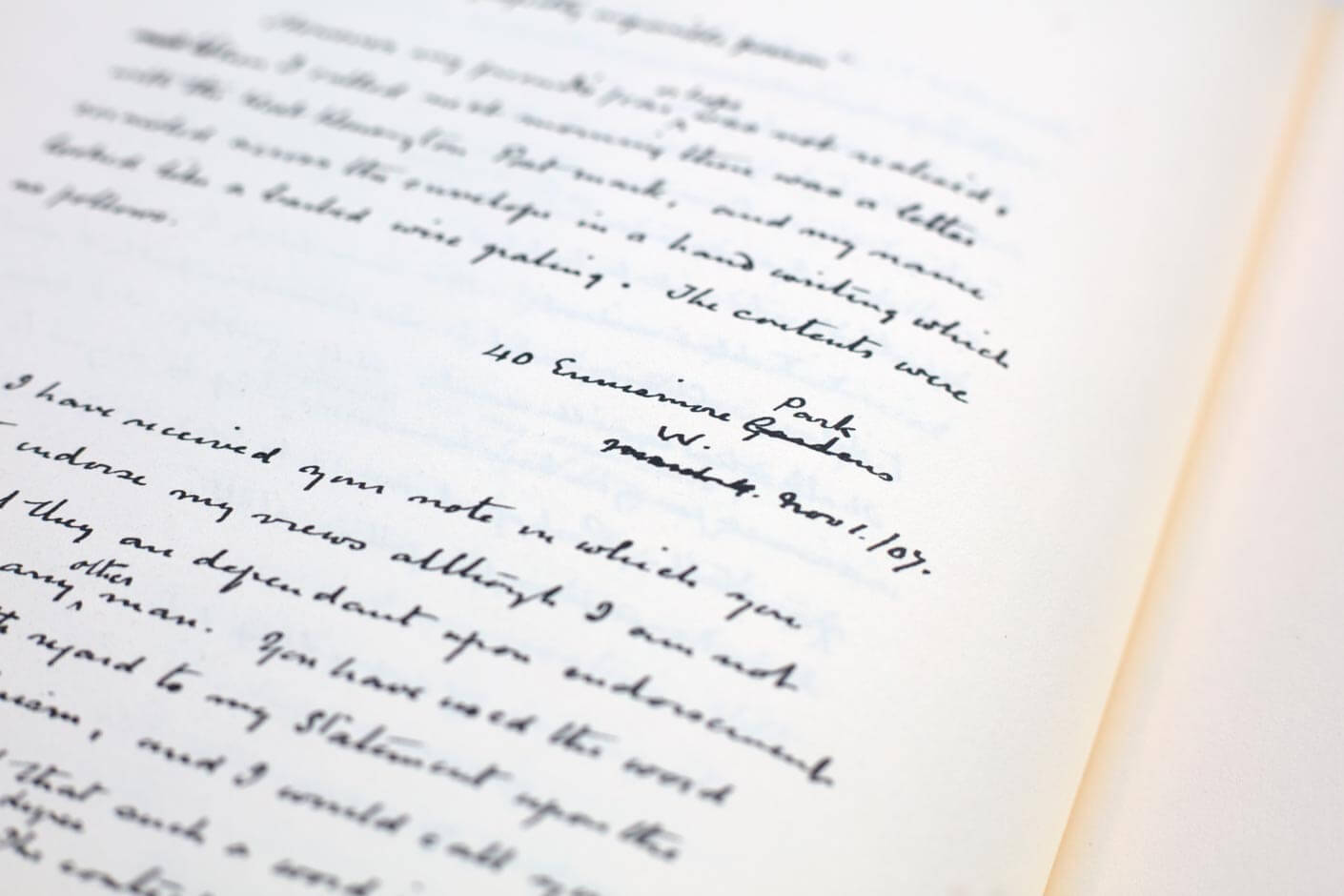 "As one observes Conan Doyle's handwriting becoming 'busier' in the course of composition, it is impossible not to feel the author's excitement and impatience to reach the climax."
Jon Lellenberg's foreword
"Like most of Conan Doyle's manuscripts, this one has occasional interlinear additions but not very many deletions. At one point a large paragraph about interpreting Time's changes through fossils is crossed out, but more about it is included later on. It is risky to conclude too much from a manuscript, but as one observes Conan Doyle's handwriting becoming 'busier' in the course of composition, then grow more leisurely and once again busier, covering both sides of the paper, it is impossible not to feel the author's excitement and impatience to reach the climax, until finally the edits grow very few in the concluding chapter." Extract from the foreword by Jon Lellenberg.
Jon Lellenberg is an American agent and advisor to Great Britain's Conan Doyle Estate, and the author, editor or co-editor of five books about Sir Arthur Conan Doyle's life and work, including "Dangerous Work": Diary of an Arctic Adventure (2012) and the award-winning Arthur Conan Doyle: A Life in Letters (2007). He lives in Santa Fe, New Mexico.
The Conan Doyle Estate Ltd is formed from the family of Sir Arthur Conan Doyle. The Estate manages the personal family archive and is committed to furthering the work of Sir Arthur. Alongside the family, their global network of experts and institutions provide specialist knowledge of Arthur Conan Doyle's life, adventures and his many fictional characters.
Twenty-one illustrations by Géo Dupuis
In this book, the expedition The Lost Worl and its spectacular settings and creatures are accompanied with twenty-one illustrations by French artist Géo Dupuis (1874-1932). He produced this series for the publication of the novel in the monthly French magazine Je sais tout (1913-1914). Géo Dupuis was also famous for illustrating the works of Honoré de Balzac, Émile Zola and Guy de Maupassant.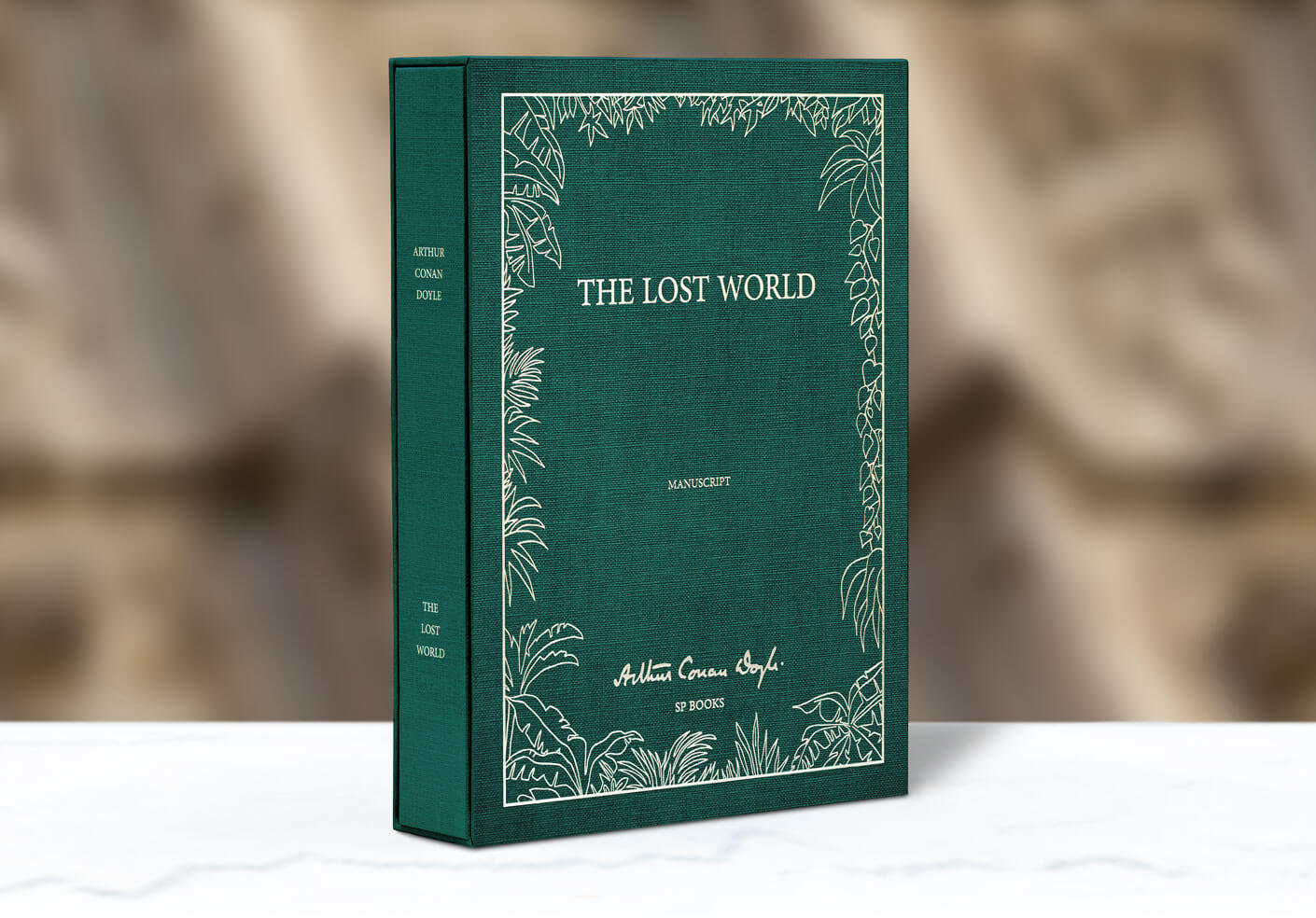 Deluxe edition
Numbered from 1 to 1,000, this Bottle green edition is presented in a large format handmade slipcase.
Printed with vegetal ink on eco-friendly paper, each book is bound and sewn using only the finest materials.
Bottle green edition
1,000 numbered copies
336 pages - 10 x 14''
Fedrigoni Avorio Paper
Endband and bookmark
ISBN: 9791095457749