Notre-Dame de Paris by Victor Hugo

Oxford blue edition,
numbered from 1 to 1,000
The Hunchback of Notre-Dame
French edition
Large format (10 x 14'')
 Free shipping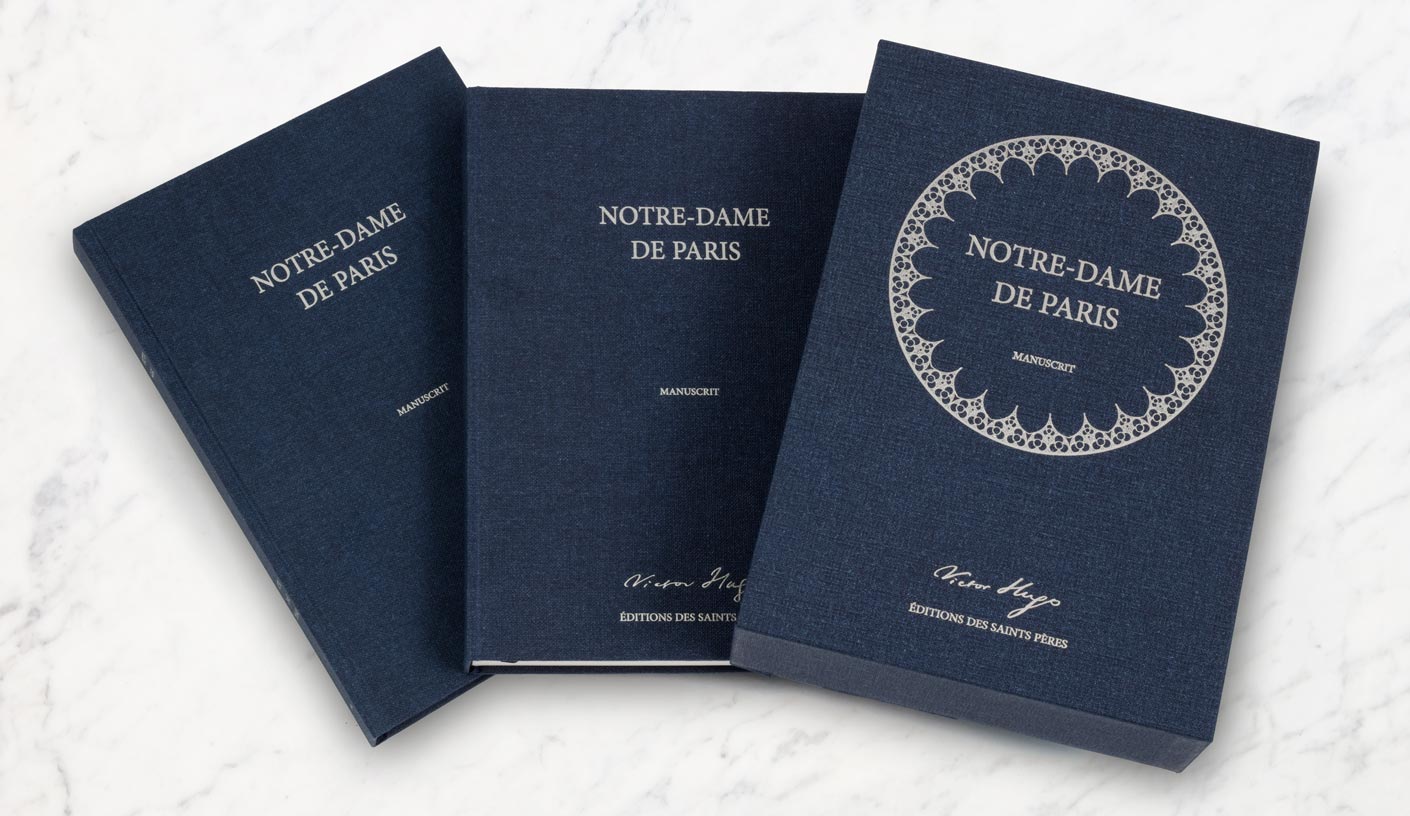 .
The birth of Notre-Dame de Paris…
At 14 years old, the young Victor Hugo was already determined to become either 'Chateaubriand or nothing at all'. He created a literary periodical with his brothers (Le Conservateur littéraire) and began frequenting the great romantic minds of his time (Alfred de Vigny, Lamartine, Charles Nodier...) Greatly influenced by the English Gothic, and infatuated with the historical novel as well as the Medieval period, Victor Hugo set out to write his very first masterpiece: Notre-Dame de Paris.
.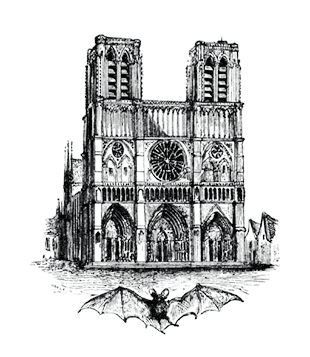 A cult classic
Notre-Dame de Paris first appeared in March 1831: he had long promised it to his editor, Charles Gosselin, but it took Hugo 3 years to finish his draft, upon which he inscribed 'ANÁIKH' (fatality in Greek), flushed out by the mythical Parisian cathedral. In the manuscript, Hugo ties his delay to a lost notebook and the political events of the 1830s: 'I wrote the first three or four pages of Notre-Dame de Paris on 25 July 1830. Then the July revolution interrupted my writing [...]. I got back to writing Notre-Dame de Paris on 1 September, and finished the work on 15 January 1831.' The novel was met with immediate success. In one month's time, the book had already been re-published 4 times. The text was translated into many languages, and Hugo transformed it into an Opera libretto in 1836. The adventures of Quasimodo, Esmeralda, Phébus and Frollo, would soon be adapted into various musicals, ballets, plays, and films…
.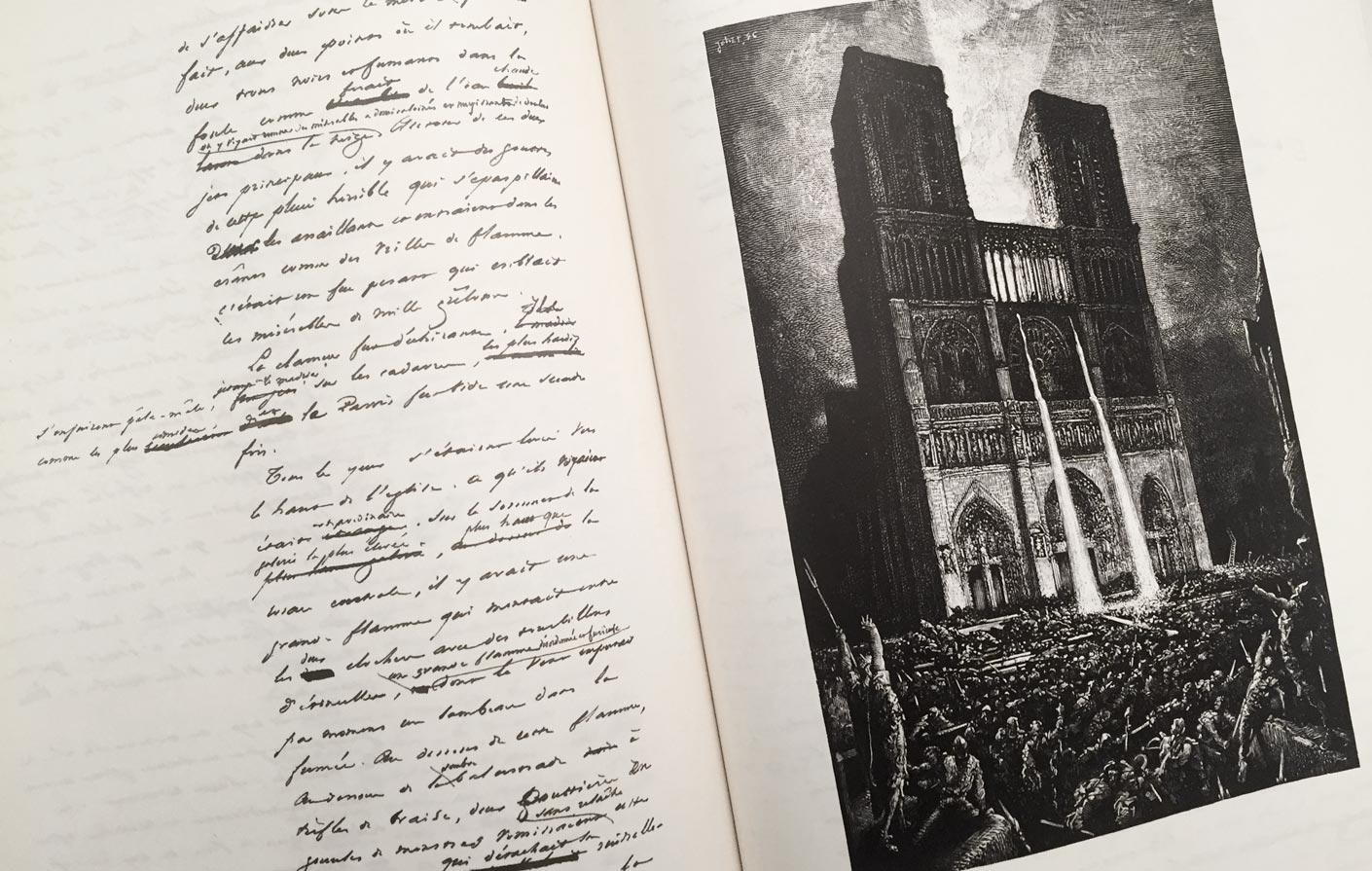 Victor Hugo's treasured manuscripts
Victor Hugo was painstakingly meticulous with his manuscripts. He carefully chose his pen and paper with a preference for large bluish sheets that he would fold in two. He wrote in columns on the right-hand side of his paper, leaving the left-hand margins for additions, modifications, and sketches. With the exception of a few manuscripts which he gave away friends, Hugo conserved his drafts in a trunk under the watchful eye of his mistress Juliette Drouet who brought them with her between Brussels, Jersey, and Guernesey.
.
Deluxe Edition
Presented by Editions des Saints Pères in two volumes, this edition of Victor Hugo's prized manuscript is punctuated by a selection of drawings and etchings realized for a few illustrated editions of Notre-Dame published during the nineteenth century. In addition to the complete unabridged manuscript, we have included many of Hugo's preparatory notes, drawings, and outlines.
.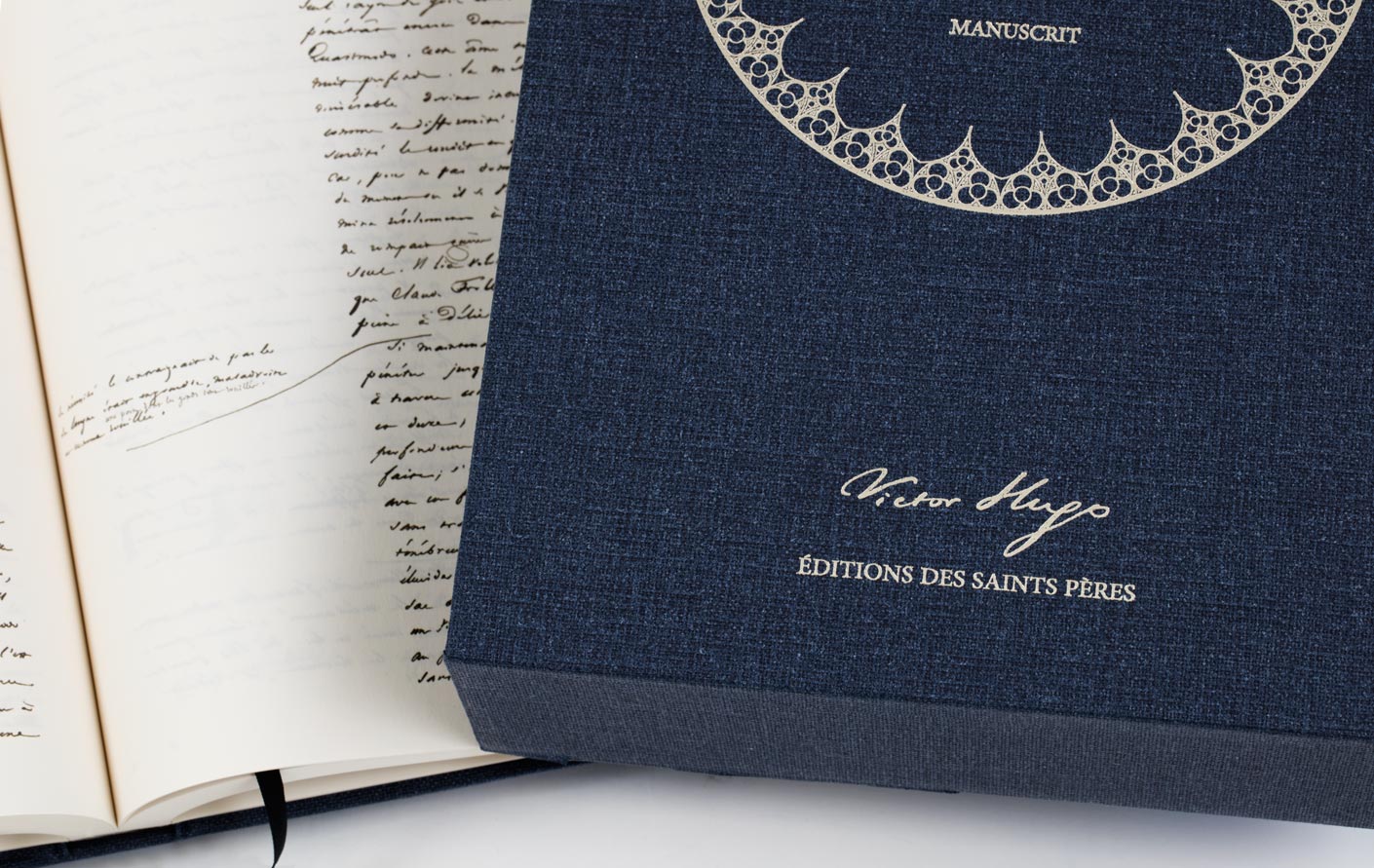 .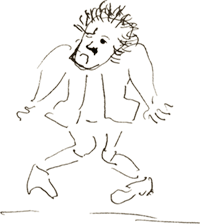 Deluxe edition
Numbered from 1 to 1,000, this Oxford blue edition is presented in a large format handmade slipcase.
Printed with vegetal ink on eco-friendly paper, each book is bound and sewn using only the finest materials.
Oxford blue edition
1,000 numbered copies
Large format: 10 x 14''
143 illustrations
2 books - 2 x 464 pages
ISBN: 9791095457084
"Des feuillets originaux de Victor Hugo sur votre table de chevet. Les éditions des Saints Pères publient aujourd'hui le manuscrit de Notre-Dame de Paris, le chef-d'œuvre de Victor Hugo (...)

"

"J'ai des frissons quand je lis ça (...) vous mêmes pouvez être bibliophiles pour vraiment une somme tout à fait raisonnable (...)

"

"Restauration accomplie pour Notre-Dame de Paris, le manuscrit integral de Victor Hugo est publié aujourd'hui par les très chics éditions des Saints Pères (...)

"

"Per la prima volta viene pubblicato integralmente il manoscritto di Notre-Dame de Paris, capolavoro dello scrittore francese Victor Hugo (1802-185) (...)

"

"Un trésor national arrive ce lundi en librairie (...)

"

"Pour la première fois en France, le manuscrit intégral de Notre-Dame de Paris, conservé à la BNF, est publié dans un luxueux coffret (...)

"

"Cette publication est inédite, car elle conserve intégralement le texte et le format du livre original (...)

"

"Conservé précieusement au sein de la Bibliothèque nationale de France, le manuscrit de Notre-Dame de Paris a longtemps été accessible aux seuls chercheurs (...)

"

"Victor Hugo écrit soigneusement, les phrases semblent couler d'elles-mêmes, à flot, griffées à la plume, c'est un océan qui prend possession de la page (...)

"