Steel grey edition,
numbered from 1 to 1,000
"I Accuse!"
French edition

Free shipping

J'accuse...!, Émile Zola's manuscript (Dreyfus affair)
On the 120th anniversary of the publication of Émile Zola's open letter in L'Aurore, we are pleased to present the manuscript of J'accuse…!, a symbol of commitment to truth and against injustice.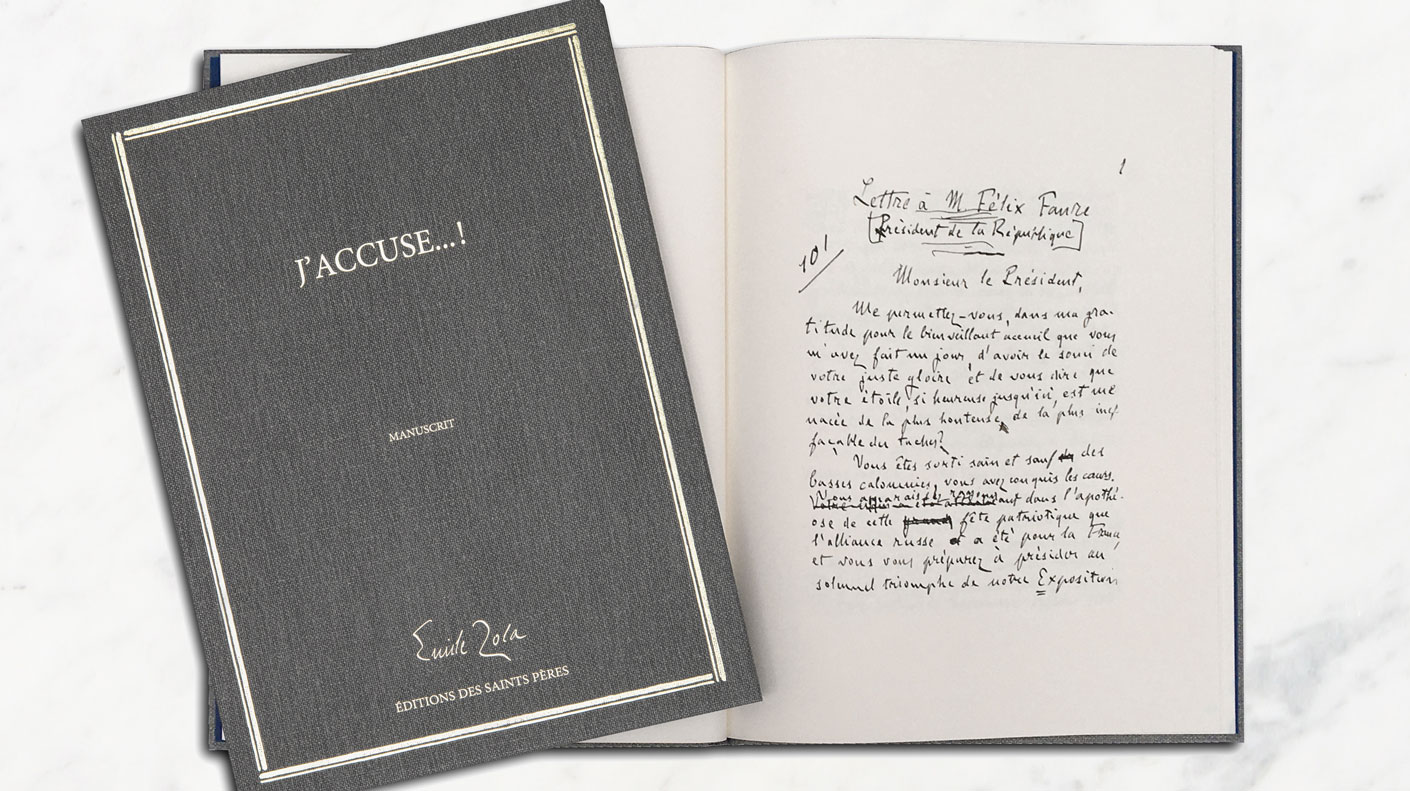 "His brave words have awakened France." (Anatole France)
1898. The Dreyfus affair is raging on and continuing to divide France. Captain Alfred Dreyfus, not yet forty, is languishing in prison. For over three years, he has been living a waking nightmare. Accused of having betrayed his country and brought before the first permanent council of war in Paris, he was condemned on 22 December 1894. Subjected to a ceremony of degradation and deportation, he was sent to live in appalling conditions in a penal colony in French Guiana on Devil's Island. He was separated from his wife Lucie and their young children who remained in France; from the start of the affair he claimed to be innocent, supported by his devoted brother who fought valiantly to restore justice.
Émile Zola wasn't involved in the affair at first, considering the case against Dreyfus too substantial to be called into question. Yet, in November 1897 he published a series of three articles in Le Figaro, the first of which concludes famously: 'The truth is on the move and nothing will stop it.'
After the unanimous acquittal of Commander Esterhazy - the real culprit, uncovered before a council of war by head of the military intelligence service Lieutenant Colonel Georges Picquart - Émile Zola again put the indignant force of his pen to paper to write a stirring article in one sitting. In the form of an open letter to the President of the Republic Félix Faure, the text was published in six columns on the front page of L'Aurore on 13 January 1898. It accused of error and even a legal conspiracy.
But what a patch of mud on your name is this abominable Dreyfus affair! (...) The truth, I will speak it, because I promised to speak it. (...) Ah this 1st affair is a nightmare, for those who know it in its true details!
Three hundred thousand copies of the newspaper were sold in a few hours. It was the start of a war of words that broke out and shook French society, via magazines, caricatures, posters and leaflets. Zola became the target of a vile anti-Dreyfusard and anti-semitic propaganda campaign.
During these years, Émile Zola was a prominent man of letters. He was decorated with the Legion of Honour and chaired the writers' association Société des gens de lettres. He frequented prestigious Parisian literary circles - such as that of the Goncourt brothers - and was involved with Gustave Flaubert, Alphonse Daudet and Guy de Maupassant. His books were a recurring success, starting with Thérèse Raquin (1867), followed with the colossal Rougon-Macquart novel cycle in twenty volumes, including L'Assommoir (1876), Nana (1879) and Germinal (1885).
In writing J'Accuse, Zola knowingly opened himself up to retaliation; his pointed accusations targeting the Minister of War and the Chief of Staff of the Army demanded a response. Legal consequences followed shortly afterwards, and the novelist was summoned to court in February of the same year. Though the event of the trial incited debate and served the interests of Alfred Dreyfus, Zola was forced to go into exile in London. The writer's intervention triggered a series of events that would eventually lead to the rehabilitation of Captain Dreyfus' innocence by the Supreme Court in 1906. Though the Rennes trial of 1899 provided an opportunity to re-examine the case, Dreyfus was pardoned but not cleared of the charges.
A document that changed the course of history
The commitment of writers to the service of great humanist causes recurs throughout history. Voltaire and the Calas affair in the 18th century is a good example of this, as is the clash between Victor Hugo and Louis-Napoleon Bonaparte that marked the 19th century.
Of J'accuse…!, Charles Péguy wrote: 'the shock was so extraordinary that Paris was turned almost upside down', while Jules Guesde hailed it as 'the most revolutionary act of the century'.
As Émile Zola put his brave pen to paper to compose these thirty-nine pages, was he aware that he would thus influence the course of history?
I have only one passion, that of light, in the name of humanity which has suffered so much and which has the right to happiness. My fiery protest is only the cry of my soul.
Zola couldn't have known that four years later he himself would expire, under circumstances still shrouded in shadow and mystery. The manuscript remained in the family for many years afterwards.

One of the most valuable historical manuscripts
In 1987, the thirty-nine pages were put up for auction by a great-granddaughter of the novelist. François Léotard, then Minister of Culture and Communication, decreed: 'I took the decision, as with a historic monument, to ensure that it cannot leave our country.' Today it is preserved at the Bibliothèque nationale de France (BnF), after it was acquired in 1991 for six million francs.
Many of Émile Zola's great manuscripts - the Rougon Macquart among others - as well as some of his correspondence, are kept at the BnF. His daughter, Alexandrine Zola, bequeathed Trois Villes to the Bibliothèque de Méjanes, while the Nana manuscript is held at the Pierpont Morgan Library in New York. The New York Public Library, the Martin Bodmer Foundation in Cologny and the Houghton Library at Harvard also act as the owners and custodians of items from his treasured oeuvre.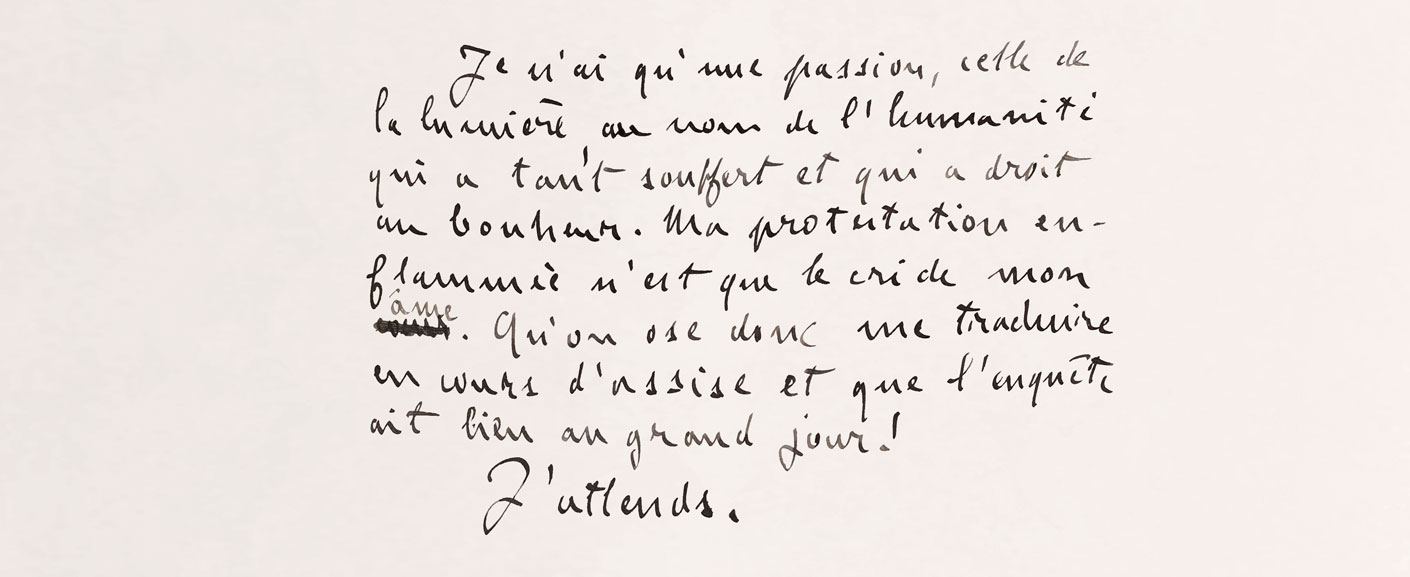 A foreword by Jean-Marie Rouart of the Académie française
Jean-Marie Rouart is a French novelist, essayist and columnist. He has been a member of the Académie française since 1997. His latest published works are Dictionnaire amoureux de Jean d'Ormesson (Plon, 2019) and recently the novel Ils voyagèrent vers des pays perdus (Albin Michel, 2021).
Rouart is committed to serving many important causes - reframing the Raddad and Joushomme cases, fighting prostitution - and in this edition delivers an inspired preface on the public role of the writer in the pursuit of justice.
'Nothing but a love of the truth predisposed Zola to trading in his comfortable position as a successful writer …'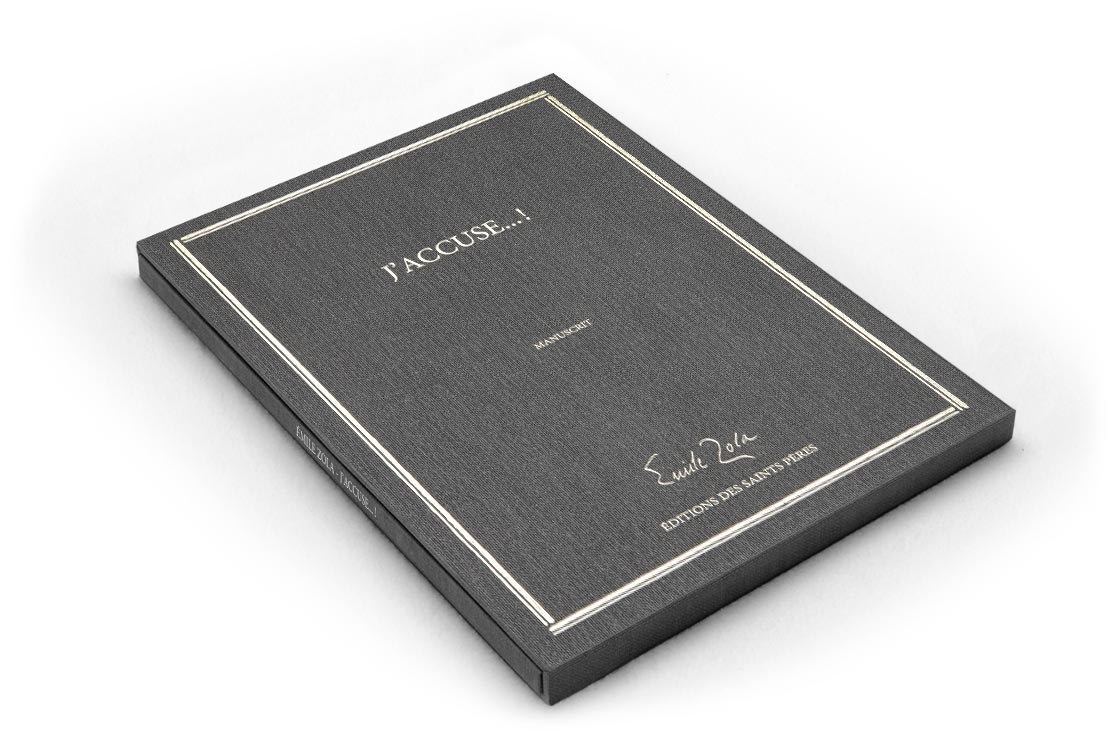 Deluxe edition
Numbered from 1 to 1,000, this Steel grey edition is presented in a large format handmade slipcase.
Printed with vegetal ink on eco-friendly paper, each book is bound and sewn using only the finest materials.
Canevas: steel grey
Fedrigoni Avorio paper
ISBN: 9791095457374