Oxford blue edition
numbered from 1 to 1,000
Nineteen Eighty-Four, the manuscript by George Orwell
A seminal dystopian novel, which shaped modern understanding of a world in crisis and became a powerful symbol of resistance. Nineteen Eighty-Four is the only substantial Orwell manuscript that survives. In October 2022, it took its place as part of our collection of treasured manuscripts.
A deluxe reproduction of the extraordinary original manuscript of Nineteen Eighty-Four, conserved at the John Hay Library (Brown University, Providence) since 1992.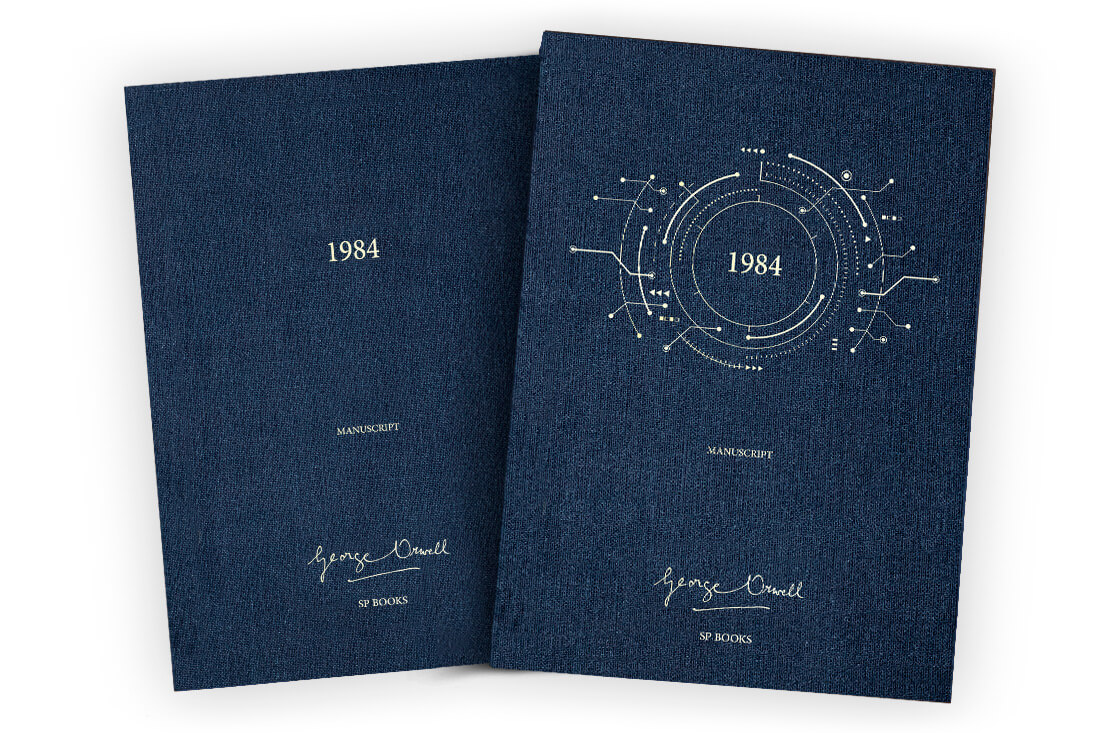 In this edition, readers can dive deep into the 197 remaining pages of Nineteen Eighty-Four (of which 183 are handwritten and 14 are typewritten), discovering the author's unedited passages. It is the only substantial Orwell manuscript that survives and represents about 44% of the published text. The document reflects Orwell's creative process in the context of World War II and its aftermath, as well as five years of health struggles, the loss of his wife Eileen, and his doubts while writing.
An illuminating foreword written by Orwell biographer D.J. Taylor accompanies the manuscript.
A laboured process – more than five years of writing, in pain
Born Eric Arthur Blair, Orwell was suffering from many crises in his personal life – the brutal loss of his first wife Eileen, having to assume care of their adopted son Richard, his increasingly fragile health – which made him want to leave London and move to Jura, a Scottish island in the Inner Hebrides. A combination of these circumstances and the great ambition underlying the project meant that it took the writer more than five years to complete his final masterpiece.
<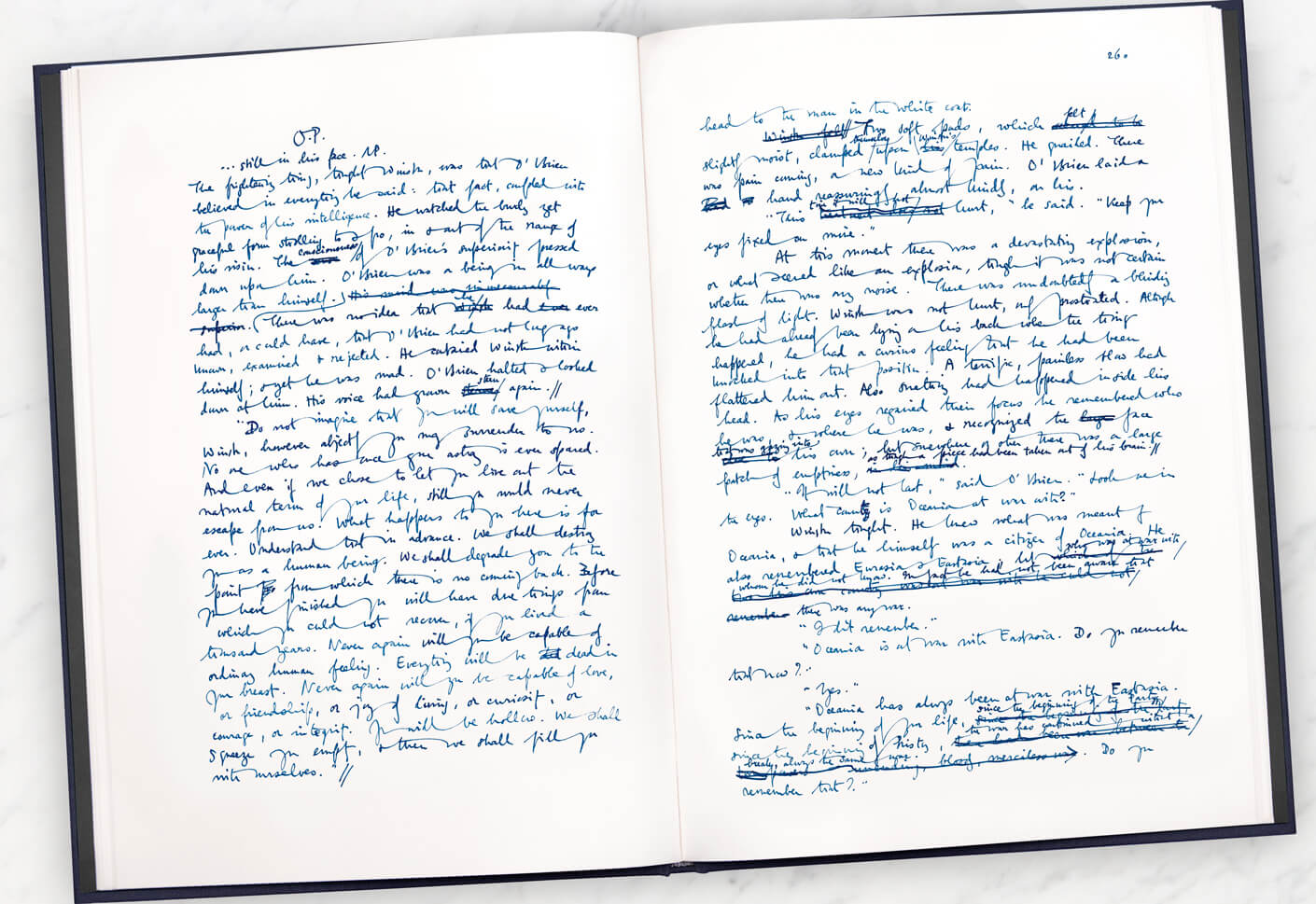 The undertaking began in 1943, and progressed slowly and sporadically until the final text was concluded five and a half years later. Several former pieces Orwell had produced as an essayist were crucial to the writing process of Nineteen Eighty-Four, such as 'You and the Atom Bomb', 'Freedom and Hapiness' and 'Politics and the English Language'.
Variously, they all prefigured the themes Orwell would interrogate more deeply in Nineteen Eighty-Four.
An incomplete manuscript, with unseen passages
'Only about 40 per cent of the final text survives, and what remains derives from four different sources. (…) The manuscript of Nineteen Eighty-Four is a very curious piece of work: incomplete, chaotic and oddly provisional. As such, it reflects the highly unusual conditions in which it was written' says D.J. Taylor (see below).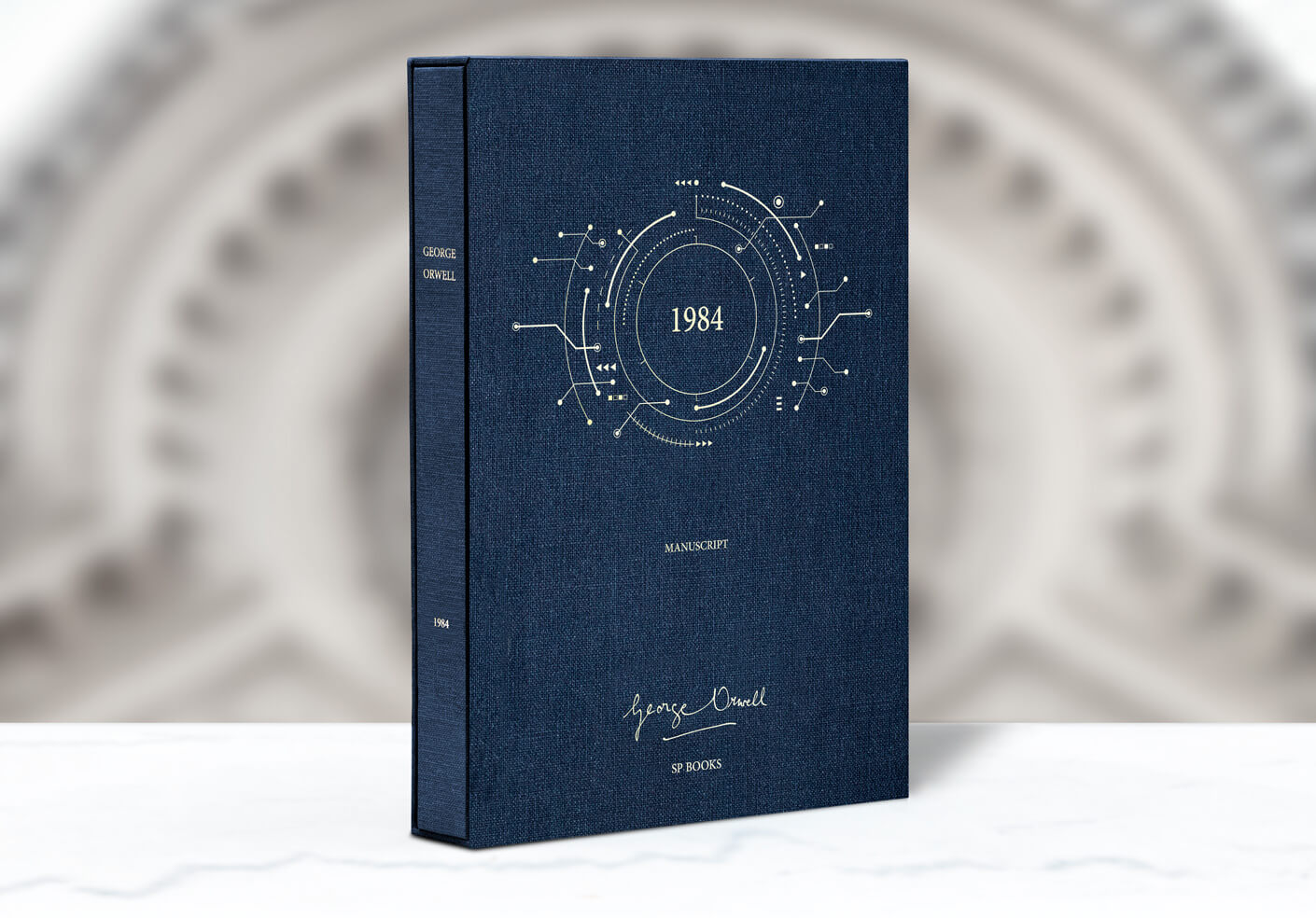 Several pages in the manuscript were erased by Orwell, such as a scene in which Winston and Julia come across each other after leaving the flat; or the lynching of a black woman in the propaganda movie watched by Winston in the prole cinema. Other passages reveal Orwell has self-censored 'on grounds of possible racial prejudice or taste.'
The 1940s, a cursed but productive decade
November 1943: Orwell is captivated by the Tehran Conference in which Roosevelt, Stalin and Churchill came together to map out the post-war world to come. At that time, the writer had already published a few books, such as A Clergyman's Daughter (Victor Gollancz, London, 1935) and Homage to Catalonia (Secker and Warburg, London, 1938), under the pseudonym that he had assumed in 1933. He had travelled to Spain during the Civil War in order to fight alongside the Republicans and against Franco, and to write articles about the conflict. He had also worked as a producer at the BBC, written for the American Trotskyist magazine Partisan Review, and been vocal in expressing his political views (see "Why I joined the Independent Labour Party", New Leader, 24 June 1938). Animal farm, a satire of the Soviet regime, was written in 1944 and published in 1945.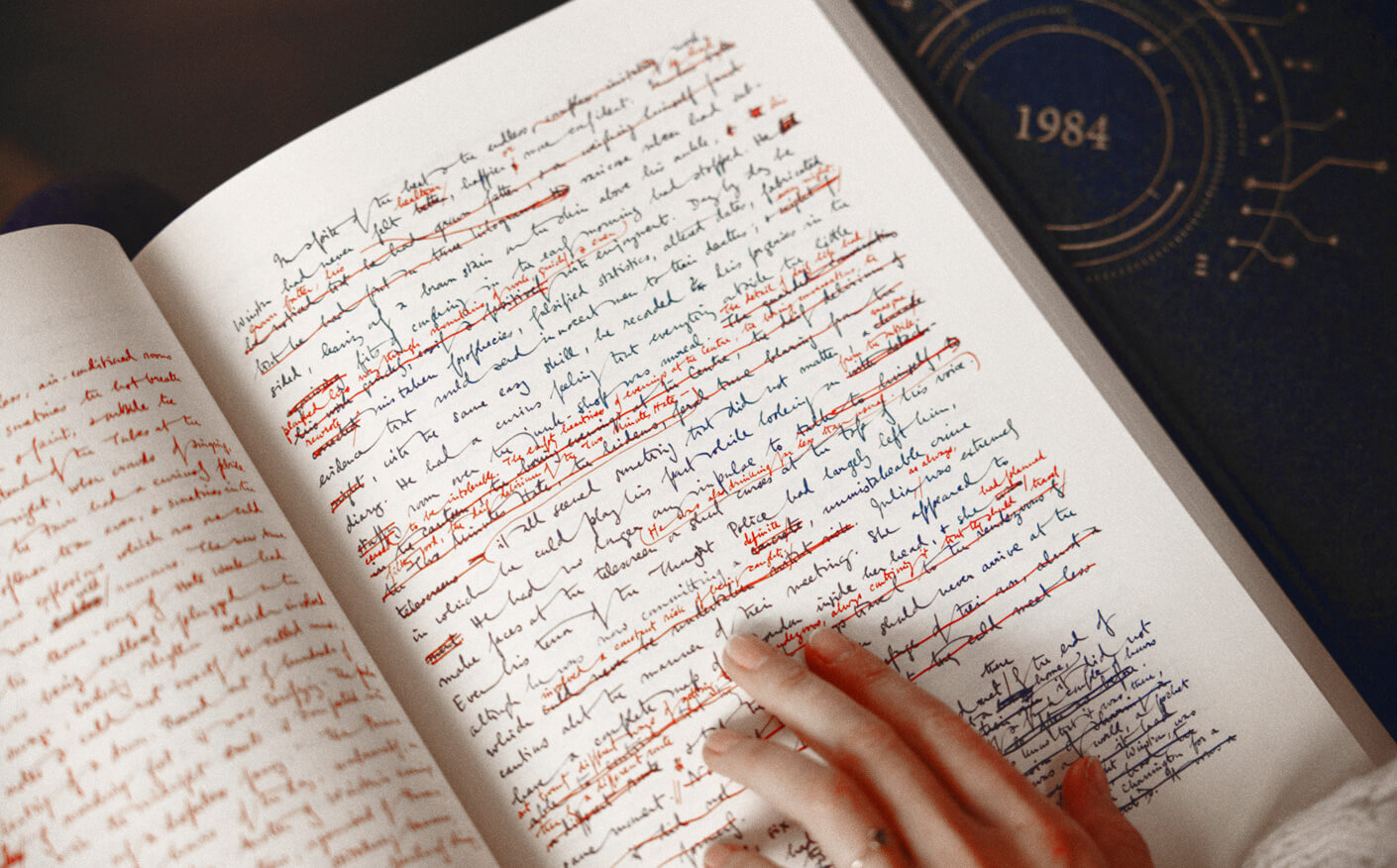 In 1945 when working in Europe as a foreign correspondent he was summoned home by the unexpected death of his first wife, Eileen. He also became Vice-President of the Freedom Defence Committee until its dissolution in 1949.
One of the John Hay Library's treasures (Brown University)
After Orwell's death, his widow Sonia travelled to Barnhill farmhouse, his last home on the Hebridean island of Jura. There she found a pile of documents which she was able to identify as the 1984 manuscript, which she donated to a charity auction in London on 11 June 1952. The manuscript was purchased by Scribner's of New York, then sold to bookseller and rare book collector Daniel G. Siegel in June 1969. In 1992, Mr. Siegel gave the manuscript to the Brown University Library (Providence, Rhode Island, USA).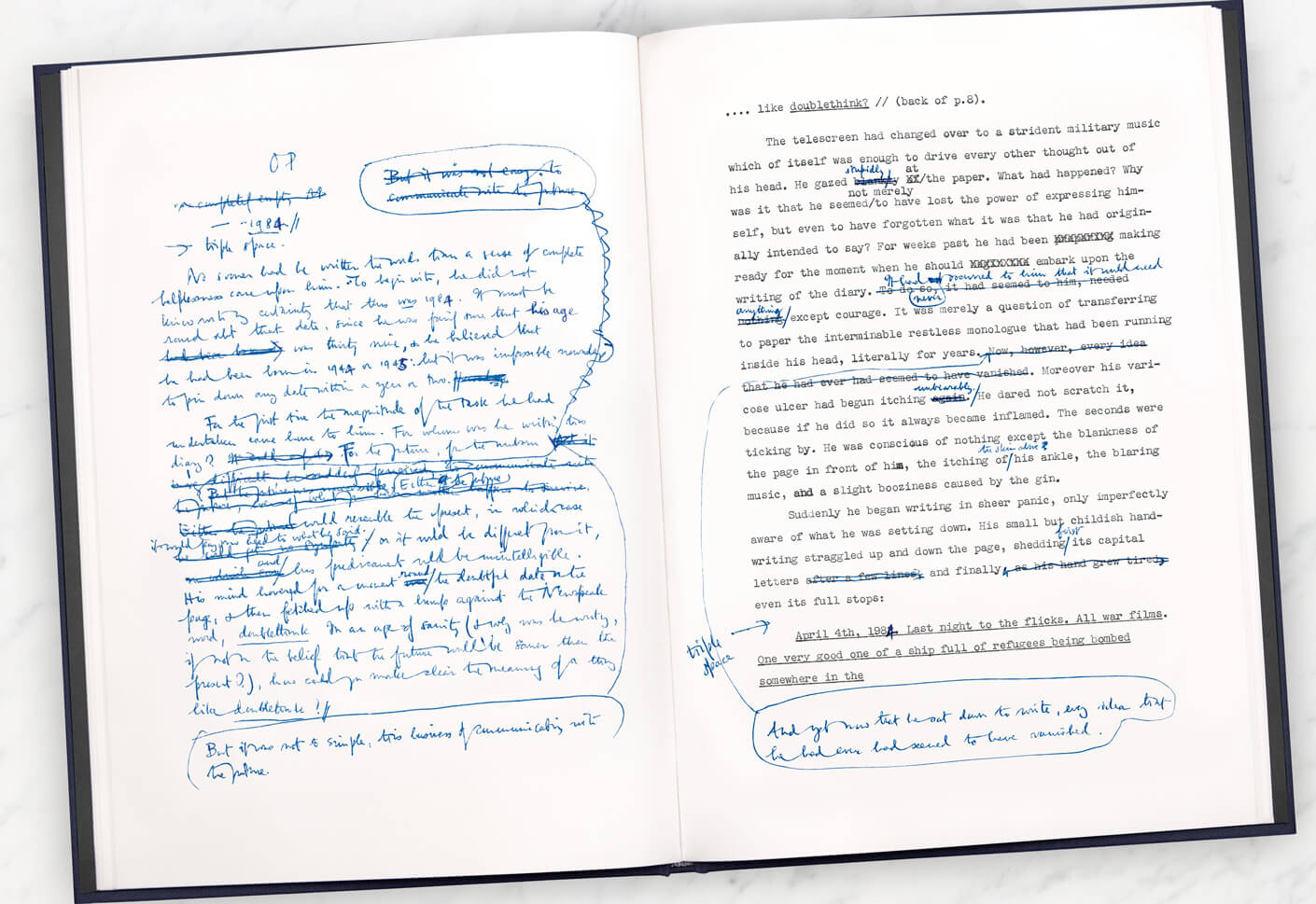 A foreword by Orwell biographer D.J. Taylor
D.J. Taylor's Orwell: The Life won the 2003 Whitbread Biography Prize. Orwell: The New Life, a new biography which makes use of the wide range of sources which have come to light since that time, will be published in 2023. He is also the author of The Prose Factory: Literary Life in England Since 1918 (2016) and Lost Girls: Love, War and Literature 1939-1951 (2019). His most recent book is a volume of short stories, Stewkey Blues (2022).
Excerpt from the preface:
'Ill, emotionally bereft, thoroughly exhausted – as were most British people – by the strains of a six-year war, relocated to a new life in the west of Scotland (although he would spend the freezing winter of 1946-7 back in Islington), Orwell was in no state to start work on so ambitious a project as Nineteen Eighty-Four. In many ways, though, the problem was worse than this. Anxious as he may have been to set out his vision of nightmare dystopian future that had its roots in the post-war world he saw around him, Orwell, it soon becomes clear, had yet to establish much of the intellectual topsoil in which the novel's seeds are sown.
To examine some of the journalism he produced in the post-1945 period is immediately to appreciate the time he spent rehearsing some of the arguments of the novel, canvassing ideas that would resurface in the world of Airstrip One and the Ministry of Truth. Much more so than any of his previous books, Nineteen Eighty-Four is a kind of backward-facing drill that burrows deep into earlier outings and, sometimes subconsciously, turns up all manner of details that will prove to be useful in the task ahead.'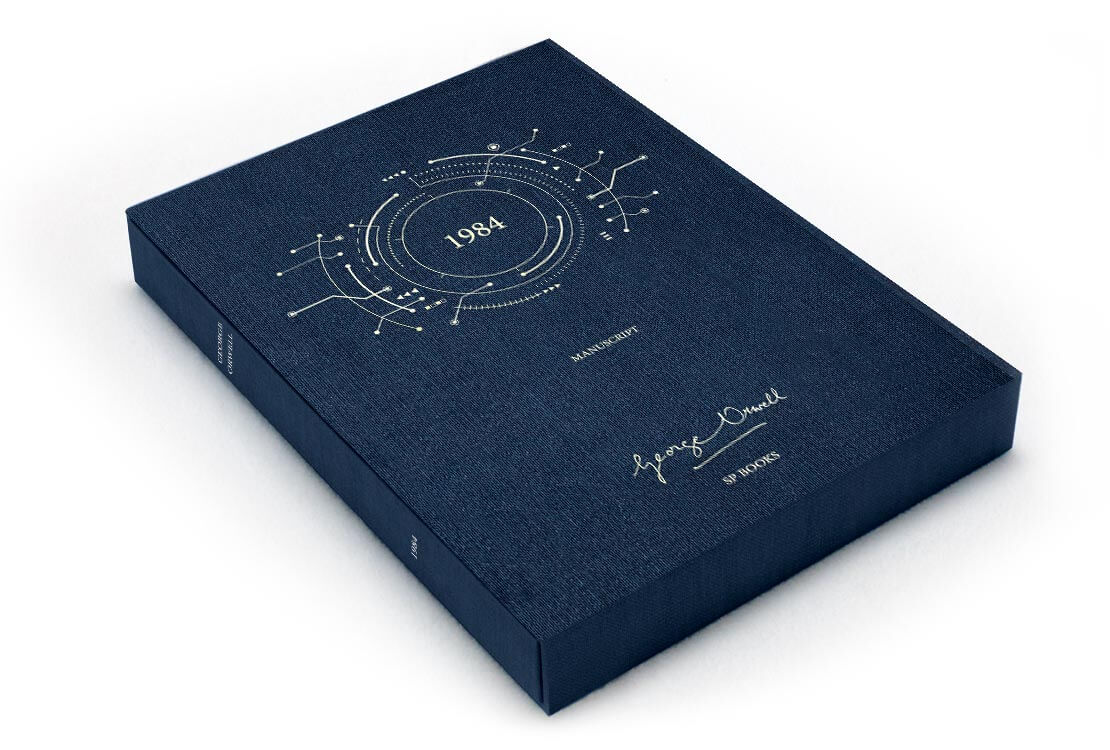 With grateful acknowledgements to Bill Hamilton, D.J. Taylor and the Estate of the Late Sonia Brownell Orwell.
Also see:
- George Orwell, Oeuvres. Bibliothèque de la Pléiade, Gallimard, 2020. Sous la direction de Philippe Jaworski.
- D.J. Taylor, Orwell: The Life. Henry Holt & Co, 2003.
- On Nineteen Eighty-Four: A Biography of George Orwell's Masterpiece. ABRAMS Press; Illustrated edition (2019).
- Sylvia Topp, Eileen: The Making of George Orwell. Unbound, 2020.
Deluxe edition
Numbered from 1 to 1,000, this Oxford blue edition is presented in a large format handmade slipcase.
Printed with vegetal ink on eco-friendly paper, each book is bound and sewn using only the finest materials.
Oxford blue edition
1,000 numbered copies
304 pages - 10 x 14"
Fedrigoni Deluxe Paper
Endband and bookmark
ISBN: 9791095457114