Bottle green edition,
numbered from 1 to 1,000
The Fairy Tales
(Kinder- und Hausmärchen)
The manuscript is in German
The essay is in English
The manuscript of Grimm's Fairy Tales
Sleeping Beauty, Snow White and The Frog King... Be immersed in the magical world of Grimm's Fairy Tales.
Barely two hundred years separate us from Grimm's Fairy Tales, which were collected and transcribed by the brothers Jacob and Wilhelm Grimm in 1810, and published for the first time in 1812. These seemingly familiar tales lie both close and out of reach – they remind us of being frightened and amazed by incredible stories told before childhood bedtimes, yet are rich in subtexts and symbols intended for adult audiences.
The first manuscript of Grimm's Fairy Tales is a surviving treasure intertwining many stories, and stands apart from the successive versions which altered the tales to adapt them to a young audience. Almost fifty years separate this document from the final version edited by the Brothers Grimm.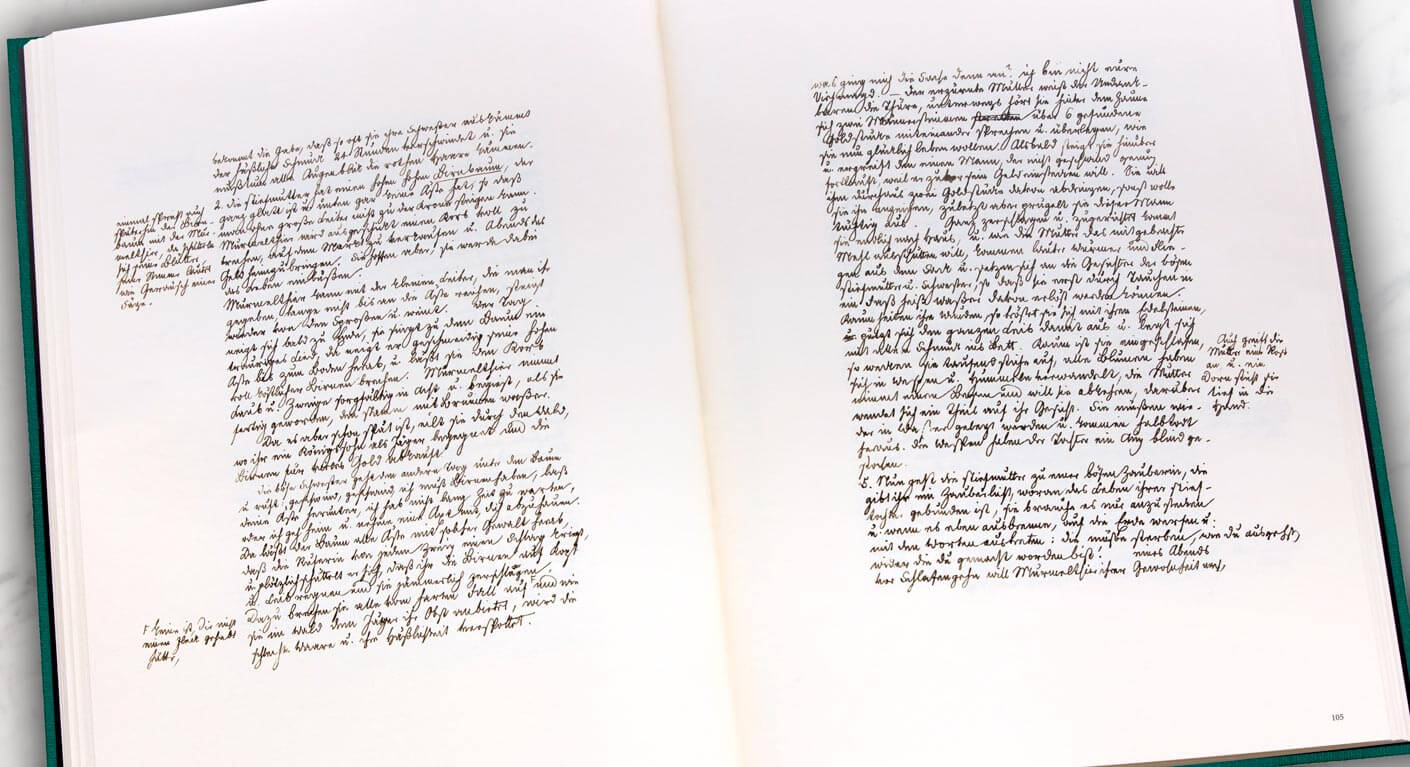 'This manuscript of Grimm's tales is like the dawn: written in 1810, it lays the ground for and heralds the dazzling rays of a work which would take 47 years to arrive at its final form.' (Jean-Paul Sermain)
From a private project to a global bestseller
Endowed with a natural gift for studying, Jacob and Wilhelm Grimm enrolled at the University of Marburg in 1802. One of their professors, Savigny, who would come to have a great impact on their lives, encouraged them to study the history of law and German history, language and literature. In 1808, Jacob was appointed as private librarian in Kassel to Jérôme Bonaparte, who had been installed on the throne by his brother. Through Savigny, the brothers came into contact with Clemens Brentano and Achim von Arnim, two famous writers who were searching for texts to complete their collection Das Knaben Wunderhorn (The Boy's Magic Horn).
Three years later on 25 October 1810, the Grimms sent them the poems and tales they had collected, mostly from local descendants of Huguenot families from the Hesse region in central Germany, including Dorothea Viehmann – making up the contents of this very manuscript. It is the oldest manuscript version of the Kinder- und Hausmärchen (Children's and Household Tales), as the Grimm brothers resolutely destroyed their other drafts, likely in order to prevent comparisons with later versions. As the Brentano-Arnim project failed to materialise, the Grimm brothers continued the work independently. The first edition was published in 1812, thanks to a working copy (which was also destroyed).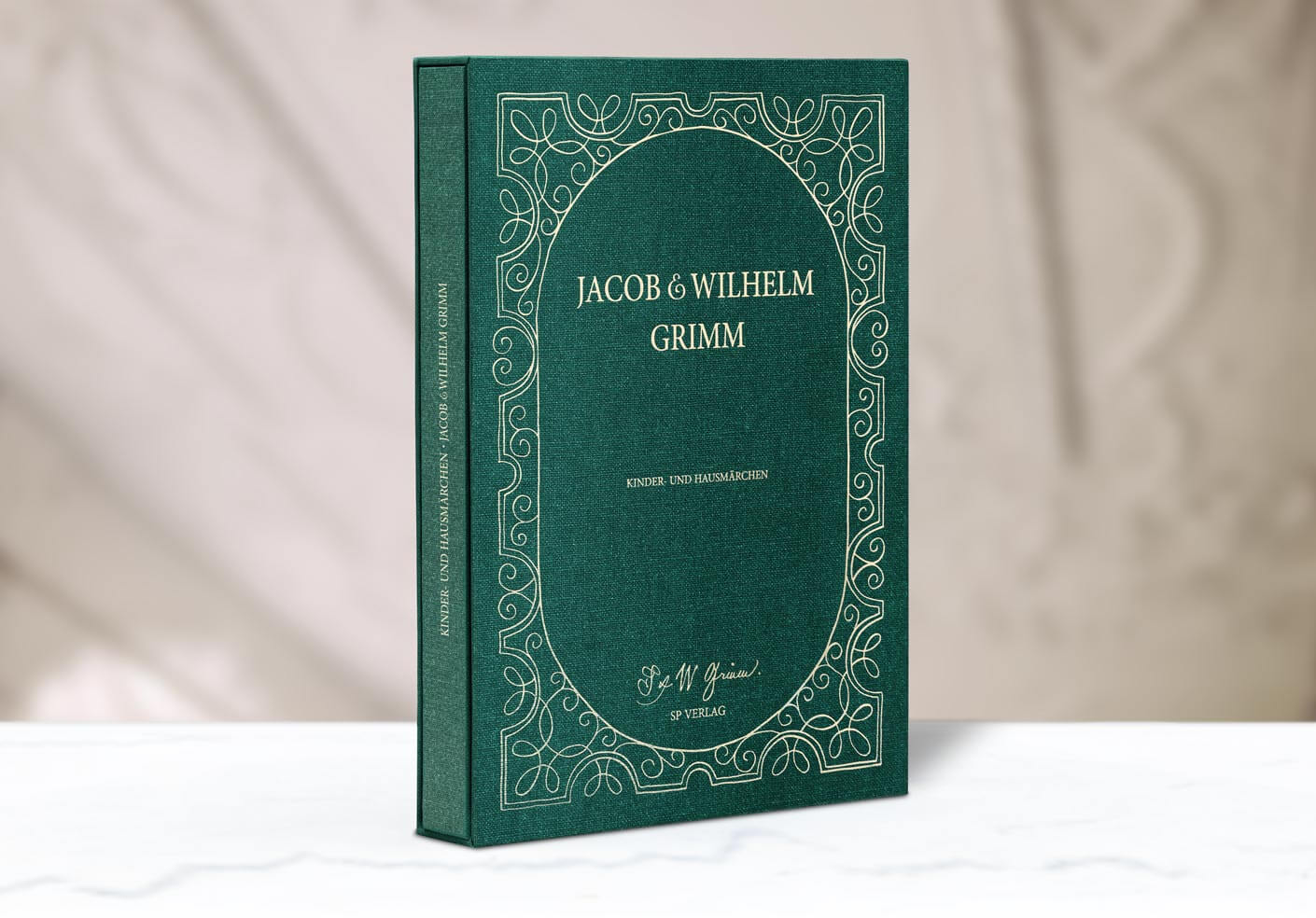 For his part, Clemens Bretano held onto the manuscript reproduced here without using it – making it another original version that wasn't erased, different from the first. This document was part of the archives left at his death in 1842 to the abbot Ephrem Van der Meulen, who bequeathed it in 1884 to the Trappist convent of Oelenberg in Alsace.
The Grimm brothers' success was not immediate – they had a lengthy literary and narrative road to travel. It was mainly the undertaking of Wilhelm, who, 'throughout the course of multiple reprintings, intensifies the familiar expressions and versified refrains, also resorting more and more to the device of tripling episodes and phrases. Grimm's tales adopt an easy syntax, with short clauses juxtaposed or linked by a simple conjunction (...). In this, the Grimms take up the thread of La Fontaine, Perrault and Galland's achievements in Louis XIV's France, though their model of simplicity and nature is geared towards the middle-class society and writers of their own time.' (see Jean-Paul Sermain's preface).
Wilhelm and Jacob Grimm – the now legendary linguists, philologists and authors – finished working on their collection in 1857.
Universally popular fairy tales
Amongst a rich list of 45 tales and a legend, 25 tales are written in Jacob's hand, 14 in Wilhem's hand and seven others attributed to four other authors. Readers will be enchanted by the familiar characters and universes: those Sleeping Beauty, Snow White, the Frog King and even Rumpelstiltskin… They will also be able to decipher, throughout the manuscript, inscriptions in French directly linking the work of the Brothers Grimm to that of Charles Perrault (Hop-o'-My-Thumb, The Fairies), more than a century earlier.
An illustrated facsimile with 30 drawings by Arthur Rackham
In this edition, the handwritten lines of the Brothers Grimm are interwoven with the iconic illustrations of Arthur Rackham.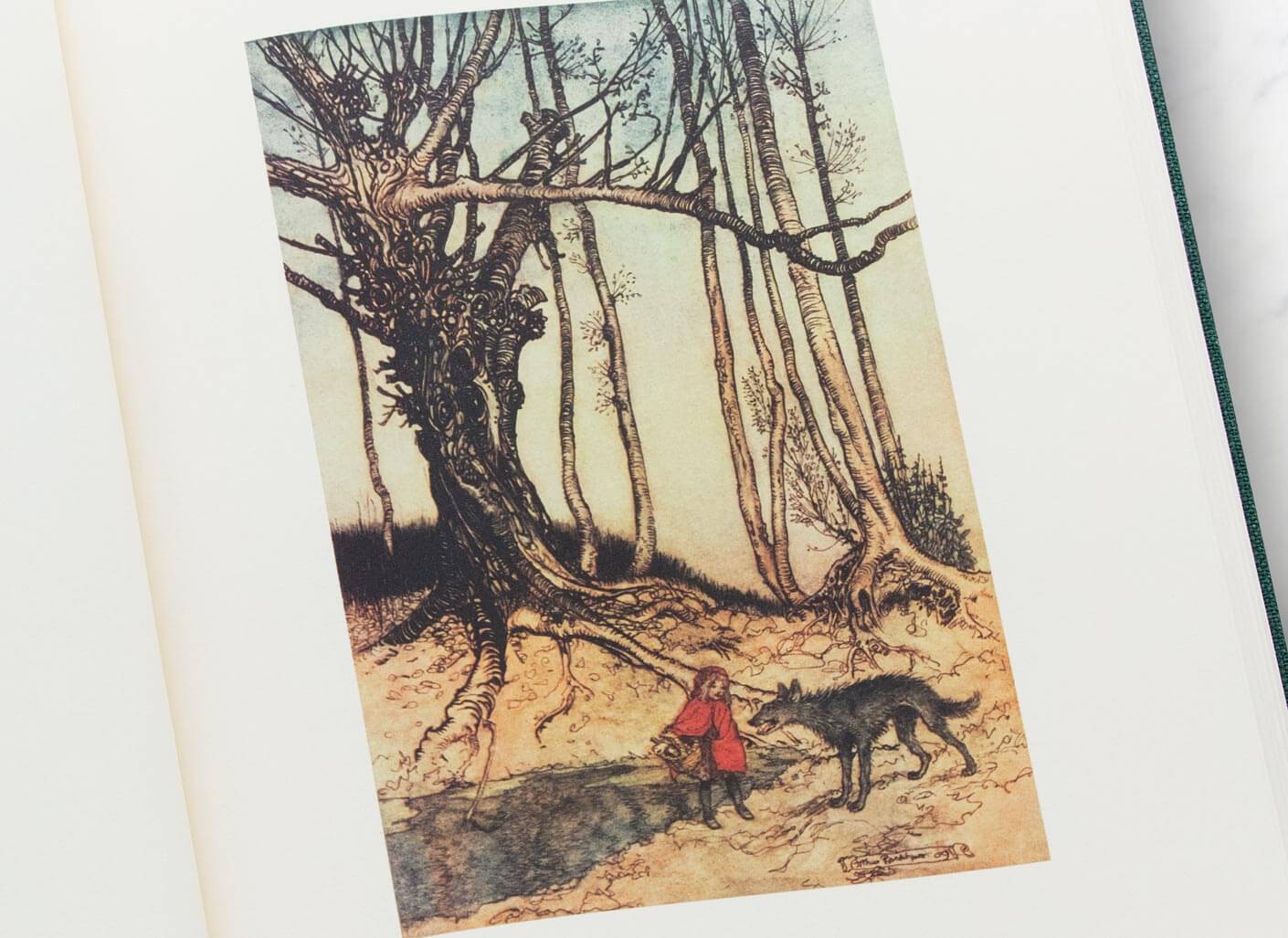 Arthur Rackham (1867-1939) is one of the pioneers of 'fairy painting', a pictorial genre depicting fairies or scenes from fairy tales often associated with the Victorian era. The British artist is famous for his illustrations for the tales of Andersen and Perrault, and for Peter Pan in Kensington Gardens. Major exhibitions have been devoted to him all over the world.
A preface by Professor Jean-Paul Sermain
'The majority of these tales contain wonders and enchantments, and while this collection represents only about a third of the total in the definitive edition (1857), it is popular with the public. This first manuscript demonstrates that the Grimm brothers are aware of the broader tradition of Märchen, since they bring in elements of French fairy tales, notable in the stories with animal heroes, or those centred on plants or objects – alternately parable or fable, comic or serious, but always filled with adventure.'
Jean-Paul Sermain is a professor at the Sorbonne Nouvelle University - Paris 3. An 18th century specialist, his research focuses on 18th century literature, the poetics of the novel and fairy tales. He also works on the oeuvres of Marivaux, Prévost and Diderot. He is the author of reference works including: Le conte de fées du classicisme aux lumières (Paris, Desjonquères, 2005), and Les Mille et une nuits entre Orient et Occident (Paris, Desjonquères, 2009).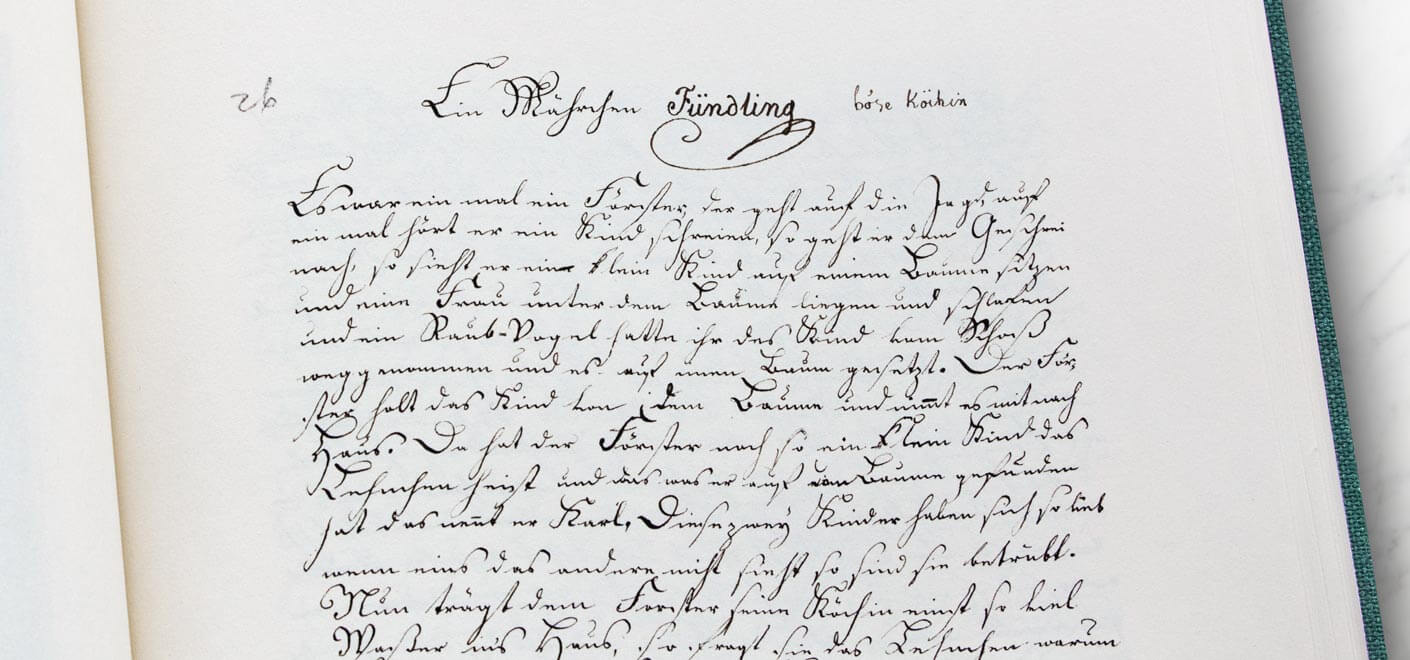 One of the most valuable manuscripts at the Fondation Martin Bodmer
The manuscript of Grimm's Fairy Tales is preserved at the Fondation Martin Bodmer. It was acquired in 1953 from Mary A. Benjamin, an American specialist of such renown that she was sometimes known simply as 'The Autograph Lady'.
Since its creation in 1971, Fondation Martin Bodmer has been a major draw for bibliophiles and lovers of literature. More than 150,000 items of papyrus, incunabula, manuscripts and rare editions are found in its collections, which bring together texts from Mesopotamia and Egypt dating from 3000 BC alongside contemporary works from the 20th century. The foundation's mission is to capture the essence of human thought throughout the history of civilisation, and its transmission throughout the ages to all parts of the world.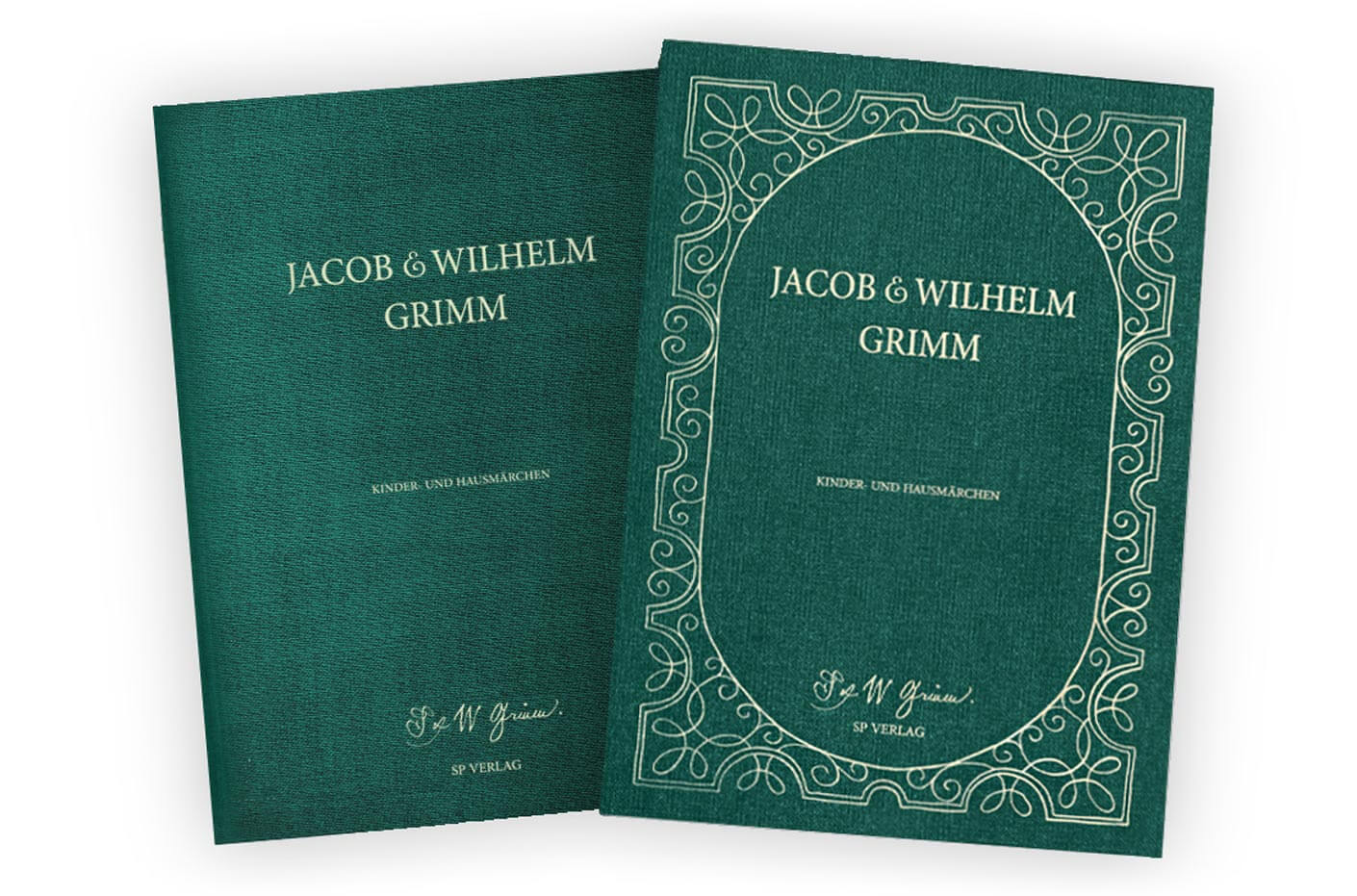 Born in 1899, Martin Bodmer began to collect 'world literature' from the age of 15. He took the visionary recommendations of Goethe as a guide for composing his collection, in favour of the model of 'enlightened', tolerant and enriched Weltliteratur libraries, based on mutual exchange, advanced knowledge of each country's literature, and understanding of the particularities of other nation's ways of thinking, in order to help curb the patriotic aggrandisement that appealed to war-hungry extremism. Also a reader of contemporary literature, he was co-founder of a literary prize and review, amongst other things.
The introduction, preface and note on the Martin Bodmer Foundation are presented in French, German and English. With thanks to: Nicolas Ducimetière et Jacques Berchtold (respectively vice-director and director of Fondation Martin Bodmer) ; Philippe Mellot ; Marc Meier-Maletz ; Jean-Paul Sermain.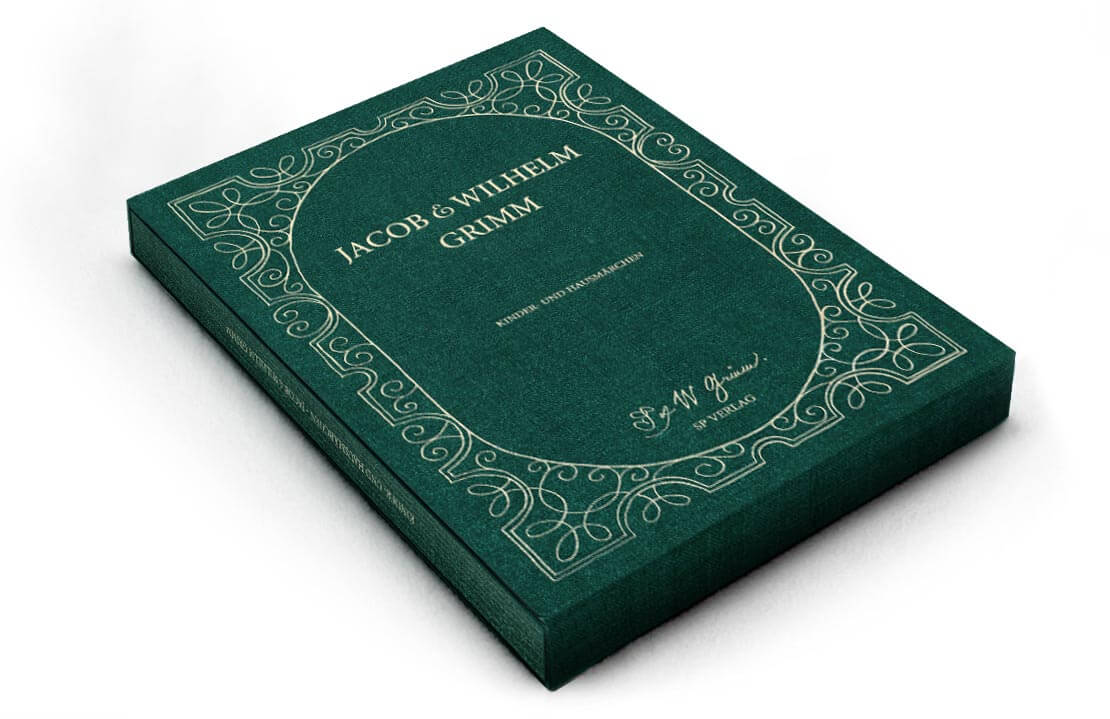 Deluxe edition
Numbered from 1 to 1,000, this Bottle green edition is presented in a large format handmade slipcase.
Printed with vegetal ink on eco-friendly paper, each book is bound and sewn using only the finest materials.
Bottle green edition
1,000 numbered copies
184 pages - 14 x 10''
Fedrigoni Avorio Paper
Endband and bookmark
ISBN: 9791095457978