English edition
Numbered from 1 to 1,000
Large format (10 x 14'')
 Free Shipping
The first edition of Charlotte Brontë's Jane Eyre manuscript

Charlotte Brontë received a letter from the publisher Smith and Elder in August 1847, rejecting her first novel but adding 'that a work in three volumes would be met with careful attention'. She then sent them this unique manuscript—no earlier drafts are known to survive today. Published in October 1847, the novel was an immediate success.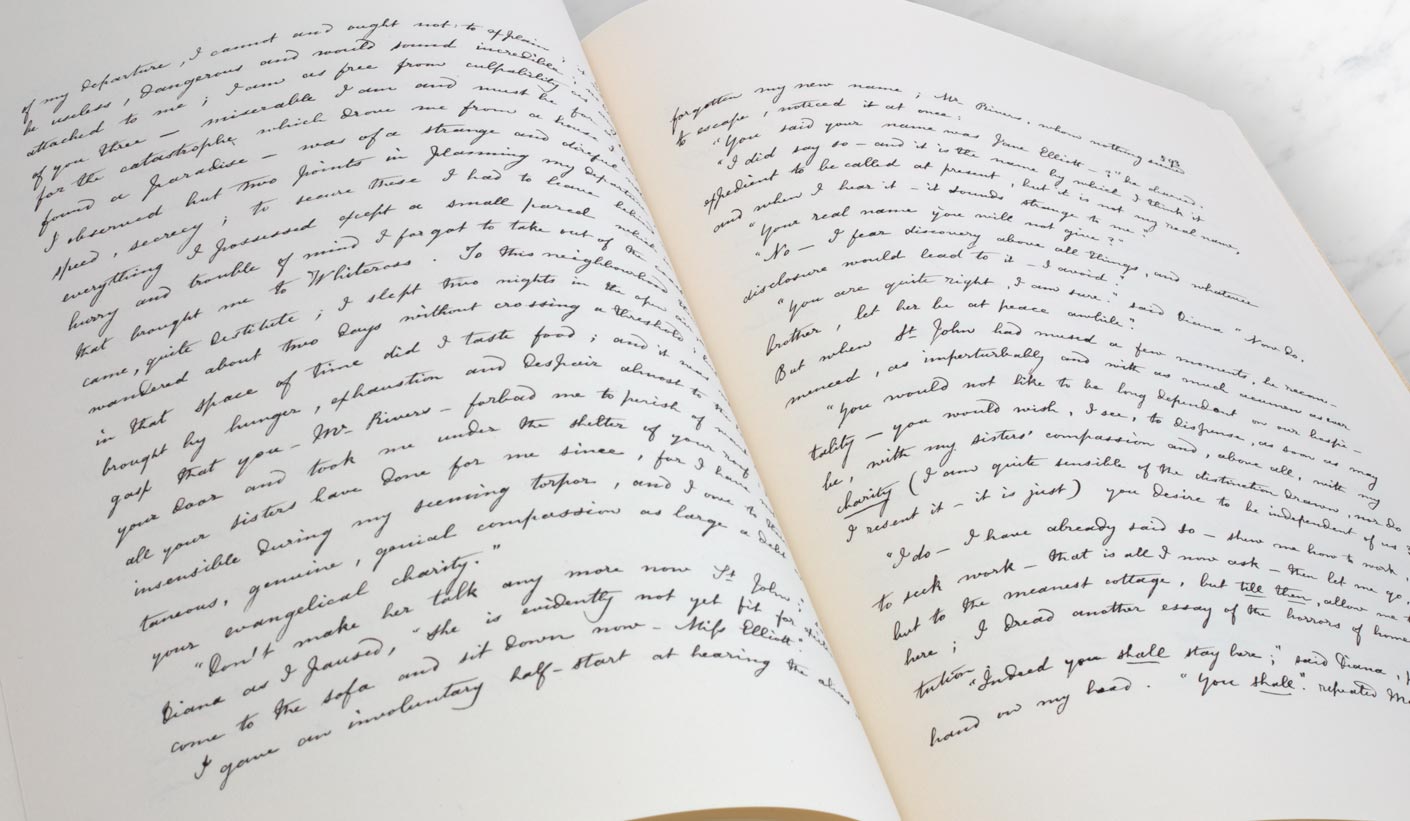 A luxury edition, published in 3 volumes
The three volumes of this manuscript, reproduced using only the finest materials, are presented together in a deluxe slipcase.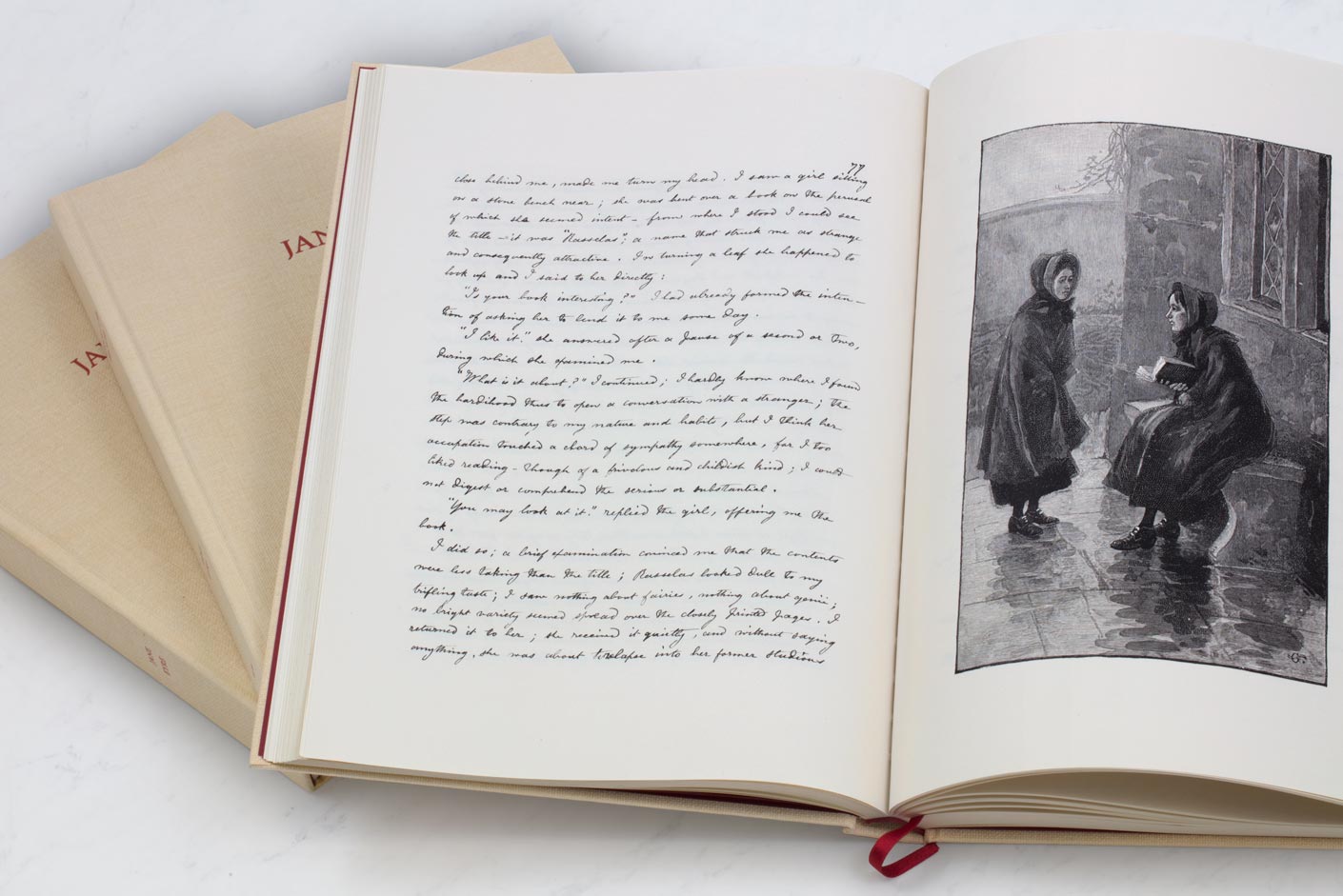 Etchings by Edmund Garrett from an 1897 edition of the novel.
One of the greatest novel of all time
Set in Northern England, during the reign of George III. From the heroine's turbulent childhood, to her discovery of love and all its tragic implications, to the birth of her first son—Jane Eyre is one of the greatest bildungsromans of all time.
These 824 pages of Charlotte Brontë's elegant and nimble handwriting are one of the British Library's most precious treasures. Because of the great technical challenge that the task of reproducing it presents, the manuscript has remained unpublished until today.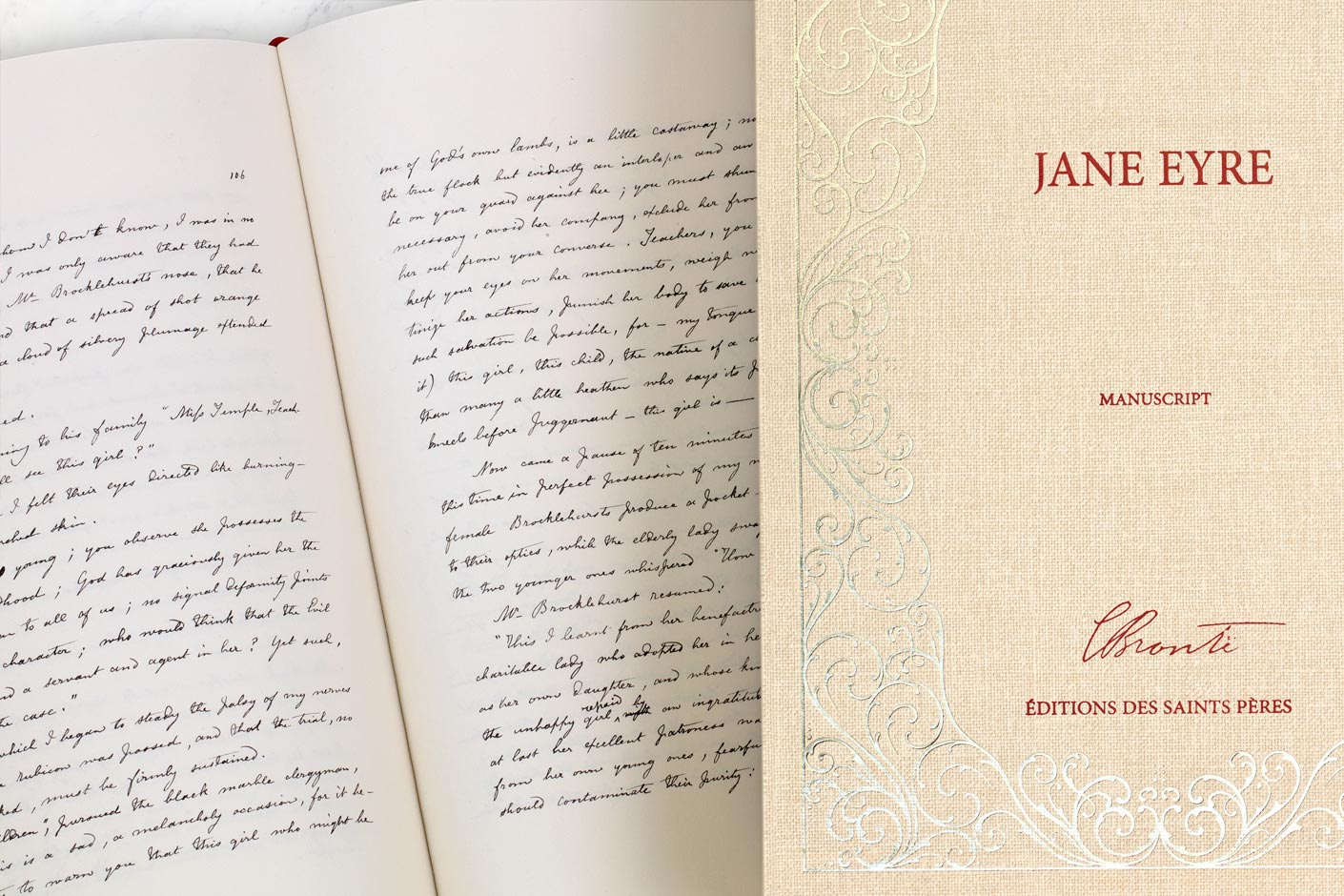 Deluxe edition
Numbered from 1 to 1,000, this ivory edition is presented in a large format handmade slipcase.
Printed with vegetal ink on eco-friendly paper, each book is bound and sewn using only the finest materials.
Ivory edition
1,000 numbered copies
824 pages - 10 x 14''
Fedrigoni Avorio Paper
Endband and bookmark
ISBN: 9791095457305
'Éditions des Saints Pères co-founder Nicholas Tretiakow hailed the novel as "a compelling gem of English literature, a novel so many of us hold close to our hearts

 (...)"'

Jessica Nelson on Open Book : 'The British Library told us that they had the manuscript for Jane Eyre, which had remained unpublished because it's about 900 pages and there's a technical challenge"

 (...)"'

Jessica Nelson: 'This is a book for passionate people who are willing to discover Jane Eyre and Charlotte Brontë's work in a new way.

 (...)"'
'The 824-page manuscript contains important revisions and corrections centred around the portrayals of Jane's encounters with Mr Rochester. Written in Brontë's elegant hand, it gives readers unprecedented insight into her creative process. The manuscript's publication marks the culmination of this year's bicentenary celebrations of Charlotte Brontë's birth (...)'
'The handwritten manuscript of Charlotte Brontë's novel, Jane Eyre, will be reproduced in a limited facsimile edition for the first time next month...The 824-page manuscript, seen until now by very few, showcases Brontë's elegant handwriting (...)'
'French indie targets UK with Jane Eyre manuscript facsimile. To commemorate the bicentenary of Charlotte Bronte's brith this year, the publisher will release 1,000 hand numbered facsimiles of the novel's fair copy - the final handwritten manuscript which Bronte submitted to her publishers in 1847 (...)'
'Due to the technical difficulty of reprinting the manuscript, it has not been attempted until this year (...)'
'In time for the bicentennial of Charlotte Brontë's passing (if not today's National Author's Day), the Paris-based publishing house Éditions des Saints Pères is releasing a fair copy manuscript of Jane Eyre, the novelist's magnum opus from 1847 (...)'
Taken directly from the only 'fair copy' in existence held in the British Library, this written manuscript is stunning [...] Heart-stoppingly beautiful, unique and an important piece of history. It is the perfect "wow" present for Christmas (...)'
'The upcoming release of a sort of Christmas gift for all Brontë aficionados and the perfect ending for the Charlotte Brontë bicentenary: the publication of a manuscript-facsimile edition of Jane Eyre (...)'