Ode to a Nightingale,
handwritten by John Keats.

Double-sided document
Double-glass framing
17'' x 13'' frame
Ode to a Nightingale: the manuscript of John Keats
Based on only a few years of writing, John Keats' remarkable, worldwide literary reputation has lasted for over two centuries. Struck down by tuberculosis at the age of twenty-five, he left just fifty-four poems to posterity, which are still celebrated and studied today.
"If Poetry comes not as naturally as the leaves to a tree it had better not come at all"
In his lifetime, Keats was a lover of literature, mythology and the French language. Scarred by the successive deaths of his father, mother and grandmother, he took refuge in books and creativity. He became passionate about Ovid's Metamorphoses, Milton's Paradise Lost and Virgil's Aeneid, which he began translating while still at school. His discovery of Edmund Spenser's epic poem The Faerie Queene around the age of eighteen moved him deeply and marked a turning point in his life. Keats was simply enchanted by the art of poetry.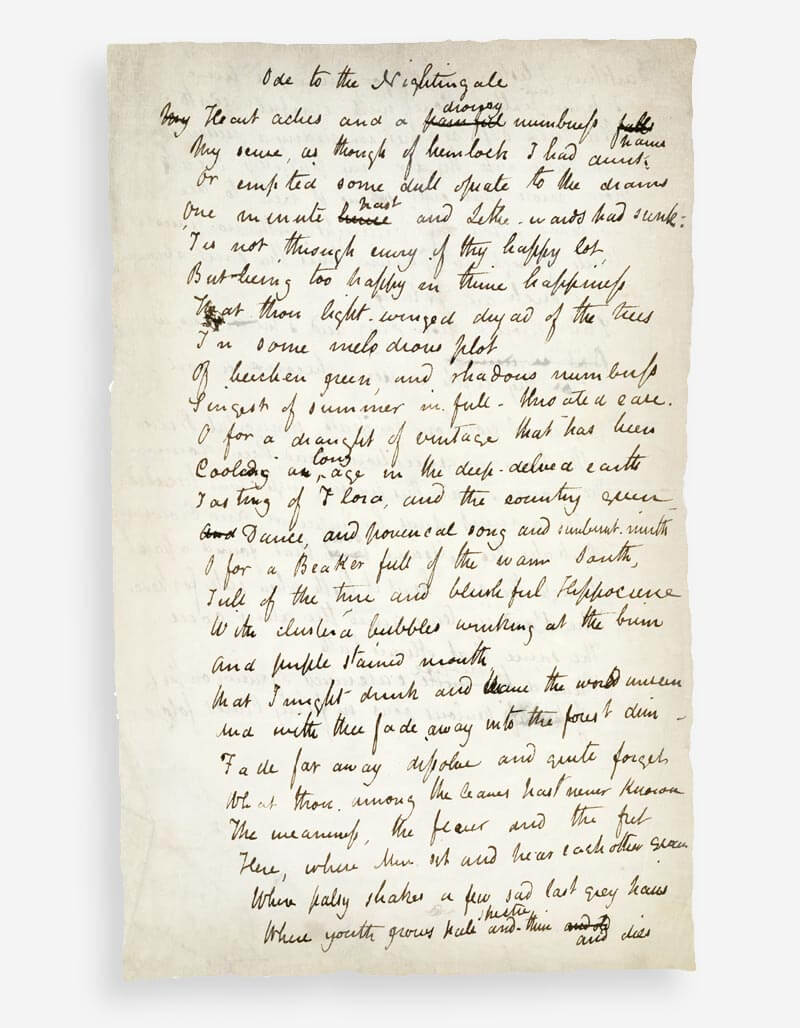 In 1819, again bereaved by the death of one of his brothers, the poet composed a series of six odes that would have an everlasting impact on readers: Ode on Indolence, Ode on Melancholy, Ode to Psyche, Ode on a Grecian Urn, Ode to a Nightingale, and To Autumn. Having previously committed himself to a career as a surgeon and apothecary, Keats had given up his job at the hospital to devote himself to literature and at the time, he was staying with his friend Charles Armitage Brown, a businessman and author, in Hampstead in North London.
"Poetic feelings on the song of the nightingale"
Seen from the windows of his friend's sitting room, the plum tree in the garden was the inspiration for Keats' Ode to a Nightingale, which was written hurriedly on two sheets of rough paper torn from a notebook. Charles Armitage Brown, who co-wrote a verse tragedy with Keats and was taking care of his health and material needs, later helped to establish his friend's reputation after his death and recounted:
In the spring of 1819 a nightingale had built her nest near my house. Keats felt a tranquil and continual joy in her song; and one morning he took his chair from the breakfast-table to the grass-plot under a plum-tree, where he sat for two or three hours. When he came into the house, I perceived he had some scraps of paper in his hand, and these he was quietly thrusting behind the books. On inquiry, I found those scraps, four or five in number, contained his poetic feelings on the song of the nightingale.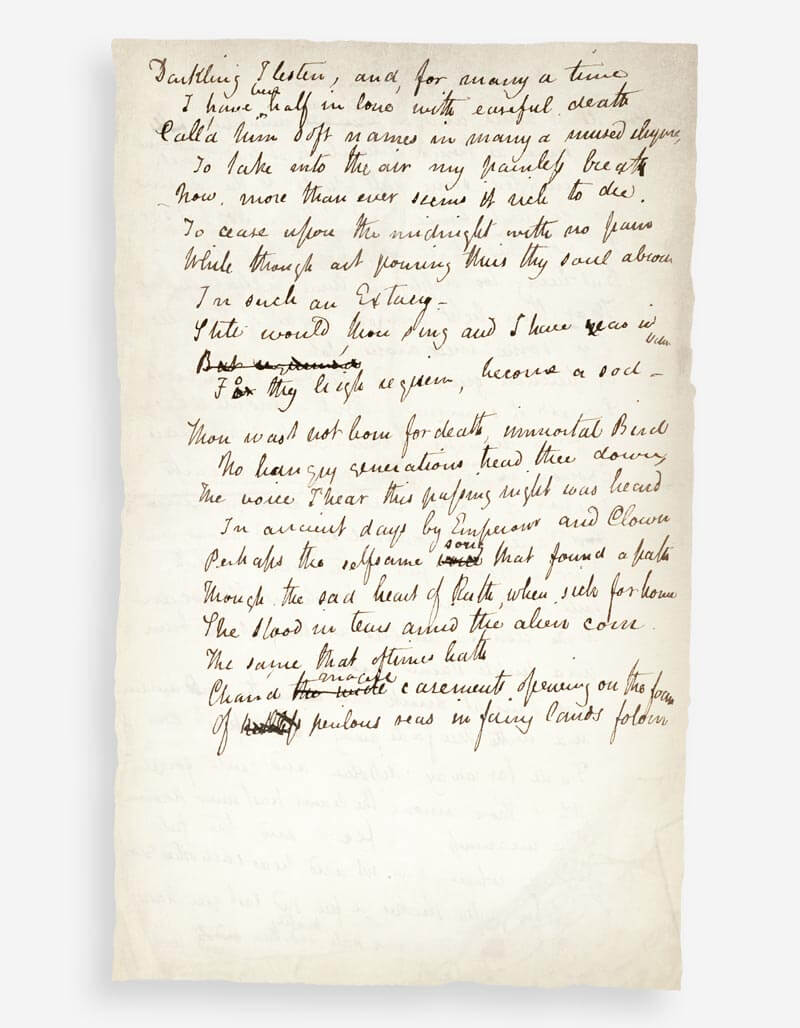 Ode to a Nightingale was first published in a review, then in the collection Lamia, Isabella, The Eve of St. Agnes, and Other Poems (July 1820).
Double-sided document presented in a double-glass framing (17 x 13").
Wooden frame, made in France. Each frame is hand-assembled in our workshops in Cambremer.
Double-glass framing
Frame: 17 x 13 inches
Manuscript: 5 x 8 inches
Cotton paper
Assembled by hand
ISBN: 9791095457817