My Mother's Castle
Sky blue edition
French edition
Numbered from 1 to 1,800
Large format (10 x 14'')

Free shipping

The manuscript of Le Château de ma mère, by Marcel Pagnol
Following on from our publication in 2017 of the manuscript of La Gloire de mon père, we have now published that of Le Château de ma mère, the second volume in Marcel Pagnol's autobiographical Souvenirs d'enfance. This edition includes a preface co-authored by his grandson, Nicolas Pagnol.
.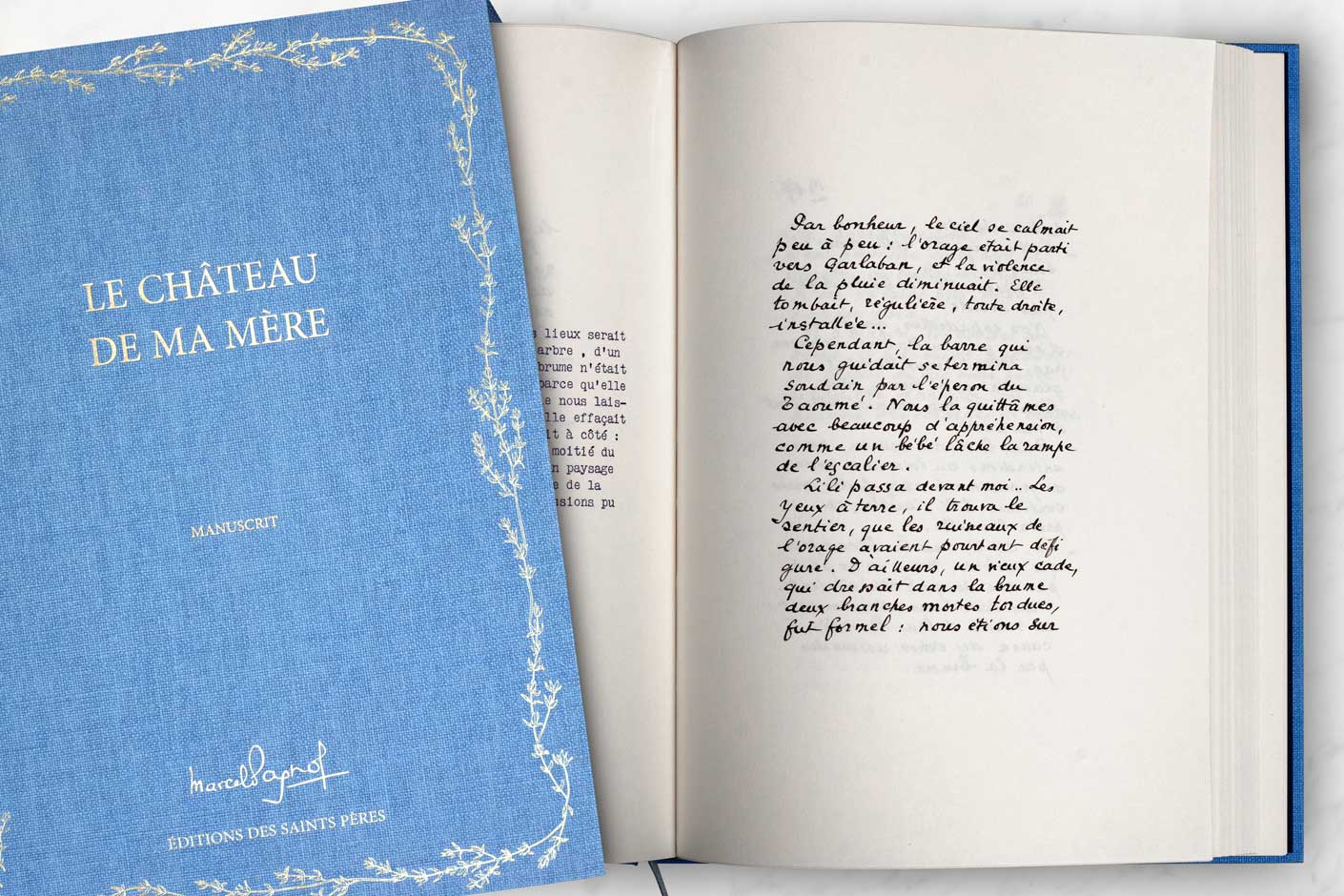 An extraordinary archive
Marcel Pagnol, who was born in the Provençal town of Aubagne in 1895 and died in Paris in 1974, left behind a remarkable archive. His office on the ground floor of the large town house, which he owned at 16 square de l'avenue Foch in Paris, remained for many years exactly as he had left it at the time of his death. Trunks with reels of film and mountains of papers filled several rooms in the house from floor to ceiling like so much undiscovered treasure. This immense archive was finally accessed and sorted by Nicolas Pagnol which made it possible to identify the original pages of Le Château de ma mère and to reconstruct it as an entire manuscript.
.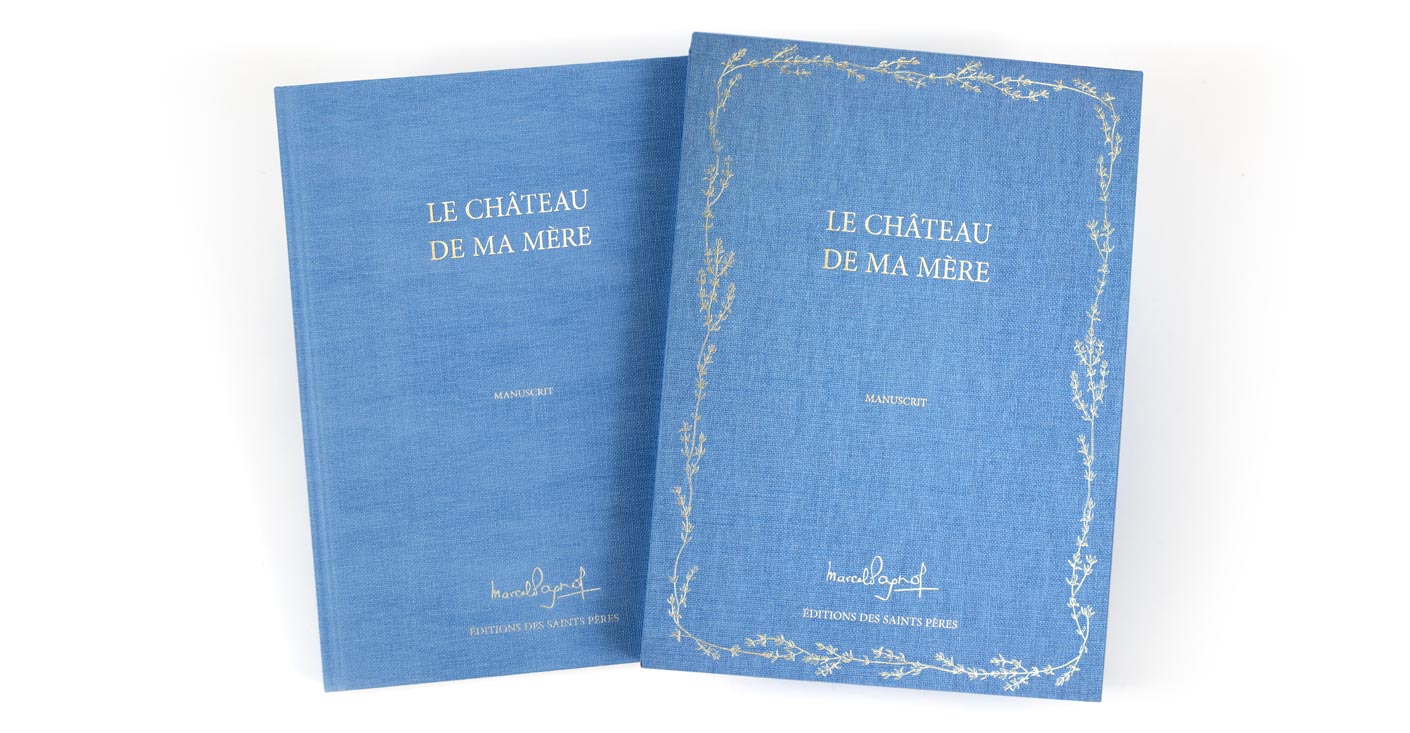 A treasure hunt to find the manuscript
First drafts; later handwritten versions; typewritten pages corrected by hand . . . the first task was to excavate from the chaos of thousands of disparate sheets those fragments which could be identified as belonging to Le Château de ma mère. This treasure hunt proved all the more frustrating since some of the sheets had strayed into files bearing the name of other works. Once the fragments had been identified, there began the painstaking process of putting them into the correct sequence in order to recreate the work in its manuscript form.
To read Le Château de ma mère as it was written is to be able to follow Pagnol's creative process as he worked, and there is treasure indeed to be found in the multitude of variations and modifications, many previously unpublished, which the manuscript reveals.
.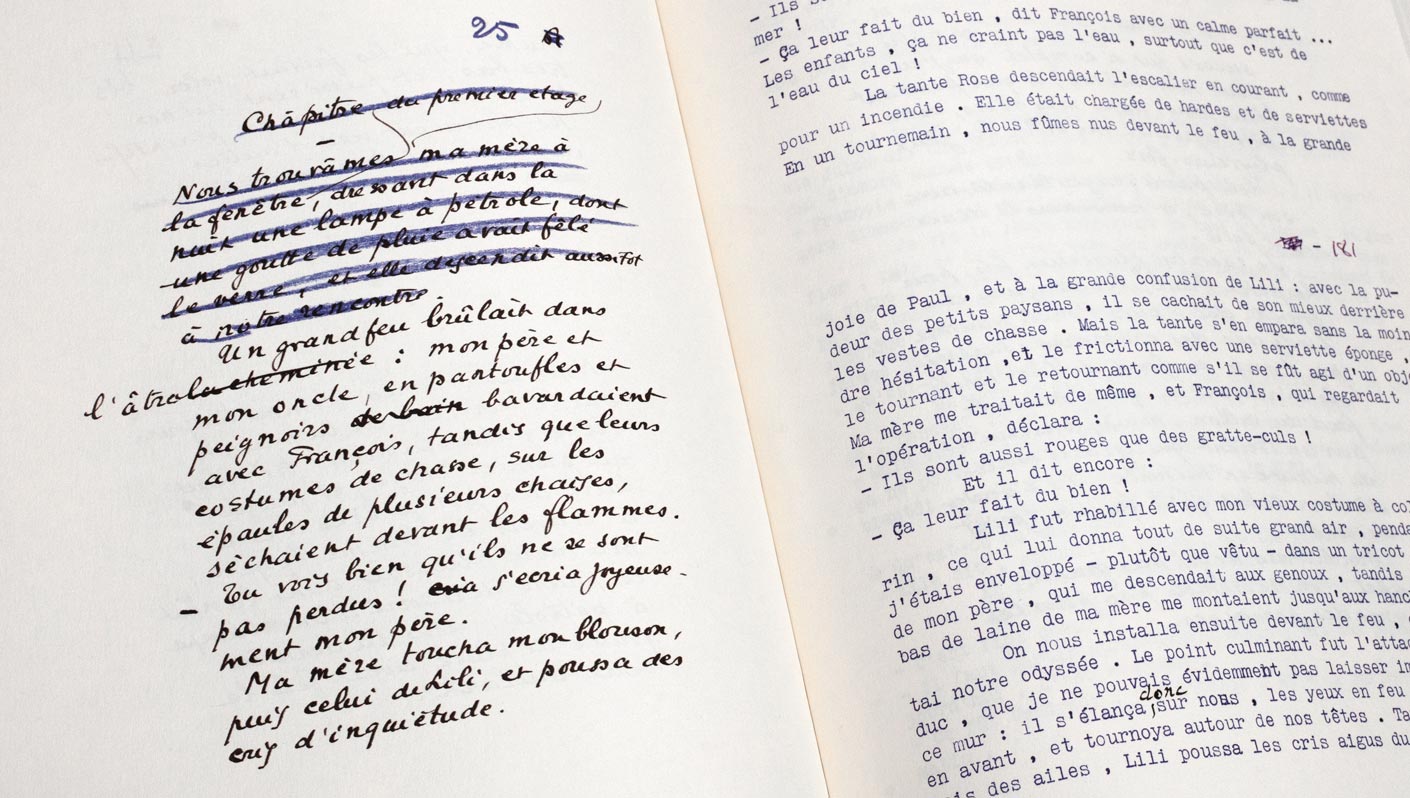 .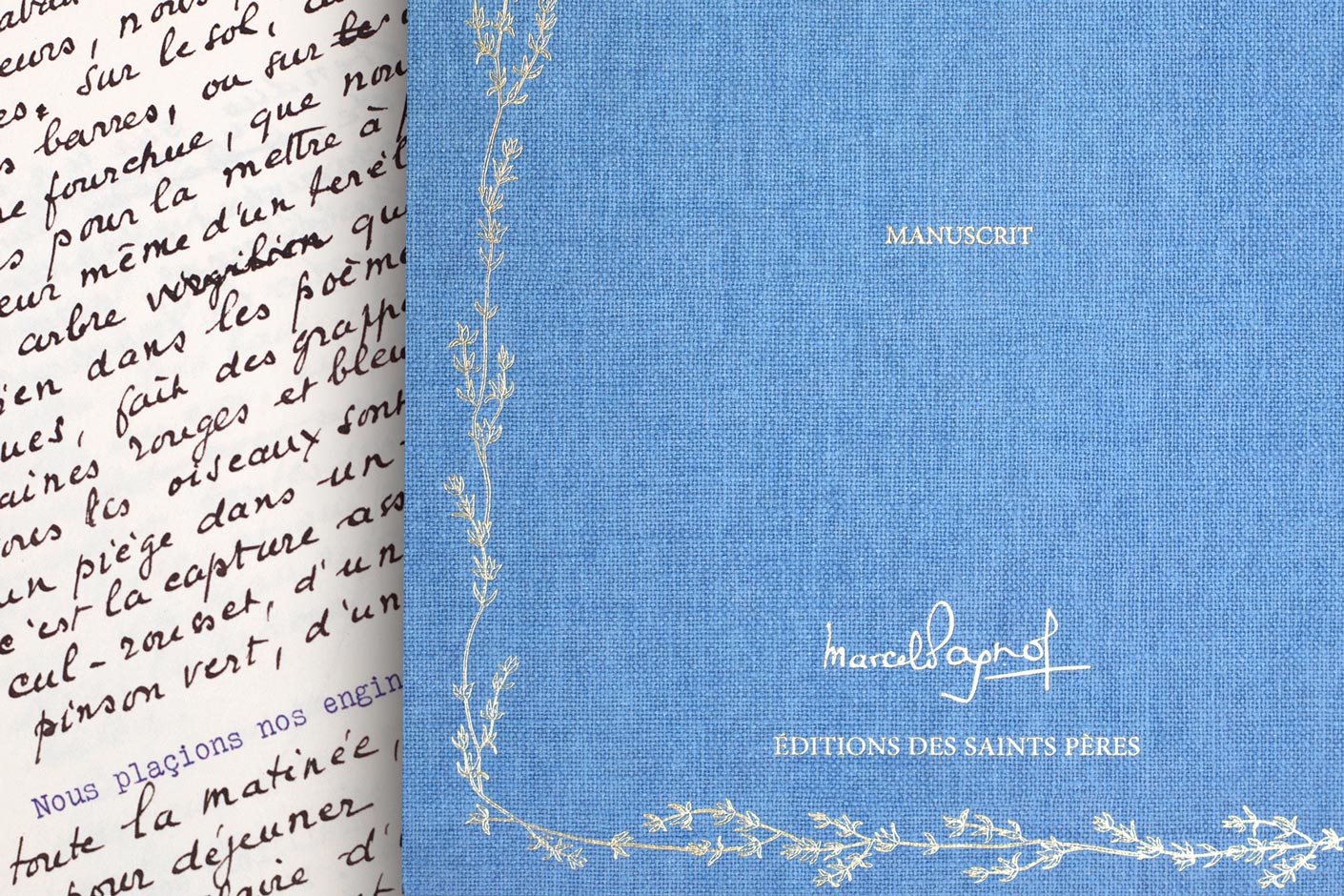 From Le Château de ma mère to the Château de la Buzine
What Pagnol's mother, Augustine, who died when he was only 15, would never know, was that her son would unintentionally become the owner, thirty years after her death, of the very château which had so frightened her. This château, the focal point of Pagnol's boyhood memoir, turned out in reality to be the Château de la Buzine, though the building seen through the eyes of a child to have 'at least ten floors' turned out to have a more modest three. It has since become, as Pagnol had once hoped to make it, a monument to French film-making and one of Marseille's main cultural venues, visited by the many fans of Pagnol and of the Provence he describes so evocatively in his writings.
.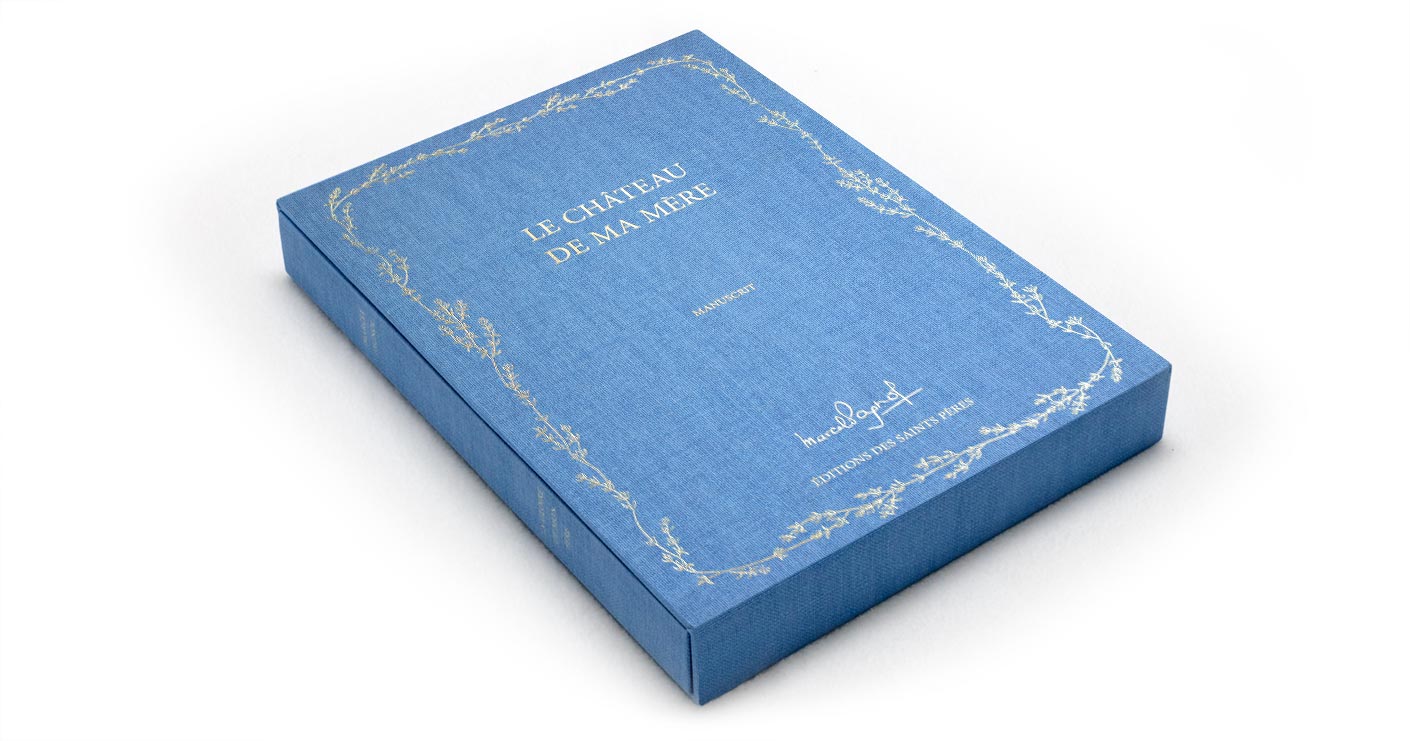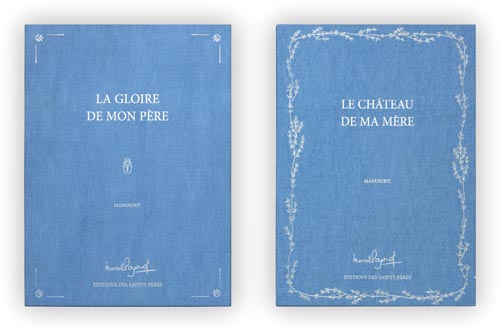 .
Deluxe edition
Numbered from 1 to 1,800, this sky blue edition is presented in a large format handmade slipcase.
Printed with vegetal ink on eco-friendly paper, each book is bound and sewn using only the finest materials.
Sky blue edition
1,800 numbered copies
312 pages - 10 x 14''
Papier Fedrigoni Avorio
Endband and bookmark
ISBN : 9791095457701