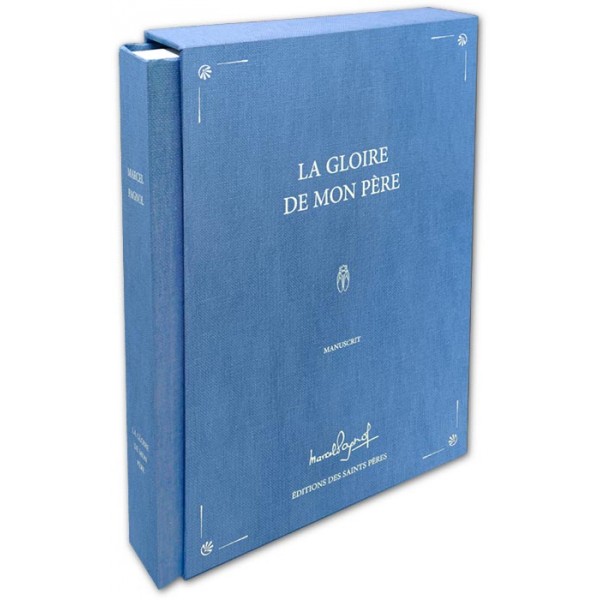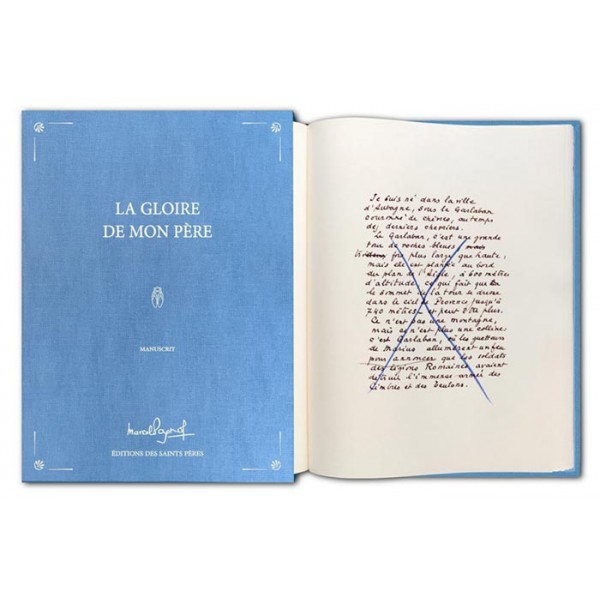 Sky blue edition,
numbered from 1 to 1,800
My Father's Glory
French edition
Large format (14 x 10'')

Free shipping

La Gloire de mon père : Marcel Pagnol's manuscript
To celebrate the 60th anniversary of the publication of this work, one of the finest in French history, SP Books unveils the previously unpublished manuscript.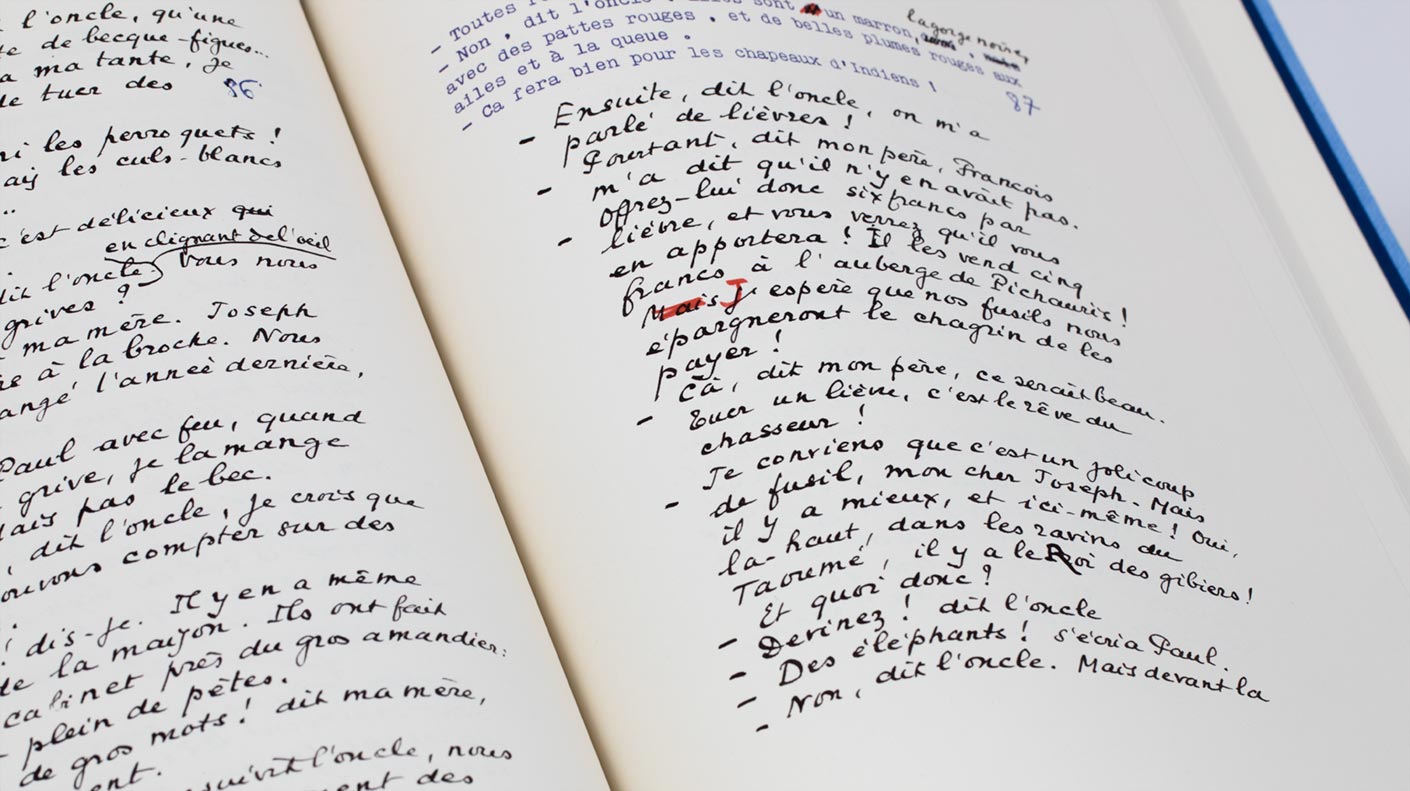 Leafing through the manuscript of La Gloire de mon père (My Father's Glory) is a complete immersion in the detailed work of Marcel Pagnol. It is also to discover that, contrary to popular belief, the story didn't just flow effortlessly from his pen...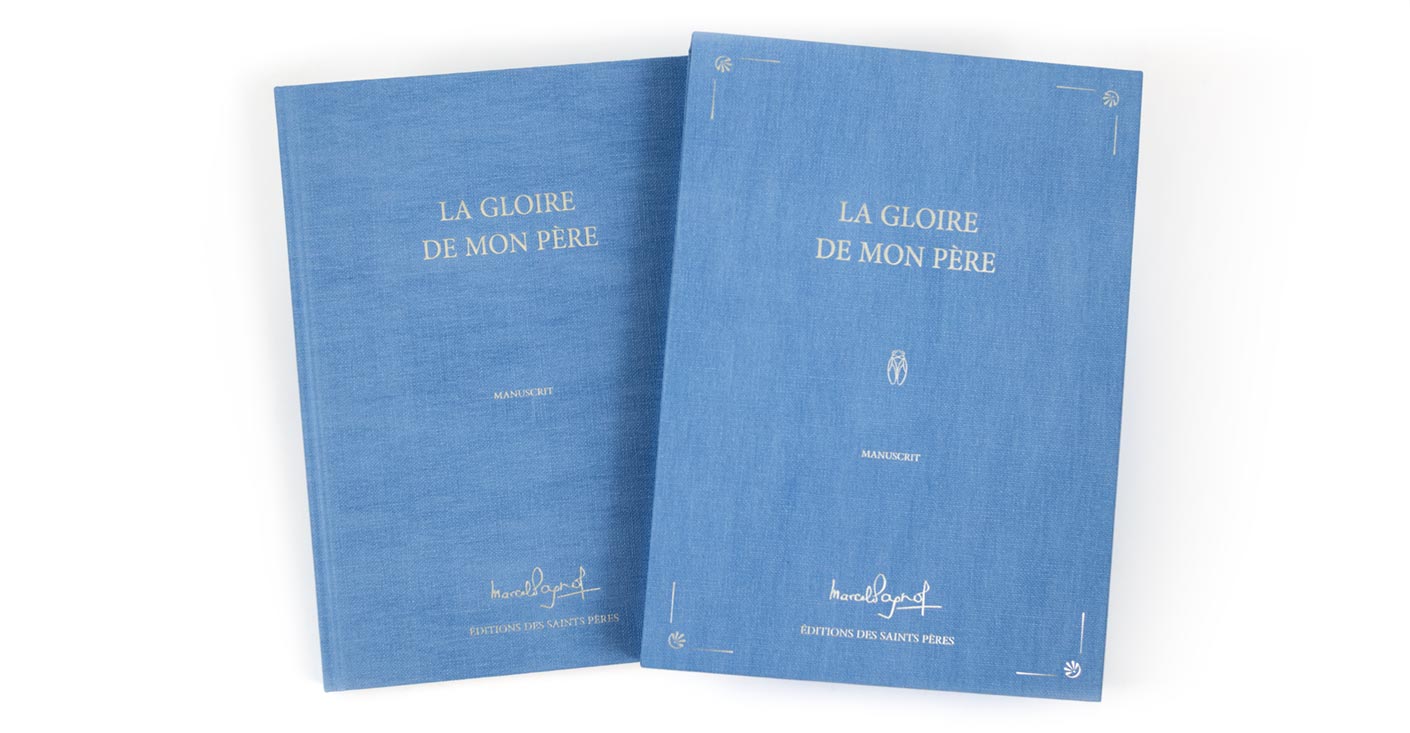 Marcel Pagnol: a hard-working writer
The Provence of Pagnol's youth, which he had already portrayed in cinema, was for him an inexhaustible source of inspiration. The drafts presented here testify to the painstaking work it took to convey and deepen his depiction, with close attention to refining the style. Marcel Pagnol did not leave his text uncorrected or only slightly modified: he completely rewrote it. Tirelessly, and in beautifully legible calligraphy, he made his text more natural and pleasurable to read.
The origins of success
Marcel Pagnol became famous in 1929 with the play Marius, performed in theatres in the March of that year. In 1934, he founded his own production company and film studios in Marseille, where he directed numerous films with the great actors of the period (notably Raimu, Fernandel et Pierre Fresnay) including Angèle (1934), Regain (1937) and La Femme du boulanger (1938). In 1946, he was elected to the Académie française. After 1956, he moved away from cinema and theatre: writing novels would be a turning point in his already fruitful career.
Legend has it that Marcel Pagnol, a born storyteller, loved to tell his childhood anecdotes at Parisian lunches. Charmed by this, the director of ELLE magazine, Hélène Lazareff, asked him to write them down for the pages of the famous weekly magazine. In all likelihood, she imagined that there might be enough material there for a colourful soap opera likely to captivate her readers. Marcel Pagnol accepted, then forgot. It was only when he opened the door a few days later to a courier who had come to pick up the promised pages that he got to work. The courier was most likely made to wait while he also penned a few lines to Hélène Lazareff!
Caught up in the task, Pagnol published La Gloire de mon père in 1957. It was a huge success, with fifty thousand copies sold in the following weeks. Thus began the series 'Souvenirs d'enfance' (Childhood memories), later supplemented by Le Château de ma mère, Le Temps des secrets and Le Temps des amours, published posthumously.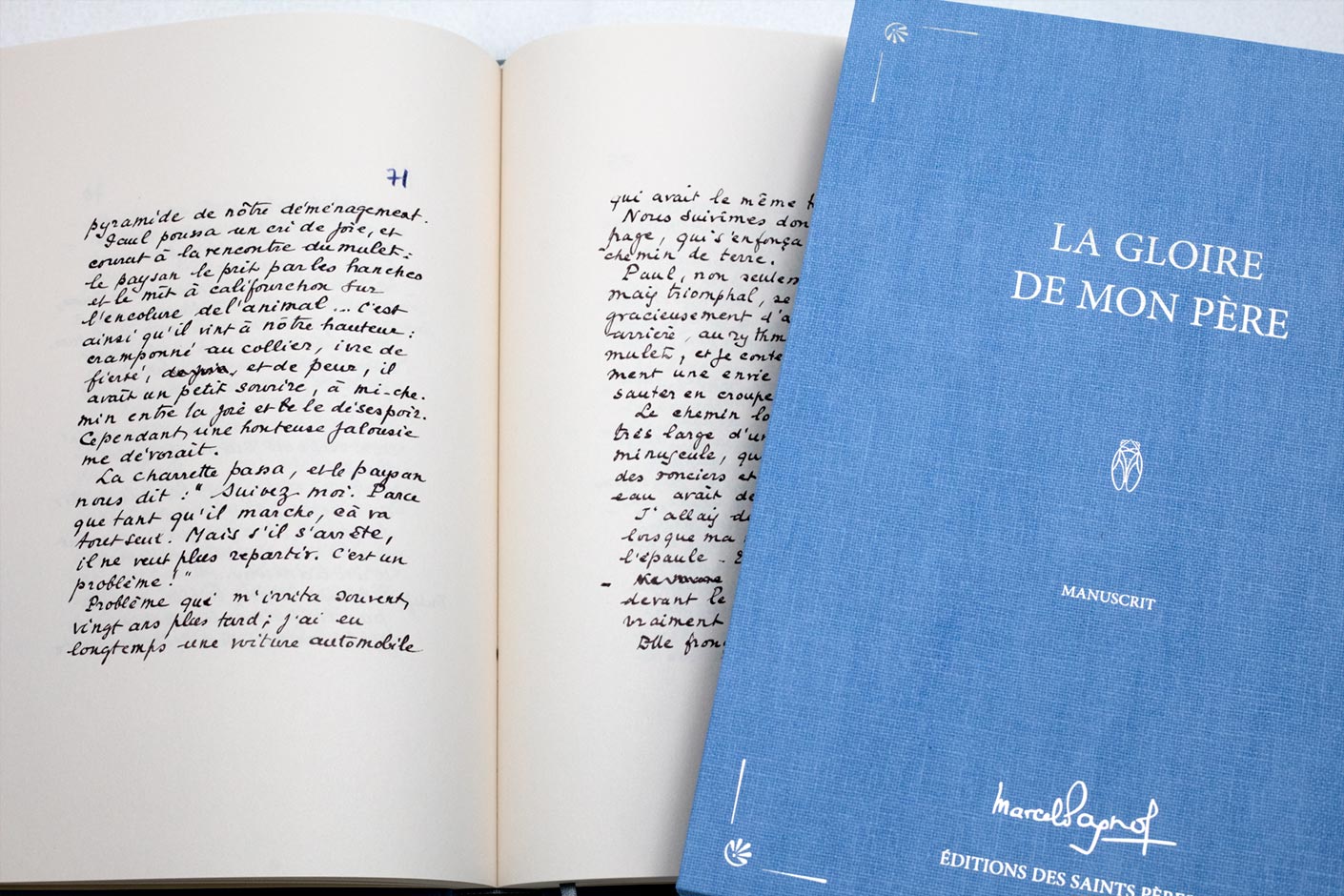 A uniquely assembled manuscript
The composition of La Gloire de mon père is a remarkable adventure comprising manuscripts on loose sheets, notebooks, as well as typewritten and corrected texts…
Thanks to the exceptional archives of Avenue Foch square in Paris where Marcel Pagnol lived, the narrative sequence of the novel has been reconstructed with the help of several sets of manuscripts and typescripts. Within is the well-known and beloved incipit: 'I was born in the town of Aubagne, under the Garlaban crowned with goats, in the days of the last goatherds', and charming tales of the novelist's early years. The manuscripts immerse the reader in variations and episodes which do not appear in the final version, such as a passage where the young Marcel fails to start, a sketch which testifies to Pagnol's intricate skill.
Une fresque qui témoigne du travail d'orfèvre de Pagnol, plongé dans des variations et des épisodes qui ne figureront pas dans la version finale, tel ce passage où le jeune Marcel manque de provoquer un incendie en essayant de fumer à l'indienne.
An unpublished manuscript
First drafts, more complete manuscripts, typed pages corrected by hand… This work consists of mainly handwritten sheets (around 250 pages) and a few typewritten sheets (around 50 pages).
Texts by Karin Hann and Franz-Olivier Giesbert
Franz-Olivier Giesbert is a journalist (Le Point), member of the jury for the Prix Renaudot since 1998 and novelist (Dernier été, Gallimard, 2020). He offers here a personal and enthusiastic preface on the work of Marcel Pagnol and in particular La Gloire de mon père. In May 2017, Franz-Olivier Giesbert became editorial director of the newspaper La Provence.
Karin Hann, a doctoral student in literature at the Sorbonne (Paris IV) specialising in Marcel Pagnol, is a member of the jury for both the Grand Prix du Roman Historique and the Prix Marcel Pagnol. She is the author of the essays Marcel Pagnol, un autre regard (Éditions du Rocher, 2014) and Passionnément Gainsbourg (Éditions du Rocher, 2016). She is also a novelist (Althéa ou la colère d'un Roi, Robert Laffont, 2010; Reine des Lumières, Éditions du Rocher, 2017). Alongside Nicolas Pagnol, she supervised SP Books' work on the production of this boxed set, and has written a text that takes us behind the scenes of Pagnol's handwriting:
'Marcel Pagnol's manuscripts finally come to light! A treasure! A snapshot of the writer at work now accessible to researchers and the general public.
It cannot be overstated how rich it can be to return to the basics of the author's writing and reworking. With the publication of La Gloire de mon père, the veil of secrecy has been lifted! Writing with a Sergent Major pen in his school notebooks, Pagnol reveals to us a fragment of his thoughts. His calligraphy, round and sensual, reveals his creative process and intentions before our very eyes. (…)
There is not one manuscript of La Gloire de mon père, but many variations of the story. The difficulty, therefore, was to identify the similarities and divergences, and then to opt for a coherent editorial line, in order to present a continuous narration which approaches the final version in its entirety. It raised endless questions! The stakes were high, because these pages do not form an avant-texte as one might expect, that is to say, lines roughly equivalent to those we know with a few corrections to the proofs. Rather, they are assimilated into what I would call a "metatext", in other words, to several tellings of the same episode, fascinating in both their uniqueness and singularity.
It is this that makes this publication so rich. For the first time, Marcel Pagnol, who has repeatedly theorized the method of making his films, implicitly reveals to us his modus operandi in terms of writing. I have fought for a long time to gain acknowledgement that, contrary to popular belief, Pagnol's writing is not 'spoken language'. A study of the work as a whole clearly shows that the simplicity and sobriety of its language conceals an intense search for purity of style. Look at his youthful efforts, such as Pirouettes or La Petite Fille aux yeux sombres, in which Pagnol appears extremely precious and bombastic. Let us recall that he unreservedly admired Edmond Rostand and that he aspired, at the beginning of his career, to achieve the writing of a play in verse; prose, a minor art form in his eyes, appeared too futile to attempt. He subsequently discovered the difficulty of expressing himself beautifully, of creating beautiful images, of producing dialogues which, in his own words, "have life". And it can be explained – because he wanted to write alexandrines, he at first expressed himself in grandiose terms.
Pagnol's handwriting is like a rough diamond that has been carved over time by his skill and hard work. (…)'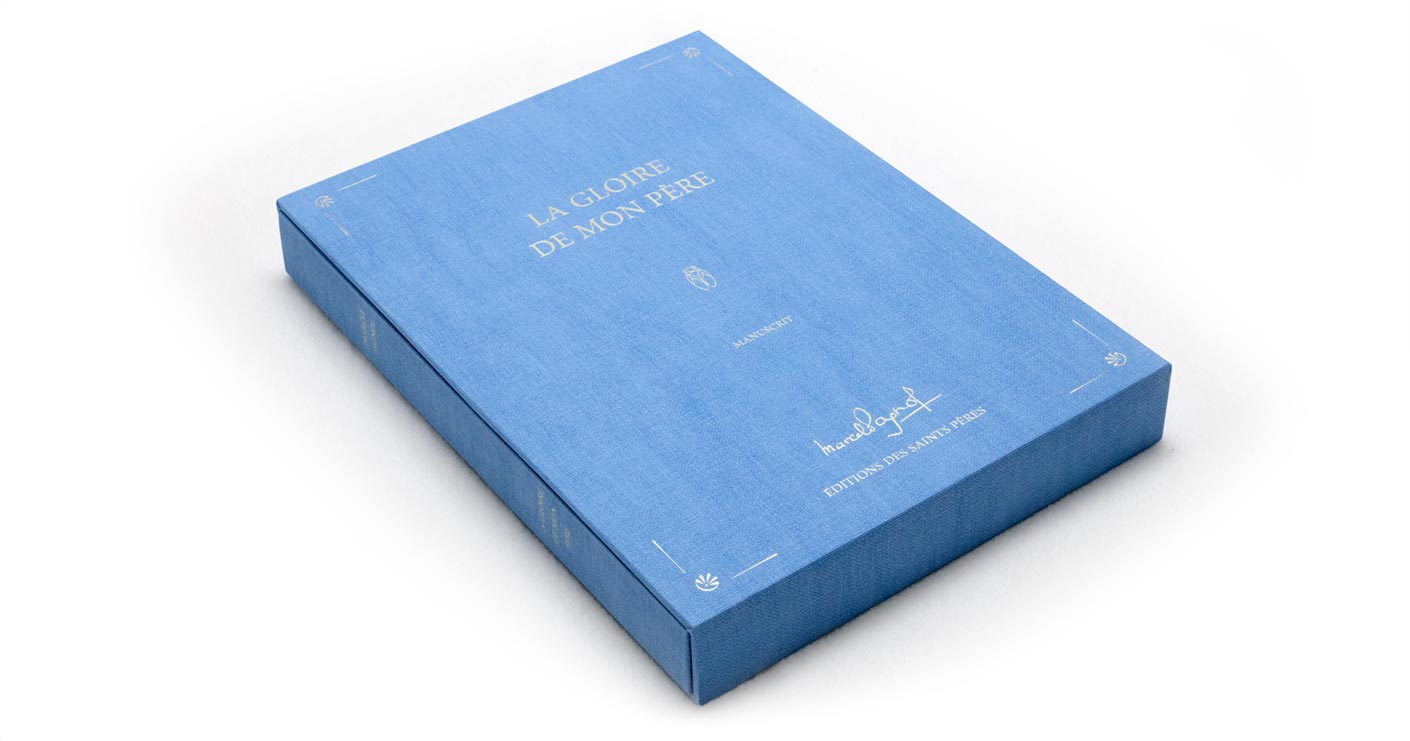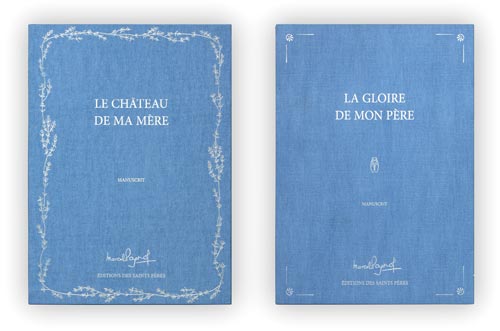 1,800 hand-numbered copies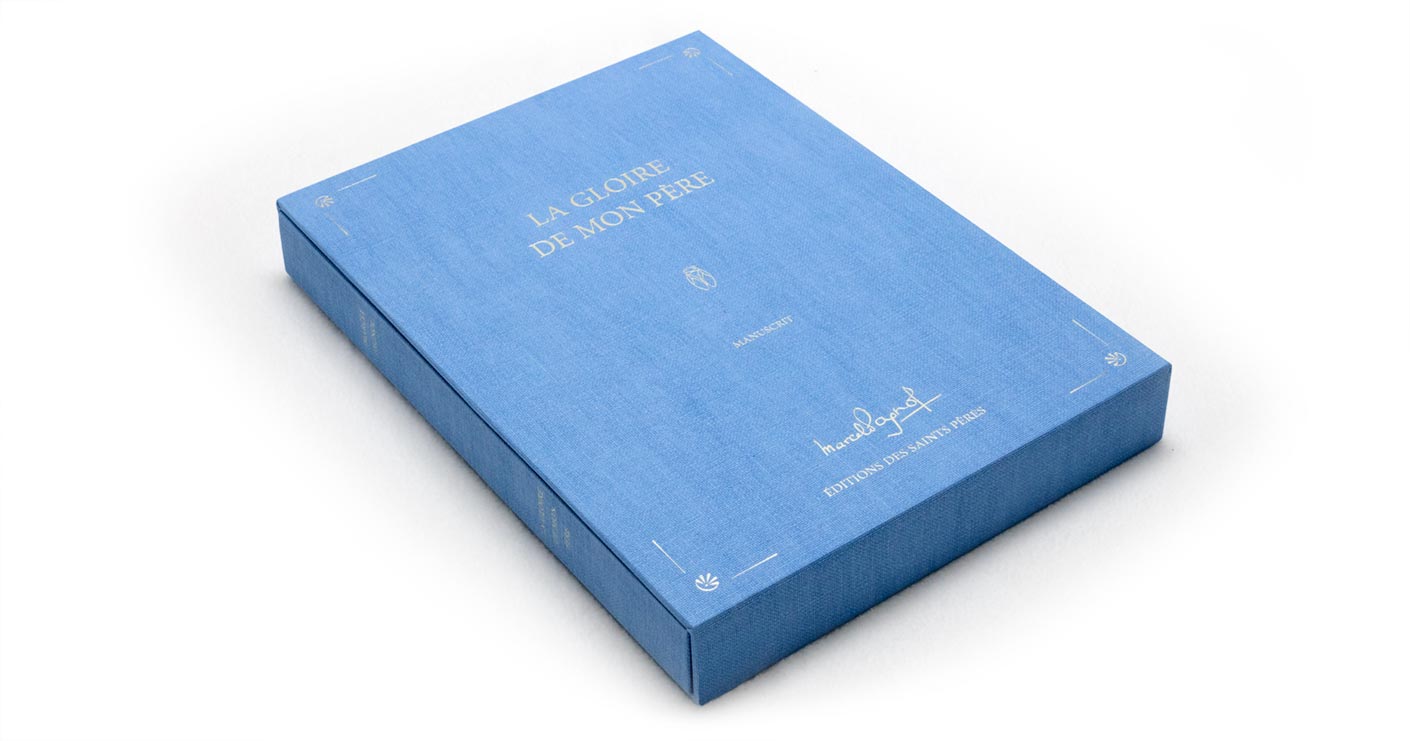 Each slipcase is handmade.
Deluxe edition
Numbered from 1 to 1,800, this Sky blue edition is presented in a large format handmade slipcase.
Printed with vegetal ink on eco-friendly paper, each book is bound and sewn using only the finest materials.
Sky blue edition
1,800 numbered copies
304 pages - 10 x 14''
Fedrigoni Avorio Paper
Endband and bookmark
ISBN: 9791095457411