The Flowers of Evil
Champagne edition
The Flowers of Evil
French edition
Large format (14 x 10')

Free shipping

Les Fleurs du mal, Charles Baudelaire's corrected proofs
The violin quivers like a tormented heart,
A tender heart, that hates the vast, black void!
The sky is sad and beautiful like an immense altar;
The sun has drowned in his blood which congeals...*
— 'Harmonie du soir' (Evil Harmony)
An exceptional document: the corrected proofs of the Fleurs du mal
Charles Baudelaire is today considered one of the greatest poets of the 19th century. Les Fleurs du mal (The Flowers of Evil) was his life's work. According to specialists, there are no draft manuscripts scattered throughout archives, as is the case with the majority of poets who have shaped history through their writings.* Charles Baudelaire is said to have started writing his poems in 1841, and the number of times he moved house over the course of thirty years didn't help in preserving the documents he wrote on. Thereby the poet rewrote and reworked this scorching collection for over fifteen years, inspired by symbolism, his love life, and Edgar Allan Poe, whose texts he decided to translate around 1854. For Baudelaire, every comma counted in evoking the themes that he cherished: the loss of childhood, escaping the senses, the cult of beauty…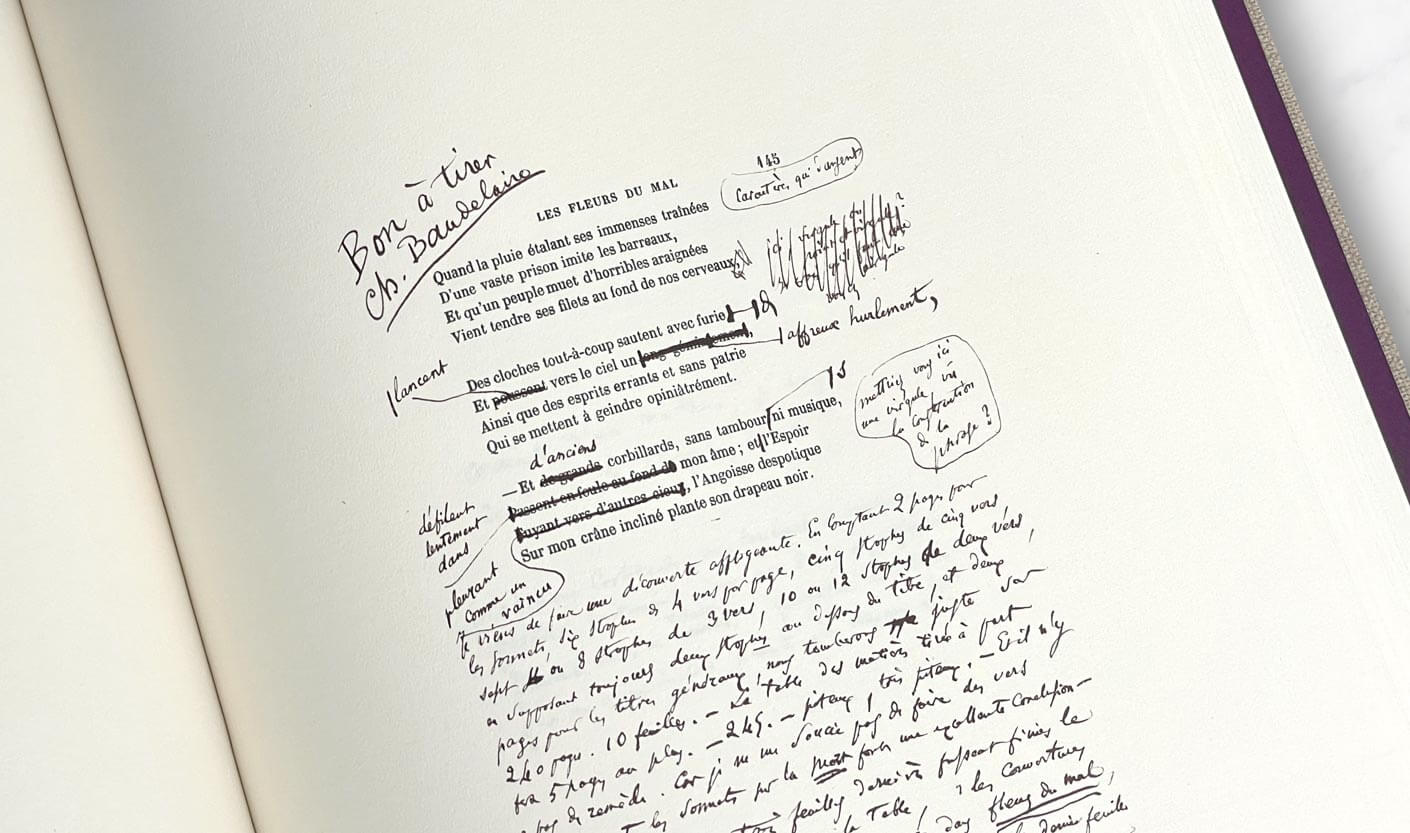 The book was published on 25 June 1857 by Poulet-Malassis et de Broise. It won the poet widespread recognition. It was his first real publication, until then having only read in cafés and been published in revues (La Revue des 2 Mondes) – though this had allowed him to gain a reputation among his peers, in particular Théophile Gautier and Victor Hugo. Les Fleurs du mal was announced several years before its publication, first under the title 'Les Lesbiennes', then 'Les Limbes'. In any case, it gave him a platform to give many readings in Parisian cafés.
Before delivering his definitive proofs, Baudelaire reworked his collection several times. He reshaped the general structure on multiple occasions – the poems are not presented in the chronological order of their composition. He made corrections, corrected himself, crossed things out and sought the advice of his editor to the point of exhaustion. This editor was convinced that the collection would never appear, the extent to which Baudelaire struggled to finish revising his work.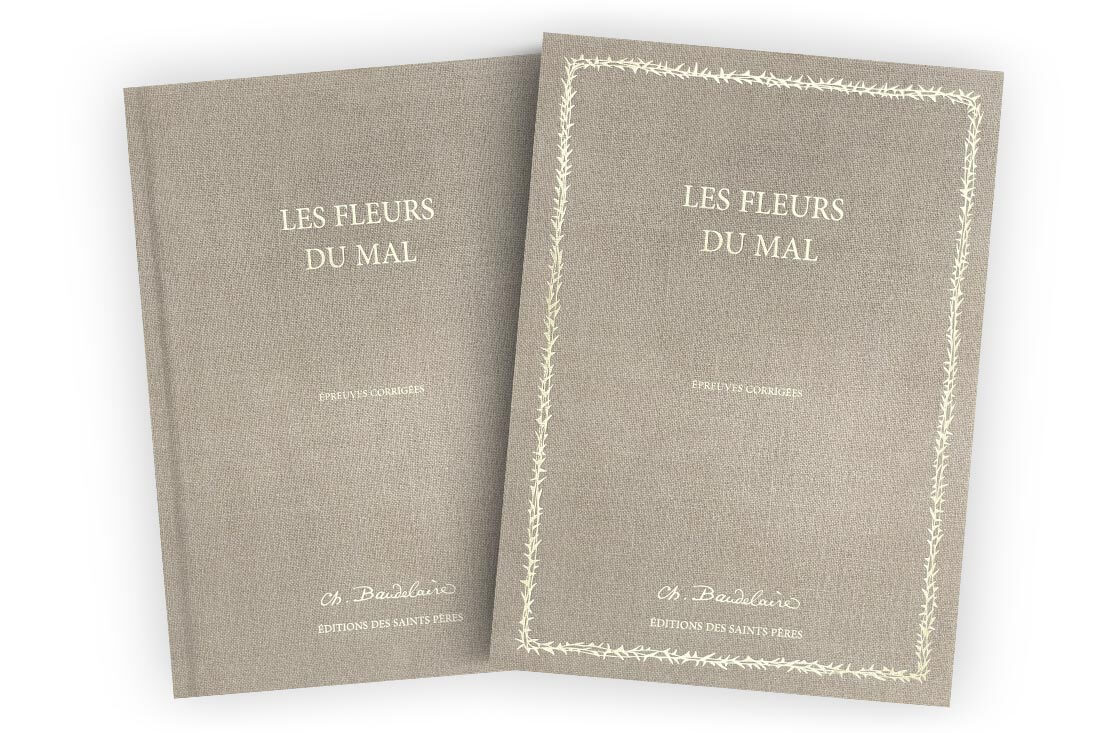 Published for the very first time
This unpublished document brings together all the known proofs of Les Fleurs du mal. It is kept at the Rare Books Reserve in the Bibliothèque nationale de France.
Behind the scenes of poetic composition
In this unpublished document, Baudelaire appears as a Sisyphus of writing, painfully abandoning his life's work and seeking, in the incessant reworking of his text, a form of aesthetic perfection. Notes for the attention of his editor alert the reader to the nature of the relationship between Baudelaire and Poulet-Malassis, which was tinged with annoyance! The poet had been disappointed with the copyist who had produced a fair copy from his draft which included errors, meaning that he had to be even more vigilant than usual.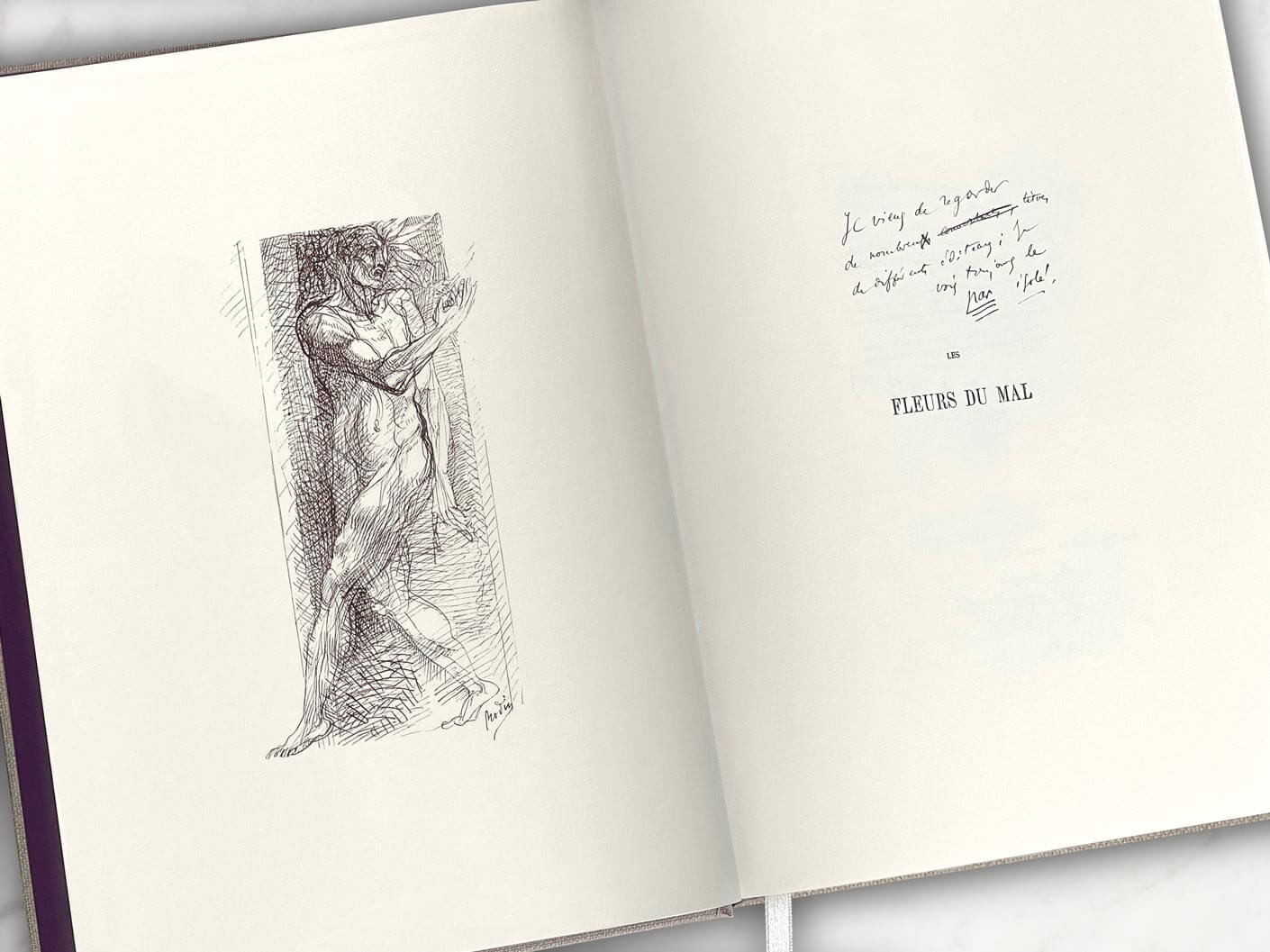 An encounter with Rodin
Captivated by Baudelaire's poetry, Auguste Rodin illustrated a copy of Les Fleurs du mal. The book belonged to Paul Gallimard before it was acquired by the Musée Rodin in Paris.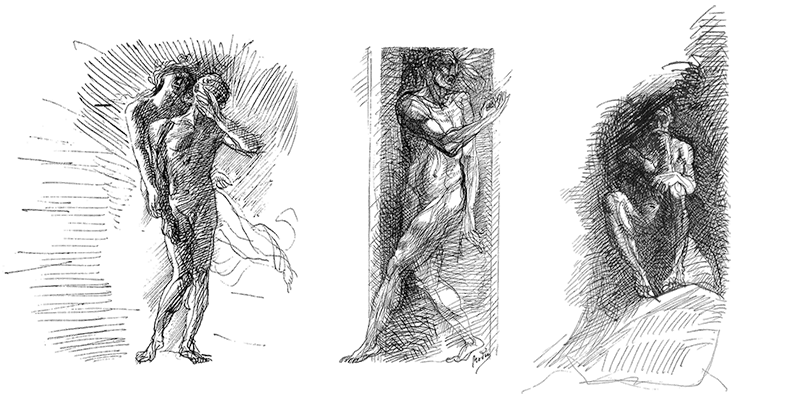 We decided to insert these 13 unpublished drawings in the volume, to add illustration and thus create a unique object.
A controversial collection…
Some days after the release of Fleurs du mal, Baudelaire attracted the wrath of the press, notably of Le Figaro's critic Gustave Bourdin. He was promptly prosecuted by the Directorate of Public Security for insulting public and religious morals and good manners. The prosecutor was none other than Ernest Pinard, the same man who had attempted to condemn Madame Bovary the previous year. Baudelaire's lawyer, Maître Chaix d´Est-Ange, defended him to the best of his ability. Six poems out of the thirteen under question were censored, with Baudelaire and his publisher receiving fines of between 100 and 300 frances.
Despite this lack of comprehension for what he was trying to do, the author was confident about the future of his oeuvre – he believed that his writing would resist. In July 1857, he wrote to his mother:
'They deny me everything, the spirit of invention and even the knowledge of the French language. I don't care a rap about all these imbeciles, and I know that this book, with its virtues and its faults, will make its way in the memory of the lettered public, beside the best poems of V. Hugo, Th. Gautier and even Byron.'**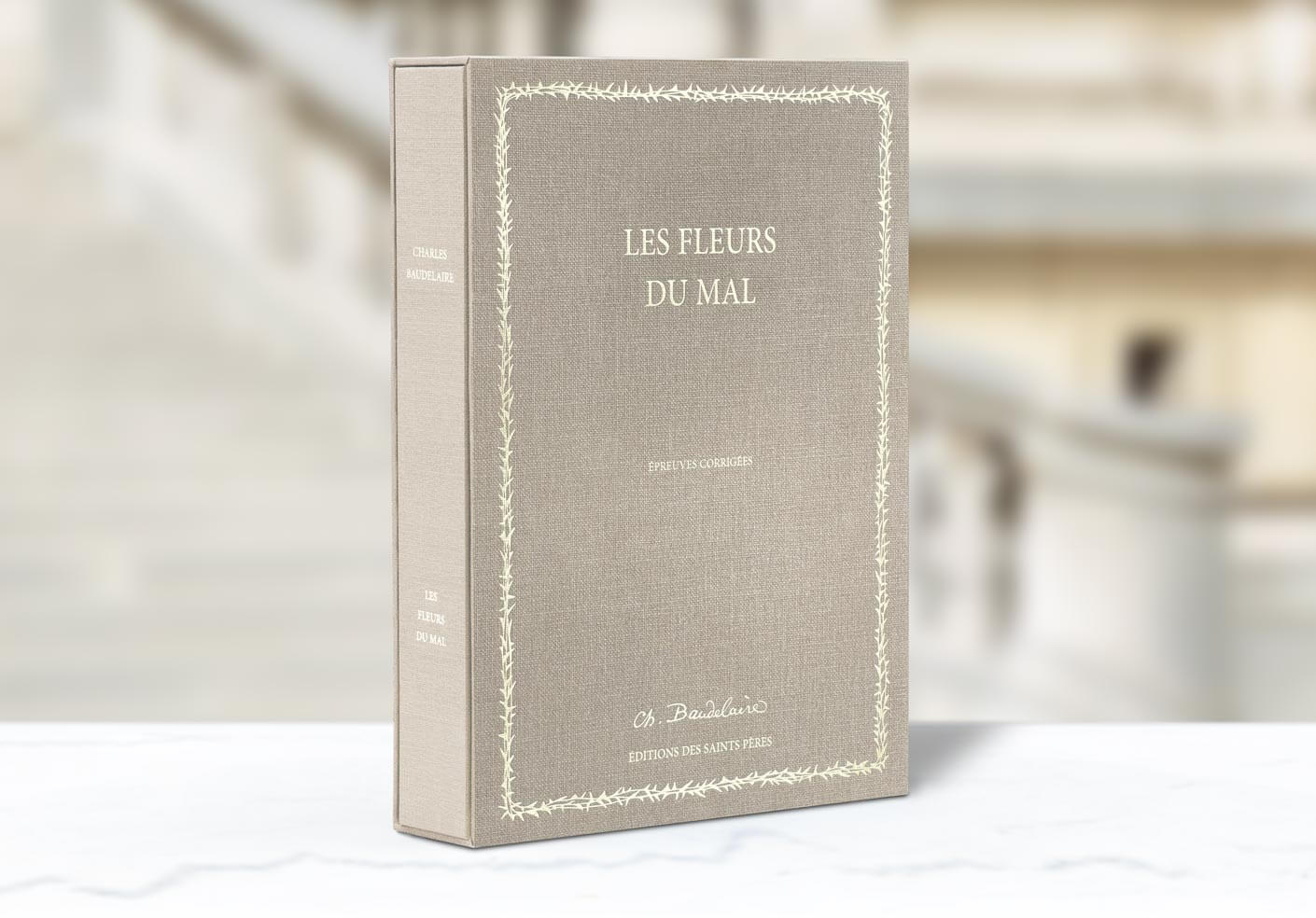 However, the survival of Les Fleurs du mal was also due to this sense of subordination of the truth that Proust notes of Baudelaire. It is no coincidence that Baudelaire painted a self-portrait of a cursed poet in 'Bénédiction', the second poem in the collection. Straightaway, he warns his reader that the book is not an elaborate work but a diary into which he has, he says, poured all his heart, all his tenderness, all his religion (in disguise), all his hatred.
Charles Baudelaire went on to publish Les Paradis artificiels in 1860 and Les Petits poèmes en prose in 1869.
The treasured object at auction
Valued at 3.2 million francs, the set of corrected proofs bears the precious handwritten traces of Baudelaire's labour in composing the Fleurs du mal.
First belonging to Auguste Poulet-Malassis, who had it bound in red Armand morocco, it was acquired in 1878 during a books sale by a private individual, and then by several private libraries. The document was acquired by the Bibliothèque nationale de France in June of 1998 during an auction at Drouot.
(An unpublished stanza from Les Fleurs du mal was recently rediscovered, made up of four lines added to the poem 'Les Bijoux'. The quatrain had been scribbled by hand by Baudelaire on a book he gave to the literary critic Gaston de Saint-Valry. It was sold at auction on 22 November 2019 at Drouot, in Paris.)
Video presentation on French TV:
Augustin Trapenard presents The Flowers of Evil's corrected proofs by Baudelaire.
The handnumbered print run
is sold out.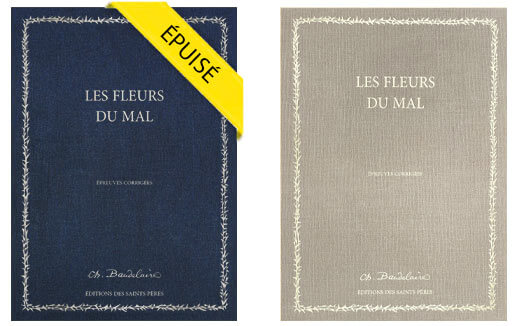 The Oxford blue edition,
hand numbered, is sold out.
This Champagne edition
is unnumbered.
Newsletter
Keep up with our latest news
and publications.
* This translation is from William Aggeler, The Flowers of Evil (Fresno, CA: Academy Library Guild, 1954)
** This translation is from a translation of Baudelaire's letters: Richardson, Joanna (1994). Baudelaire. New York: St. Martin's Press. p. 238.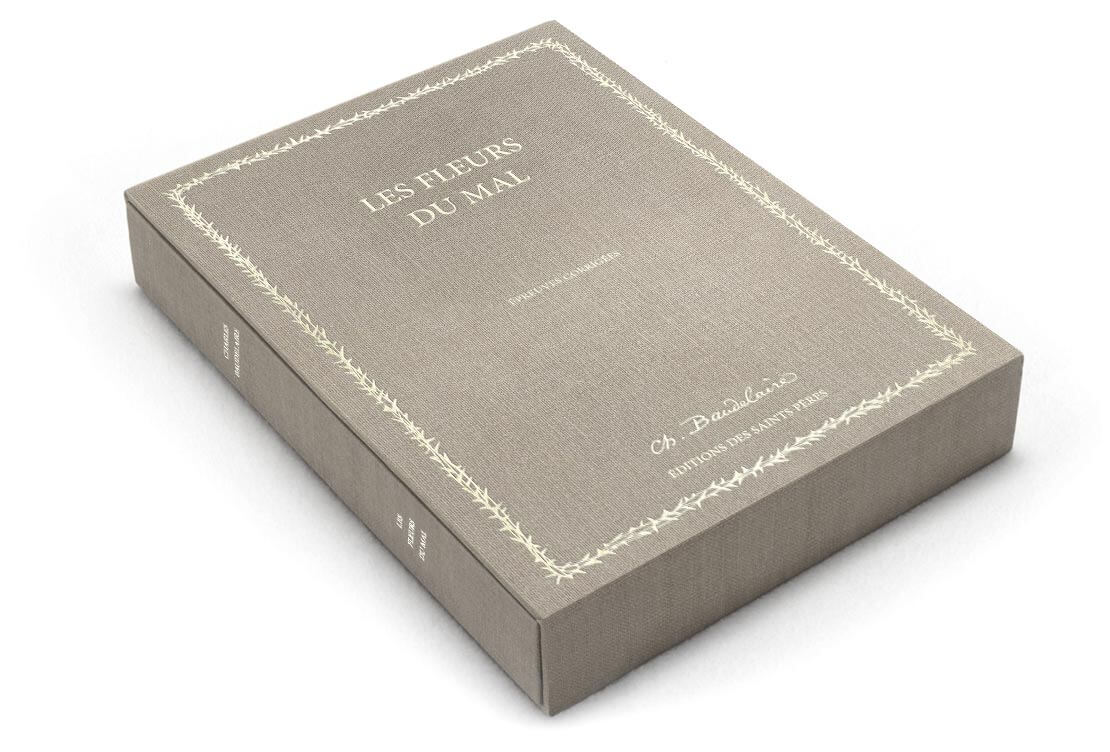 And then I was filled with this Verity:
That the finest treasure Genius receives from the Deity
Is to know the fullest extent of terrestrial Beauty
To make it a spring of Rhythm and of harmony.
Deluxe edition
Numbered from 1 to 1,000, this
Champagne edition is presented in
a large format handmade slipcase.
Printed with vegetal ink on
eco-friendly paper, each book is
bound and sewn using only the finest materials.
Champagne edition
Unnumbered copy
376 pages - 14 x 10'
Fedrigoni Avorio paper
Endband and bookmark
ISBN: 9782954268774