Carmine red edition,
numbered from 1 to 1,000
French edition
Large format (10 x 14'')

Free shipping

The manuscript of Le Horla by Guy de Maupassant, reproduced in a large format edition and illustrated by the artist Mélanie Roy. One of the greatest masterpieces of fantasy, enriched with a series of seventeen watercolours.
Le Horla: Guy de Maupassant's manuscript
This large format edition contains a reproduction of the manuscript of Le Horla, alongside a series of illustrations by the artist Mélanie Roy and a handwritten letter that Guy de Maupassant sent to Countess Potocka in 1884, reproduced at the end of the book courtesy of a private collection (Autographes des siècles).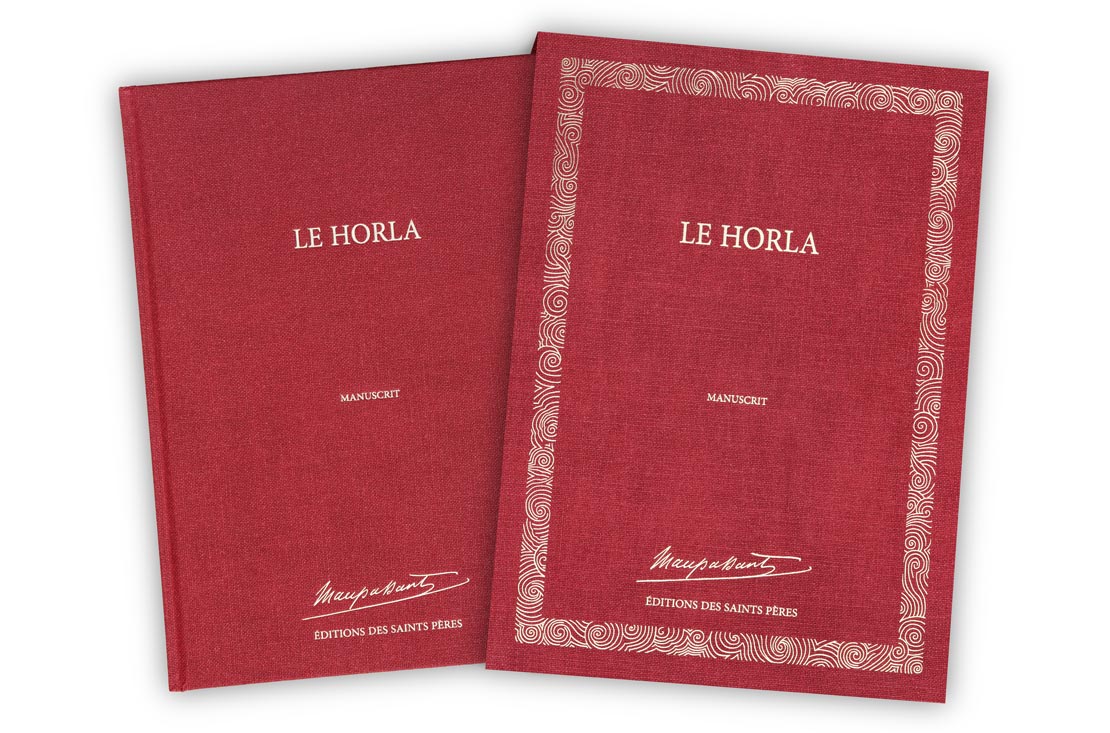 This is the first time that Maupassant's manuscript has been reproduced from the original document kept in the Bibliothèque Nationale de France. It has been recreated in an artistic edition, having undergone a graphic restoration process which reconstructs Le Horla as if the writer has just laid down his pen.
Le Horla, a masterpiece of fantasy
An outstanding stylist and storyteller, Guy de Maupassant embarked on a brilliant literary career with the publication of Boule de suif (translated sometimes as Dumpling) in 1880. This date marked the start of a remarkably active, prolific and successful period of ten years for the writer. It was during this period that the writer who claimed "I entered literary life as a meteor, and I shall leave it like a thunderbolt", wrote six novels and some three hundred short stories, one of which was Le Horla. Published on 17 May 1887, the tale appeared as the title work in a collection of short stories edited by Paul Ollendorf.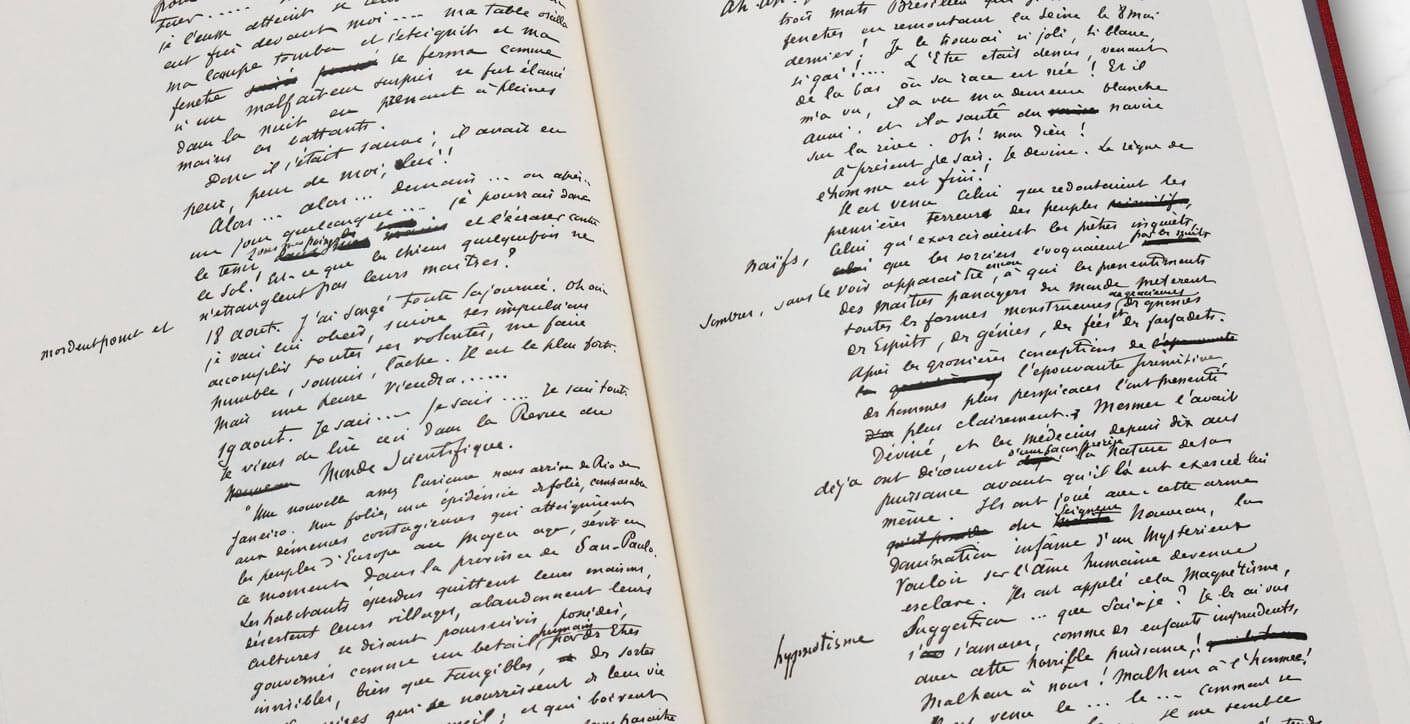 A masterpiece of fantasy, Le Horla is a story of alienation. In the form of a journal written over the course of several months, the narrator chronicles the growing grip of an invincible evil. The diary breaks off with an ellipsis, leaving the outcome unresolved: has the narrator committed suicide? Has he sunken into madness? Or did the Horla, that "invisible being who feeds on milk on water" succeeded in fully overpowering him?
Fiction or autobiography?
Maupassant was obsessed with the theme of madness, which he explored in his texts as well as his correspondence. In the letter written to the Countess Potocka, reproduced in the appendix to the book, the novelist feigns a crisis of dementia and anxiety, writing "I think I am possessed."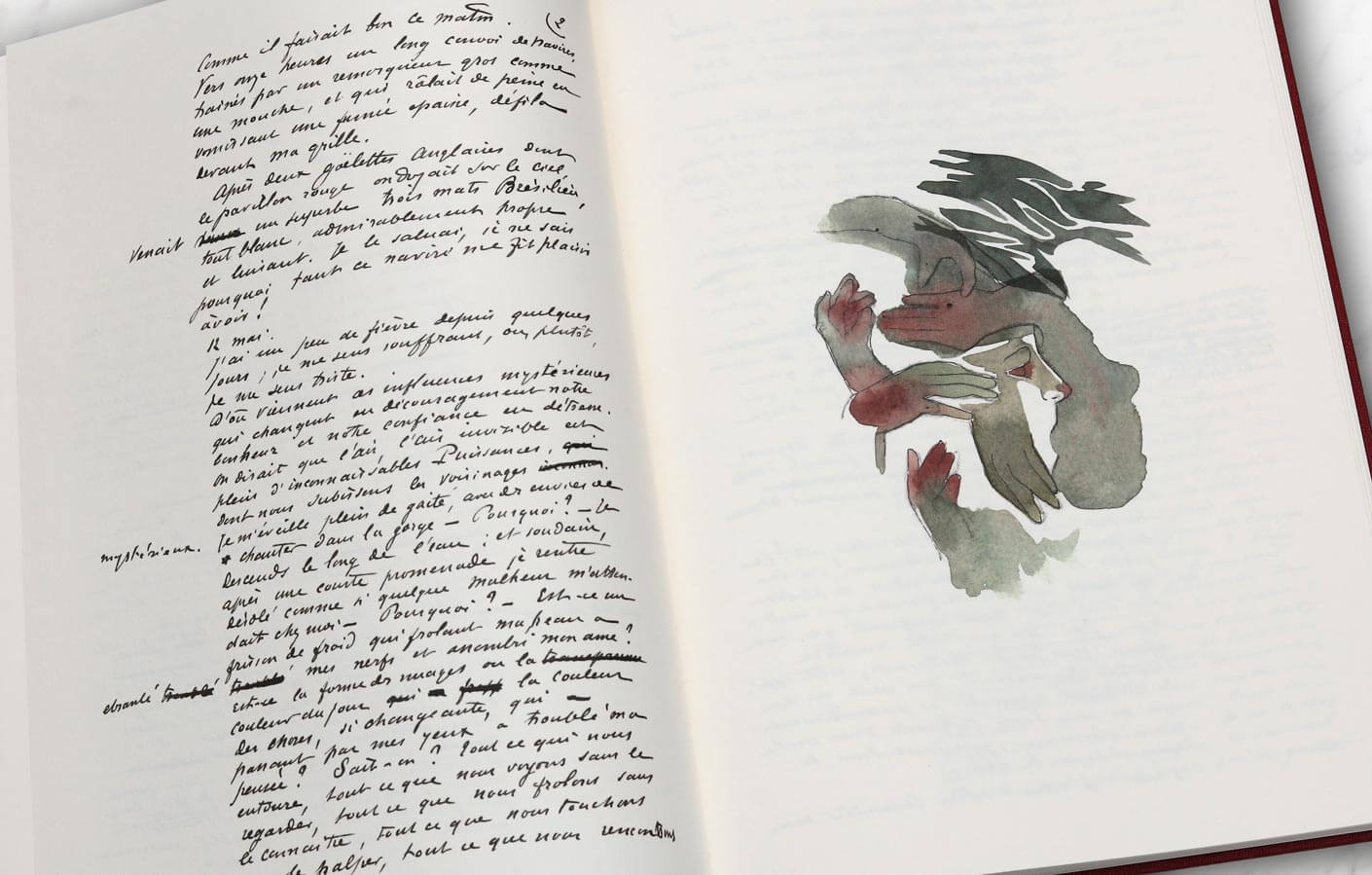 Le Horla is actually a product of the rewriting of two texts: Letter of a Madman (Lettre d'un fou) (1885), which tells a similar story but without the "Horla", and an initial version of Le Horla, written in a linear narrative in the third person, which appeared in 1886 in the daily newspaper Gil Blas.
It is only in the third version presented here that the writer has fine-tuned his technique to create ambiguity between what is madness and what is fantasy. This impression is rendered even more disturbing in the handwritten version, as the reader is immersed in the strokes of Maupassant's pen, bringing them into a biographical intimacy with the author beyond the fictional text.
Animated, dashed and clear handwriting
The thirty-five numbered pages reproduced in this publication make up a unique document: it is the only known manuscript of Le Horla in existence. It wouldn't exist but for this text, which varies only slightly from the published version, draft, outline and preparatory notes. Perhaps Guy de Maupassant had been formulating his idea long enough to get started without any preliminary document. The writing that flows over the pages is animated, dashed and clear. The crossings-out that punctuate the text and the occasional corrections in the margins seem to have been done largely as he went, as if he barely needed to rework the text, even if the slight differences suggest that there was a second round of corrections, probably on the proofs.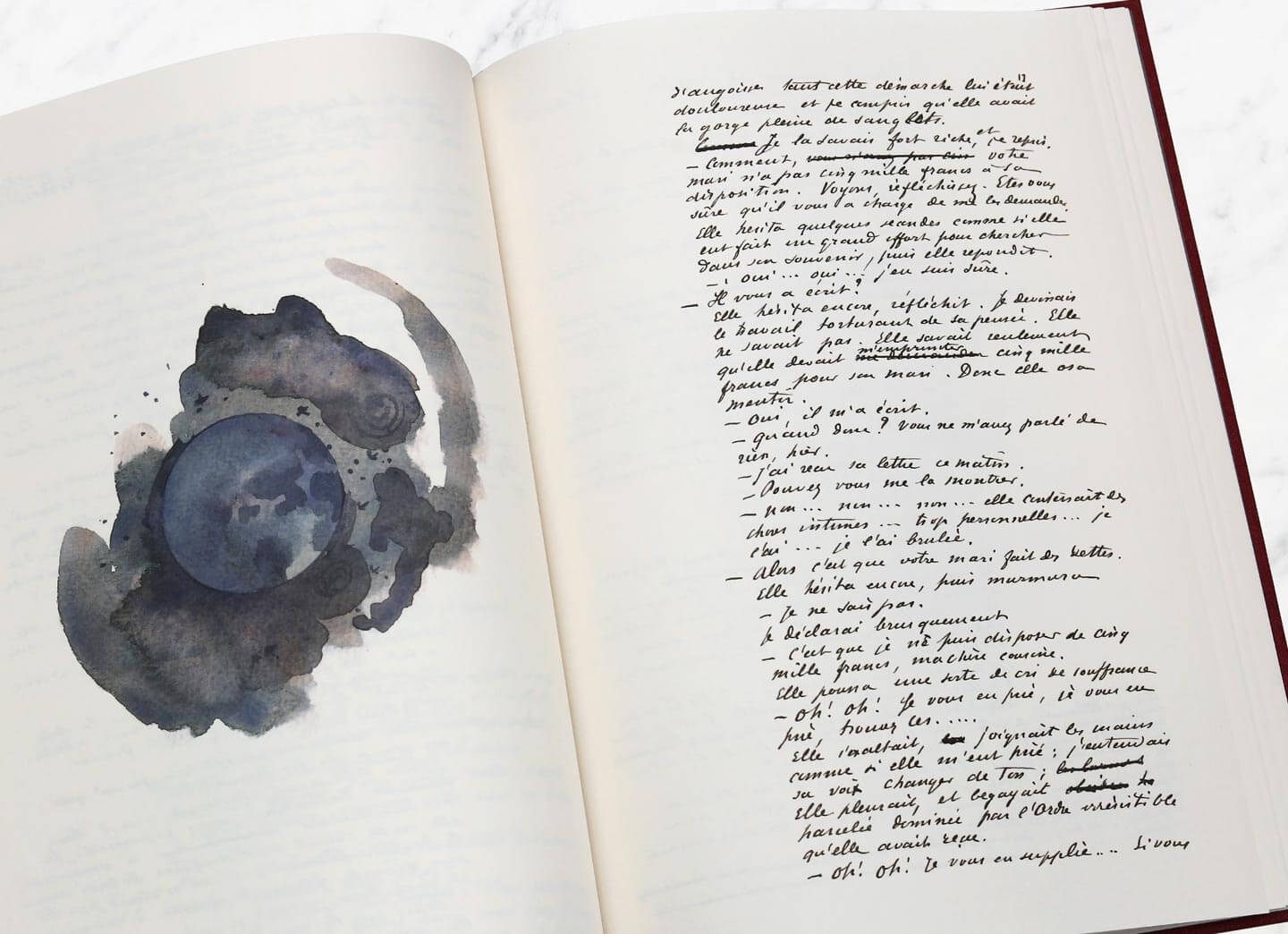 A completed manuscript
The scarcely modified state of the manuscript can be explained by Maupassant's creative process. According to several of his friends at the time, he composed his texts "almost phrase by phrase in order in his head" before taking up his pen, creating mental sketches before transcribing a near-definitive text on the paper, as if he was simply fine-tuning the draft in his mind. Yvan Leclerc, a Maupassant specialist, cites multiple direct accounts "presenting us a Maupassant composing his works mentally, lying on his bed or strolling around, and only taking up his pen when there was nothing more to do than copy down the finished work, so to speak […] hence the almost finished state of his first draft, which is almost immediately publication-ready, with a relatively small number of crossings-out." (Le Horla, introduced by Yvan Leclerc, 1993).
Illustrated by Mélanie Roy
In this edition, Maupassant's handwritten lines are set in dialogue with the strokes and traces of French artist Mélanie Roy, who has produced a set of seventeen images for the work in watercolour and pencil. The "creature" birthed from Maupassant's pen is explored through a series of dreamlike and hallucinatory images.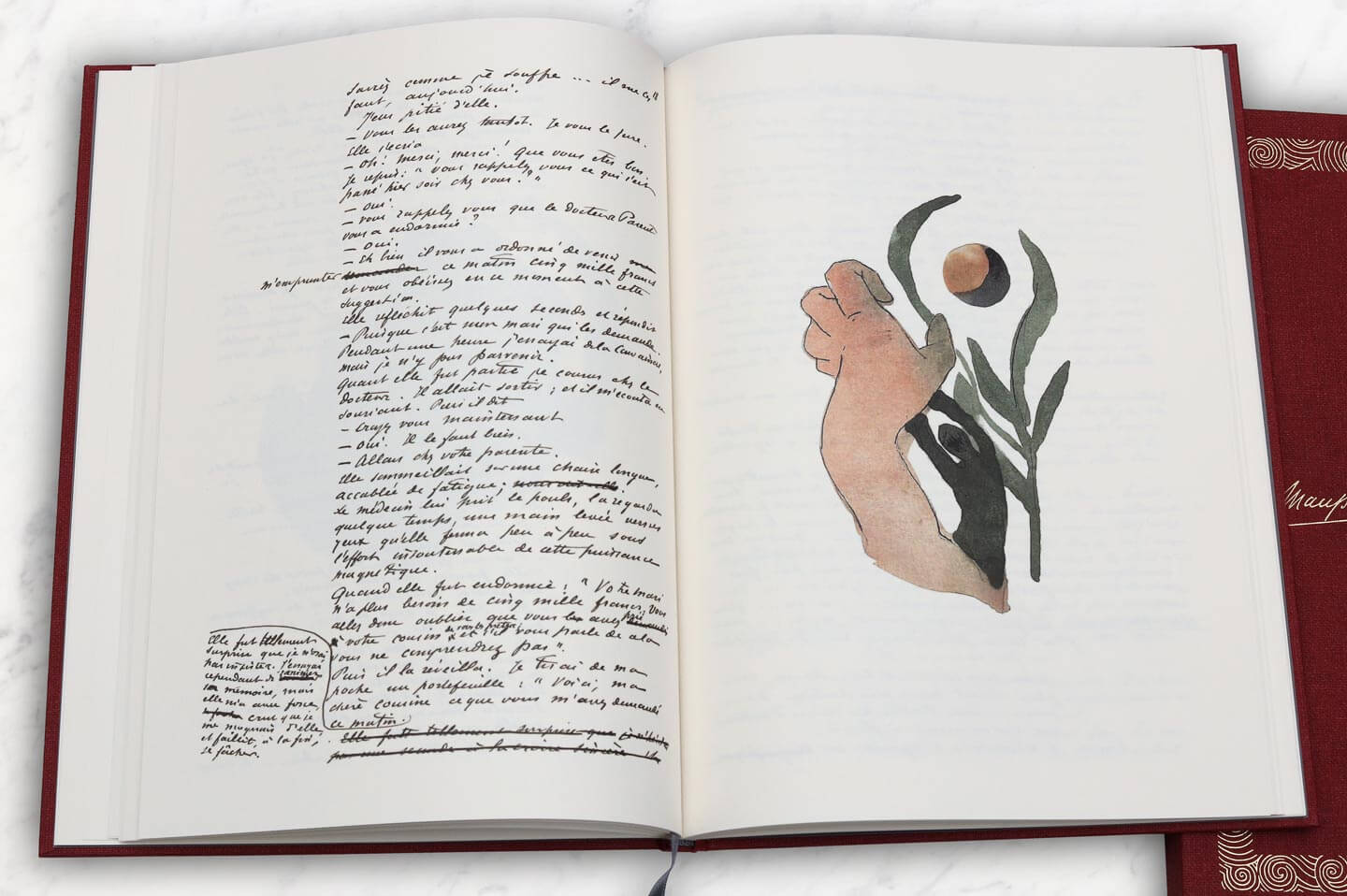 Guy de Maupassant: "I think I am possessed"
In 1884, Guy de Maupassant lived in an apartment on the fourth floor of 83 rue Dulong, in the Batignolles quarter of Paris. It was in this three-room apartment cluttered with knick-knacks and piles of books that he wrote a great number of his short stories and letters, including that sent to the Countess Emmanuela Potocka in January, in which he feigned a crisis of madness and anguish. Thanks to the Autographes des siècles bookshop in Lyon, and its founder Julien Paganetti, the two pages of this highly disturbing letter are reproduced at the end of the book.
Maupassant, Le Horla and madness
Maupassant was very aware of the risk that in publishing Le Horla, his readers and critics would interpret it autobiographically. "Within eight days, every newspaper will have published that I am mad", Maupassant said to his valet, François Tassart, who remembered the writer's words in his memoirs, according to which Maupassant added, "Well, they can relax, because I am sane and very well knew what I was doing in writing this story. It's a work of imagination that will strike the reader and give him more than one shiver down his spine, for it is uncanny."
The story sparked concern amongst his friends and doctors, who saw it as the beginning signs of insanity. Some years later they were vindicated in this interpretation when the writer attempted suicide with his pistol and was committed to the psychiatric clinic of Doctor Blanche. According to an opinion piece by Alphonse Daudet published in Le Gaulois on 8 January 1892, it was this same madness that produced the Horla: "You only have to read The Horla, a work of fantasy so intensely rendered, to see the germ of madness in the author."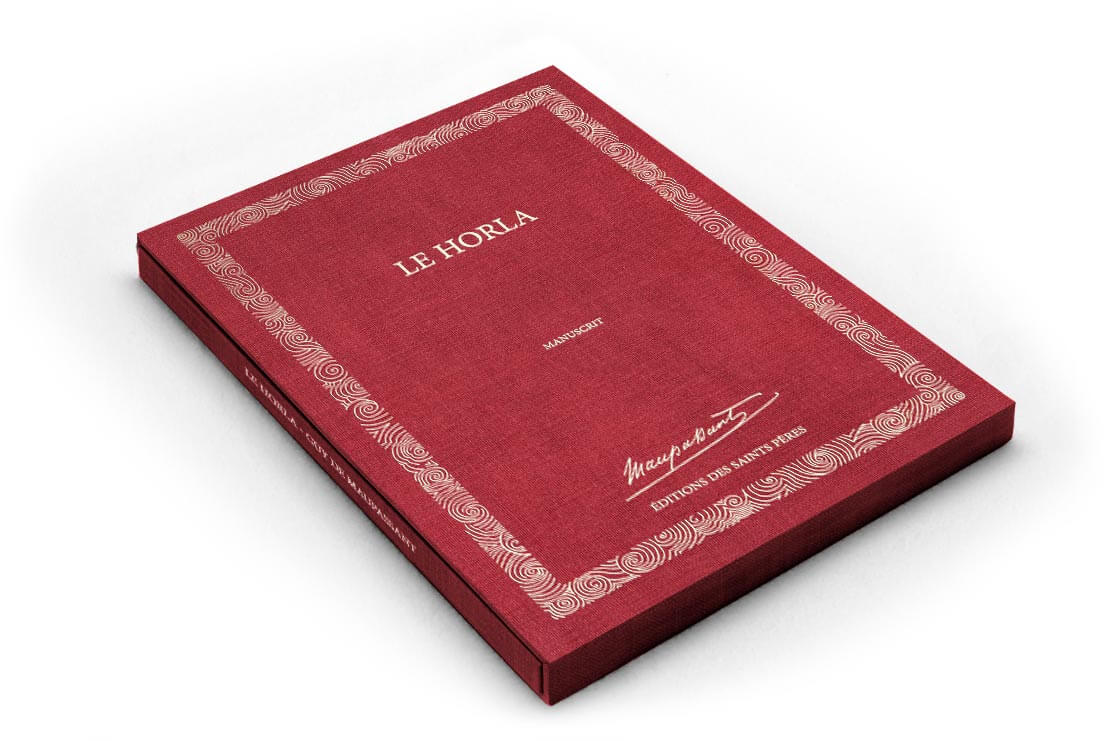 Despite, perhaps, its warning signs, The Horla is less the work of a madman than the culmination of a haunting literary technique that was both highly accomplished and innovative, and that still today continues to blur the lines between fantasy and madness, challenging the limits of our imagination.
Deluxe edition
Numbered from 1 to 1,000, this Carmine red edition is presented in a large format handmade slipcase.
Printed with vegetal ink on eco-friendly paper, each book is bound and sewn using only the finest materials.
Carmine red edition
1,000 numbered copies
80 pages - 10 x 14''
Fedrigoni Avorio Paper
17 drawings
ISBN : 9791095457541