The Mystery of Jean the Birdcatcher by Jean Cocteau







Le Mystère de Jean l'Oiseleur,
Klein Blue edition
Bilingual edition (English & French)
Numbered from 1 to 1,000
Large format (10 x 14'')
 Free Shipping

July 1924. On holiday at the Hotel Welcome in Villefranche-sur-mer, Jean Cocteau was just about to begin one of his most intimate and and staggering works.
Jean Cocteau was devastated after his lover Raymond Radiguet's death in December 1923. In a state of despair, he cloistered himself in his hotel room. Galvanized by his heavy use of opium and his vivid imagination, he began repetitively tracing the lines of his face as he saw them in the mirror.
The result is a series of 31 fascinating self-portraits: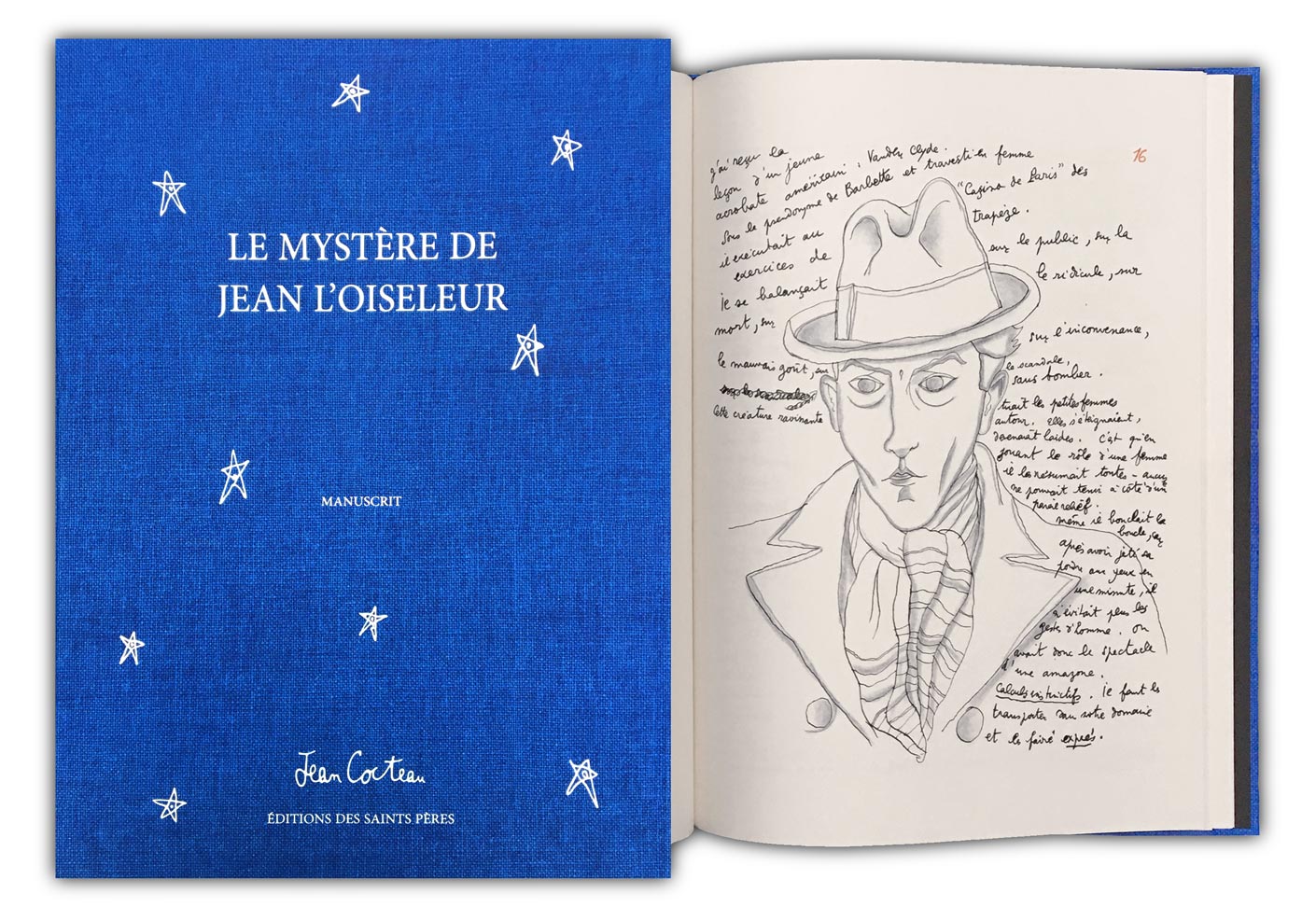 A key to understanding Jean Cocteau
Throughout this introspective and repetitive gestural act, Jean Cocteau muffles his despair, reflects on death and on creation, and summons artists who have inspired him like Picasso and Apollinaire.
The Mystery of Jean the Birdcatcher links Cocteau's past works (which he often alludes to) to his drafts to come.
Le Mystère de Jean l'Oiseleur: a practically unpublished work
Limited to only 130 copies in 1925, the manuscript had yet to be published since then. Les Éditions des Saints Pères is proud to present the work to the wider public for the very first time.
A bilingual edition in two volumes:

This edition is divided into two volumes: the complete reproduction of the manuscript (volume 1), and an analysis of the poet's self-portraits and aphorisms (volume 2). The edition is prefaced by Dominique Marny, vice-president of the Cocteau Committee. The edition is also bilingual — all text is translated from French to English.
First print run limited to 1,000 copies
This edition will be released in two print runs: the first will be blue and silver, and hand numbered from 1 to 1,000. The second print run will be limited to 1,000 copies, not numbered.
Nabile Tabouri présente

Le mystère de Jean l'oiseleur: "Un bijou (...)

"

"'Le spectacle du forum consterne. On arrive trop tard dans la chambre; les bijoux ont disparu. Il ne reste que les malles ouvertes, les meubles à la renverse, le linge épars, les tiroirs fracturés.' Les mots les plus sobres et les métaphores les plus simples décrivent l'inexprimable (...)

"

Dominique Marny : "C'est vrai que c'est extraordinaire qu'une maison d'édition se soit lancé dans ce défi parce que ce sont vraiment les autoportraits, il y a aussi tout un appareil critique et puis chaque texte est retranscrit et aussi traduit en anglais (...)

"

"Le Mystère de Jean l'oiseleur' rassemble des dessins nés du décès de Raymond Radiguet. Un concentré d'émotions et d'interrogations sur l'art et la mort (...)

"

"Cette œuvre peu connue réalisée en 1924 porte en titre : Le Mystère de Jean l'oiseleur. Jusque-là difficile à trouver, elle vient d'être rééditée en fac-similé dans un très bel écrin bleu nuit aux éditions des Saints Pères (...)

"

"

Entre Jean Cocteau et Raymond Radiguet, une 'émulation littéraire intense': Le mystère de Jean l'oiseleur en est le fruit ultime. L'œuvre mêle intimement dessin et écriture, on y retrouve les signes chers au poète, l'étoile, la rose ou le miroir

 (...)

"

"

Edité seulement à 130 exemplaires à l'époque, le manuscrit qui est un recueil d'une trentaine d'autoportraits de l'auteur est exceptionnellement republié par les éditions des Saints-Pères sous la direction de Dominique Marny, la petite nièce de Cocteau et Jessica Nelson co-fondatrice de la maison d'édition.

 (...)

"

"Laissez-vous porter par la magie surréaliste, heurtée, puissante, d'un Cocteau sous opium. Ecoutez-le convoquer Apollinaire et Picasso, divaguer sur la mort, l'amour, l'art… (...)

"

"C'est donc une oeuvre quasi-inédite et encore peu connue que proposent les Editions des Saints-Pères dans un coffret en deux volumes. On trouvera dans le premier la reproduction intégrale du manuscrit et, dans le second, une analyse des autoportraits et aphorismes de Cocteau (...)

"

"Une merveille donc, voire une double merveille : le texte est précieux, l'objet est magnifique et ravira les bibliophiles, d'autant que le tirage, numéroté, est toujours disponible (mais attention, avec Noël qui approche, il risque de s'envoler très vite). (...)

"

'Cette année encore les Éditions des Saints-Pères proposent un magnifique coffret idéal pour Noël (il y a des étoiles argentées dessus) : la reproduction du manuscrit du Mystère de Jean L'Oiseleur de Jean Cocteau, illustré de superbes dessins [...] je ne vois pas comment un bibliophile digne de ce nom pourrait ne pas être conquis !(...)

"

"Publié de manière confidentielle en 1925 (130 exemplaires seulement), cette édition luxueuse comble pour ainsi dire une lacune et redonne vie à ce manuscrit extraordinaire, comme un quasi-inédit...  (...)

"

"

Les éditions des Saints-Pères offrent enfin une nouvelle vie et un nouvel écrin à ce très bel ouvrage. Dans un coffret toilé, vous trouverez deux livres également toilés du même bleu envoûtant et ornés d'argent

 (...)

"