Manuscripts
French edition
Large format (10 x 14'')
 Free shipping

Manuscripts which never cease to fascinate
Ophélie, Ma Bohême, Le Dormeur du val, Tête de faune, Voyelles… More than a century after his death Arthur Rimbaud's poems continue to stir the imagination of poetry-lovers across the world and to be able to read them in manuscript form lends an extra, even an emotional dimension to their appreciation, as if the poet's own handwriting were revealing some of the secrets of his genius.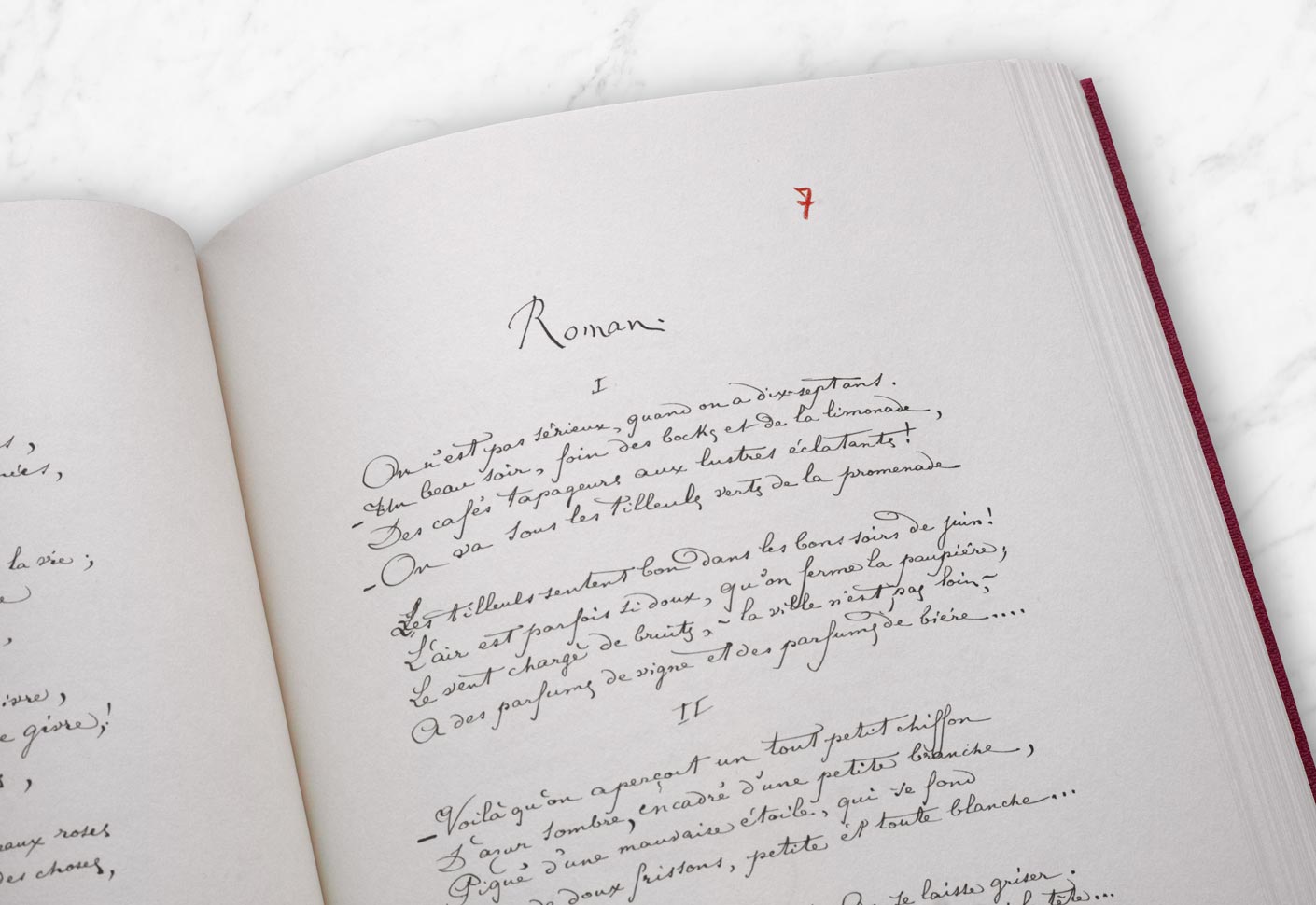 From the poems of his youth through to Illuminations by way of the dazzling « Lettres du Voyant » and his contributions to the Album zutique, Rimbaud's manuscripts reflect most movingly the crucial moments in his creative life.
A painstaking process of reconstruction
In order to create this facsimile we first had to undertake the arduous task of tracking down Rimbaud's widely dispersed manuscripts. We searched the holdings of great institutions such as the Bibliothèque nationale de France and the Martin Bodmer Foundation at Cologny in Switzerland, as well as smaller but no less important collections such as the Bibliothèque Voyelles at Charleville-Mézières and the Jacques Doucet library in Paris, without whose invaluable cooperation this edition would not have been possible. Once the manuscripts had been reassembled and ordered chronologically, our graphic artists set about removing some of the ravages of time and neglect so that readers might enjoy the delicious sensation of almost having the originals in their hands.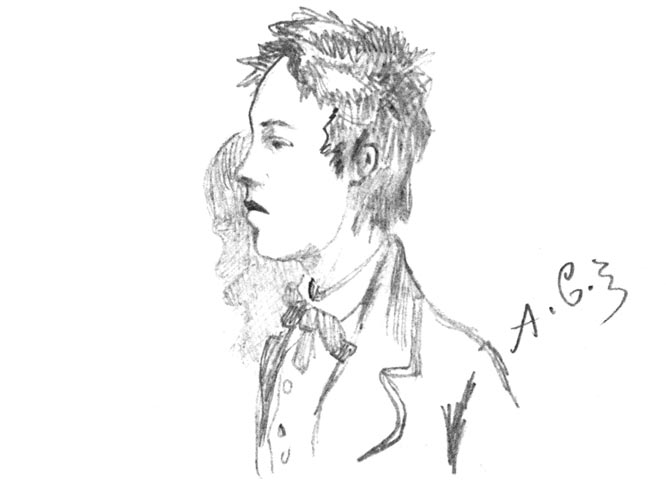 Some unsolved mysteries
Certain manuscripts still remain in private collections whose whereabouts have been difficult to establish. Others, such as the originals of Dévotion and émocratie, have never been found, though there is always the possibility that they may resurface one day. That hope is kept alive by the recent discovery of one of Rimbaud's letters from 1874 addressed to Jules Andrieu in which he writes of an ambitious project for a work entitled « Histoire splendide ». He had conceived the idea while he was sharing a room in London with the poet Germain Nouveau, and was putting the finishing touches to certain poems in Illuminations.
« A collection of wonderful fragments »: André Guyaux's afterword on Illuminations
André Guyaux recounts the fascinating story which lies behind Illuminations, for the poems which make up this collection are still shrouded in mystery. The collective title for them was suggested by Verlaine and some of the poems, written on unnumbered and disparate sheets of paper and whose original sequence was thus uncertain, « disappeared » on several occasions, leading Verlaine to believe that they were lost forever.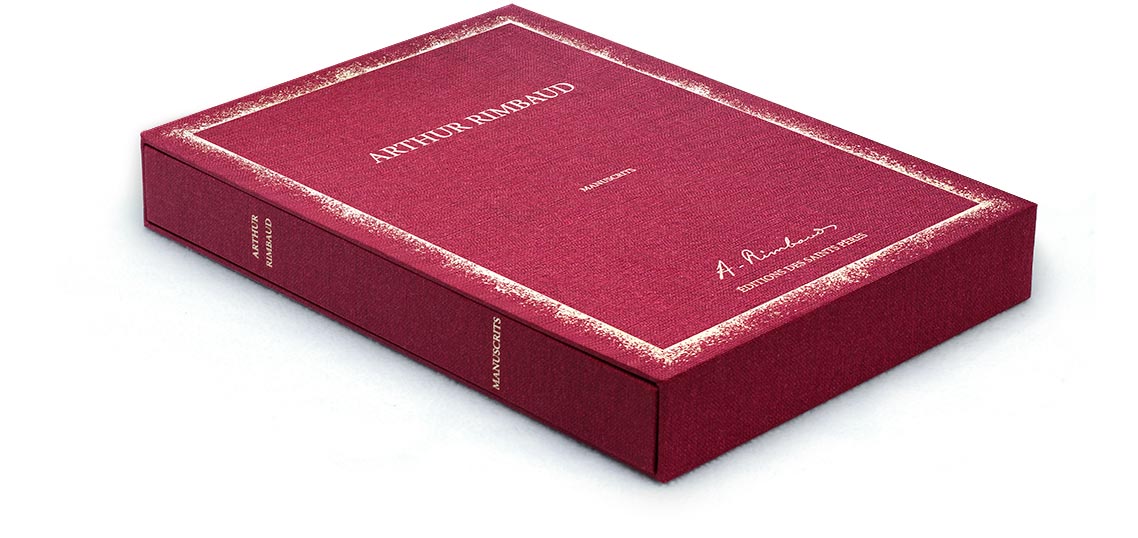 Deluxe edition
This Vermilion edition is presented in a large format handmade slipcase.
Printed with vegetal ink on eco-friendly paper, each book is bound and sewn using only the finest materials.
Vermilion edition
Not numbered copy
352 pages - 10 x 14''
Fedrigoni Avorio Paper
Endband and bookmark
ISBN: 9791095457640

Plus d'un siècle après sa mort, les poèmes d'Arthur Rimbaud ne cessent d'abreuver l'imaginaire poétique des lecteurs du monde entier. Des poèmes de jeunesse aux Illuminations, les manuscrits de Rimbaud reproduits dans cet ouvrage sont les empreintes émouvantes des instants les plus décisifs de sa création.
(...)

les Editions des Saints-Pères nous offrent ici un très bel ouvrage pour lire et relire tous les poèmes manuscrits de Rimbaud que l'on connaît à ce jour et c'est une vraie merveille ! Ce livre rassemblant les copies des manuscrits permet à chacun de redécouvrir le style de Rimbaud et d'être au plus près de la plume de l'auteur 
(...)

L'an dernier, une lettre mélancolique adressée à sa sœur en 1891, quelques mois avant sa mort et alors qu'il venait d'être amputé d'une jambe, avait été adjugée plus de 400 000 €. Pour revenir à la source des poèmes aussi emblématiques que Ma Bohême ou Le dormeur du Val, on peut se procurer pour beaucoup moins cher la superbe édition numérotée des manuscrits d'Arthur Rimbaud en fac-similé 
(...)