Oxford blue edition,
numbered from 1 to 2,000
The Human Voice
French edition
Large format (20 x 10')

Free shipping


La Voix Humaine : Jean Cocteau masterpiece, illustrated by Bernard Buffet
I have your voice around my neck.
Jean Cocteau
La Voix Humaine (The Human Voice), with original illustrations and engravings by Bernard Buffet, is a product of the singularly remarkable union of two great creative minds of the 20th century.
This one-act play, first staged at the Comédie-Française on 17 February 1930, was composed by Jean Cocteau and directed by Jean-Pierre Laruy. The Voice is personified by Belgian actress Berthe Bovy, a former student of actress Sarah Bernhardt and friend of actor Sacha Guitry. It was written by Cocteau for her to play. The first performance marked a departure: it showed a young woman delivering a monologue through the phone and processing her painful break-up live in front of the audience.
The play inspired a rich tradition, as seen in the many famous adaptations. Cocteau often illustrated his own texts – drawing was for him a parallel mode of expression to writing. However, almost thirty years after the play's run, he decided to entrust its illustration to a young painter with a unique talent, Bernard Buffet.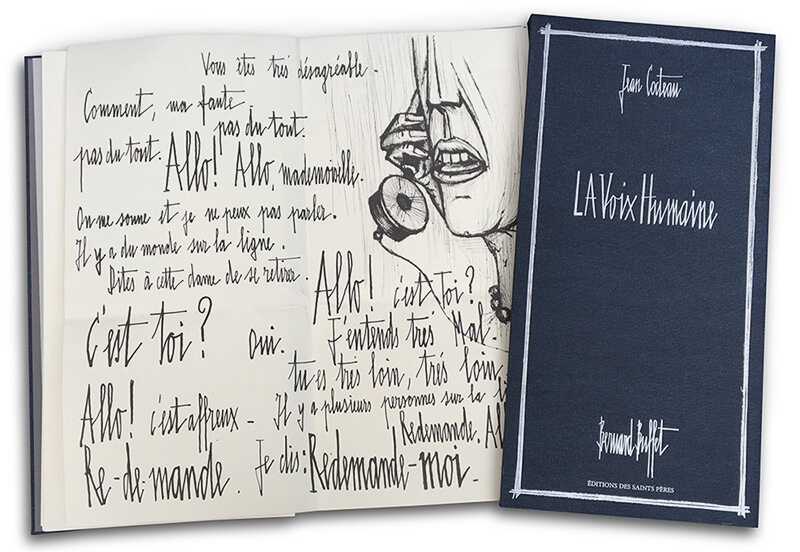 Reproduced for the first time since 1957
In July 1955, Cocteau praised the creative work of his illustrator in 'Gisant debout', a poem published in the exhibition catalogue of La Voix humaine (Galerie Lucien Blanc, Aix-en-Provence, 14 July - 15 August 1957).
Piège à loups que pose une main enfantine
Parce qu'elle voulut (sous notre soleil noir)
Fil de fer barbelé cueillir vos églantines
Saigne l'Ève aux cheveux de pomme d'arrosoir.
Se peut-il que du ciel un instrument à anche
Dans le lit-cage allonge un semble-lys des chants
Et que médiévale une Ève aux larges hanches
Quitte un jardin Éden en proie aux chiens méchants ?
Après le mort aux dents que reste-t-il à prendre ?
Peut-être le fauteuil fantôme où l'on m'assied
L'ombre d'un bec de broc sur la carte du tendre
L'auto-stop arlequin des pylônes d'acier.
Que son fidèle ami lointainement me sache
Bernard bourreau pensif accoudé sur sa hache.
Throughout the 1950s, Jean Cocteau enjoyed a level of public esteem relative to his boundless genius. He amazed audiences with unforgettable books, shows and films - La Belle et la Bête (Beauty and the Beast), L'Aigle à deux têtes (The Eagle with Two Heads), Les Parents terribles, Orphée. He chaired the Cannes Film Festival in 1953 and 1954, and entered the Académie Française in 1955. At this point, Bernard Buffet was not yet thirty years old. He had begun to court success in 1948 when he obtained the Critics' Prize (ex-æquo), established by the owners of the Galerie Saint-Placide. In 1955, he won first place in a referendum organised by the periodical Connaissance des Arts, defining the ten best painters of the post-war period. He was elected to the Academy of Fine Arts on 13 March 1974.
We don't talk about painting, we don't analyze it, we feel it.
Bernard Buffet
In 1957, Bernard Buffet's twenty-eight etched and illustrated plates were brought together in a small book that was published in a run of only 150 copies. The edition was commissioned by Pierre Bergé from Parenthèses publishing, who had known Bernard Buffet since 1950. SP Books' edition pays tribute to these two vivid creators by reproducing their creations in a beautiful large-format, boxed and hand-numbered set.
New format :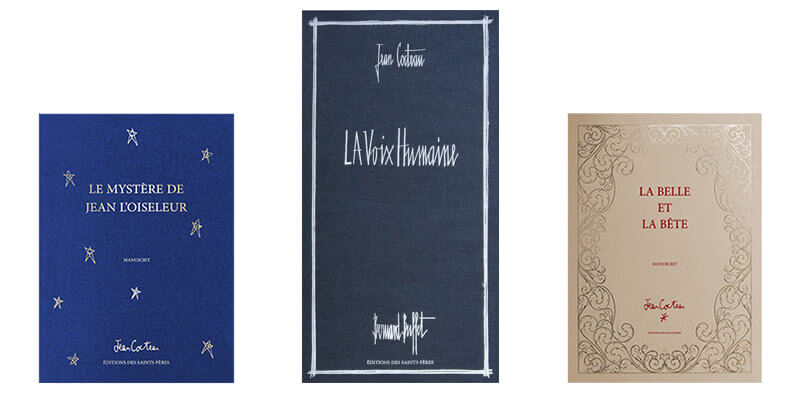 La Voix Humaine : a major play by Jean Cocteau
Our love came against too much.
Jean Cocteau
La Voix Humaine is one of Cocteau's major works of theatre. Ever since it was written, the monologue has been performed consistently around the world. It presents a woman speaking for the last time on the phone to the man who has betrayed and is leaving her.
'What is especially moving here is the situation itself, this drama of presence-absence, this dialogue-monologue; and what makes this fast-paced scene a real tragedy is the indifference of the apparatus, itself the image of fatality rather than the words it transmits and receives.' — Pierre Bost, Revue hebdomadaire, mars 1930.
Astonishingly modern and universal, La Voix humaine continues to inspire today. In 1958, Francis Poulenc, a long-term close friend of Jean Cocteau, adapted it into a one-act opera, performed on 6 February 1959 at the Salle Favart in Paris with the soprano Denise Duval.
'By a curious mystery, it was only after forty years of friendship that I collaborated with Cocteau. I think I needed a lot of experience to be able to respect the perfect structure of La Voix humaine, which has to be, musically, the opposite of improvisation', wrote Francis Poulenc, to which Cocteau replied: 'My dear Francis, you have fixed once and for all the best way of expressing my text.'
In 1964, the text of La Voix humaine was recorded in a single reading by Simone Signoret, in her apartment at Place Dauphine in Paris. According to producer Jacques Canetti, this recording was one of the most beautiful he had ever made or experienced. The same year it won the Grand Prix du Disque.
In 2021, Pedro Almodóvar marked his return to cinema with a 29-minute experimental short film loosely adapted from La Voix humaine, filmed in Madrid and starring Tilda Swinton in the lead role. In 1987, the final sequence of the play had already appeared in Pedro Almodóvar's film Law of Desire.
Le prince des fleurs de l'encre et du fil de fer
Jean Cocteau himself described Bernard Buffet's calligraphy like a 'praying mantis', which captures here the cruel and public heartbreak, showing the face of the lover as in turn piercing and harrowing. Cocteau wrote later of the painter's work that it was: 'a pinch of Toledo, a secret weapon' and 'the prince of the flowers of ink and wire'.
Each of Bernard Buffet's drawings is reproduced in a large square format (18 x 18'). The boards, folded in half, are unbound, in respect to the original format.

A foreword by Dominique Marny
This boxed set includes a preface by writer and exhibition curator Dominique Marny. She has devoted five books to her great-uncle Jean Cocteau, including Jean Cocteau ou le roman d'un funambule (Rocher). She is vice-president of the Jean Cocteau Committee, dedicated especially to preserving the poet's enduring legacy and influence.
With our thanks to Galerie Garnier (Paris).
Présentation de La Voix Humaine, dans une version encadrée, lors de son exposition au Musée d'Art Moderne de Paris.
Very large format
Numbered from 1 to 2,000, this Oxford blue edition is presented in a large format handmade slipcase.
Printed with vegetal ink on eco-friendly paper, each book is bound and sewn using only the finest materials.
Oxford blue edition
2,000 numbered copies
Very large format: 20 x 10'
Fedrigoni Avorio paper
30 doubles pages
ISBN: 9791095457435