Vermilion edition,
numbered from 1 to 1,000
French edition
Large format (10 x 14'')

Free shipping

Madame Bovary, Gustave Flaubert's manuscript
In 1851, Gustave Flaubert was deep in the throes of writing Tentation de saint Antoine (The Temptation of Saint Anthony). Yet amidst this, his childhood friends – the poet and playwright Louis Bouilhet and journalist and travel writer Maxime du Camp – advised him to drop it and choose a less lyrical subject for his first novel. Despite his investment in the original project, Flaubert must have listened to them. He had been much taken by a painting of Saint Anthony by Peiter Brueghel at the Balbi Palace in Genoa, as well as the writings of Goethe and Byron on the subject. Nevertheless, Flaubert decided to follow his friends' warnings and turn instead to matters of human interest.
Several real-life stories must have caught his attention. First was the Eugène Delamare affair – a health officer with a young, adulterous and extravagant peasant wife who committed suicide, leaving debts and a young orphan behind her. He was also taken by the Marie Lafarge affair, a woman who poisoned her husband in 1840, and the tale of Laquerrière, a farmer accused of having poisoned his wife in 1848.
Gustave Flaubert immersed himself in these sordid stories, sharpening his pen and embarking on a new manuscript that would launch his literary career: Madame Bovary.
A laborious act of creation
'Bovary is moving at a snail's pace', complained Flaubert in a letter to his mistress Louise Colet on 13 September 1852. Flaubert struggled – despite the inspiration he felt and his unfailing consistency in sitting down to work, he would write page after page without ever being satisfied. He probably didn't anticipate that it would take five years of relentless and solitary work in his country house in Croisset on the banks of the Seine to flesh out Emma Bovary – in doing so, he had to free his writing from the shackles of romanticism and create it anew, both in the lineage of Balzac's realism and a departure from it. To do this, he relied on the many 'plans and scenarios' (see the appendix of this manuscript edition) he plotted out during the summer of 1851.
His ideas are clear and precise from the start, though this didn't prevent the writer from deviating and going back to refine his plot later. The manuscript is dated September 1851 to April 1856. The writer completed the first part from 19 September 1851 to August 1852, the second part from September 1852 to 1855 and the third part up until April 1856.
Gustave Flaubert : the 'Gueuloir' technique
Flaubert is well-known for his endless revisions. In pursuit of a novel 'without external attachments (...) which would have practically no subject, or at least one in which the subject would be almost invisible', he reviewed and rewrote several of his chapters up to six times over. His crossings-out are so furious and in such thick ink that not a word of these passages is discernible. He worked at length on the sequence of his scenes, gradually developing his characters – such as Homais, the usurer Lheureux and the Abbé Bournisien – and changing the order of certain passages so as to vary their intensity. In fact, in the early versions Emma was not initially Léon's mistress before becoming Rodolphe's. Their romance was originally platonic – even the most attentive reader won't find so much as a kiss between them.
Flaubert was all the while devising secondary plots, which he would throw down on paper in a few lines while carrying out precise documentary research to describe the Normandy countryside and customs of the provinces. Thus came about the wedding episode and the clubfoot operation, as well as the scene at the agricultural shows, added at the last minute.
Flaubert's proofreading technique is famous. Sitting in his office, obsessing over the rhythm and musicality of his sentences, the author would shout his prose aloud (which he called gueuloir, from gueuler, 'to bellow'). His quest to find the mot juste was unstoppable. It was what Maupassant would describe as 'the nightmarish work of a patient and painstaking giant building a pyramid out of children's marbles'. Flaubert would shout 'like a fanatic' (cf. Letter to Madame Brenne, 8 July 1876) until the small hours of the morning until sunrise came, no doubt exhausted.

Madame Bovary: a publication under fire from critics
In 1856, Madame Bovary was serialised in La Revue de Paris, which was co-directed by Maxime de Camp. It appeared with multiple cuts and censored passages, such as the cab scene, which Flaubert strongly resented. Even then, the novel didn't escape scandal; the novelist was accused of affronting public decency and religious morals by the prosecutor Ernest Pinard, who would subsequently condemn Charles Baudelaire's Les Fleurs du Mal. Pinard violently attacked the 'lascivious' depictions and Flaubert's 'impersonality', concluding in his indictment: 'Art without rules is no longer art (...) to impose on art the sole rule of public decency is not to enslave it but to honour it.' Flaubert's lawyer Senard endeavoured to demonstrate that since the novel does not praise adultery, it wasn't therefore subversive. Art is accountable only to itself...
Flaubert was acquitted in February 1857. In April, two months after the acquittal, Madame Bovary was released by the publisher Michel Lévy: it was a resounding success, selling over twenty thousand copies in just a few days; it continued to be printed until 1873.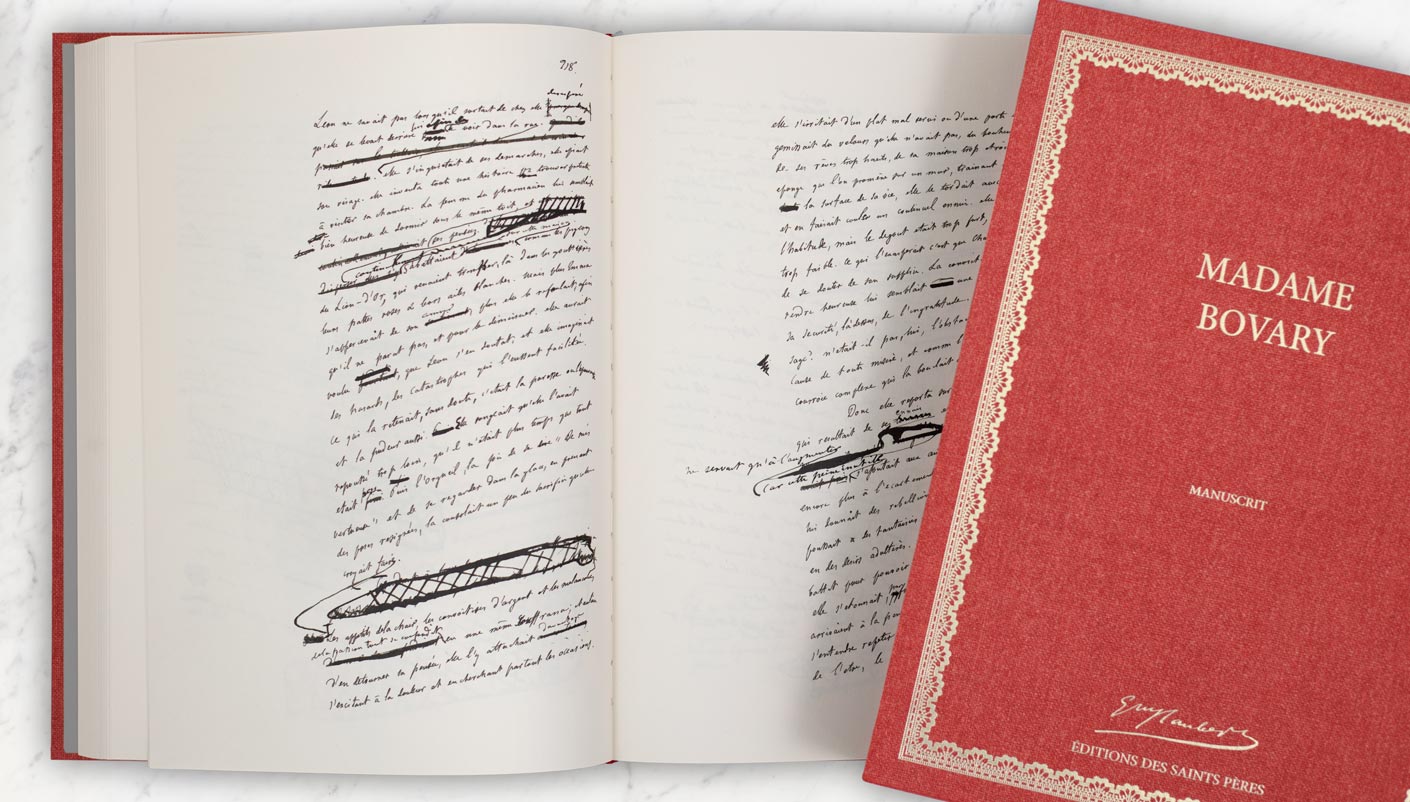 A foreword by Jacques Weber
Written by the actor Jacques Weber, a long-time lover of Madame Bovary and enthusiast for the work of Gustave Flaubert, the highly personal preface of the set pulls readers into the intricacy of the lengthy writing process. He also sheds new light on the characters, themes and the ferocity of a Flaubert haunted by what would become his masterpiece.
In 2014, Jacques Weber acted in Arnaud Bédouet's Gustave at the Théâtre de l'Atelier, based on Gustave Flaubert's correspondence. The figure of Flaubert and the unforgettable Emma Bovary also permeate Jacques Weber's career as an author.
Deluxe edition
Numbered from 1 to 1,000, this vermilion edition is presented in a large format handmade slipcase.
Printed with vegetal ink on eco-friendly paper, each book is bound and sewn using only the finest materials.
Vermilion edition
1,000 numbered copies
496 pages - 10 x 14"
Fedrigoni Avorio Paper
Endband and bookmark
ISBN: 9791095457077