In Search of Lost Time
French edition
Large format



Free shipping

In Search of Lost Time : Marcel Proust's manuscripts
This set comprises reproductions of three moleskine notebooks in Marcel Proust's handwriting. Each corresponds to a stage in the composition of the most famous passage of In Search of Lost Time: the Madeleine episode.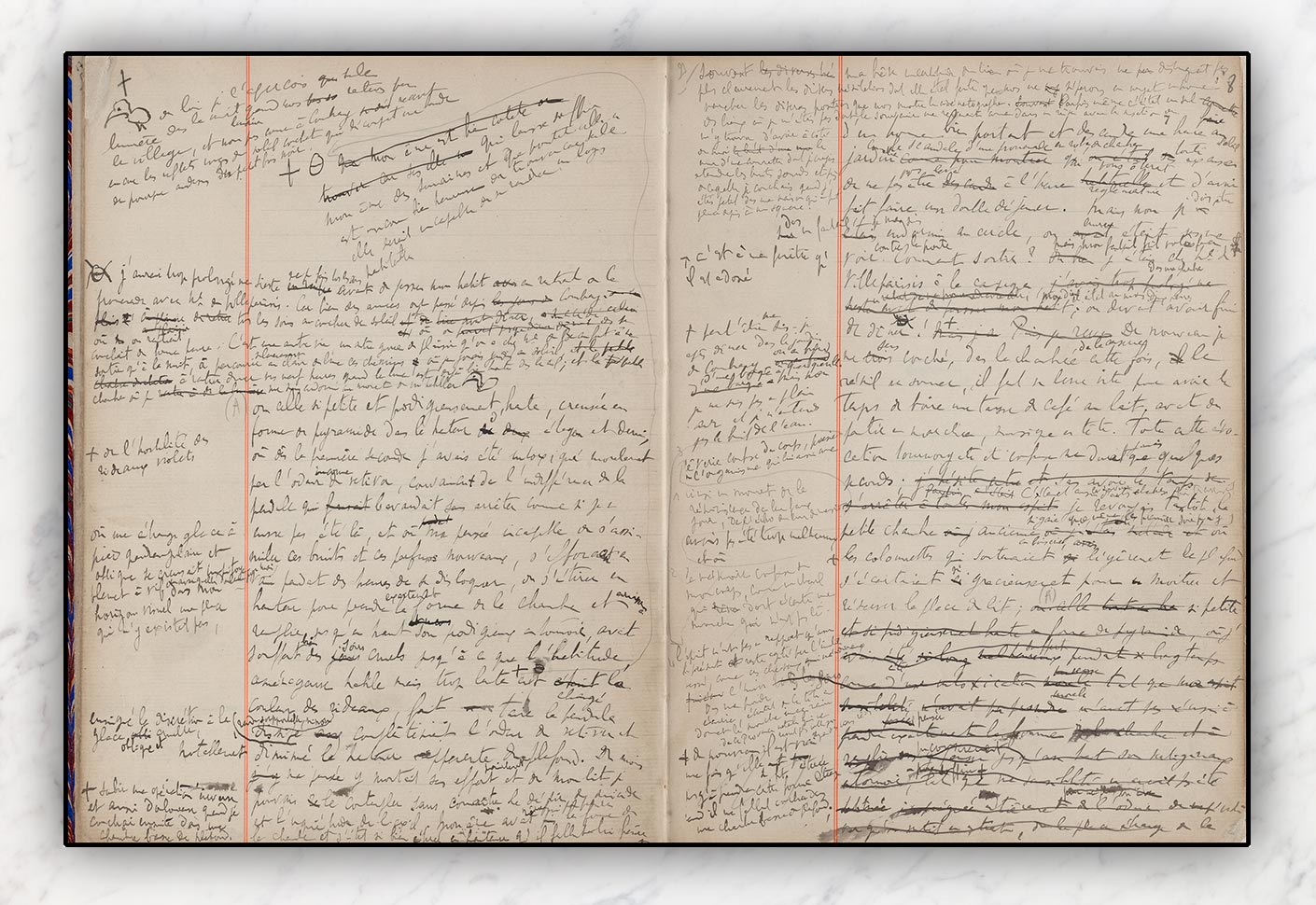 Marcel Proust, novelist in the making
From an early age, the young Marcel Proust (1871-1922) was both drawn to literature and in very poor health. At the age where most children were playing freely, Marcel, suffering from asthma, took refuge in books, comforting himself with the company of George Sand, Alfred de Musset and Victor Hugo. Coming from a wealthy family, he mixed frequently with the Bibesco family and in fashionable salons, such as that of Madame de Cavaillet, the muse of Anatole France. He befriended Lucien Daudet and Robert de Montesquiou, who introduced him into even swankier circles. After obtaining a degree in literature (1895) he began writing a novel, which was published posthumously in 1952 under the title Jean Santeuil. In 1896, he published Les Plaisirs et les jours (Pleasures and Days), a collection of poetic texts, short stories and portraits, which did not attract critical attention.
Holding onto his literary hopes while awaiting success, he worked for Le Figaro and devoted himself to translating a historian he greatly admired, John Ruskin.
The Madeleine manuscripts
The death of his parents in 1903 and 1905 seemed to spark the possibility of writing for Marcel Proust, who started on the drafts for In Search of Lost Time in 1907, shut up in the bedroom of his Parisian apartment on Boulevard Haussman, and on the 4th floor of the Grand Hôtel de Cabourg. He worked mostly at night, dined at the Ritz and slept during the day.
In 1908, he pondered the question 'Am I a novelist?' His doubts, hesitations and notes are displayed in his moleskine notebooks, his schoolbooks and on numerous loose sheets. In Search of Lost Time would grow into an enormous work, of which the structure was as yet unfinalised.
Proust follows trains of thought, makes crossings out and jumps back and forwards in time throughout, always inspired by something or other. From the tens of thousands of pages where the author has set out his thoughts, erasures, and put his imagination to work, we have chosen to extract three passages. These three notebooks, published for the first time, present the different stages of writing of what would become the most famous passage in 20th century literature: the Madeleine episode.
The journey to publication of the first volume of In Search of Lost Time took a while. André Gide at first rejected it at Gallimard, though he would reconsider later for the second volume À l'ombre des jeunes filles en fleurs (In the Shadow of Young Girls in Flower), which won the 1919 Goncourt Prize. The publishing houses Grasset and Fasquelle accepted the first volume Du côté de chez Swann (Swann's Way) for consideration, and it eventually was published at the author's own cost in 1913.
Four of the seven volumes of In Search of Lost Time were published during Marcel Proust's lifetime.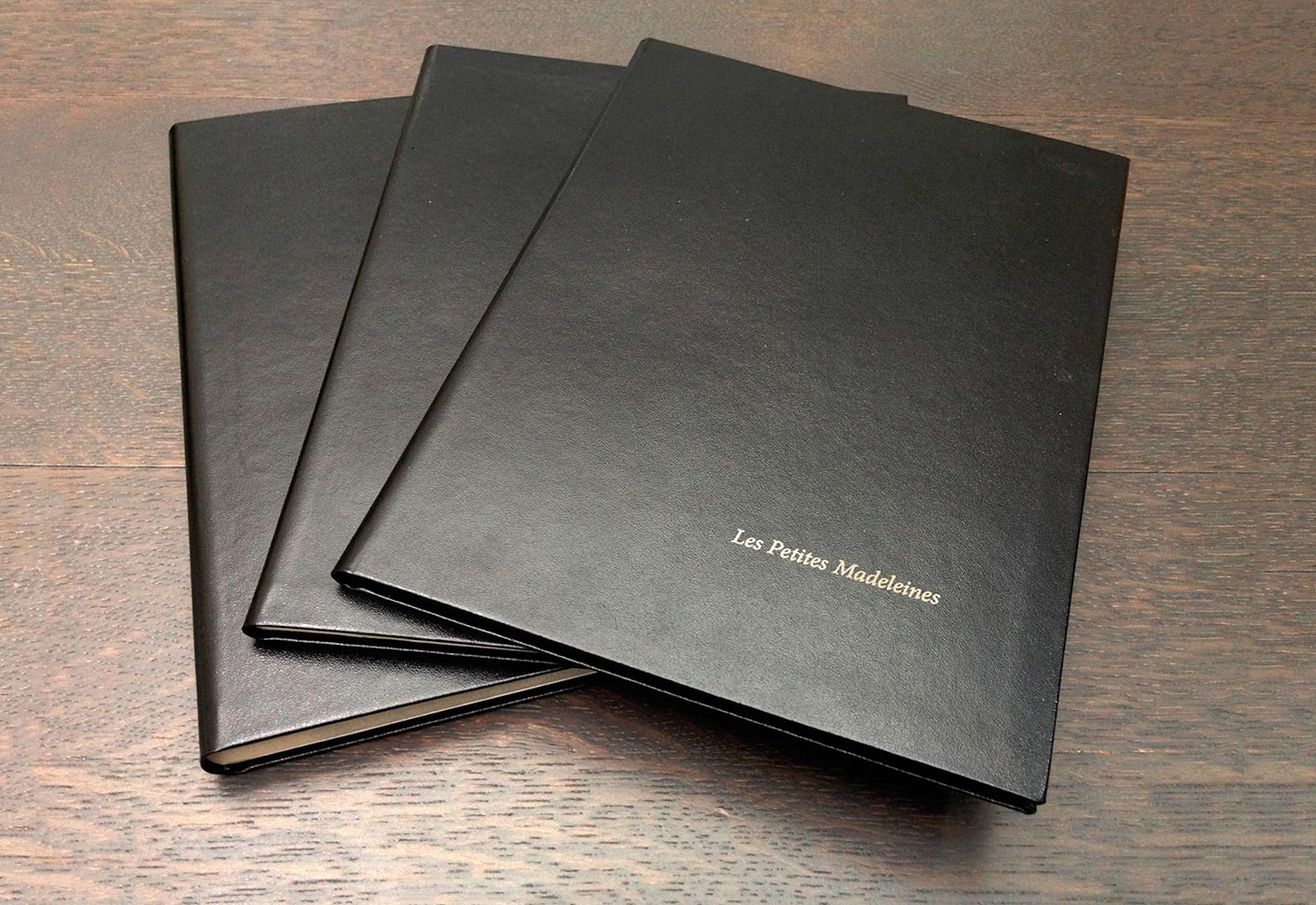 An unpublished facsimile
In Swann's Way, Marcel is offered tea and madeleines by his mother on account of the cold winter day. As the crumbs and hot liquid touch his palate, he shudders with a familiar sensation of pleasure.
He is plunged back into old memories, linked to the taste of tea and cake. They transport him to the town of Combray on a Sunday morning when his Aunt Léonie would give him tea or an infusion of lime blossom. The happiness of his childhood is resurrected.
This episode is the secret engine of In Search of Lost Time. The facsimile of these three unpublished notebooks makes it possible to retrace the literary genealogy of the most emblematic moment of the Proustian universe, and to discover that the famous madeleine was firstly pain grillé (a piece of toast), and then a biscotte.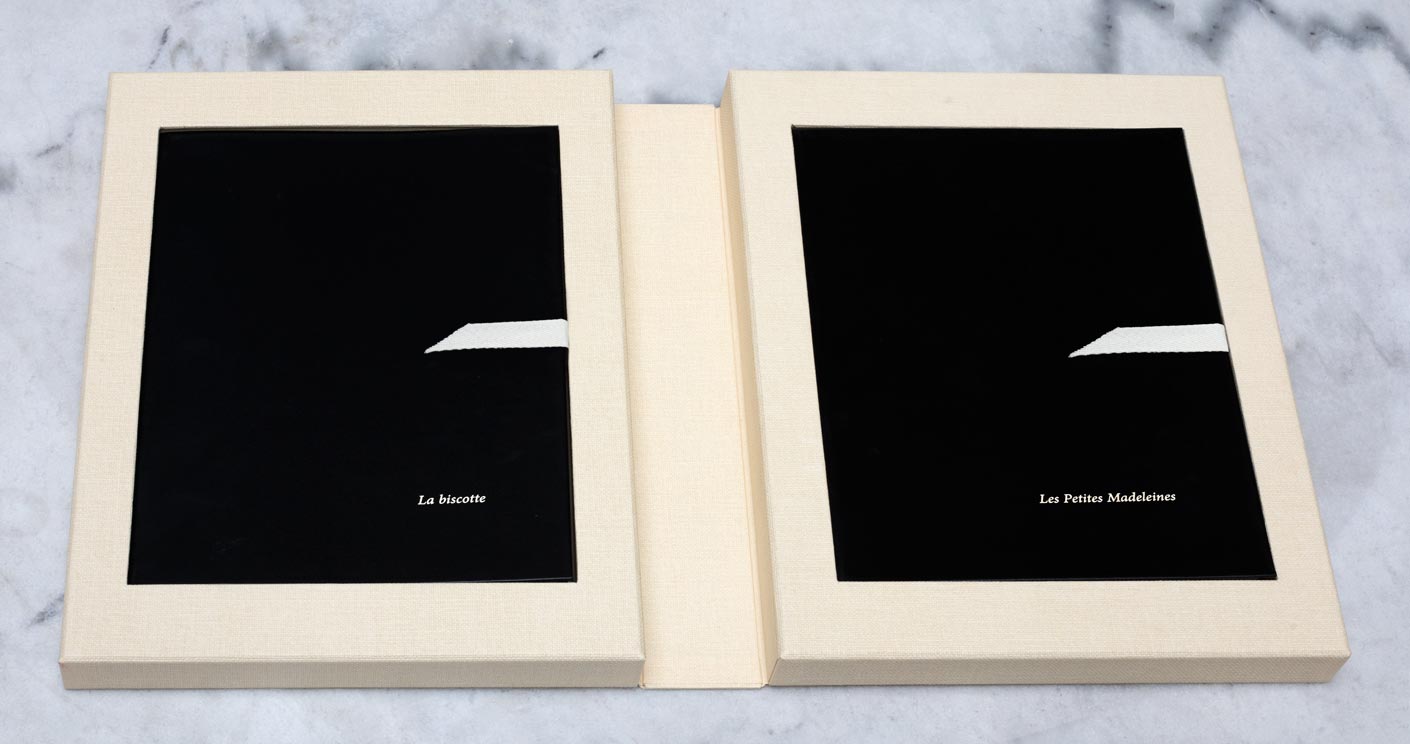 Identically reproduced:
The box contains facsimiles of three notebooks: Le Pain grillé, La Biscotte and Les Petites Madeleines.
Le Pain grillé manuscript: In 1908, at the request of Le Figaro, Proust wrote a book of essays which was edited and published posthumously under the title Contre Sainte-Beuve (Against Sainte-Beuve). In Search of Lost Time is often seen as the novelistic extension of the poetics developed in these pages. It is here that the first passage appears linking the emotion of the senses to the resurgence of memory: the taste of toast mixed with tea. It is the very first version of the Madeleine episode.
La Biscotte manuscript: In this volume, Proust hesitates, crosses out and starts again. The form evolves - the toast becomes a biscotte.
Les Petites Madeleines manuscript: In this assemblage of various notes, considered the preparatory manuscript for Swann's Way, the 'petites madeleines' finally appear. Two sets of handwriting coexist in this notebook: that of Proust and his copyist engaged in a unique and moving dialogue about the writer's work.
Video presentation on French TV:
A foreword by Jean-Paul Enthoven
Publisher and writer Jean-Paul Enthoven is the author of Dictionnaire amoureux de Marcel Proust, written with Raphaël Enthoven (Plon, 2013).In the preface to this edition he takes readers behind the scenes of Marcel Proust's writing, exploring the mystery that has for a long time surrounded the 'Petites Madeleines' and which still fascinates him.
Extrait :
« Plus tard, Proust achètera d'autres carnets, en grand nombre. Puis des carnets plus amples – que les grands prêtres de la proustologie nomment "Cahiers". Il leur donnera des noms charmants ("Fridolin", "Babouche", "Vénusté"...) et les couvrira de son écriture exubérante. Ces Cahiers ne le quitteront plus. Certains seront, à sa mort, brûlés par Céleste, la fidèle gouvernante qui n'avait pas pour habitude de discuter les ordres de "Monsieur". D'autres nous sont parvenus, tout maculés de taches de café au lait, de camphre, d'adrénaline, de larmes. Certains, plus lisibles, ont été miraculeusement conservés pour le plus grand bonheur de la critique génétique. Et c'est une part de ce trésor, Ô lecteur, dont tu tiens la reproduction entre tes mains...
Tel fut le premier réceptacle des esquisses qui vont, à partir de là, et à travers de lentes métamorphoses, devenir À la recherche du temps perdu.
Les Cahiers occupent donc, dans l'imaginaire des proustiens mystiques, la place qui revient de droit à un morceau de la Vraie Croix marcellienne. C'est l'an I d'un chef-d'œuvre. Le stigmate absolu d'une Passion. On songe, les voyant, au bloc de marbre qui contenait la Pietà ou le Tombeau de Jules II, et dont Michel- Ange sut dégager la perfection qui n'attendait, pour advenir, que la force de son burin. »
The first print run
is sold out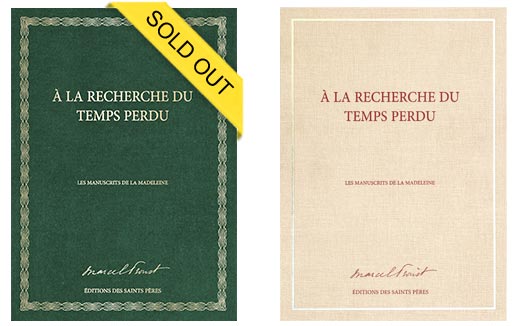 The numbered edition
(bottle green) is sold out.
This ivory edition
is not numbered.
Sign up for our newsletter
to gain exclusive access to
our upcoming publications!
Deluxe edition
This Ivory edition is presented in a large format handmade slipcase.
Printed with vegetal ink on eco-friendly paper, each book is bound and sewn using only the finest materials.
Ivory edition
268 pages
Slipcase - 14 x 10''
3 moleskines - 10 x 8''
Deluxe Fedrigoni Paper
ISBN: 9791095457015