In Search of Lost Time
French edition
Large format
(not numbered)
 Free shipping

À la Recherche du temps perdu: Marcel Proust's handwritten manuscripts
This deluxe slipcase holds three moleskin reproductions of Marcel Proust's notebook drafts that his pivotal passage of the Madeleine underwent.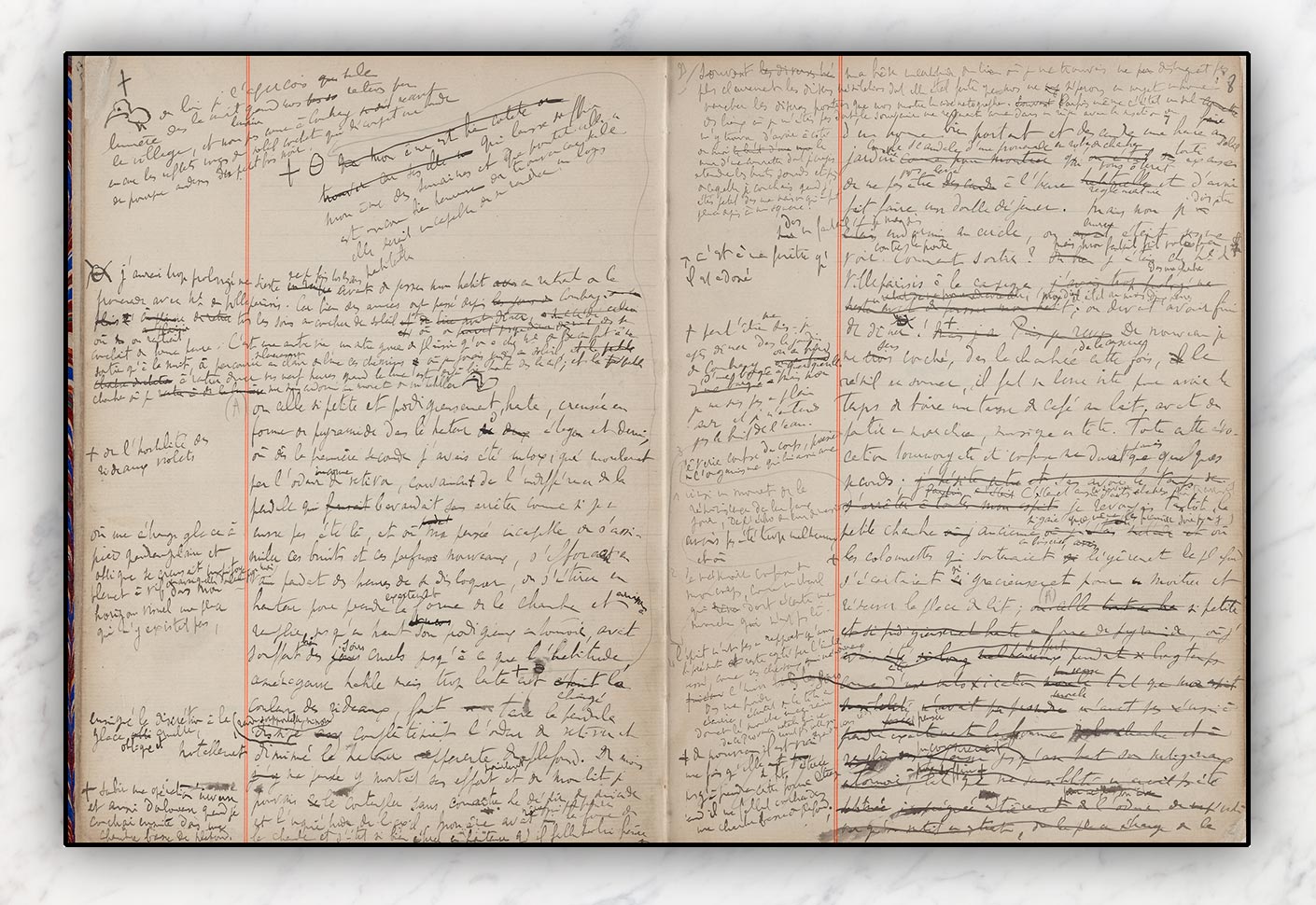 In Search of Lost Time original draft
It was in 1907 that Marcel Proust (1871-1922), cloistered in his Parisian apartment, began his greatest project writing the many drafts that would soon become his masterpiece, In Search of Lost Time (A la Recherche du temps perdu).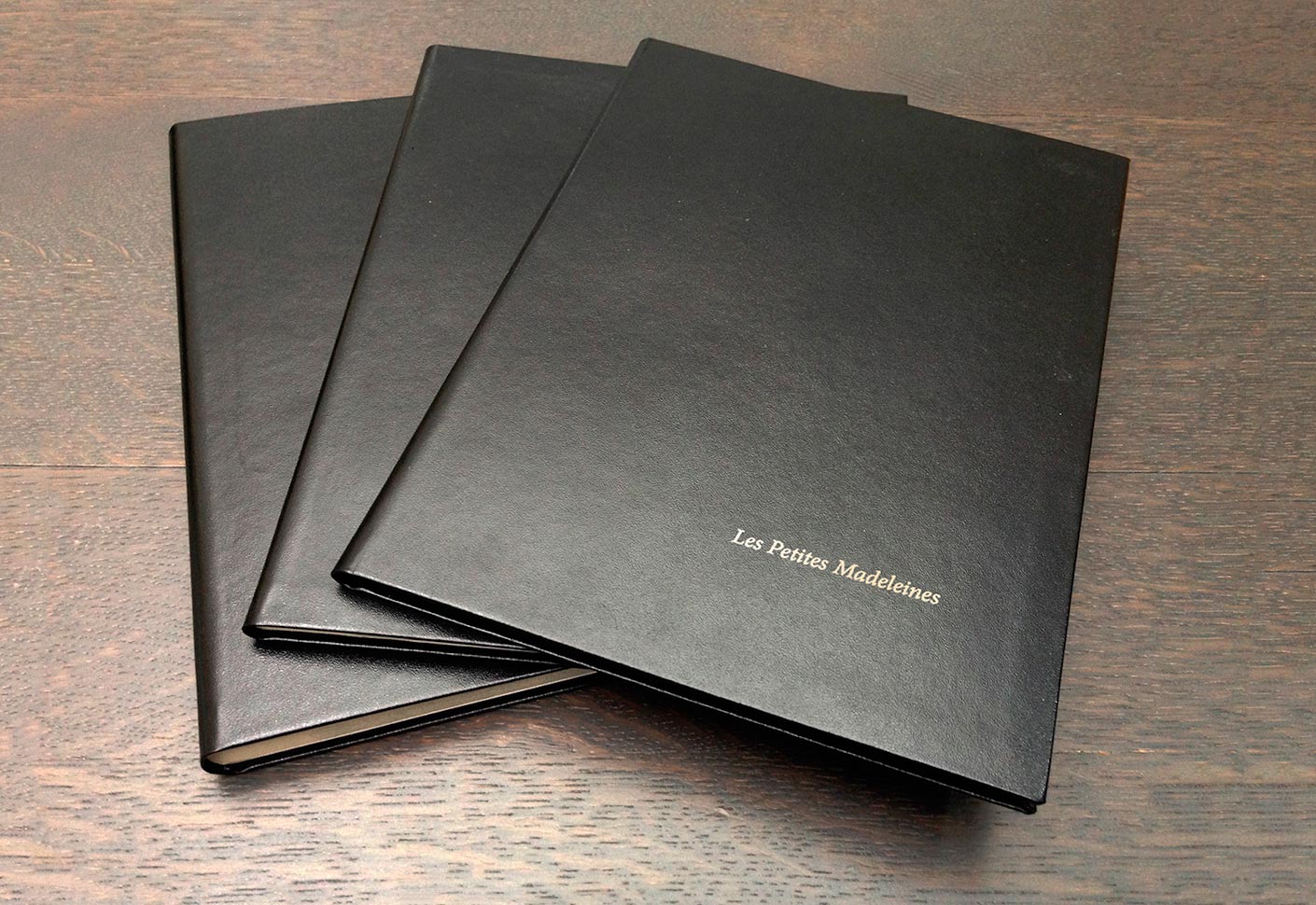 "Am I truly a novelist?" Proust asked himself this question as he edited and redrafted passages during this period of his life, a period marked by self-doubt and vacillation. From the tens of thousands of draft pages that eventually became his masterpiece, we chose three important slivers. These three gems, published here for the fist time, correspond to the three different stages that would soon become the most celebrated passage of the 20th century: the interlude of the Madeleine.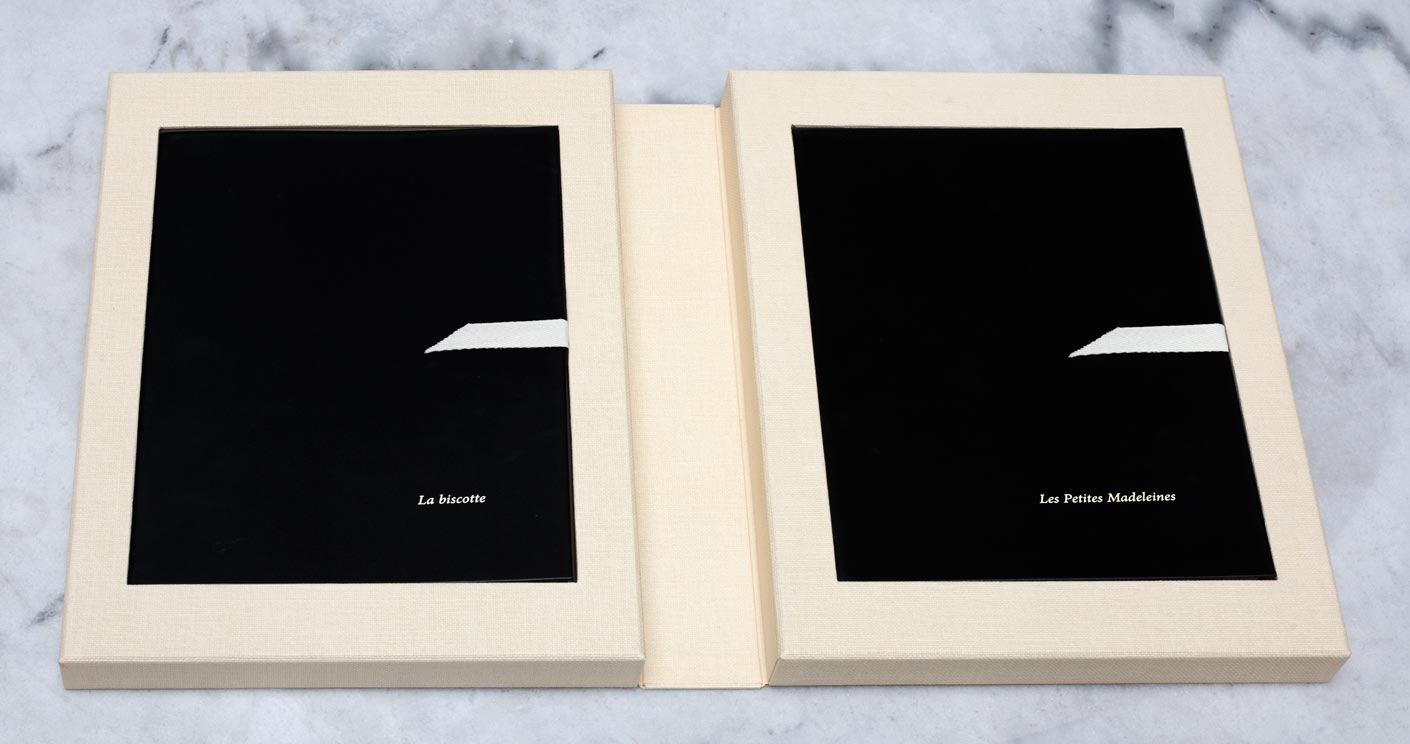 This deluxe slipcase holds three facsimiles
The toast manuscript: The very first version of the famous passage presents a slice of toast as the central object, which, paired with a cup of tea, links sensory emotion to the resurgence of lost memories.
The rusk manuscript: In this notebook, Proust blue-pencils, revises, and rearranges, the text. The passage evolves as the object in question takes the form of a rusk.
The Manuscript of the Petites Madeleines: In this final draft, which we can consider as the preparatory manuscript for Swan's Way (Du côté de chez Swann), the rusk takes its final form as the little madeleine. Two hands trace through this notebook : Proust's hand, as well as that of his copyist, as they engage in a unique and touching dialogue about the laborious transformation that Proust's passage undertakes.
The first print run
is sold out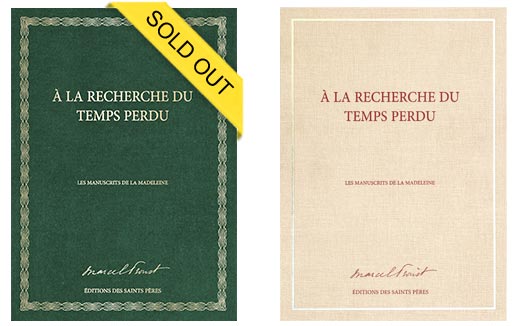 The numbered edition
(bottle green) is sold out.
This ivory edition
is not numbered.
Sign up for our newsletter
to gain exclusive access to
our upcoming publications!
Deluxe edition
This Ivory edition is presented in a large format handmade slipcase.
Printed with vegetal ink on eco-friendly paper, each book is bound and sewn using only the finest materials.
Ivory edition
268 pages
Slipcase - 10 x 14''
3 moleskines - 8 x 10''
Deluxe Fedrigoni Paper
ISBN : 9791095457015
"Regardez-moi cette merveille que je vous ai dégoté, c'est encore un coup des éditions des saints pères ! Ils reproduisent des manuscrits originaux avec une rigueur, avec une classe, avec un sens de l'édition qui sont absolument extraordinaires (...)"
"Les brouillons de ce passage vont être publiés à l'identique, il s'agit de trois versions, dans trois carnets de Moleskine où l'on découvre que la fameuse madeleine de Proust a d'abord été du pain grillé, puis une biscotte (...)"
Pour la première fois, les éditions des Saints-Pères publient le manuscrit le plus célèbre du XXème siècle signé Marcel Proust, dans une édition limitée qui sortira le 22 octobre(...)
"Reclus dans la chambre de son appartement parisien, boulevard Haussmann, ou dans celle du 4e étage du Grand Hôtel de Cabourg, Marcel Proust noircit des pages et des pages. Ses doutes, ses hésitations et ses trouvailles se déploient dans ses carnets Moleskine, ses cahiers d'écoliers, des feuilles volantes (...)"
"L'épisode du pain grillé était connu. Mais il est fascinant de voir comment cette histoire continue de fasciner, voyez la presse étrangère (...)"
"Dans A la recherche du temps perdu, la suite de romans de Marcel Proust, une célèbre scène a donné naissance à une expression entrée dans le langage courant, et désignant un souvenir qui nous frappe brusquement (...)"
"C'est dans ces Cahiers que l'on trouve la première occurrence de cette sensation - qui passe, à juste titre, pour une sorte de Big Bang proustien, écrit dans sa préface Jean-Paul Enthoven, coauteur avec son fils Raphaël, du Dictionnaire amoureux de Marcel Proust (...)"
"Dans une première version, rédigée en 1907, Marcel Proust se souvient avec émotion du goût du pain grillé mêlé au miel. Dans une seconde version, le pain grillé devient une biscotte. Il faudra attendre une troisième version pour que Proust se souvienne finalement du goût de la madeleine offert par sa tante (...)"
"Publiées par les éditions des Saint-Pères, ces trois versions seront disponibles dès le jeudi 22 octobre dans un coffret de trois carnets Moleskine. "Cet épisode est le moteur secret de La recherche du temps perdu, a expliqué l'éditeur à l'AFP. Ces trois cahiers inédits permettent ainsi de retracer la généalogie littéraire du moment le plus emblématique de l'univers proustien"(...)"
"Comme les milliers de pages de La recherche du temps perdu, ces brouillons qui comptent au total 268 pages sont raturés et remplis de notes. On y perçoit les hésitations de l'un des plus (...)"
"Marcel, prudent, n'a pas encore définitivement choisi sa petite Madeleine moulée dans la valve rainurée d'une coquille Saint-Jacques (...) La madeleine de Proust" est devenue un lieu commun. On emploie cette expression pour désigner un souvenir qui revient soudain à la mémoire (...)"

 

-------------------- Angleterre --------------------

"It was a mouthful of miniature sponge-cake dipped in tea that became one of French literature's most powerful metaphors (...)"
"Bread that pops out of a toaster. Please take a moment to revise your vision of the "little scallop shell pastry, so richly sensual under its severe, religious fold," its sopped morsels scented with tisane and dispersing already into nothingness, like our tethers to the past (...)"
" The madeleine anecdote is considered one of the key passages in In Search of Lost Time (known as A la recherche du temps perdu in French) and underlines the work's major theme of involuntary memory, in which an experience such as an aroma or a taste unexpectedly unlocks a past recollection (...)"
"Proust is considered one of France's most influential authors of the 20th century and the French today still use the expression "Proust's madeleine" to refer to a sensory cue that triggers a memory (...)"

 

-------------------- USA --------------------

"These three never-before-seen notebooks allow one to retrace the literary genealogy of the most emblematic moment of the Proustian universe (...)"

 

-------------------- Espagne --------------------

"Estos tres cuadernos que nunca antes se habían visto permiten volver sobre la genealogía literaria del momento más emblemático del universo proustiano (...)"
"Al igual que las miles de páginas de En busca del tiempo perdido, los borradores, que cuentan en total 268 páginas, tienen tachaduras y anotaciones. Permiten observar las vacilaciones de uno de los escritores franceses más importantes del siglo XX (...)"
"Los 6.324 habitantes de Commercy, en la región de Lorena, pueblo francés famoso por ser la teórica cuna de la magdalena, pueden temblar: pierden a Proust. Desde otro pueblecito, Cambremer, 1.137 habitantes, en Normandía, parten mañana los primeros ejemplares de Les manuscrits de la madeleine (los manuscritos de la magdalena), para demostrar que la primera idea del autor de En busca del tiempo perdido fue mojar en el té una tostada (...)"

 

-------------------- Belgique --------------------

"La célèbre petite madeleine de Proust aurait pu être du "pain grillé" ou "une biscotte", révèlent les manuscrits dévoilant les ébauches du célèbre passage de "La recherche du temps perdu" qui vont être publiés pour la première fois jeudi en France (...)"

 

-------------------- Italie --------------------

"All'origine la madeleine di Marcel Proust era del "pane abbrustolito" con del miele o "una fetta biscottata" (...)"
"L'editore e scrittore Jean-Paul Enthoven firma una prefazione in cui racconta i tormentati ripensamenti sui ricordi d'infanzia da parte di Proust. La lettura dei tre carnet restituisce la tensione del momento più emblematico dell'universo proustiano (...)"

 

-------------------- Thailande --------------------

"The madeleines -- little French sponge cakes -- that writer Marcel Proust made famous in his book In Search of Lost Time might actually first have been toasted bread, according to uncovered manuscripts published in France on Thursday (...)"

 

-------------------- Suisse --------------------

"Les trois versions manuscrites seront éditées dans un coffret de trois carnets Moleskine par les éditions parisiennes des Saint-Pères (...)"