French edition
Numbered from 1 to 1,000
Large format (10 x 14'')

Free shipping

Candide : Voltaire's manuscript
At a moment where our country is fundamentally questioning itself, it seemed appropriate for us to publish Candide. The subtitle ou L'Optimisme (or Optimism) indicates our current state of mind. It is a modest contribution to today's debate, a postcard from a land very dear to us: one of tolerance, satirical humour and an unquenchable thirst for the fight against fanaticism and obscurantism.
A manuscript lost for centuries, found and published for the first time
For years, historians and scholars didn't know the whereabouts of this manuscript and many believed it was lost. It was Ira Owen Wade, Professor of French at Princeton University and specialist in 18th-century French literature, and his research in the archives of the Bibliothèque de l'Arsenal, which ultimately led to its discovery in 1957.
This is the first ever edition of this manuscript and the first time that the public are granted access to this unpublished document. A thing of majesty, it offers a glimpse into the creative process of Voltaire, an illustrious figure of the Age of Enlightenment.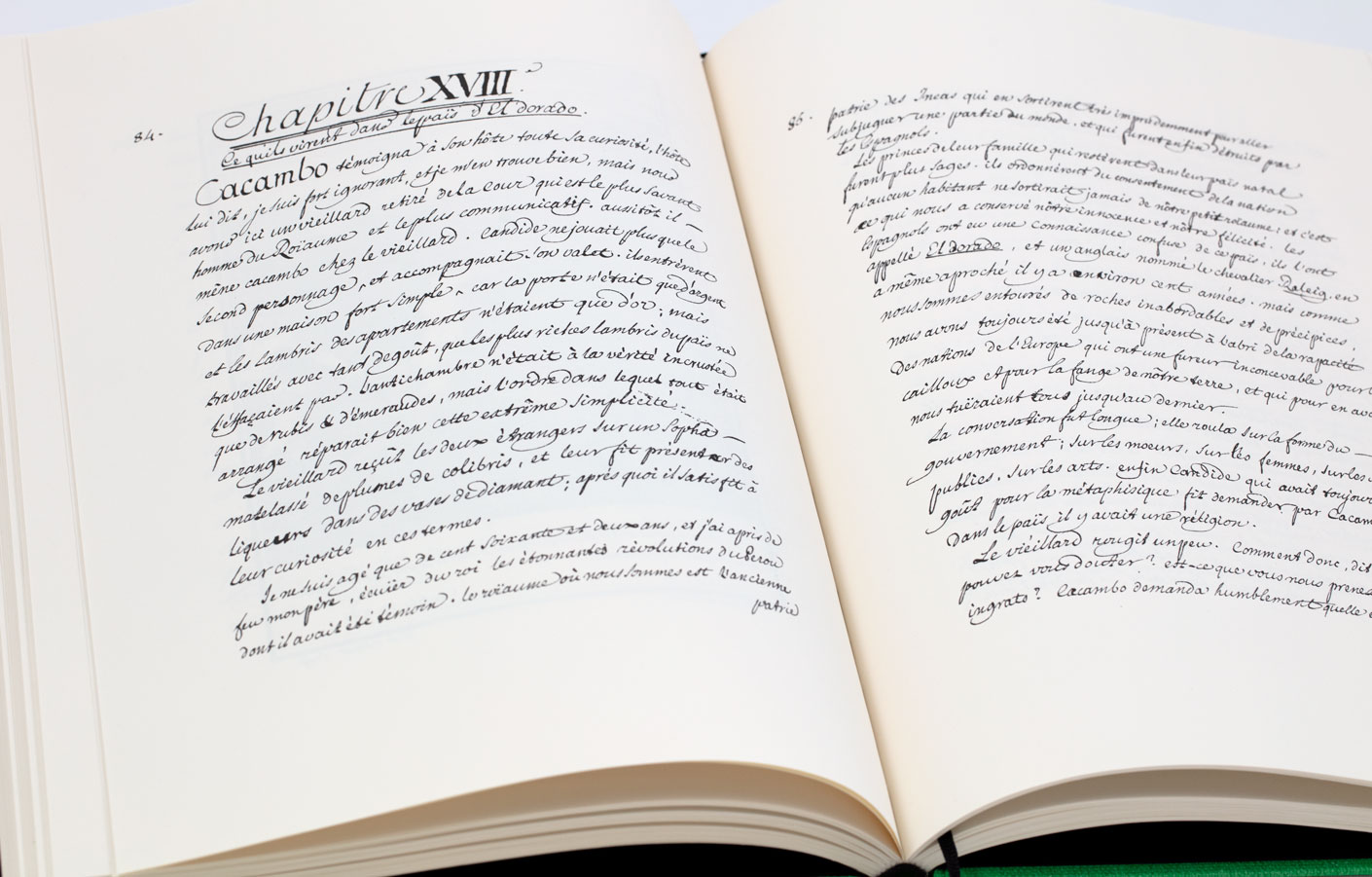 Breaking the rules..
At first glance, the elegance of the writing is striking – it is a manuscript which displays all the subtle refinement of the 18th century.
A closer look detects that it contains what looks like… numerous spelling mistakes! A comical observation, given the place occupied by this text today in school curricula. The most satisfying is undoubtedly an error not immediately evident on first glance, contained in the title itself: Candide ou L'Optismime.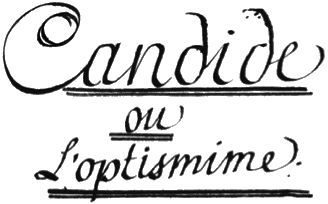 In fact, in the 16th and 17th centuries, spelling was less regulated and more a matter of opinion or taste, and there were diverse ways of writing French that were considered correct. In 1635, Richelieu created the Académie française (following the model of the Académie de Florence, which boasted forty members). In 1694, it produced its landmark dictionary, though it was broadly criticised by its own members. In 1778, Voltaire convinced fellow academician and friend d'Alembert to launch a major project, a dictionary of etymology, conjugation and literary expressions. The significance of this was such that in the 18th century it was common to speak of the spelling of Voltaire! The Académie française codified language between 1835 and 1850 and adopted reforms already called for in the previous century by Voltaire.*
An unpublished version of the adventures of Candide
The original manuscript does not fully correspond to the edition that was ultimately published. Some passages have been added, others removed or corrected. For example, the chapter on Paris where the city is described as 'the city of all hells' appears in this manuscript, but was deleted by Voltaire for publication.
The writing of Candide
Born in Paris in 1694, François-Marie d'Arouet, alias Voltaire, had a tumultuous youth. Educated by Jesuits, it did not prevent him from discovering the theatre at a young age and from nurturing a passion for the arts of the stage. He frequented the fashionable salons of the day and was noticed for his impertinence as well as his resistance to authority. His pamphlets criticising the Regent got him into trouble, and at 23 he was thrown in the Bastille for the first time in 1717, for a period of eleven months.
An altercation with the French nobleman the Chevalier de Rohan, stemming from an insult about Voltaire's humble origins, landed him in exile in London; in 1734, his work Lettres philosophiques was condemned by Parliament and burned. Throughout his life, Voltaire never hestitated to take risks in the name of free expression, and in particular to denounce religious fanaticism. Under the threat of arrest, he spent ten years with his confidante and lover Emilie du Châtelet, at the Château de Cirey (on the border with Lorraine). In later years, he settled in the township of Ferney on the Swiss border.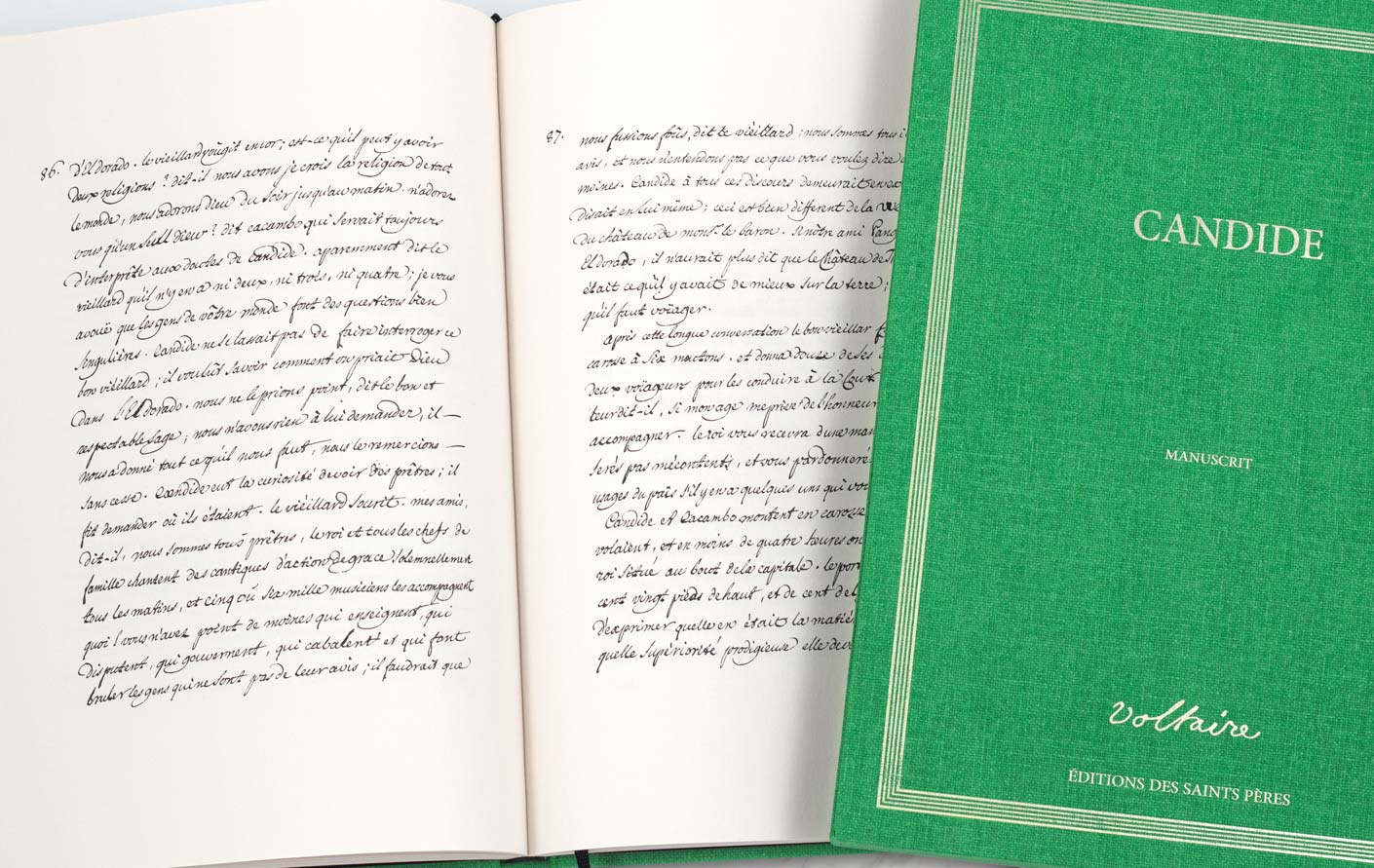 'If you want to live happily, always live without a master.'
When Candide took shape in 65 year-old Voltaire's fertile imagination, he was mourning a series of bereavements, including the inconsolable loss of Emilie du Châtelet. His conflict with Frederick II, the terrible earthquake in Lisbon in 1755 and the outbreak of the Seven Years' War in 1756 were all factors contributing to a picture of despair for this brilliant but sensitive man. Voltaire took up his pen to write a work that journeyed from optimism to pessimism, in opposition to the philosophy of Leibniz. It is a tale based on traditional archetypes and themes – wars, duels, voyages, El Dorado – all while subtly philosophizing and protesting.
Published under a pseudonym to circumvent censorship
The book was printed in Geneva by the Cramer brothers. It appeared in mid-January 1759 in Paris, London and Amsterdam. It was a tremendous and immediate success, read throughout Europe. But it also created a resounding scandal. Voltaire did not sign the text as himself. Issued under a pseudonym to circumvent censorship, it bore only the inscription 'translated from German - by Dr. Ralph'. The philosopher was quick to contradict all those who attributed its authorship to him:
'I finally read Candide. One has to have lost one's senses to attribute that foolishness to me.
Thank God I have better occupations.'
Denounced in Paris by Omer Joly de Fleury, Advocate General to the Parisian parliament, Candide was also banned in Geneva by the Dean of the Consistory, the Reverend Sarasin. By the end of the year, no less than twenty French editions had been published, along with four English translations and one Italian version. Some 20,000 copies of the book were sold. Lord Chesterfield, an English politician and writer, was in the habit of saying in jest: 'Buy the Encyclopedia and you can sit on it to read Candide.'
A document of significant cultural heritage
Along with what it represents, Candide's manuscript is also an important document visually. In it we find all the elegance of the 18th century manner of writing, which will delight not only connoisseurs, but especially lovers of literature and belles-lettres. The original manuscript was made up of small four-page notebooks bound together. Each notebook finishes with the first word of the next. The manuscript would have been sent by Voltaire, chapter by chapter, to the Duc de la Vallière in Switzerland in 1758.
In the appendix to the manuscript, the reader will find a letter from Voltaire denying his authorship of the text: 'I have finally read this Candide. I find the joke of a rather particular taste [...]. I advise you not to produce them and to retire any copies if you have them. This is the friendly advice I give to my friends.'
* See Bernard Fripiat, Au commencement était le verbe, ensuite vint l'orthographe !, La librairie Vuibert, 2015.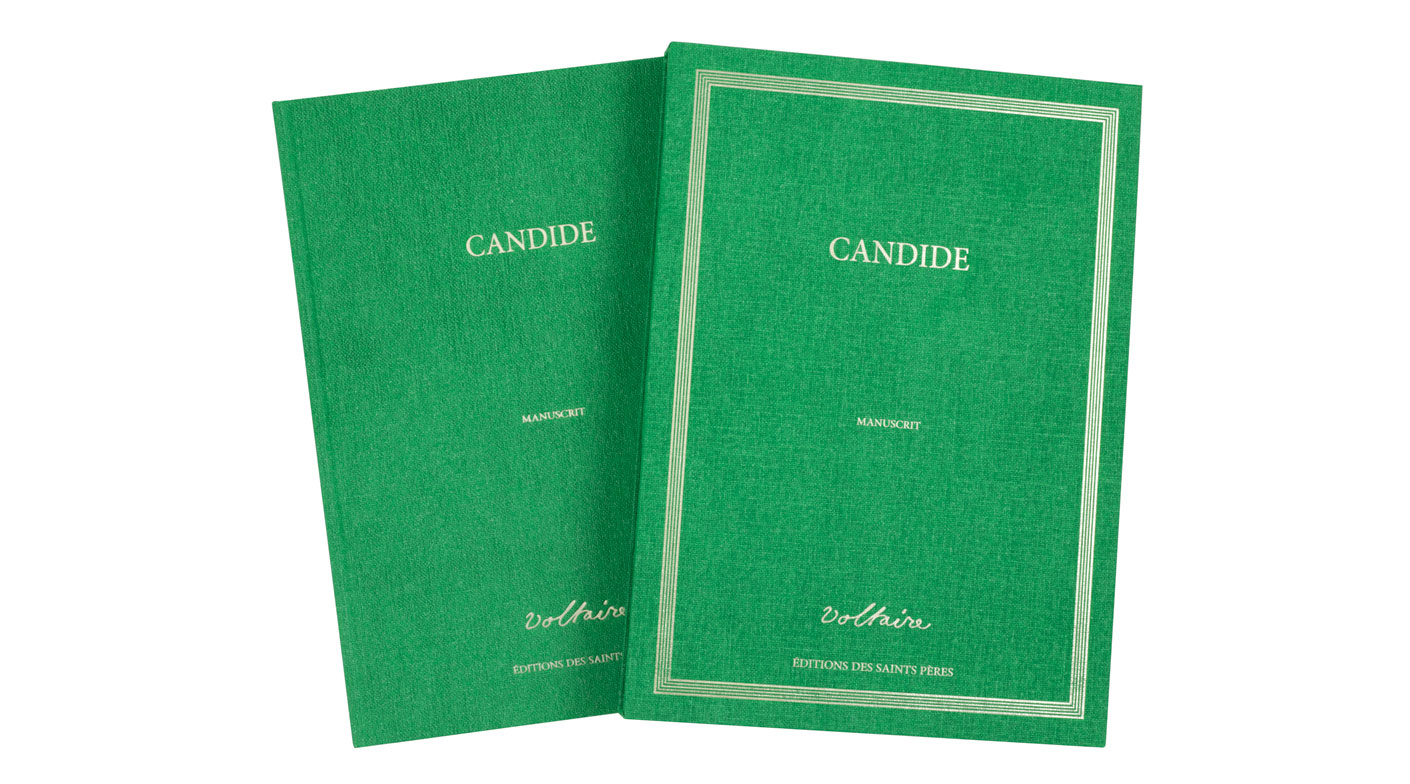 Deluxe edition
Numbered from 1 to 1,000, this Apple green edition is presented in a large format handmade slipcase.
Printed with vegetal ink on eco-friendly paper, each book is bound and sewn using only the finest materials.
Apple green edition
1,000 numbered copies
184 pages - 14 x 10"
Fedrigoni Deluxe Paper
Endband and bookmark
ISBN: 9782954268750