Vingt mille lieues
sous les mers by Jules Verne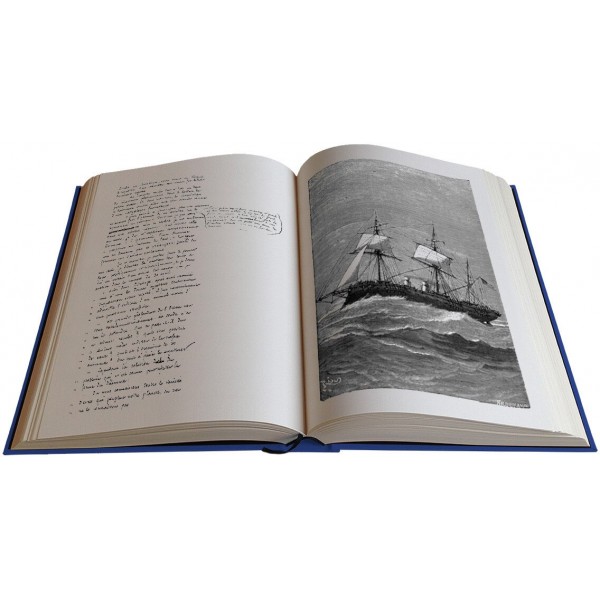 Twenty Thousand Leagues Under the Sea
French edition
Second print run
Large format (10 x 14'')

Free shipping

Twenty Thousand Leagues Under the Sea, the manuscript by Jules Verne
This special edition of Vingt mille lieues sous les mers (Twenty Thousand Leagues Under the Sea) reproduces Jules Verne's manuscript with illustrations from the original edition published by Pierre-Jules Hetzel. These illustrations were created by Alphonse de Neuville and Édouard Riou and engraved by Henri Théophile Hildibrand, a wood engraver well-known for his work with French artist Gustave Doré.
The book will delight Jules Verne's most loyal readers, as well as lovers of rare literary objects.
Discover also the manuscripts of Tour du Monde en 80 jours (Around the World in Eighty Days), and Autour de la Lune (Around the Moon), or even the map of The Mysterious Island (in our collection of framed documents).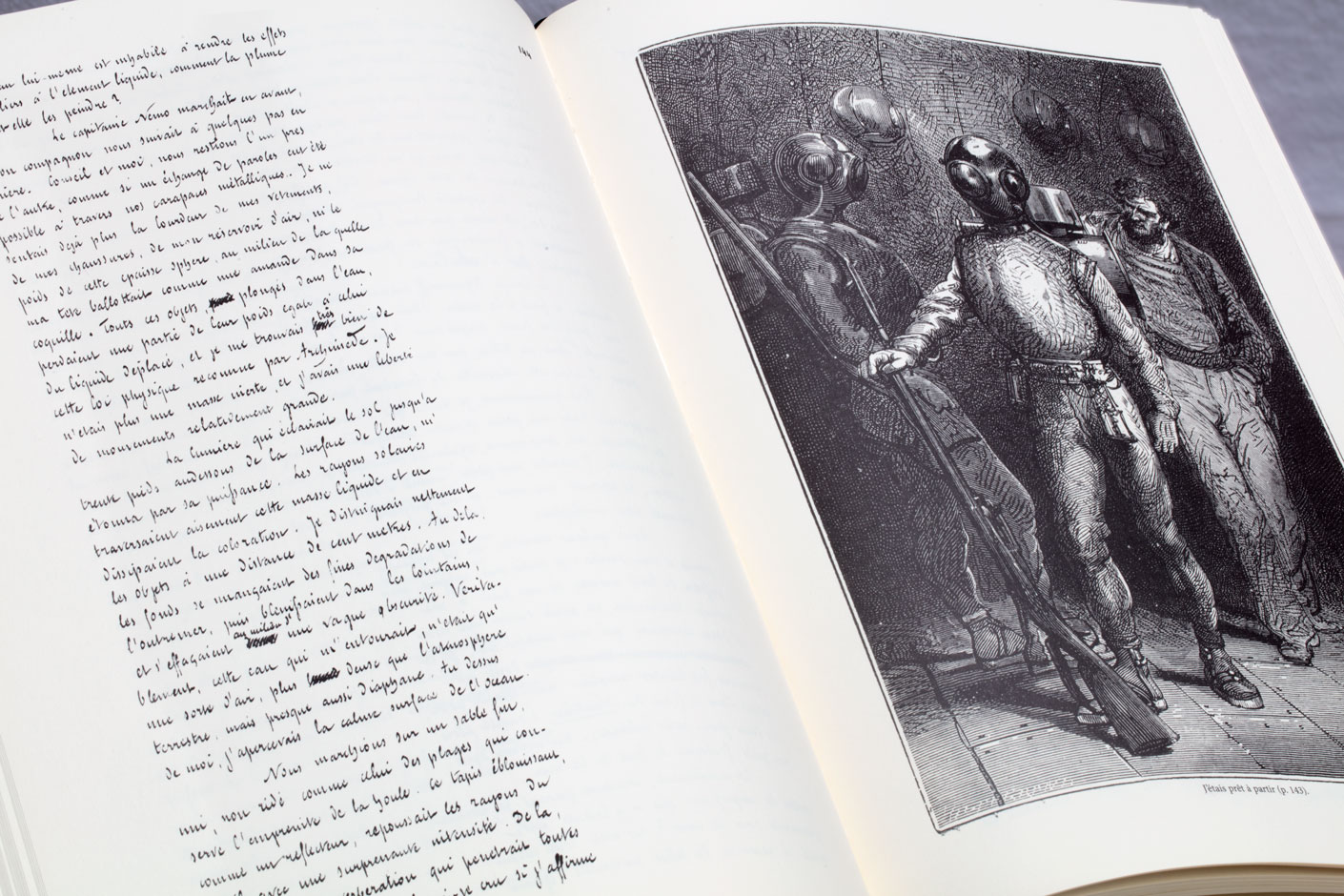 Jules Verne and the spirit of adventure
Jules Verne was one of the most intrepid travellers of all time, without leaving his armchair and writing desk. He travelled a greater distance in kilometers than any author, without leaving Nantes, where he was born in 1828, Amiens, where he lived for a long while before his death in 1905, or the deck of one of his yachts, on which he liked to write and contemplate the sea.
The novelist, who grew up in Brittany, by the coast, yearned from an early age to explore the open sea and vast horizons. At barely eleven years old he tried to run away to India, with the intention of looking for pearls to bring back as a necklace for his cousin, with whom he was in love. At eighteen, he began studying law alongside starting to write seriously. It was some years later, while he was frequenting the literary circles and theatres of Paris, that he finished the final page of a novel that would go down in history Cinq semaines en ballon (Five Weeks in a Balloon).
In 1863, the publisher Pierre-Jules Hetzel saw in Verne the makings of a great talent. Though he had previously refused the manuscript Voyage en Angleterre et en Ecosse (Backwards to Britain), the adventures of Dr. Samuel Fergusson in Africa had all the ingredients of a best-seller. Five Weeks in a Balloon was the beginning of a fruitful collaboration between Jules Verne and Pierre-Jules Hetzel that would bind them together throughout the novelist's career.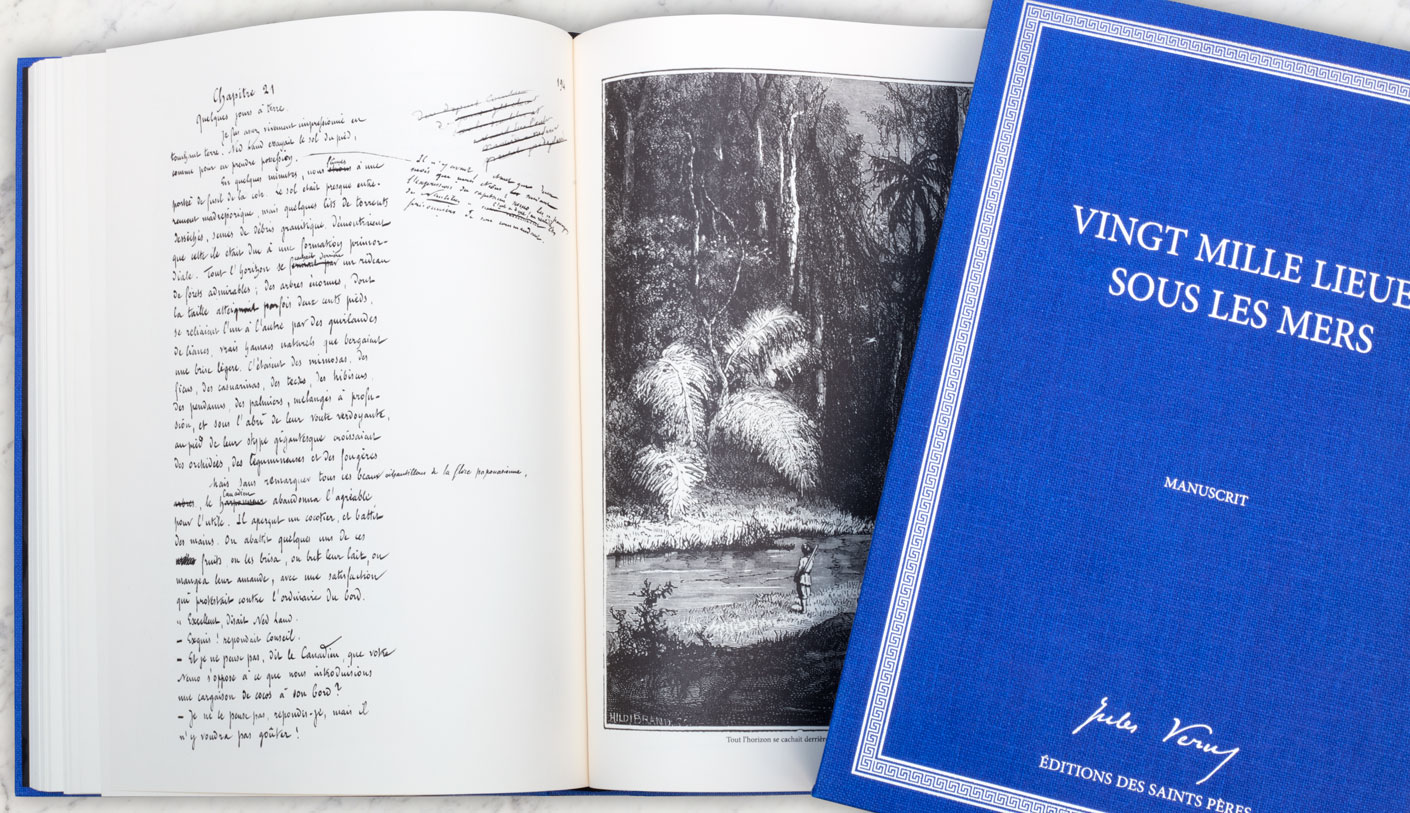 From writing to publication
It was this novel, as well as Voyage au centre de la Terre, (Journey to the Center of the Earth) that prompted the novelist George Sand to take up her pen and write to Jules Verne in July 1865. By letter, she congratulated him on the wonder of his tales, and begged him to write another one set under the sea, aboard a powerful and sophisticated machine… His imagination galvanised, it was all Verne needed to set himself to the task.
The novel was originally serialised, appearing from 1869 in Magasin d'éducation et de récréation (Magazine of Education and Recreation), a title launched by Hetzel a few years beforehand in 1865. Its aim was to introduce a new style of children's literature with an educational dimension, or more precisely, a type of fiction that combined family entertainment with the goal to 'summarize all knowledge'. To achieve this, he knew he could count on Jules Verne, a compelling storyteller who based his tales on reliable source material to immerse his readers in scientifically accurate settings.
Twenty Thousand Leagues Under the Sea - which was partly inspired by Victor Hugo's Les Travailleurs de la mer (Toilers of the Sea) and La Mer (The Sea) by Jules Michelet - narrates the wild adventures of Pierre Aronnax and Captain Nemo aboard the submarine Nautilus. It was an immediate success on publication, with The Times later naming Jules Verne the 'Prince of storytellers'.
Carefully-tended manuscripts
An immensely prolific and hardworking author, Jules Verne wrote over sixty novels in just over fifty years of life and writing. He is reputedly the fourth most-read author in the world, and the most-read French author in translation. Much like Victor Hugo, whom he admired, Jules Verne took great care of his manuscripts, whether they were drafts or edited versions.
Consequently, there are rich archives that we are able to explore today, kept at the Jules Verne Museum in Nantes and the National Library of France in Paris. Within them is Twenty Thousand Leagues Under the Sea, of which this manuscript is the second complete handwritten version, the only one known to date.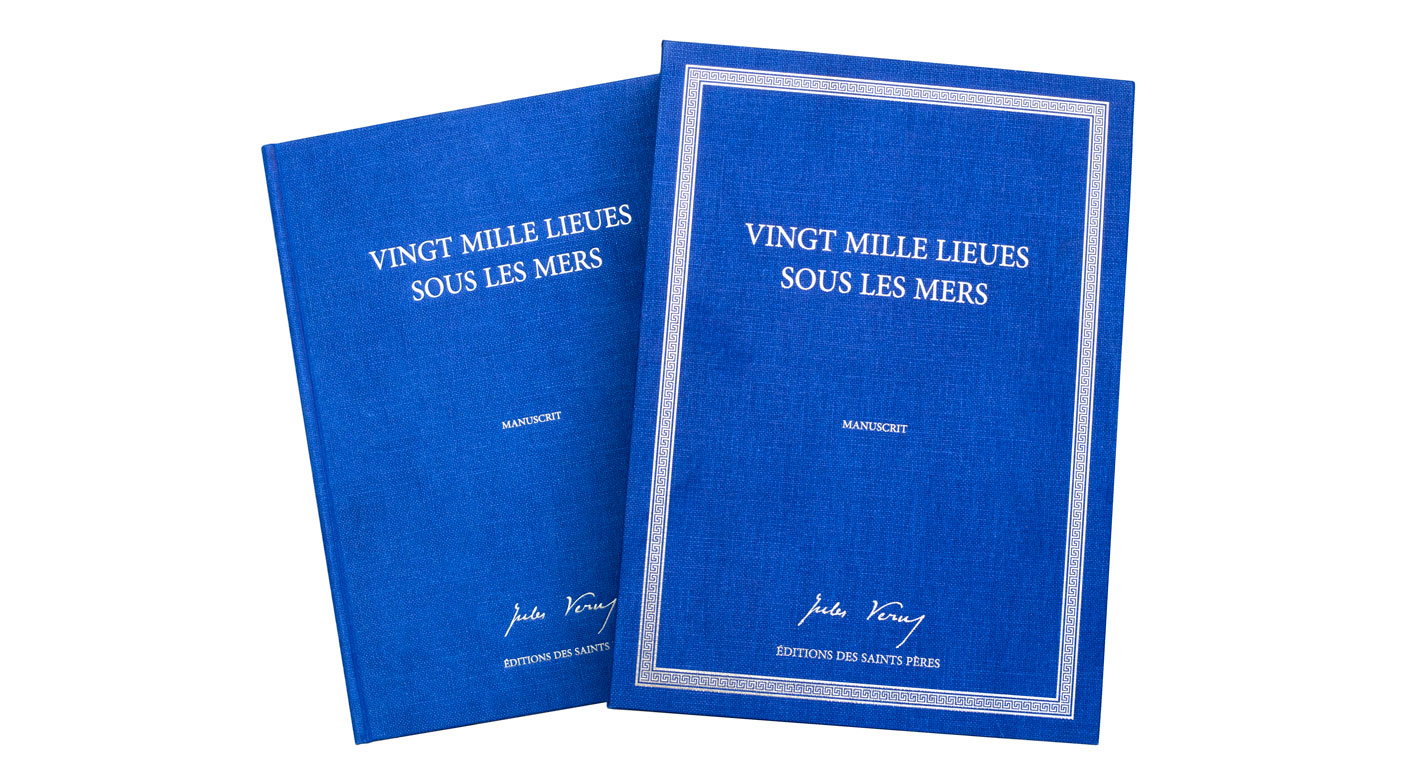 The meticulous composition of Twenty Thousand Leagues Under the Sea
Once Jules Verne had decided his subject and how his story would unfold, he started to work slowly on the composition of the text. He created a framework containing the outline of the chapters with detailed files on each character.
He wrote in small, neat calligraphy that forms around 90 lines per page - covering only half the surface area of recto and verso to leave room for corrections. He paid little attention to punctuation and capital letters, which he reviewed in more detail later on. He first wrote in pencil, then in ink which varies in density according to his progress.
He made endless corrections, continually revising his manuscripts and rewriting on the proofs until the very last stage, and even beyond – hence, there are variations between the serial and paperback versions.
The difficulty of choosing a title
The manuscript of Twenty Thousand Leagues Under the Sea bears traces of Jules Verne's hesitation as to the novel's title - it was successively named "Voyage sous les eaux" (Journey Under the Sea), "1000 lieues sous les Océans" (One Thousand Leagues Beneath the Ocean) and "Vingt mille lieues sous les océans" (Twenty Thousand Leagues Beneath the Ocean).
However, it also testifies the extent to which the author betrayed his vision for Captain Nemo's character - he was influenced by Pierre-Jules Hetzel who compelled him to change the biography of his mysterious protagonist, giving him the destiny finally revealed on L'Île mystérieuse (Mystery Island). Jules Verne erased entire passages describing the hero, as well as the maritime fauna and flora he encountered. The second part of the manuscript is written in a condensed, confident hand, which nonetheless seems in a hurry to be finished with the novel…
In 1906, Jules Verne's son, Michel Verne, offered this very manuscript to Roland Bonaparte, then president of the Société de Géographie, who accepted the document into their library in 1924. Since 2012, the manuscript has been kept at the BnF (National Library of France), in the Maps and Charts department.
Deluxe edition
1,000 copies (second printrun), this Klein blue edition is presented in a large format handmade slipcase.
Printed with vegetal ink on eco-friendly paper, each book is bound and sewn using only the finest materials.
Klein blue edition
1,000 copies
512 pages - 10 x 14''
Fedrigoni Avorio Paper
Endband and bookmark
ISBN: 9782954268767