Ivory edition,
numbered from 1 to 1,000
Contempt
French edition
Large format (10 x 14'')

Free shipping

Le Mépris, the manuscript of Jean-Luc Godard's screenplay
Parisian playwright Paul Javal is hired by producer Jeremy Prokosh to work on an adaptation of The Odyssey, directed by Fritz Lang. Paul and his wife Camille, a 28-year-old former typist, join the film crew on location, firstly in Rome at Cinecittà Studios, then at the Villa de Sperlonga, and finally Villa Malaparte on the island of Capri. An atmosphere of uneasiness sets in between the seemingly happy couple, culminating in the young woman confronting him for his lack of character. With Camille's perception of Paul disintegrating little by little, the situation becomes stormy in Capri where Prokosh attempts to seduce her...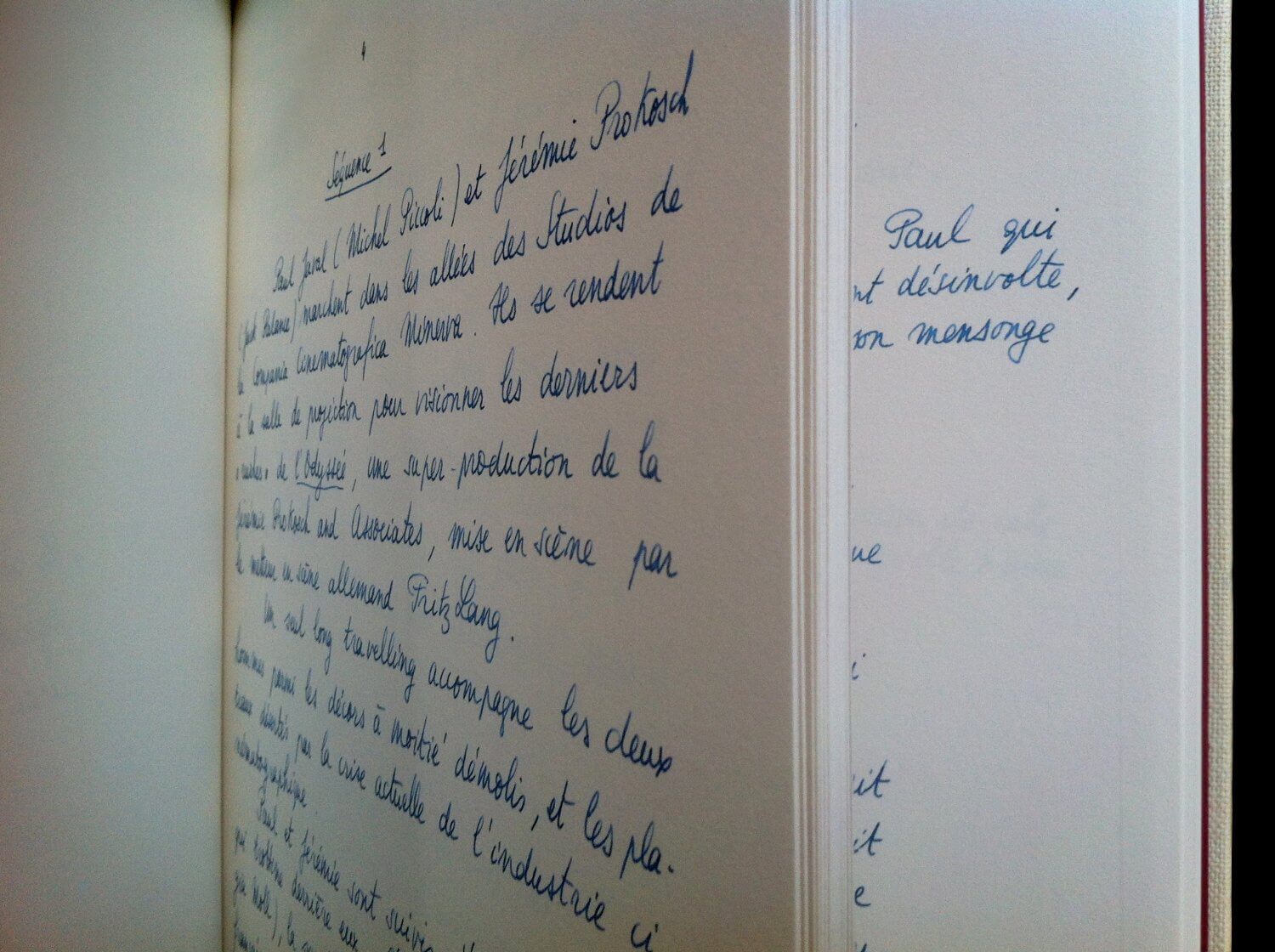 A readable and unpublished manuscript
Screenplay of the film directed by Jean-Luc Godard, this deluxe edition of Le Mépris (Contempt), is made up of 149 distinct shots, consisting of 59 elegantly handwritten pages in blue ink and 24 hand-typed pages corrected freehand by the filmmaker. Destined to delight film enthusiasts as well as lovers of rare literary objects, it is produced as a large format edition (25 x 35 cm) in a limited print run. Each copy is hand-numbered from 1 to 1000.
At the beginning of the screenplay, Jean-Luc Godard announces, in a short director's note: 'Le Mépris will be a new film. But, in the words of T.S. Eliot, let us not forget that everything that is new is thereby automatically traditional. Le Mépris will thus be a traditional film.' He follows it with a few words from André Bazin: 'The cinema substitutes for our gaze a world more in harmony with our desires.'
The first sequence of the film opens with a long tracking shot that takes Michel Piccoli and Jack Palance (Prokosh) into the Compagnia Cinematografica Champion studios. The two men move through half-demolished and deserted sets to go to a screening of the final rushes of the film version of The Odyssey. Prokosh's secretary and translator, Francesca Vanini, follows them, foreshadowing the crisis to come… Legendary scenes follow, one after the other. The meeting with Fritz Lang. The appearance of Camille. The shift in the couple's mood. The argument in the apartment. The bath. The sublime decor of the Villa Malaparte… Several unexpected changes in the manuscript reflect Godard's rare moments of hesitation during the writing process, such as on page 44 of the screenplay: 'Suddenly, in a rush of affection, she throws her arms around Paul's neck, in a gesture of tenderness that does not ring true.'
Unpublished : Georges Delerue's musical score
The boxed set also contains handwritten letters of agreement signed by the actors ((Brigitte Bardot, Fritz Lang, Michel Piccoli and Jack Palance) at the start of filming, on a letterhead from the Hotel Forum where they were staying. It also contains the score of the famous theme 'Camille', an adagio that Georges Delerue composed by hand: as yet unseen by the general public, it has been authorised especially for this edition by Colette Delerue.
A long lost manuscript, found once more
Le Mépris is a spellbinding journey of art and human understanding, sealed by the unprecedented collaboration between two giants of the seventh art, Jean-Luc Godard and Brigitte Bardot. In 1963, Godard had 5 films to his name. Leader of the New Wave – for which he was as much acclaimed as criticised – he was just recovering from a fiasco of a shoot that had taken place in Marrakech in January, and from the release of Les Carabiniers (The Carabineers). He was aware of the novel by Alberto Moravia, which he read for Cahiers du Cinéma, a French film magazine. As for Brigitte Bardot, she was a superstar worshipped around the world, still basking in the success of Et Dieu… créa la femme (And God Created Woman). The film's producers, Georges de Beauregard (Rome Paris Films), Carlo Ponti and Joseph Levine, set a lot of store by Bardot's presence in the film. It was the first time that Godard had found himself directing a big-budget film (5 million francs), which was announced in the press on 15 April 1962. Frank Sinatra and Kim Novak, or alternatively Sofia Loren and Marcello Mastroianni, were all approached to play the lead characters, but it was Piccoli-Bardot who were chosen for the couple.
Nevertheless, the first meeting between the feminist icon and director didn't go smoothly. Brigitte Bardot was blown away by the script, which was given to her by her boyfriend Jicky – Ghislain Dussart, a set photographer and friend of Anna Karina – but her interview with Godard left her with mixed feelings. According to witnesses at the time, it was a resounding 'meh'. For his part, Godard had a very precise vision for what he intended to do with the star - above all else, he wanted to change her hairstyle and cut off the beehive perched on her head! He even offered to walk on his hands to convince her.
Filming began on 22 April 1963, in the midst of a frenzy of fans and paparazzi who wanted to capture pictures of the famous cast. The editing stage was planned to take place over the summer. When the filming was finished, Jean-Luc Godard gave Brigitte Bardot this unseen manuscript. The actress most likely took it with her to La Madrague, near Saint-Tropez. There, she lost it, and for years the document could not be found. In 2013, it resurfaced at an auction – in all likelihood Bardot would have given it to Jicky, only to be unearthed by his wife when sorting through the photographer's archives in 1996.
Prohibited under 18!
After a number of retouches demanded by the producers, who particularly wanted a scene in which Brigitte Bardot appeared naked, the film was finally scheduled for broadcast on 22 December 1963. There was a major promotional campaign around the film, which was rated over-18. It was a mixed success, racking up 234,374 viewers over a 9-week cinema run in Paris. While these figures were certainly a good result for Godard, they were average for what Brigitte Bardot was used to. It didn't matter, the actress would later come to think of it as one of the cult films that she illuminated with her charismatic stage presence.
Deluxe edition
Numbered from 1 to 1,000, this Ivory edition is presented in a large format handmade slipcase.
Printed with vegetal ink on eco-friendly paper, each book is bound and sewn using only the finest materials.
Ivory edition
1,000 numbered copies
192 pages - 10 x 14"
Fedrigoni Avorio paper
Endband and bookmark
ISBN: 9782954268736