L'Écume des jours by Boris Vian






Froth on the Daydream
French edition
Large format (10 x 14'')

Free shipping

L'Écume des jours, manuscript by Boris Vian

In 1945, Boris Vian began composing a novel that would make history: L'Écume des jours (The Foam of Days, or Froth on the Daydream). A poignant love story between the protagonists Colin and Chloé, set in a musically surreal atmosphere filled with extraordinary visuals, it has resonated with entire generations who have recognised themselves in the youthful ardour of the characters, invented by an author who is today a cult figure.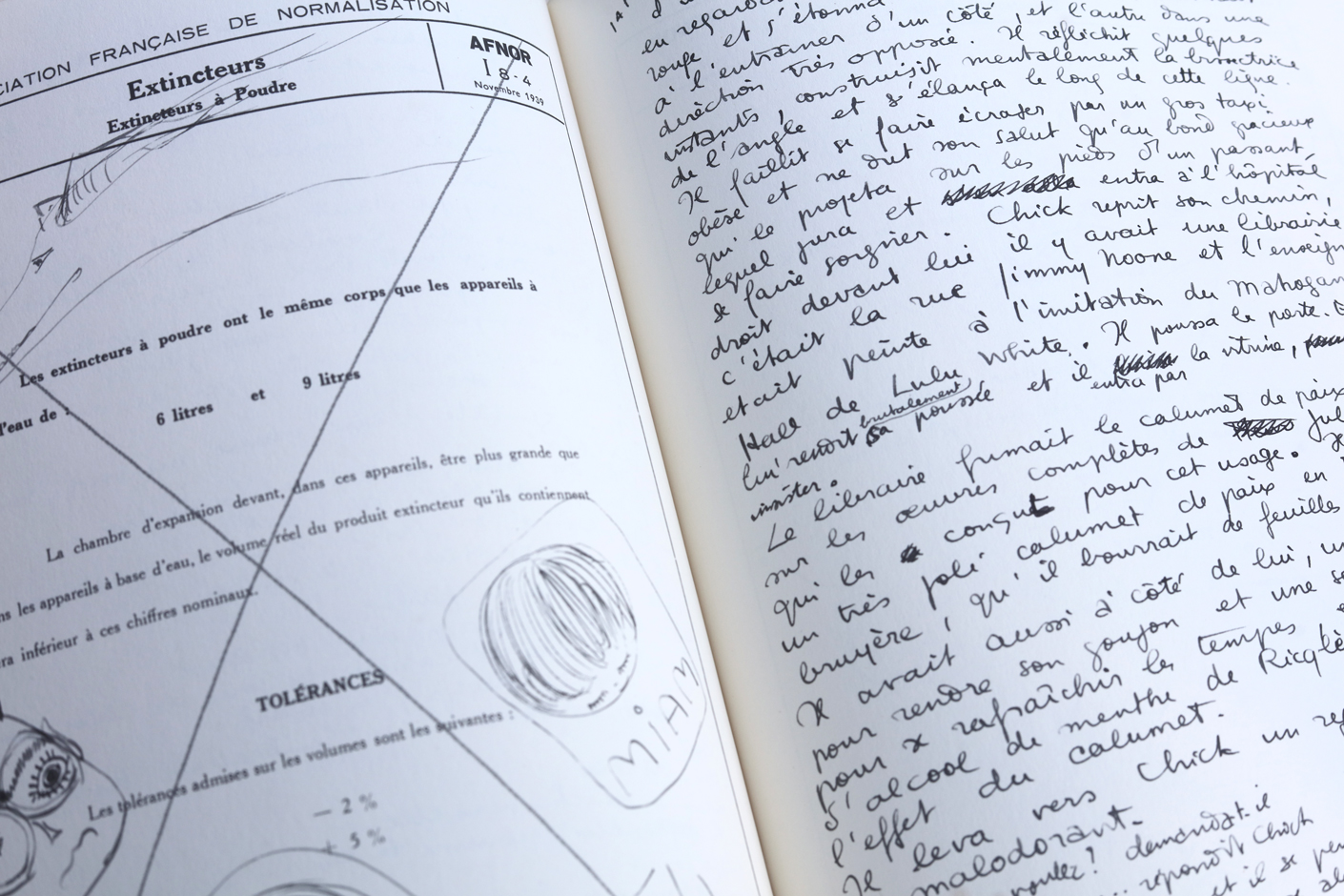 In this large-format box set, the L'Écume des jours manuscript is reproduced with the author's original plan for the novel and preparatory notes. It will delight Boris Vian's most loyal readers, as well as lovers of rare literary objects.
In our collection of framed manuscripts you can also discover a reproduction of the Déserteur manuscript, an anti-war song composed by Boris Vian in under two days in the form of a letter to the French president René Coty.
A manuscript written on the back of ministry notepaper
At the end of the Second World War, Boris Vian was but a young man of twenty-five – newly married, father to two children, jazz fanatic and above all the soon-to-be author of his first novel published by Gallimard, Vercoquin et le plancton (Vercoquin and the Plankton). He was a born writer – from the age of five he had dazzled adults with his maturity, intelligence and creativity across multiple disciplines.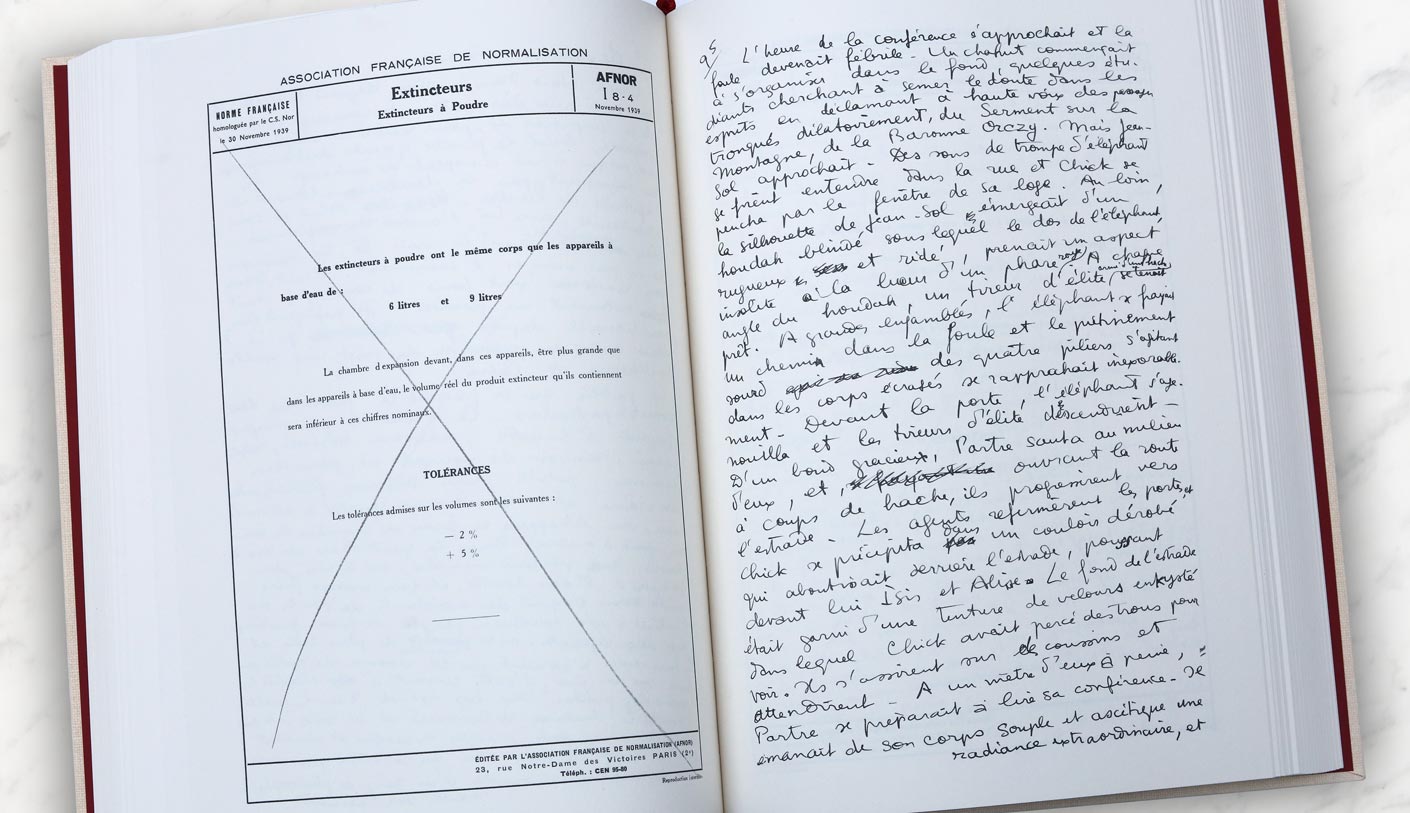 Nevertheless, the writer was employed as an engineer at AFNOR, the French association for standardisation. Sporting public-interest status until 1947, it today sits under the Ministry of Industry to offer product certification. AFNOR is in charge of setting the guidelines for many of the items that inhabit French daily life without many people being too aware of it. Its duties include centralising, establishing and imposing measures in areas such as packaging, the dimensions of technical equipment, designs and planning.
Although on paper, Boris Vian seemed suited to the job's requirement for curiosity and inventiveness, one can imagine that his strong impulse towards liberty meant that he constantly came up against the association's rule-imposing mission. He occupied the role from 1942 to 1946, but quickly – as his colleagues could have attested – he neglected his assignments to concentrate on the novel he was starting to craft. He made unorthodox use of the materials at his disposal: his office desk was transformed into a writing desk, his drawer became a footrest to use in the pauses between chapters, and AFNOR-letterheaded paper served as the notepad for his literary composition.
"The story of L'Écume des jours is entirely true, because I imagined it from start to finish." Boris Vian

The manuscript of L'Écume des jours is paginated in the author's hand from 1 to 222, a total of 440 pages. It is dated 10 March 1946, the author's twenty-sixth birthday, though he reportedly finished writing it in June of the same year.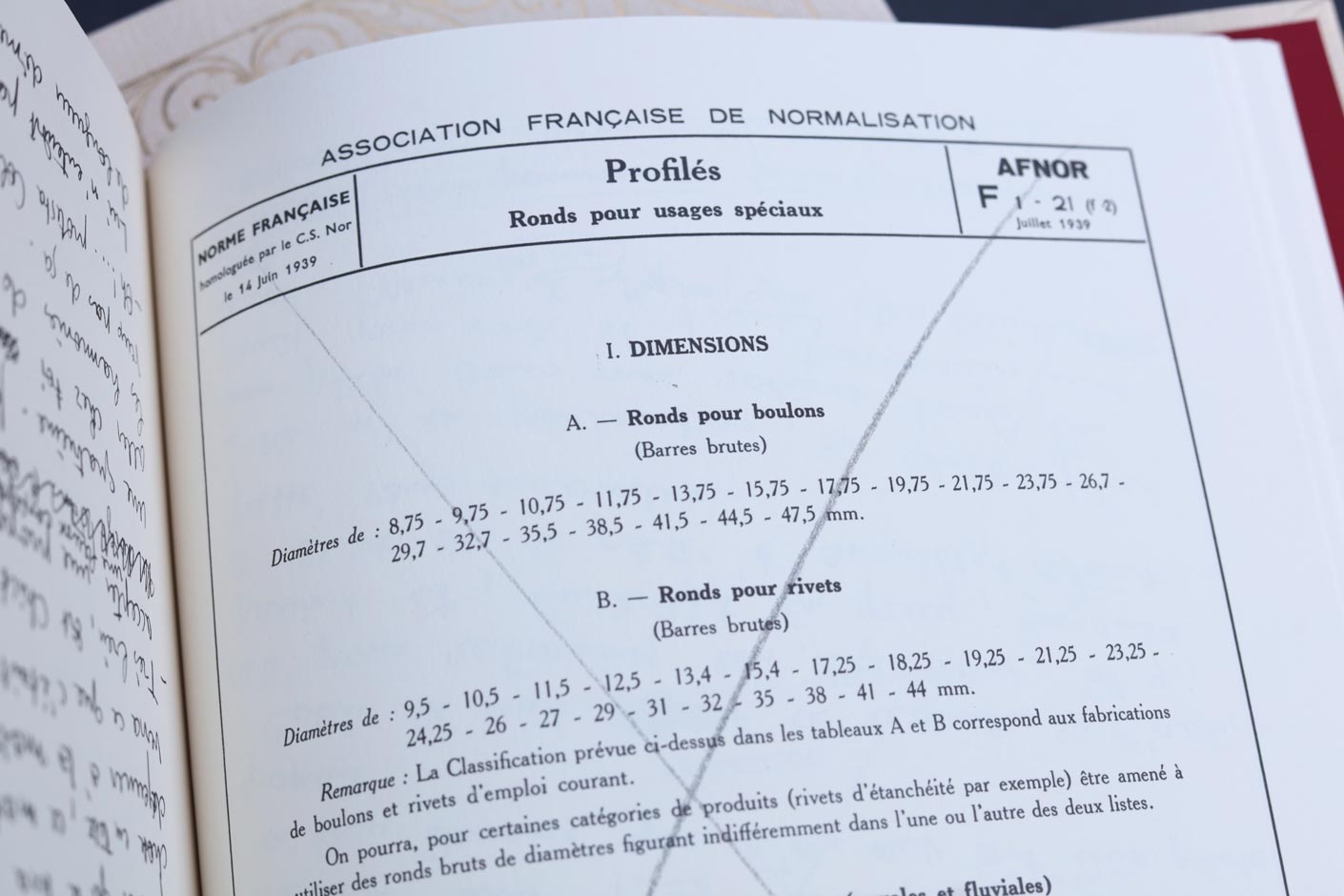 The cover page displays the following: the title; the dedication 'Pour mon bibi' addressed to his first wife Michelle Léglise; the couple's address at '98, rue du Faubourg Poissonnière' in the 9th arrondissement of Paris; and the telephone number TRU.54-17 (the TRU prefix indicating the Trudaine area code). The manuscript is preceded by a handwritten foreword in which the writer shares his essential pleasures in life: love and pretty girls, music from New Orleans and Duke Ellington. It ends with his famous phrase: "the story is entirely true, because I imagined it from start to finish."
With periodic drawings by Boris Vian
The manuscript opens with the famous scene of Colin performing his ablutions at bathtime and follows him into the kitchen where Nicolas the chef is cooking. The attentive reader will discover within these pages the famed pianocktail, eel pâté, an ice-rink death scene, the Biglemoi, Jean-Sol Partre and the Duchess of Bovouard…
Drawings of characters and faces, alongside mysterious spirals and swirls, punctuate Vian's text. His rounded, friendly handwriting flows across the back of AFNOR-stamped pages with few crossings-out, thus interweaving dossiers on chemical fire extinguishers, canned tomato purée and slatted bed springs with the twists and turns of Colin and Chloé's love story…
Soon after, Boris Vian left AFNOR and finished his novel while working at the National Office for the Paper and Cardboard Industries.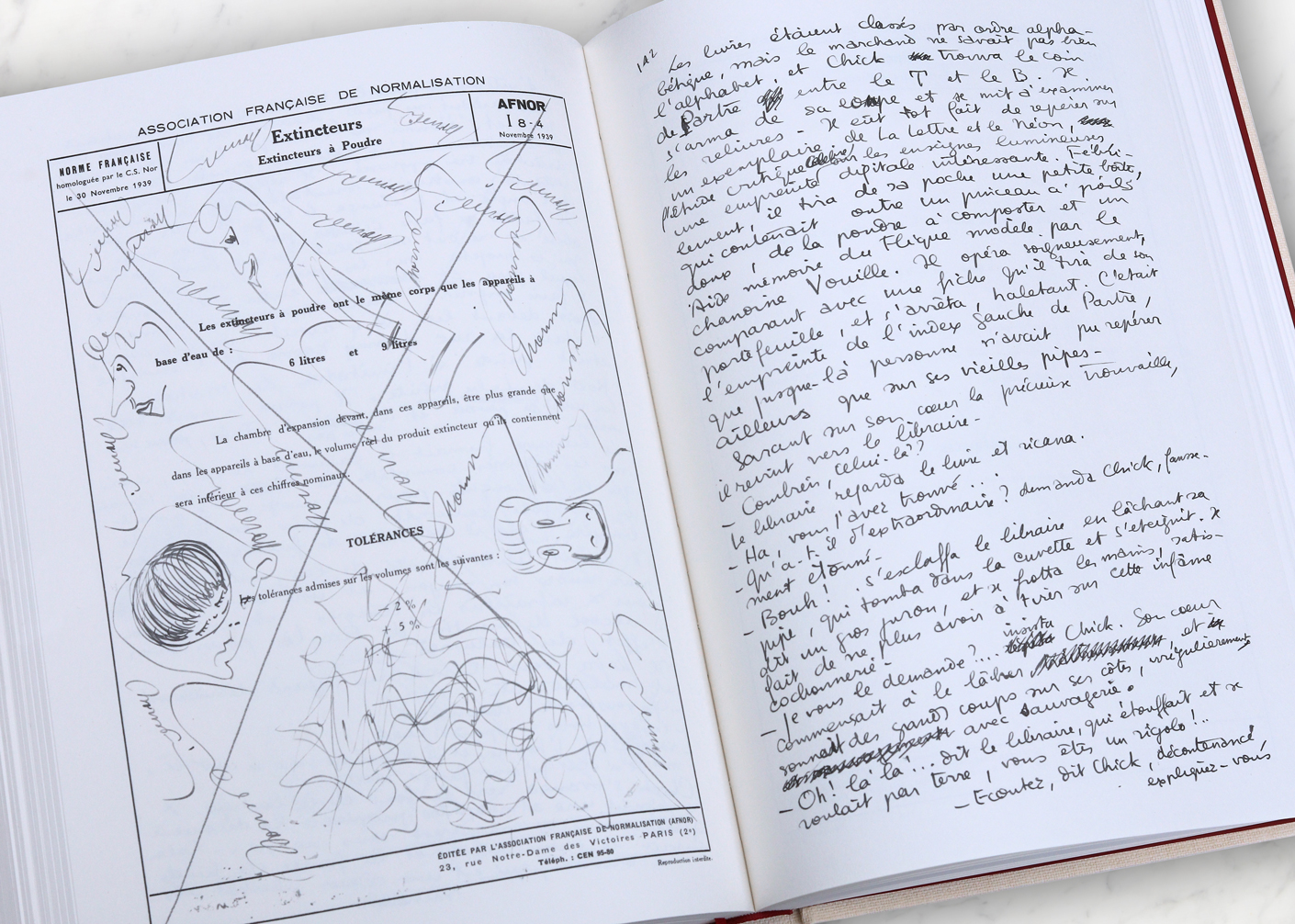 Revealing the mechanics of Vian's composition
The preparatory notes Vian made for writing L'Écume des jours are published at the end of the book. In them, is an initial plan for the novel in twenty-five chapters and a detailed author's blurb, crowned with a drawing of a character with a long nose and a book-shaped wig.
The manuscript is held at the Bibliothèque nationale de France, while the notes and plans are owned by Boris Vian's family.
A belated success and subsequent classic
Boris Vian died prematurely at the age of 39 on 23 June 1959, while at Le Marboeuf cinema in Paris at the screening of an adaptation of his work J'irai cracher sur vos tombes (I Spit on Your Graves) - an adaptation that he disowned. His relationship with success and criticism was complex. The pseudonym he chose under which to publish several controversial works didn't prevent him from being censured and having to deal with trouble from the courts and tax authorities.
L'Écume des jours, published shortly after Vercoquin on 20 March 1947, was not immediately a success, despite establishing Vian's clear talent as a musician and writer. Journalists were not interested and the novel was also a commercial failure, despite its release by the prestigious publishing house Gallimard. The subsequent failure of L'Arrache-cœur (The Heartsnatcher), published a few years later in 1953, convinced Vian to give up on literature and dedicate himself to other forms of artistic expression.
The tale of Colin and Chloé only found a receptive audience in the late 1960s and early 1970s, particularly after being reissued by the publishing imprint 10/18. It gradually became established as a classic, until it entered the La Pléiade classic author collection in 2010. It was recently the subject of a highly faithful and poetic film adaptation by Michel Gondry starring Romain Duris and Audrey Tatou in the title roles.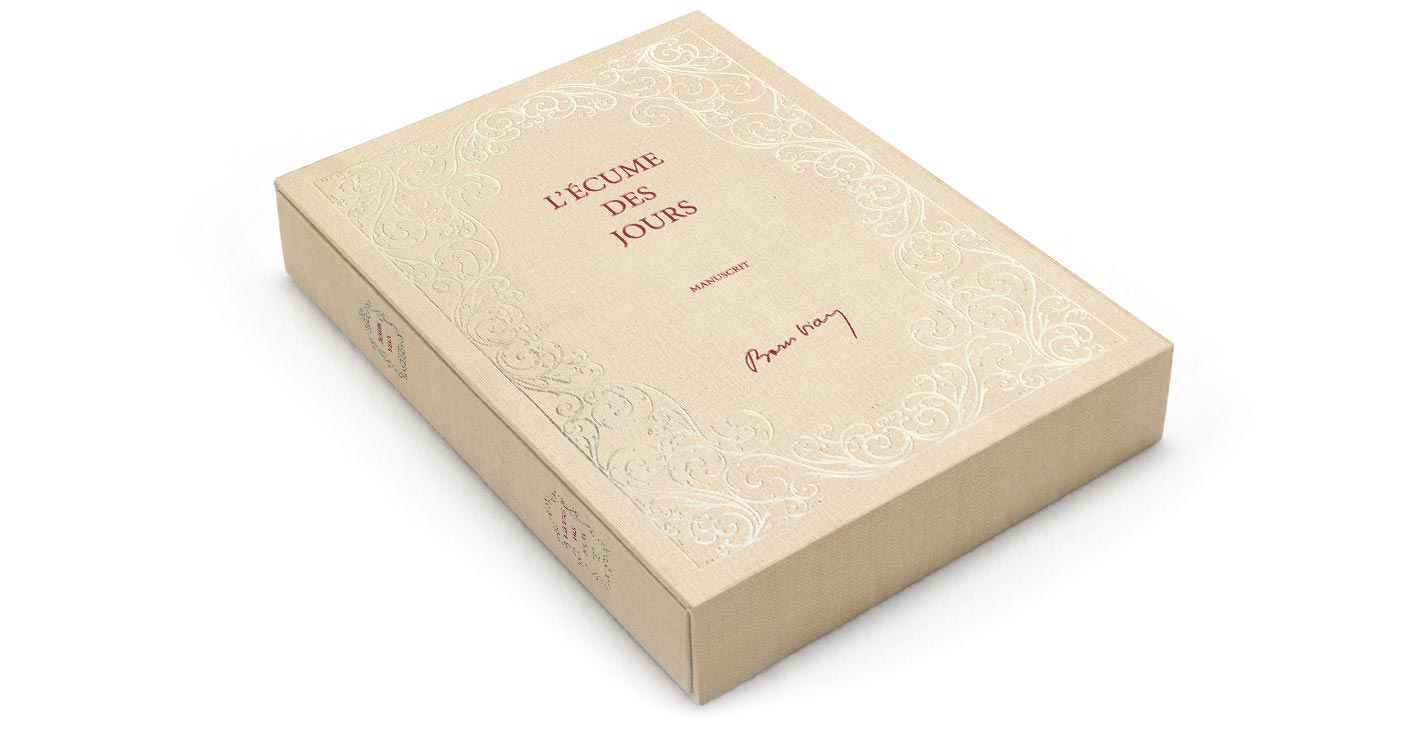 Deluxe edition
This Ivory edition is presented in a large format handmade slipcase.
Printed with vegetal ink on eco-friendly paper, each book is bound and sewn using only the finest materials.
Ivory edition
Unnumbered copy
464 pages - 10 x 14''
Fedrigoni Avorio Paper
Endband and bookmark
ISBN: 9782954268712