Journey to the End of the Night
The manuscript is written in French
Large format edition

Free shipping

Céline's manuscript of Le Voyage au bout de la nuit
'Five years of work … food for an entire century of literature'... wrote Louis-Ferdinand Céline in a letter to Gaston Gallimard in April 1932. It was in these terms that he presented the manuscript of Voyage au bout de la nuit (Journey to the End of the Night), his first novel which ended up being published by Denoël & Steele.
Céline: 'I don't think my thing is boring'
A 38-year-old doctor, who was at this stage working at the public health clinic in the Parisian suburb of Clichy, he was entirely sure of himself and expressed the above sentiment with astounding self-assurance. This novel, which he also described in such modest terms as a 'literary symphony' and a 'capital moment of human nature', was in his mind a sure winner of the Prix Goncourt. However, there was nothing ordinary destined for Céline or this manuscript, which has fuelled rumours and legends for nearly sixty years.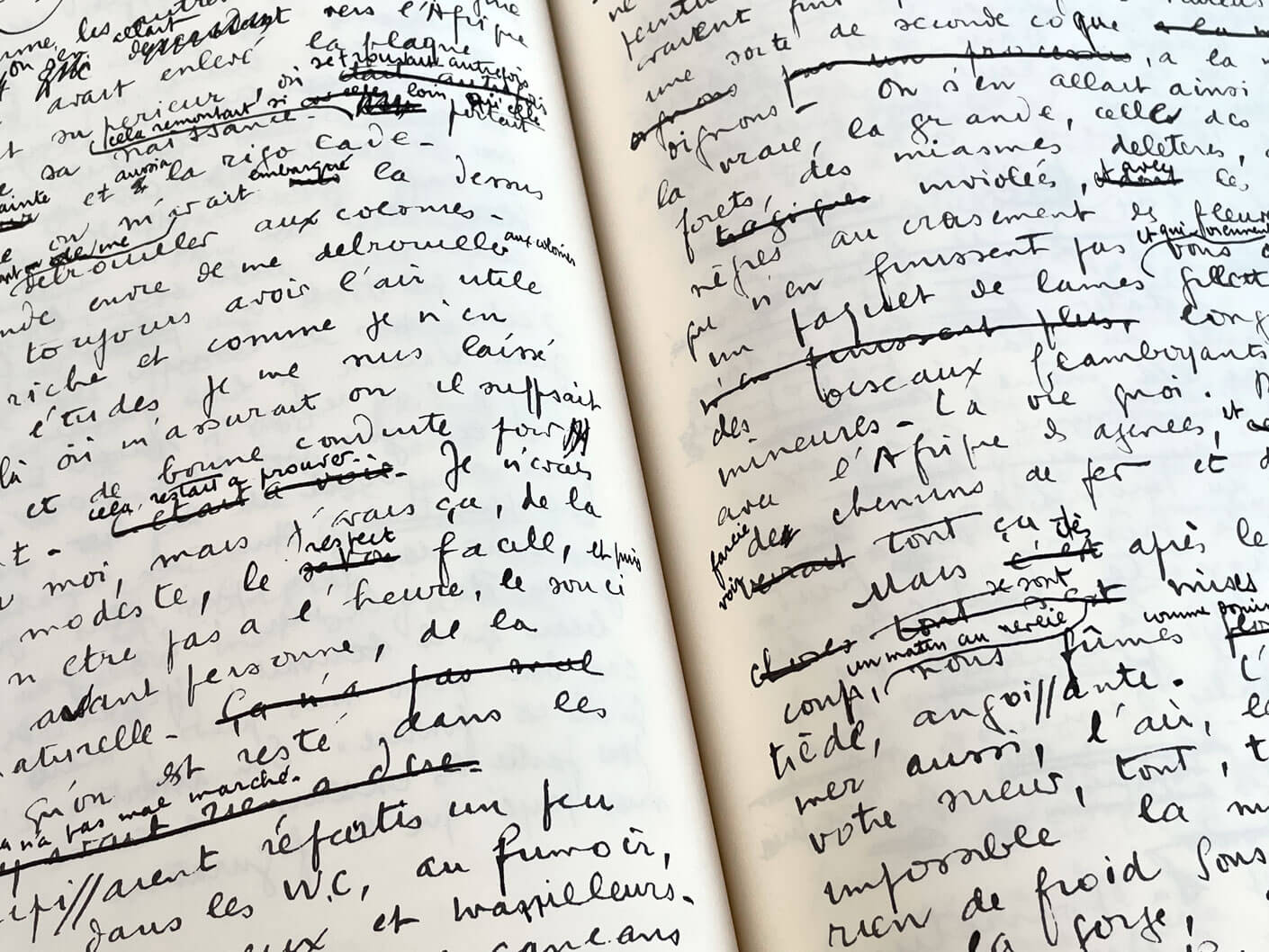 Voyage au bout de la nuit eventually won the Renaudot prize after missing out on the Goncourt by two votes (4 against 6), which was awarded instead to Guy Mazeline in 1932 for Les Loups en 1932.
A novel written between 1928 and 1931
In the 1920s, the man still named Louis Ferdinand Destouches was, like so many others of his generation, recovering in the aftermath of the First World War. Anticipating the callup, he had enlisted in the French army on 28 September 1912. In 1914, he had already been promoted to the rank of sergeant. His regiment was sent to battle in West Flanders: wounded in Poelkapelle, he was awarded a medal and later the Croix de Guerre with a silver star. After the war, Céline devoted himself to medicine and writing articles for scientific journals. Having met the American dancer Elizabeth Craig, he dedicated Voyage au bout de la nuit to her.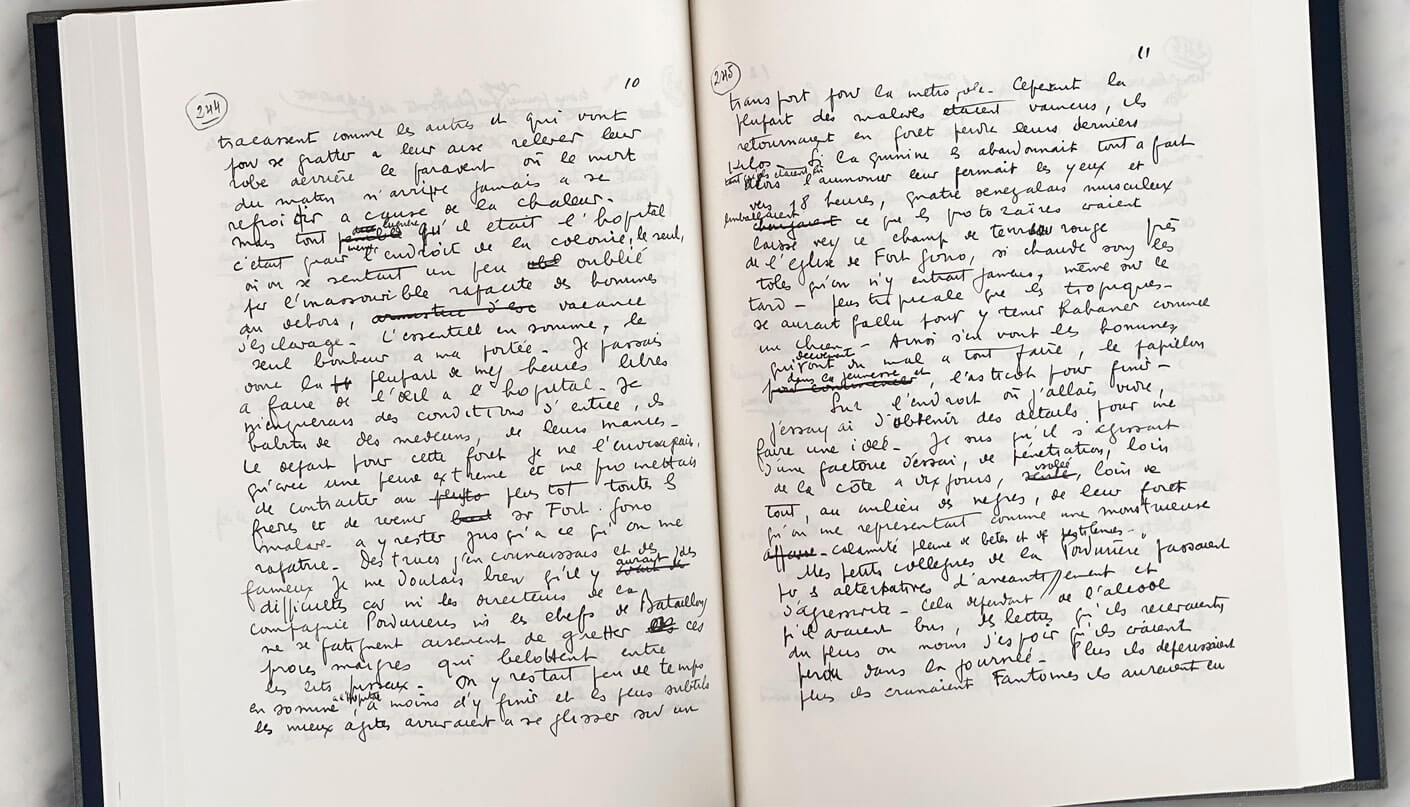 The manuscript of Voyage au bout de la nuit: mysteries and disappearances
It took Céline three years to write his great oeuvre, which he would follow with other unforgettable works such as Mort à crédit (Death on the Installment Plan), which were arguably less popular. It is made up of 876 pages covered in nervous writing in black and blue-black ink, on which the first page is marked:
Voyage au bout de la nuit
Sole manuscript
LF Céline
98 rue Lepic
Many rumours surround the various journeys of this manuscript, whose trajectory intersects with that of the art dealer Étienne Bignou and Pierre Bérès, the famous Parisian bookseller, bibliophile and autograph dealer on Avenue de Friedland, just off the Champs Elysées. For instance, Robert Denoël's wife remembered seeing a gigantic manuscript, a 'colossus' of no less than 20,000 pages, while Bignou's daughter-in-law Marguerite claimed that Céline brought his precious pages to her father in a wheelbarrow.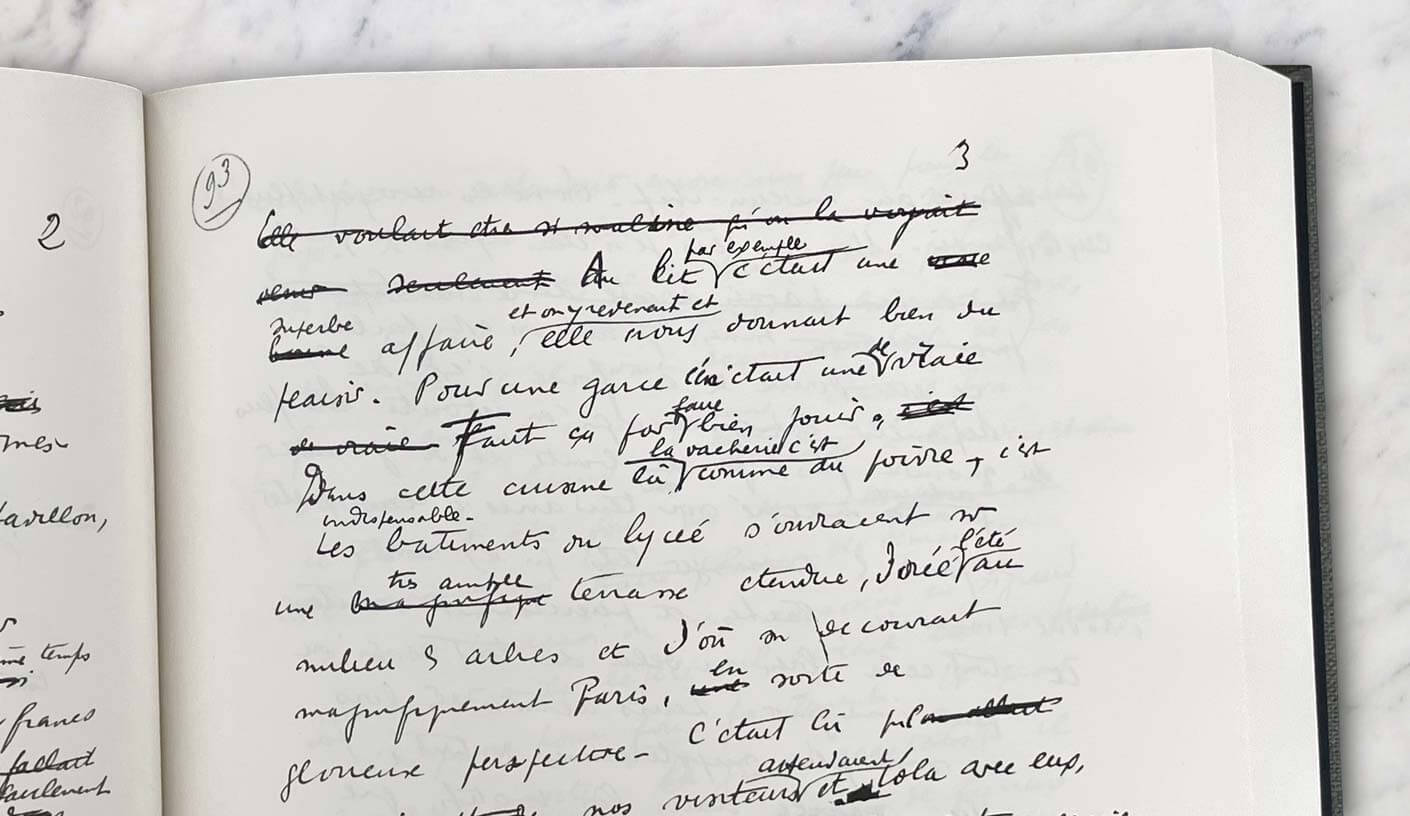 French actress Marie Bell (from La Comédie française), has probably introduced Étienne Bignou to Céline. Étienne Bignou was the owner of a famous art gallery located rue La Boétie in Paris. Fascinated by manuscrits, he was collecting autographs and Céline used to call him "Monsieur Mécène". Bignou purchased the Voyage manuscript in May 1943.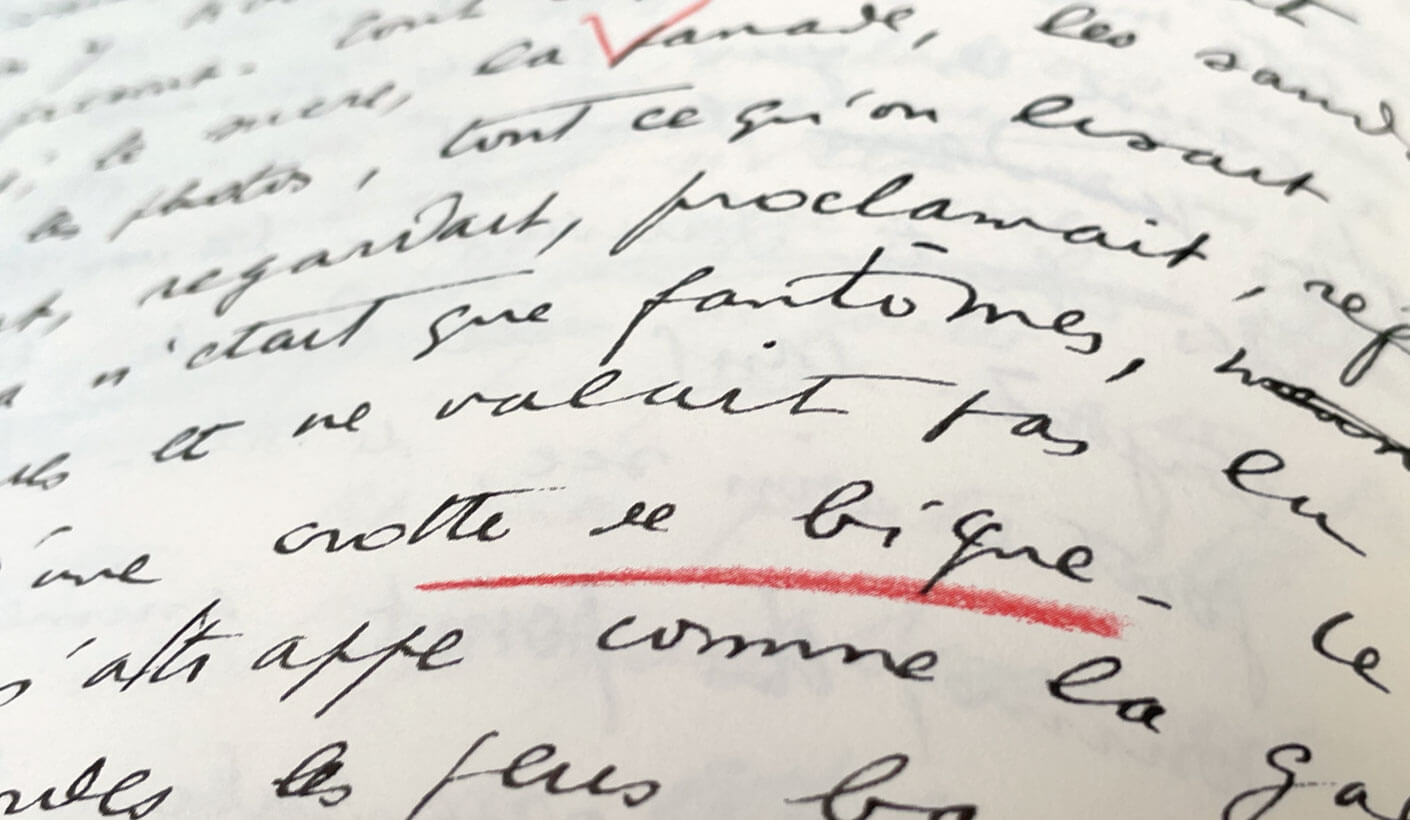 Étienne Bignou died in 1950, and for many years the whereabouts of the Voyage manuscript was unknown. It's possible that the art dealer sold it abroad to an English collector, of whom Pierre Bérès would later say was given the manuscript to sell at auction. Did the document travel to South America, was it returned via a private sale, or did Pierre Bérès himself acquire it from Bignou before his death?
Reappearance at auction in 2001
To the great surprise of specialists, who had been attempting to trace the manuscript for many years, the Voyage resurfaced in 2001. Previously, in 1975, its absence during an auction of precious goods that had belonged to Bignou had given rise to numerous lines of questioning. On 15 May 2001, an auction was organised by the Piasa auction house in Drouot-Montaigne, with Thierry Bodin and Pierre Bérès acting as valuers. It promised to be a historic sale, and prompted plenty of worried speculation about the fate of the document: would the manuscript be sold to a forgein collector and thus leave the country? The actor Fabrice Lucchini was one of a cacophony of protestors - the manuscript had to remain in France! The BnF (National Library of France) took advantage of its pre-emption rights and collected more than 12 million francs (nearly 2 million euros), thanks in particular to the aid of a wealthy patron, the widow of the Syrian billionaire Akram Ojjeh.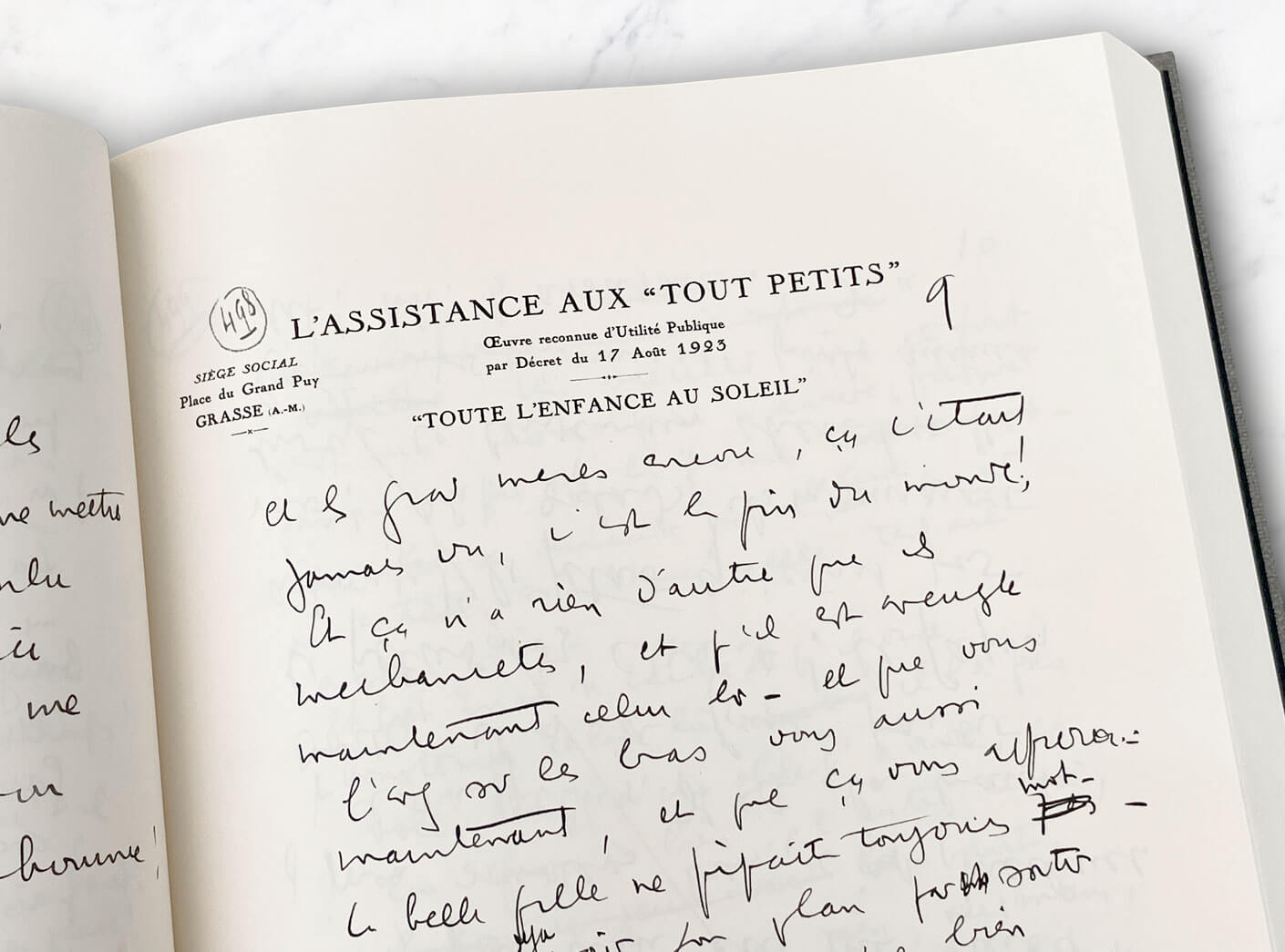 Letter from Céline to Gaston Gallimard (1932)
Monsieur,
Je vous remets mon manuscrit du Voyage au bout de la nuit (5 ans de boulot).
Je vous serais particulièrement obligé de me faire savoir le plus tôt possible si vous êtes désireux de l'éditer et dans quelles conditions. Vous me demandez de vous donner un résumé de ce livre. C'est un bizarre effort en vérité auquel vous me soumettez et jamais je n'y avais encore songé.
C'est le moment me direz-vous. Je ne sais trop pourquoi mais je m'y sens tout à fait inhabile. (Un peu l'impression des plongeurs au cinéma qu'on voit rejaillir de l'eau jusqu'à l'estacade…) Je vais m'y essayer toutefois, mais sans manières. Je ne crois pas que mon résumé vous donnera grand goût pour l'ouvrage.
En fait ce « Voyage au Bout de la nuit » est un récit romancé, dans une forme assez singulière et dont je ne vois pas beaucoup d'exemples dans la littérature en général. Je ne l'ai pas voulu ainsi. C'est ainsi. Il s'agit d'une manière de symphonie littéraire, émotive, plutôt que d'un véritable roman.
L'écueil du genre c'est l'ennui. Je ne crois pas que mon machin soit ennuyeux.
Au point de vue émotif ce récit est assez voisin de ce qu'on obtient ou devrait obtenir avec de la musique.
Cela se tient sans cesse aux confins des émotions et des mots, des représentations précises, sauf aux moments d'accents, eux impitoyablement précis. D'où quantité de diversions qui entrent peu à peu dans le thème et le font chanter finalement comme en composition musicale. Tout cela demeure fort prétentieux et mieux que ridicule si le travail est raté. À vous d'en juger. Pour moi c'est réussi.
C'est ainsi que je sens les gens et les choses. Tant pis pour eux. L'intrigue est à la fois complexe et simplette. Elle appartient aussi au genre Opéra. (Ce n'est pas une référence !) C'est de la grande fresque, du populisme lyrique, du communisme avec une âme, coquin donc, vivant. Le récit commence Place Clichy, au début de la guerre, et finit quinze ans plus tard à la fête de Clichy. 700 pages de voyages à travers le monde, les hommes et la nuit, et l'amour, l'amour surtout que je traque, abîme, et qui ressort de là, pénible, dégonflé, vaincu…
Du crime, du délire, du dostoïevskysme, il y a de tout dans mon machin, pour s'instruire et pour s'amuser. […] Je ne voudrais pour rien au monde que ce sujet me soye soufflé. C'est du pain pour un siècle entier de littérature. C'est le prix Goncourt 1932 dans un fauteuil pour l'Heureux éditeur qui saura retenir cette œuvre sans pareille, ce moment capital de la nature humaine… Avec mes meilleurs sentiments
Louis-Ferdinand Céline
The numbered edition
is sold out.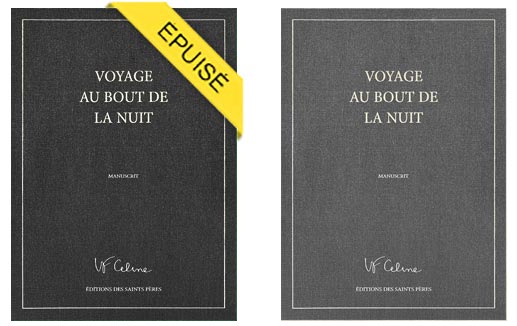 Numbered editions
(in black) are sold out.
This edition (steel grey)
is not numbered.
To stay informed
about our newest print runs,
subscribe to our newsletter!
A manuscript very different from the version finally published
This manuscript is the first version of the novel composed by Louis-Ferdinand Céline. It is the first complete draft, although it differs from the version published in 1932. In this version, Bardamu is distanced from the narrator, who is revealed as a rather naive and conformist character. Céline worked on the structure and narration, but also on his form. Terms change ('doctor' becomes 'medic', 'colleague' becomes 'comrade' etc.), and the writer appears to have used whatever paper he could get his hands on: here the letterhead of the Grand Hotel in Stockholm, there a form from a sanatorium, again on the back of reports… There are notable interventions by a typist who worked on the manuscript: the annotations in red pencil are hers, and betray her bewilderment in the face of terms she considered vulgar, or interjections and abbreviations. This general disarray foreshadows the astonishment of the public, the popular success of the book and the stylistic revolution that Céline invented.
'An author created by God to scandalise', wrote Bernanos about Céline. If not an object of scandal, the manuscript is in any case a renewed wonder.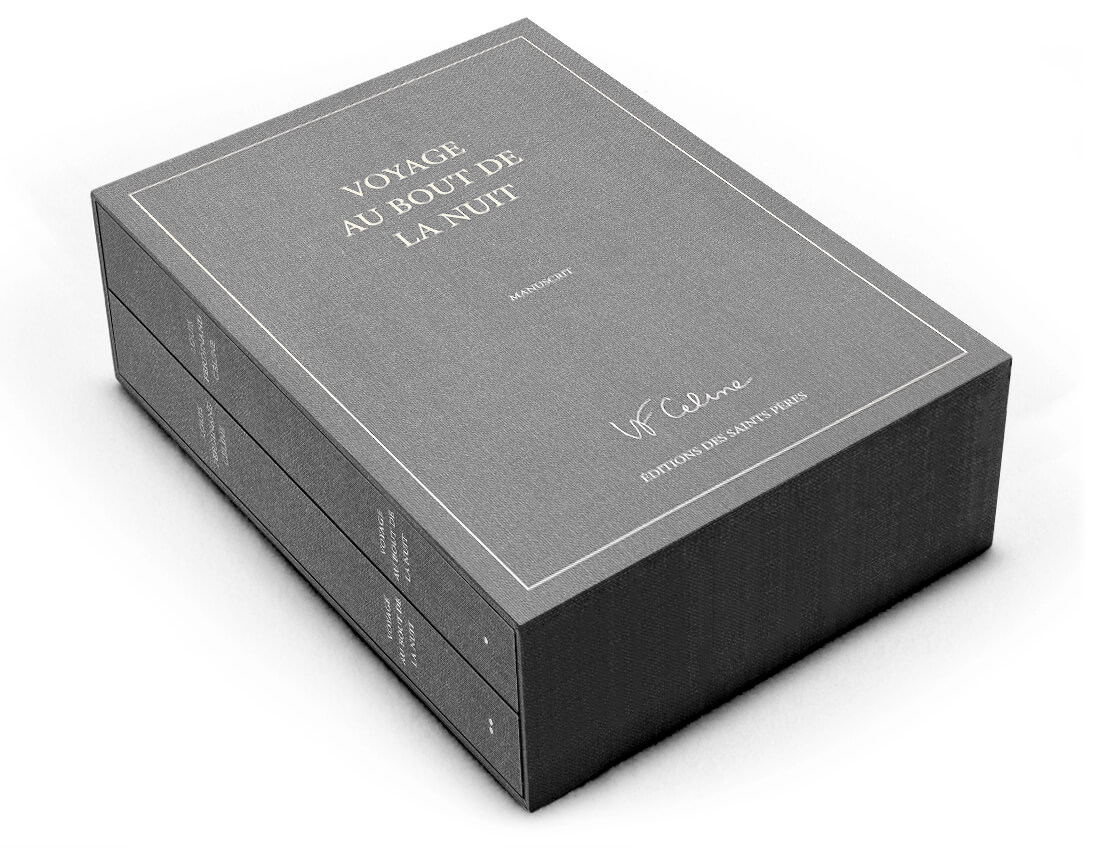 Deluxe edition
This steel grey edition
is presented in a large format handmade slipcase.
Printed with vegetal ink on eco-friendly paper, each book is bound and sewn using only the finest materials.
Steel grey edition
Unnumbered copy
2 volumes (512 p. and 528 p.)
Fedrigoni Avorio Paper
Large format: 10 in. x 14"
ISBN: 9782954268743