Oxford blue edition,
numbered from 1 to 1,000
Journal
French edition
Large format (14 x 10'')

Free shipping

Journal (1895-1896) - Alfred Dreyfus's manuscript
Alfred Dreyfus's journal: the most poignant of historical documents, written while in captivity on Devil's Island (l'Île-du-Diable) between 1895 and 1896.
Almost 125 years after an affair which continues to be examined by specialists and reproduced in the cultural imagination, it feels important to offer audiences a complete immersion in the tortured thoughts of the most famous case of proven innocence in French history.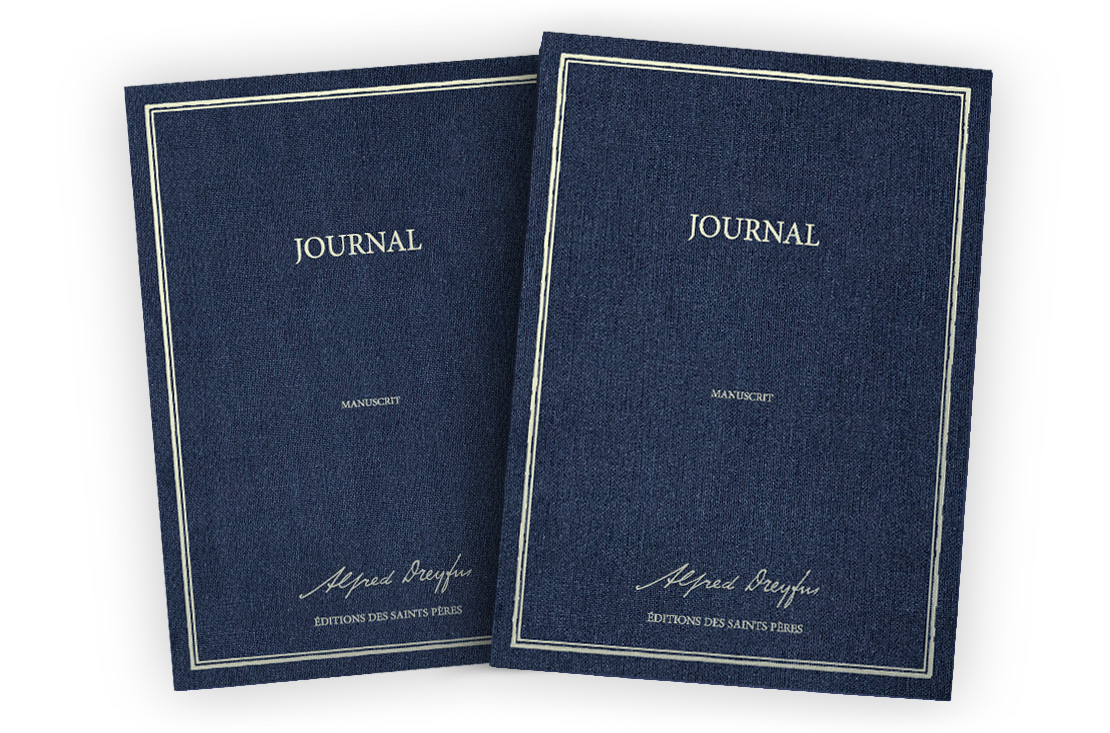 "I have only one passion, that of the light, in the name of humanity which has suffered so much and is entitled to happiness. My ardent protest is but a cry from my very soul": if the spirited letter from Emile Zola published on the front page of l'Aurore newspaper stirred the public conscience, this document by Alfred Dreyfus, less well-known but no less moving, is a unique monument of humanity.
This large format volume is the first-ever reproduction of Alfred Dreyfus' manuscript.
The Dreyfus Affair
"Until now, I trusted in reason", states Dreyfus at the start of the journal. "What a collapse of all my beliefs…"
Within a few months, a man who had dedicated his life to his homeland - and to his otherwise brilliant military career - had seen his existence collapse into utter disgrace. On Saturday 13 October 1894, he was summoned by a senior officer and questioned in solitary confinement for seventeen consecutive days. He was accused of having betrayed his country and spied on behalf of Germany. Dreyfus defended himself, but was brought before a council at the French War Ministry, condemned and subjected to a ceremony of degradation on 5 January 1894 in the courtyard of the École Militaire in Paris. Even then, he had the strength to maintain his innocence. In the days that followed, Dreyfus was transferred from the La Santé prison in Paris to La Rochelle and then to the Ile de Ré, before being sent on to French Guiana.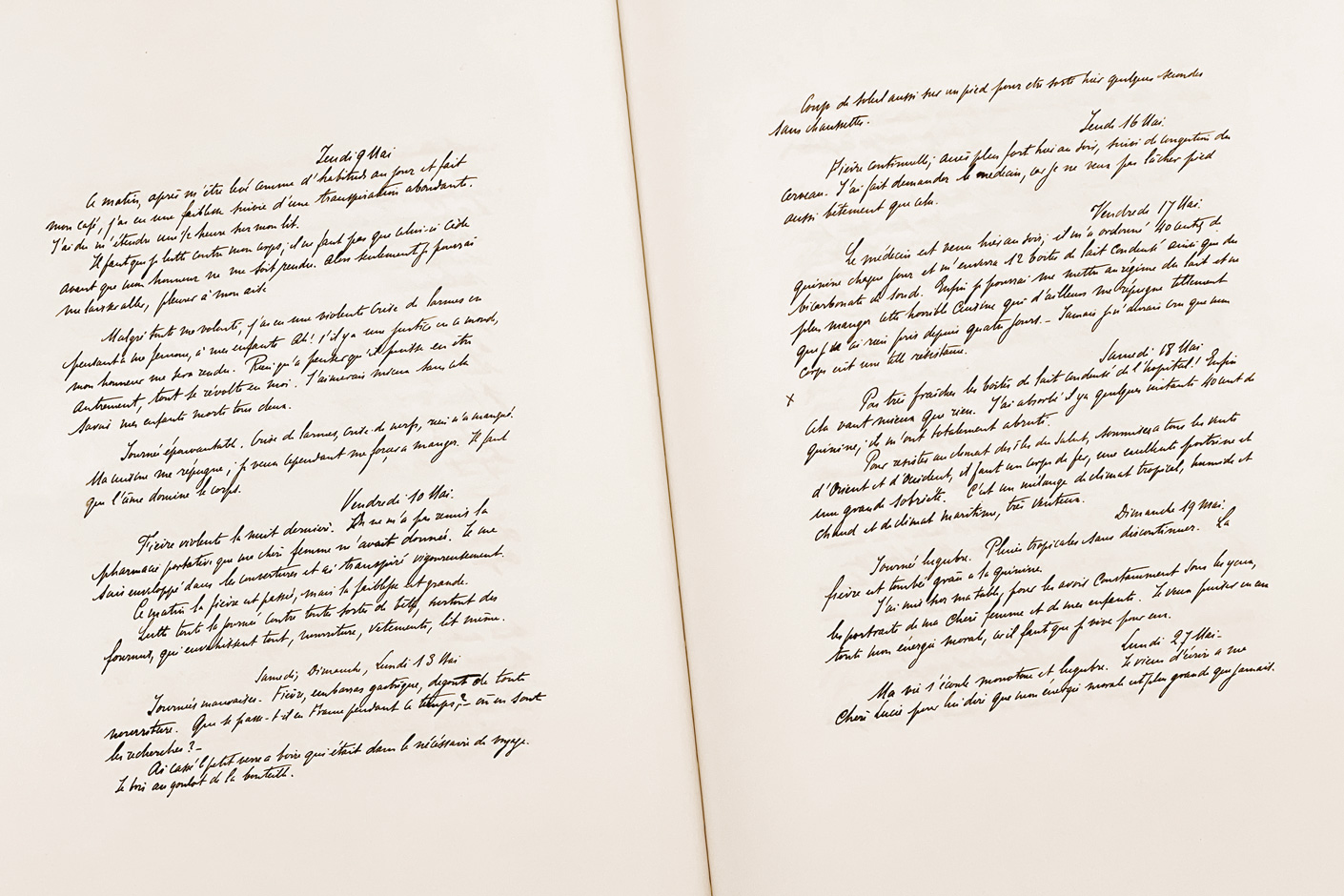 I will resist until my last breath.
After a difficult voyage, on 13 April he landed on the aptly-named Devil's Island: this rock on the other side of the world that had long ago sheltered lepers in quarantine. Thenceforward, the island became a place prisoners were sent to disappear from living memory...
However, Dreyfus was not easily forgotten. While in France, his family and supporters mobilised to continue the fight for truth; his task as the condemned was to survive by any means on Devil's Island.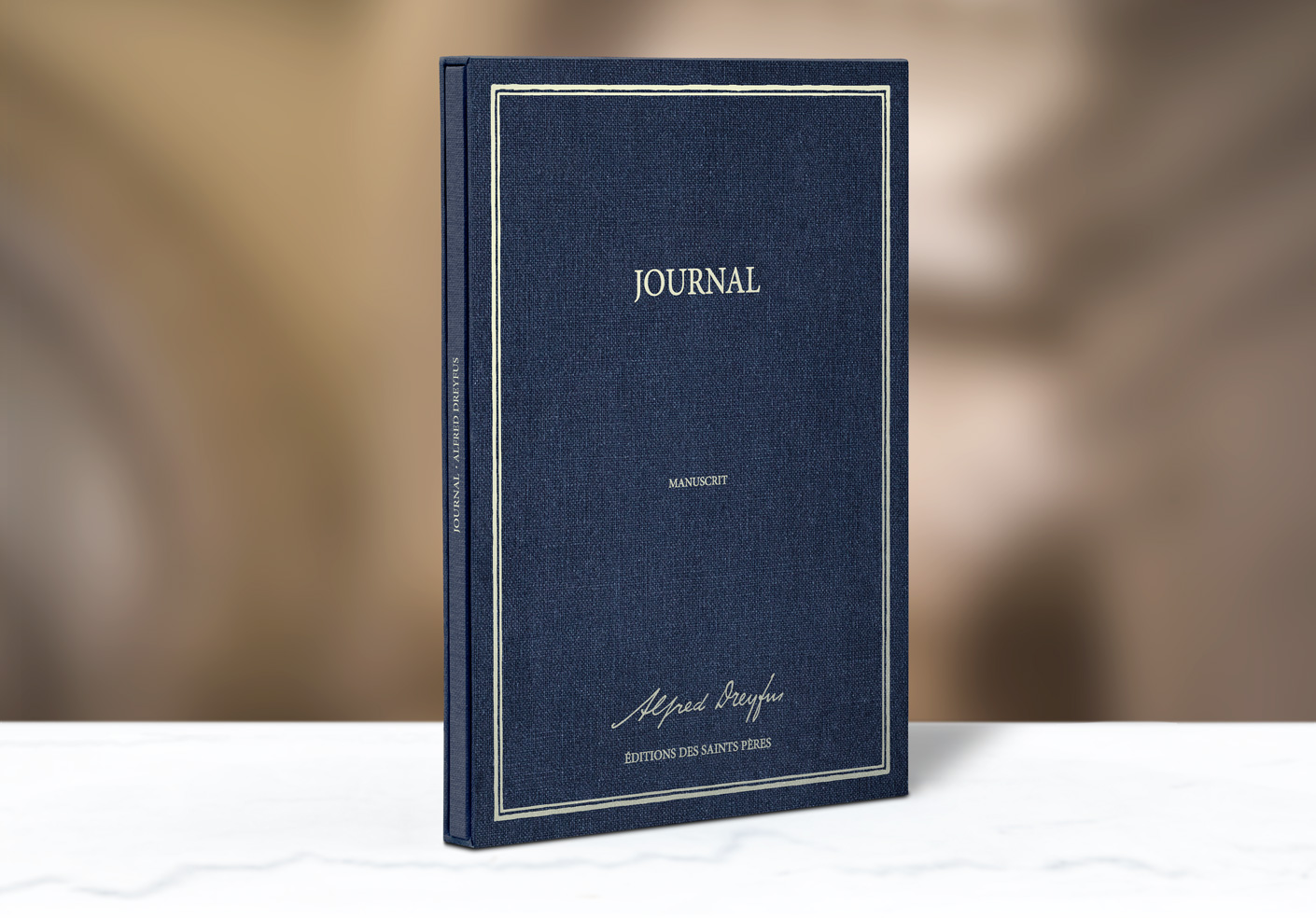 I am broken in heart and soul.
Titled My Journal and written from 14 April 1895 to 10 September 1896, this thirty-two page notebook is a living testimony of the disbelief and despair of a human being gradually losing his confidence in justice. Deprived of speaking and of contact with his loved ones, Dreyfus turned to the only resource left available to him, his mind, and the ultimate weapon, his pen. On the cover of his notebook, he indicates darkly that it is "to be returned to my wife", his dear Lucie, from whom he got to hear only sporadically.
Written in ink mixed with tears and suffering, the notebook was taken from him at a time when the conditions of his detention worsened significantly. It was returned to him at the end of his captivity, some years later in 1899.
An extraordinary historical document
Incomprehension. Moral and physical pain. Burning unanswered questions. Waiting for correspondence that never came, which might have helped him hold on… In a cell of four metres squared, secured by a door with iron bars, with only daylight to see, he watched the hours go by through a hazy skylight overlooking a rugged landscape. Cut off from his loved ones, his gaolers were ordered not to speak to him and his requests for food and everyday items were perpetually denied. The prisoner cobbled together a kitchen without dishes, feeding on rice, tea, coffee, bread, bacon, tinned vegetables and cucumbers or tomatoes found on the island. He just about managed to make fire to clean his laundry with the embers. Tormented by the details of the case now bearing his name, he distracted himself by chopping wood, learning English or by writing. He faced intense heat, torrential rain and was attacked by insects of all kinds. Between insomnia, dishonour, loneliness and high fevers, he was spared by nothing; he recorded it all in his journal, where suffering is apparent in every line. Yet, thankfully for his adored wife Lucie and their two young children Pierre and Jeanne, Alfred Dreyfus did not let himself die in his terrible exile.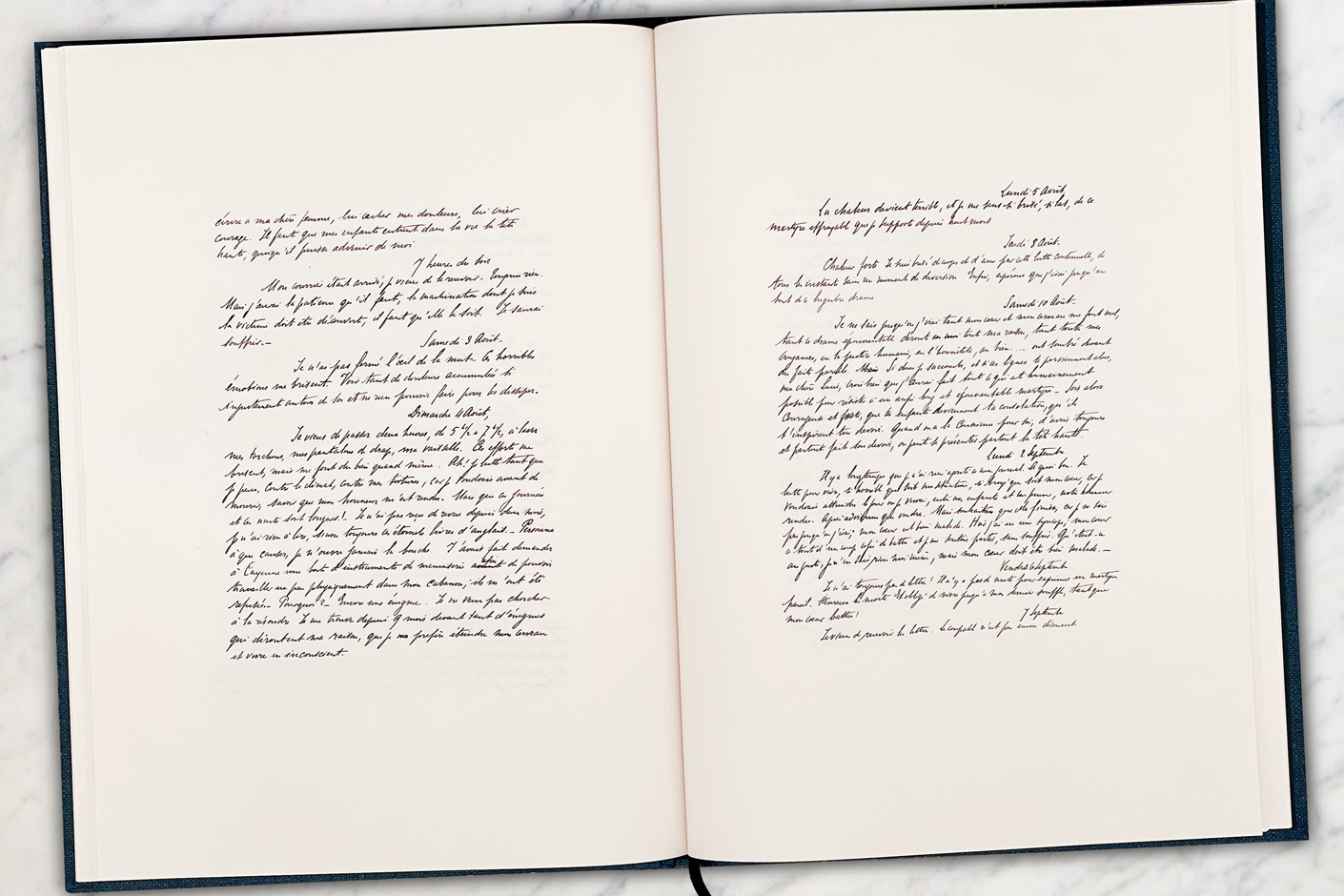 "I don't even have the right to die"
Nevertheless, the obsession with future exoneration did not leave him. He didn't dare to believe it would happen but continued to will it. Did he ever think in his darkest moments that he might one day achieve it?
While the Journal ends on a dark note, as Dreyfus addresses the President of the French Republic on 10 September 1896, there is a light at the end of the hellish tunnel.
Alfred Dreyfus, a brave and faithful man
Born on 9 October 1859 in Mulhouse, France, Alfred Dreyfus grew up in a middle-class family between Alsace, Paris and Switzerland. He enrolled in the École Polytechnique in 1878. In September 1889, he was appointed Captain to the 21st artillery regiment. He was admitted to the French School of War (École de guerre) in 1990, the day before his marriage to Lucie Hadamar (18 April 1890). A brilliant officer, appreciated by his superiors, he nevertheless aroused jealousy.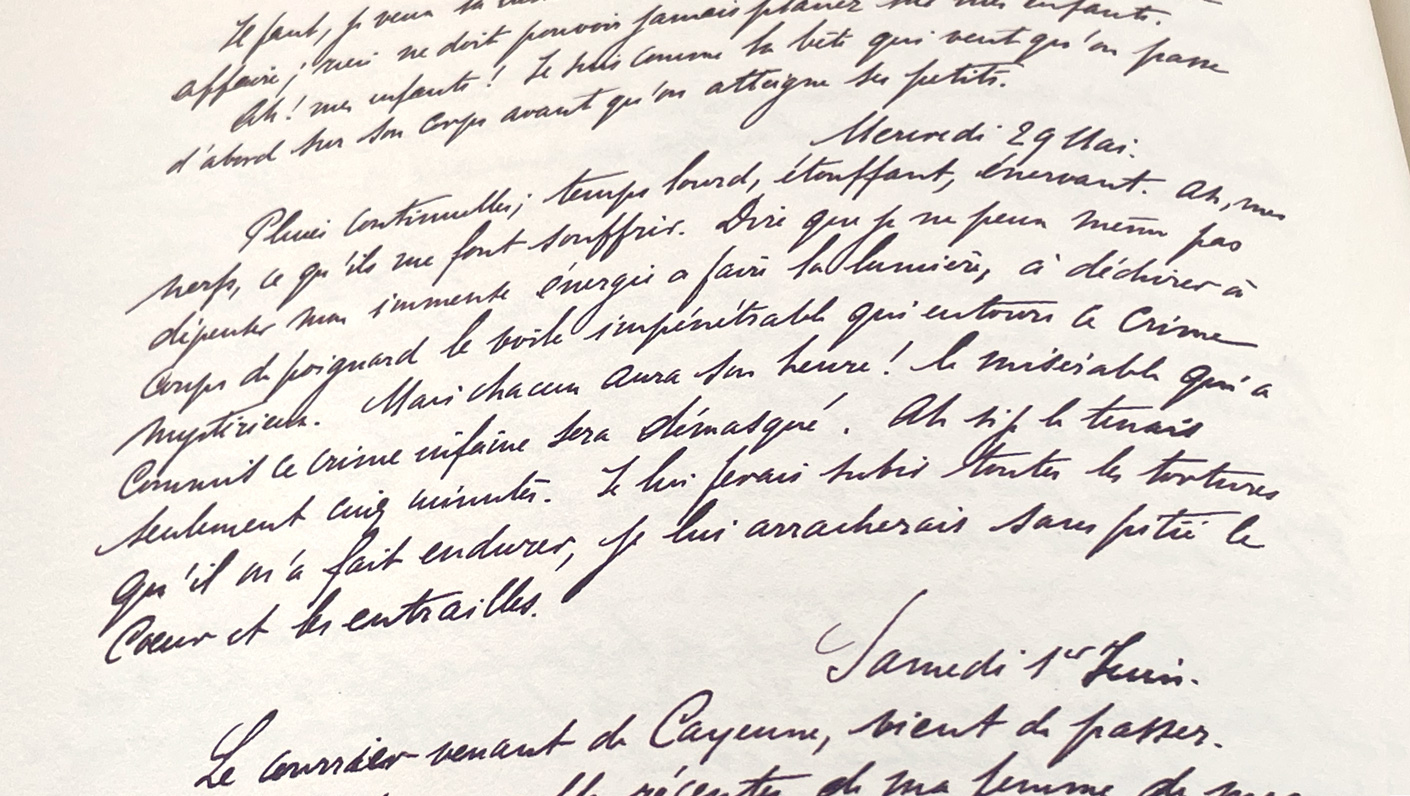 "The Dreyfus Affair" commenced on 15 October 1894. Alfred Dreyfus was degraded and deported at the beginning of 1895. He didn't return from his exile until June 1899. He was given a second trial by court martial in Rennes where he was re-convicted, but was finally pardoned by the President of the French Republic Emile Loubet. Emile Zola, in a letter sent to Lucie Dreyfus, wrote of his joy at seeing the accused free but also of his great dismay: "Our degradation is such that we are reduced to congratulating the government for being pitiful."
In the years that followed, Alfred Dreyfus never stopped fighting for his exoneration, which was finally obtained in 1906. He died in Paris in 1935, after having fought at the battles of Chemin des Dames and Verdun in 1917, and having been promoted to the rank of Officer of the Legion of Honour in 1919.
With grateful acknowledgments to the Fondation Zola-Dreyfus.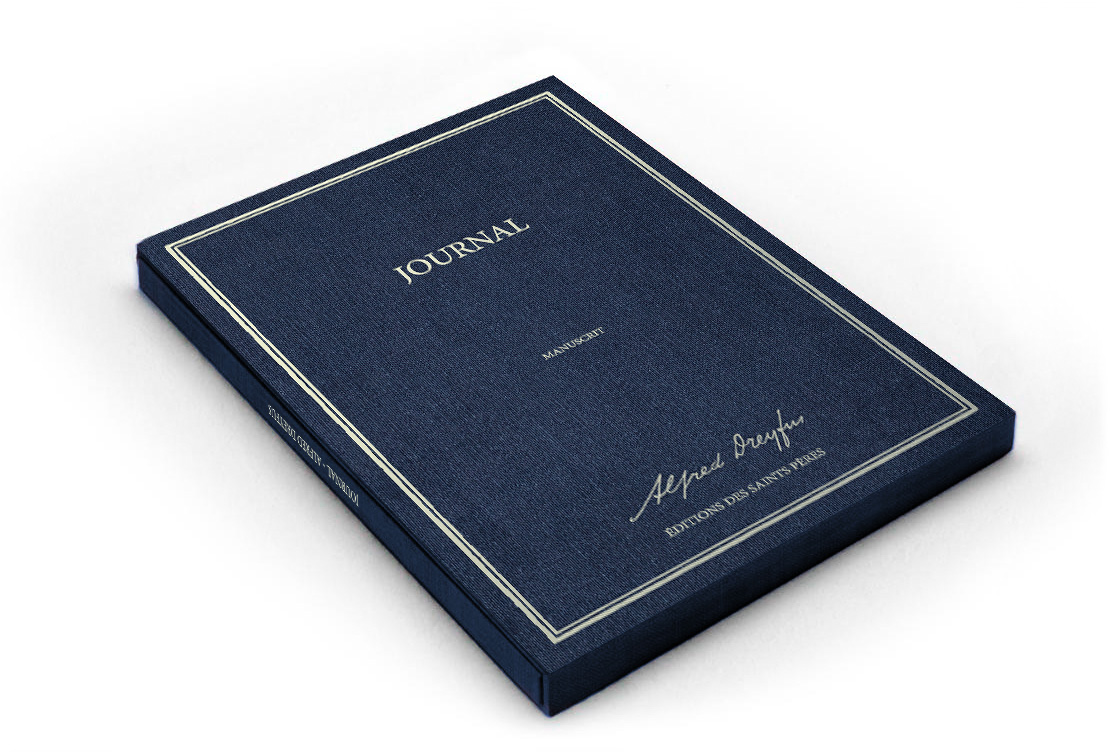 Deluxe edition
Numbered from 1 to 1,000, this Oxford blue edition is presented in a large format handmade slipcase.
Printed with vegetal ink on eco-friendly paper, each book is bound and sewn using only the finest materials.
Oxford blue edition
1,000 numbered copies
80 pages - 14 x 10''
Fedrigoni Avorio Paper
Endband and bookmark
ISBN: 9791095457718