Sky blue edition,
1.000 numbered copies,
Southern Mail
French edition
Large format (10 x 14'')

Free shipping

Courrier Sud (Southern Mail), by Antoine de Saint-Exupéry, the original manuscript
Antoine de Saint-Exupéry (1900-1944) is known to many millions of readers worldwide as the author of Le Petit Prince (The Little Prince), but his name is also indissolubly linked to an epic adventure of the twentieth century, the establishment of air mail, an adventure he was to present in his first novel, Courrier Sud, the original manuscript of which Éditions des Saints Pères is here reproducing for the first time, with the generous support of the Fondation Martin Bodmer and the Succession Saint-Exupéry-d'Agay.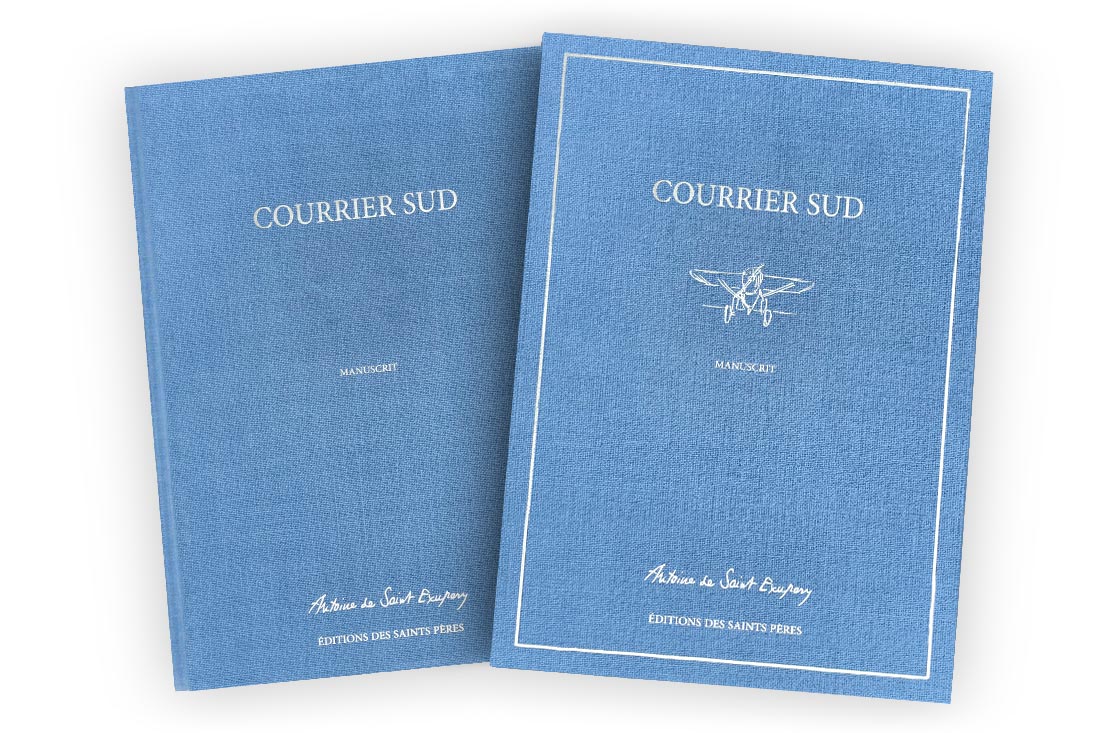 'Did he write to fly, or did he fly to write?' wondered Umberto Eco. The answer undoubtedly lies somewhere between the two, given the importance Saint-Exupéry placed on literature. And this manuscript, tracing the wanderings on land and in the air of the unforgettable Jacques Bernis, may equally undoubtedly be considered the happy marriage of his two great passions. Could it indeed be a document that in its way confirmed him in his choice to be both writer and man of action?
The call of the air
Antoine de Saint-Exupéry first became fascinated by aircraft and flying at the age of 12, visiting an aerodrome near his home town of Lyon. He finally learned to fly in 1921 during his military service in the 2nd Air Regiment, based at Strasbourg. He was allowed to take private flying lessons and was eventually transferred to flying duties. He served at Casablanca, Morocco, and then back in France at Le Bourget. In 1926 he was recruited by the famous aviation company Latécoère for which, together with two other heroes of early aviation, Jean Mermoz and Henri Guillaumet, he would pioneer the mail routes between Toulouse, Casablanca, Dakar in French Senegal, and in 1930 on to South America.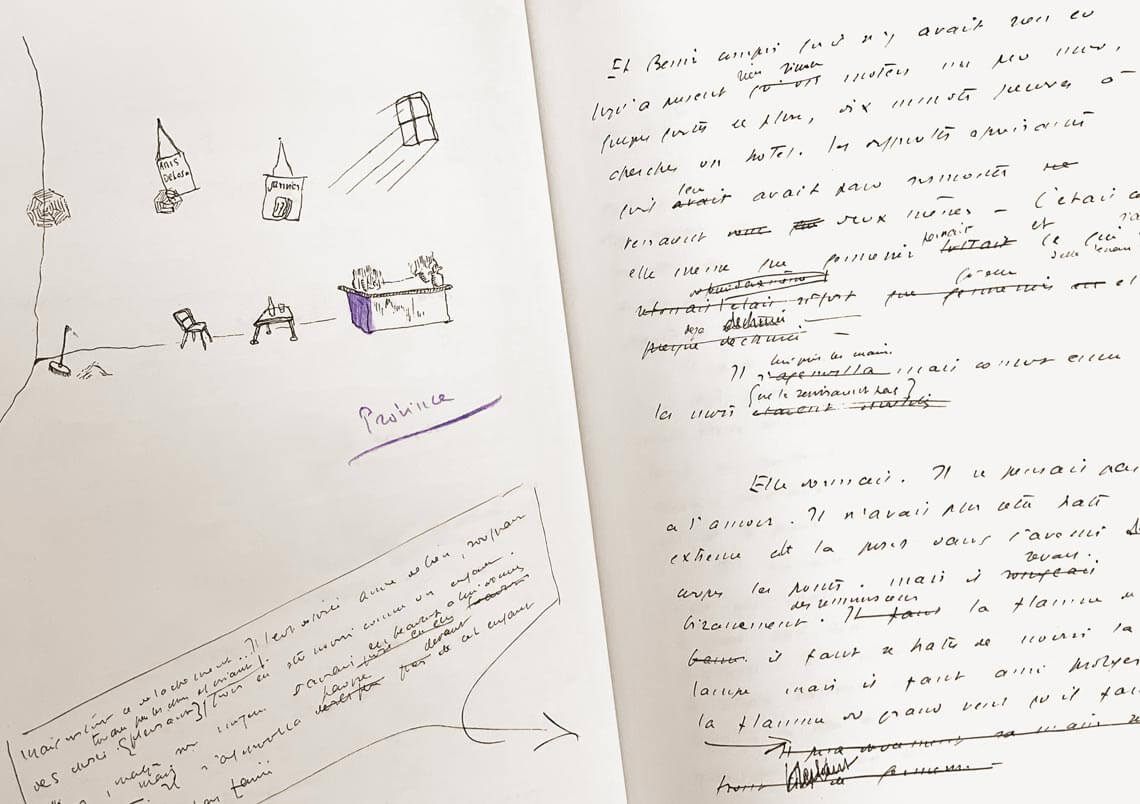 In 1927, not yet thirty, he was appointed manager of the aerodrome at Port Tarfaya in southern Morocco which served as a refuelling stop for mail planes. For eighteen months he lived in an isolated fort between the desert and the sea. Long days and nights, often alone, provided the perfect conditions for developing his other great gift: that for writing. Saint- Exupéry took up the pen, as he explains in a letter: 'I am reading a bit and decided to write a book. I already have a hundred or so pages and am pretty much tied up in the structure.' The bundle of sheets on which he set out the saga of the journeyings of Jacques Bernis, the hero of Courrier Sud, got thicker and the writing denser. By the beginning of 1929 he was close to completing a work which would mark his successful and much-remarked entry into the world of literature.
A memorable first novel
Although Courrier Sud is Saint-Exupéry's first published novel, it was foreshadowed in the short story 'L'Aviateur' ('The Aviator') published in 1926 in the literary journal Le Navire d'argent (The Silver Ship). This story had in turn been extracted from a longer text titled L'Évasion de Jacques Bernis (The Escape of Jaques Bernis) which already looked forward to both Courrier Sud and his second novel, Vol de nuit (Night Flight).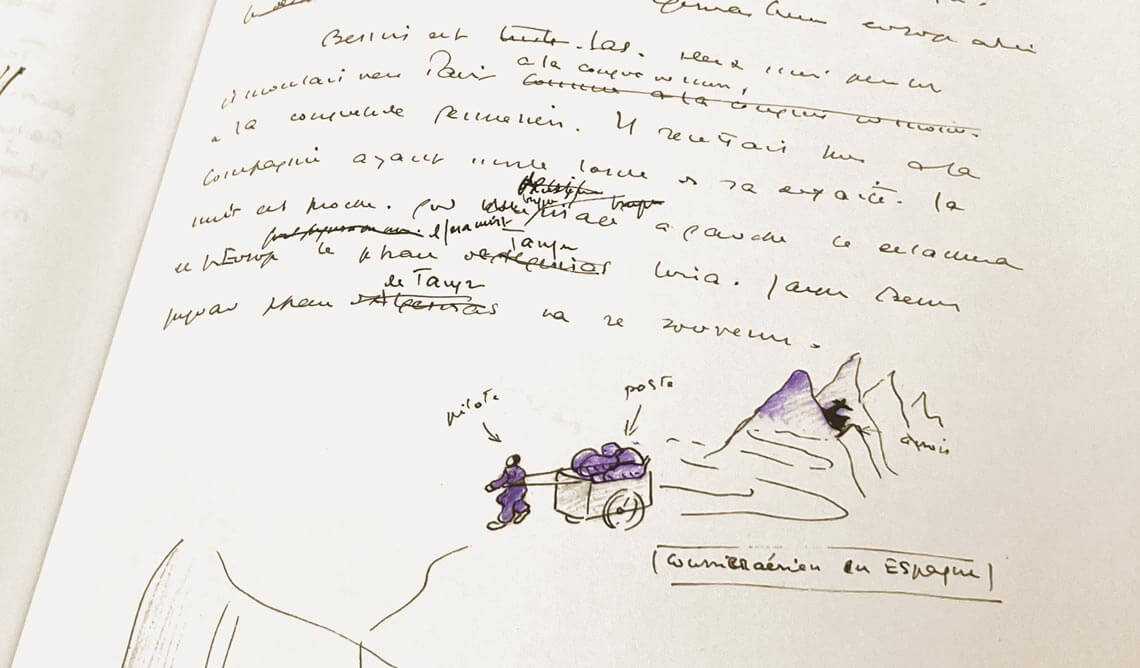 Courrier Sud can be seen as a development of L'Evasion de Jacques Bernis, fragments of which, long thought lost, can be found on the versos of some sheets of the manuscript of Courrier Sud. It may also be seen as the means by which Saint-Exupéry mapped the broad challenges facing the pilot, as well as particular difficulties he himself experienced, notably the agonising choice between the demands of flying and the demands of love, which saw his engagement to the poet and novelist Louise de Vilmorin broken by her family on the grounds of the dangerousness of his calling.
Jacques Bernis, this time, before you arrive, I am going to reveal who you really are ... I shall say what journey you are making. How you belie appearances, why when you walk beside us your steps are not the same as ours.

In May 1929 La Nouvelle Revue Française printed extracts from Courrier Sud. The complete text followed later that year, published by Gallimard with an introduction by the critic and writer André Beucler. The book's warm reception confirmed Saint-Exupéry in his choice to pursue a career as a writer and definitively installed him in the literary world. In 1931 it was followed by the huge critical and commercial success of Vol de nuit which won the Prix Femina that year. In 1937 Courrier Sud was made into a film by Pierre Billon with Pierre Richard-Willm in the role of Jacques Bernis. Saint-Exupéry took an active part in the script development.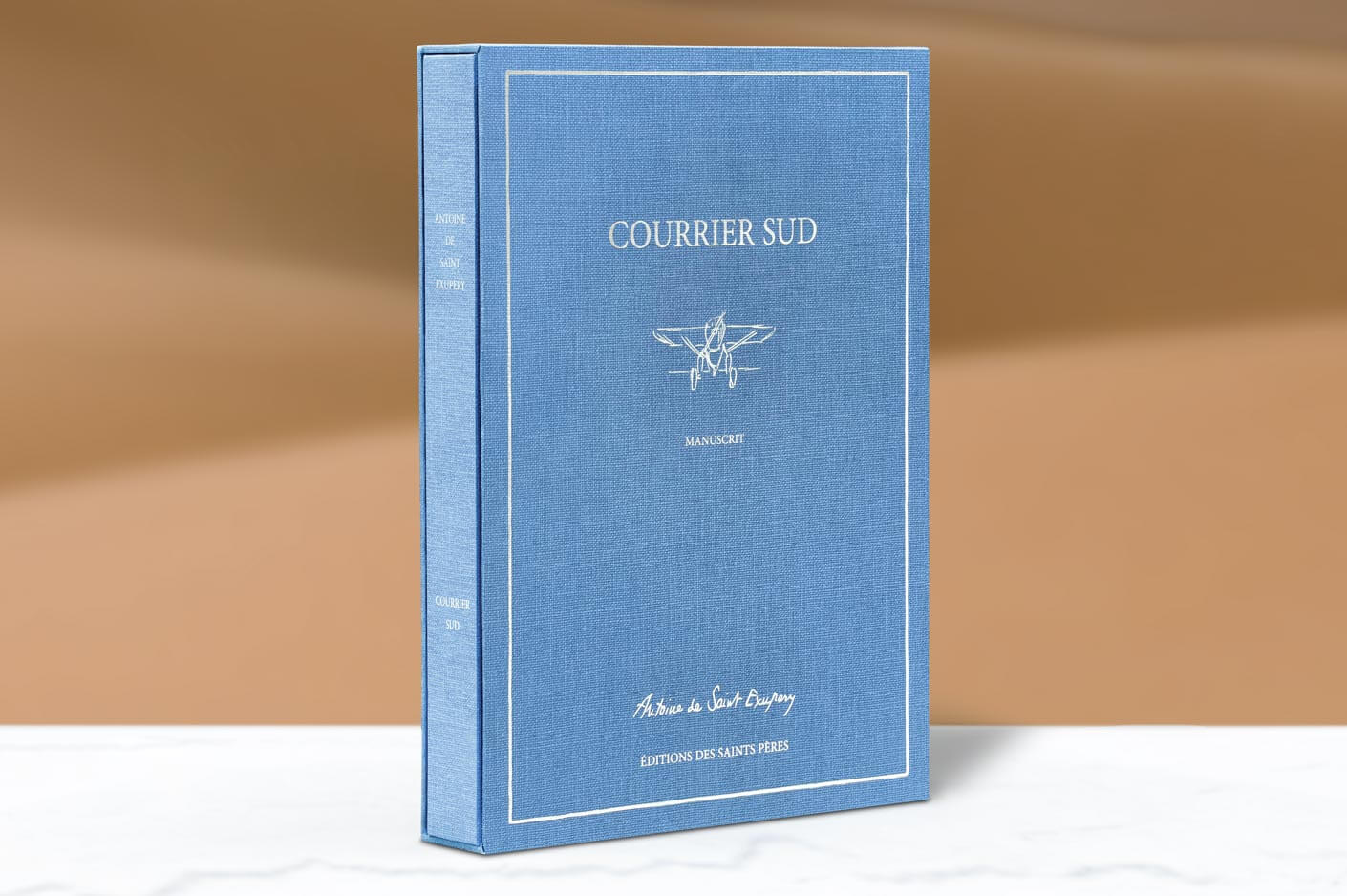 Set in a crystalline sky, the stars began to appear. Then it was night.
Dune after dune the sands of the Sahara unfurled beneath the moon.
A manuscript bearing witness to the creative fever of its author
The manuscript is mottled with many colours as if infected by the fever heat in which it was created. Covering 171 sheets, it is largely written in pencil, with corrections in red or blue crayon, and sometimes in black or violet ink. Scattered through it are sketches of faces, small figures in movement, landscapes and interiors, and typewritten pages bearing copious crossings out and corrections. More finished drawings include those on pages 125 and 166, and the portrait on the verso of page 145.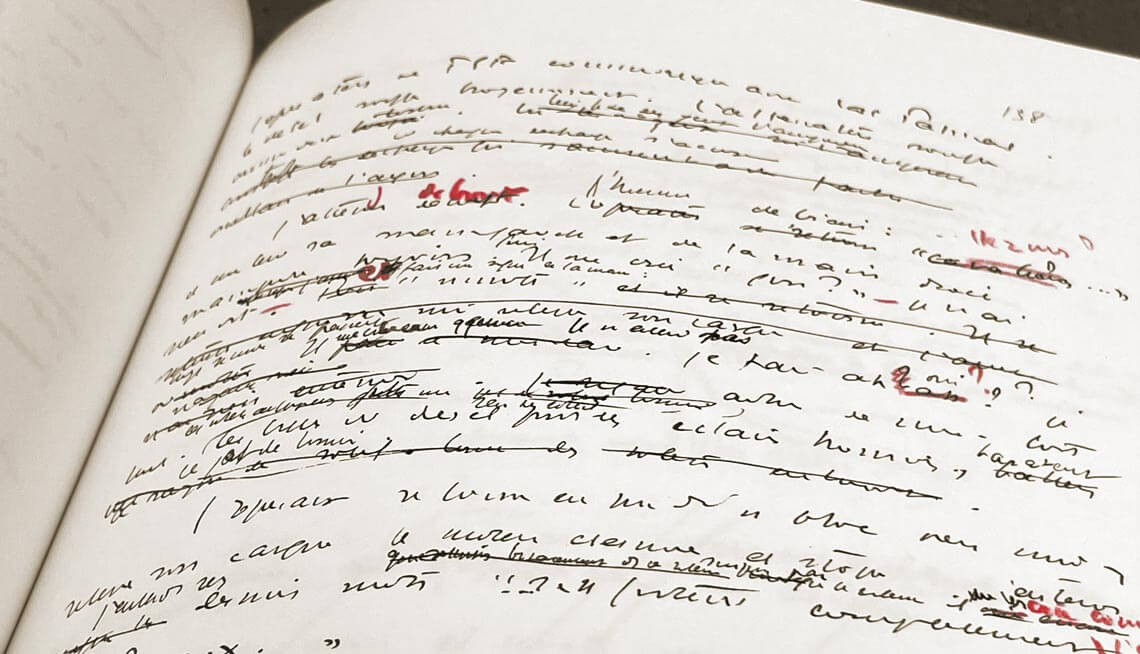 Given by Antoine de Saint-Exupéry to Louise de Vilmorin
In 1929 the manuscript in its entirety was given by Antoine de Saint-Exupéry to Louise de Vilmorin, whom he had never ceased to love despite their enforced separation. All his life he carried a profound grief for this lost love, traces of which can be found throughout his literary work.
A moving relic, writes Nicolas Ducimetière: the manuscript of this work born of the air and the sands is written on fragile sheets of thin white paper, or occasionally on pieces of headed stationery picked up here and there, such as that from the Restaurant du Grand Café des Bains at Saint-Raphael! The whole constitutes a package that is demanding to read, full of deletions, corrections and comments by the author, as well as being full of sketches and drawings.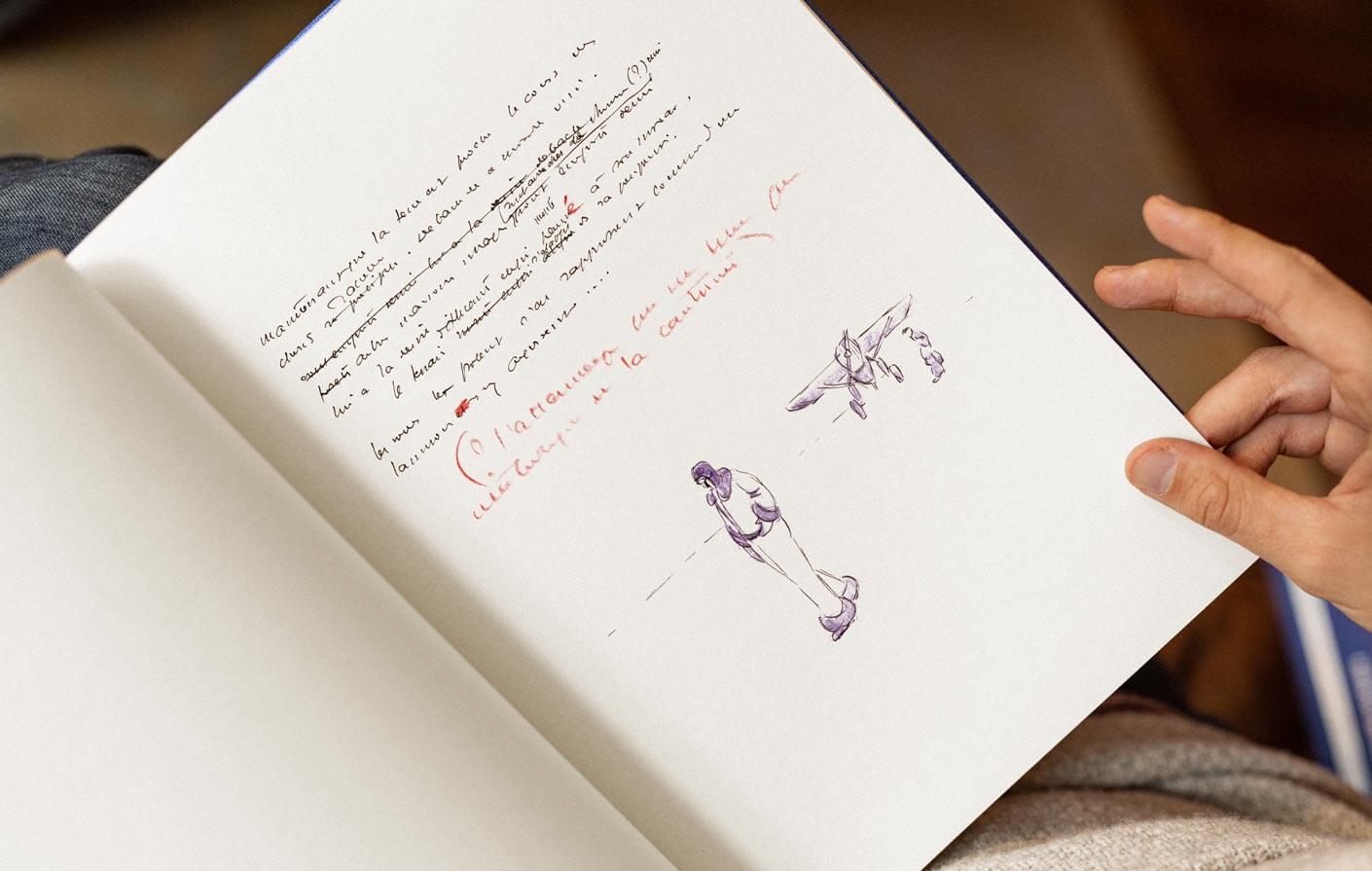 A manuscript from the Fondation Martin Bodmer
For the last fifty years the manuscript has been in the Fondation Martin Bodmer in Cologny in Switzerland. Since its creation in 1971 the Fondation Bodmer has been a mecca for lovers of literature and bibliophiles. It houses the important Bibliotheca Bodmeriana consisting of some 150,000 papyrus, incunables, manuscripts and rare books, and is on the UNESCO Memory of the World register.
The reproduction of the manuscript is prefaced by an expert essay by the literary historian Nicolas Ducimetière, Deputy Director and exhibitions organiser of the Fondation Martin Bodmer, together with a text by Olivier d'Agay and an afterword by Jacques Berchtold, Director of the Fondation Martin Bodmer, former Professor of French Literature at both the Sorbonne and the Sorbonne Nouvelle, and co-founder and co-director of the series L'Europe des Lumières (The Europe of the Enlightenment) published by Classiques Garnier. Exploring the question, 'What is it to be an aviator?', he offers acute insights into the highly philosophical dimension of the condition of both the flyer and the writer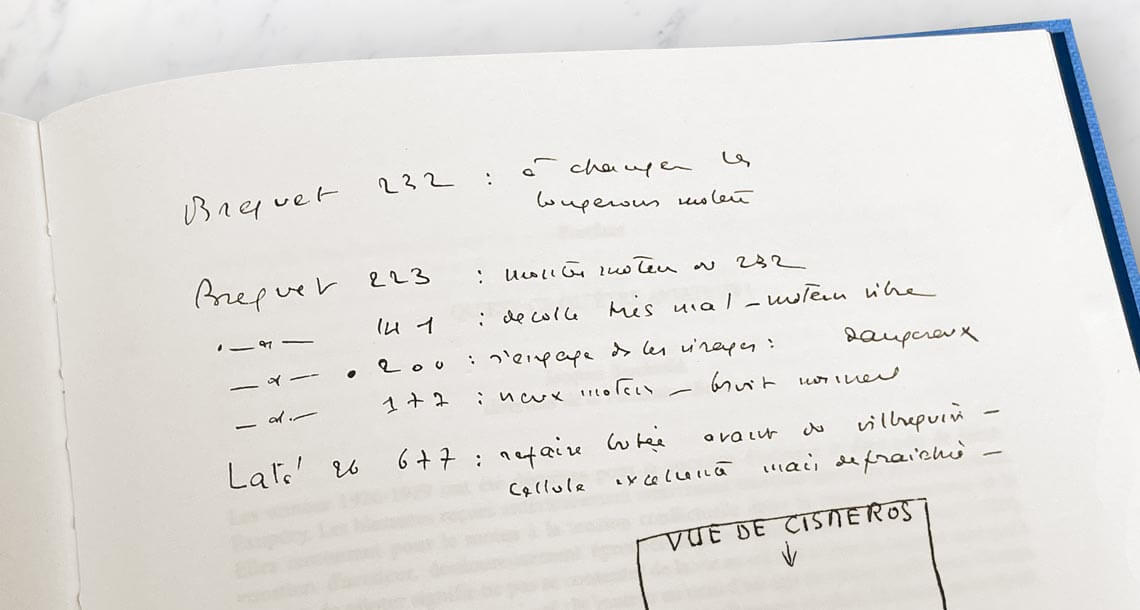 A sedentary urban life threatens us with a sterile stasis. In his vision of humanity Saint-Exupéry gives us the individual confronting the challenges of existence far from the comforts of the city. At critical moments, the thoughts and memories, the consciousness of the protagonist, manifest his freedom, and his choices are the translation of that freedom into acts. In solitude, both destiny and the growth of maturity in friendship and love, are brought into play: the stripping down to the essential is favoured by the adventures, between sky and sand, between aircraft and desert, that are characteristic of the unveiling. Spiritual uplift comes thanks to movement and action.
Jacques Berchtold
Sources:
- Antoine de Saint-Exupéry, Œuvres complètes, vol. I et II. Sous la direction de Michel Quesnel et Michel Austrand, NRF, Bibliothèque de la Pléiade, Éditions Gallimard (Paris, 2018).
- Antoine de Saint-Exupéry, Courrier Sud. Éditions Gallimard (Paris, 1929).
- Antoine de Saint-Exupéry, Manon, danseuse – et autres textes inédits. Gallimard, NRF (Paris, 2007). (Manon, danseuse suivi de L'aviateur – Autour de Courrier Sud et de Vol de nuit – Je suis allé voir mon avion ce soir suivi de Le pilote et de On peut croire aux hommes – Sept lettres à Nathalie Paley). Textes réunis, établis et présentés par Alban Cerisier et Delphine Lacroix.
https://fondationbodmer.ch/
https://www.antoinedesaintexupery.com
https://www.antoinedesaintexupery.com/courriersud/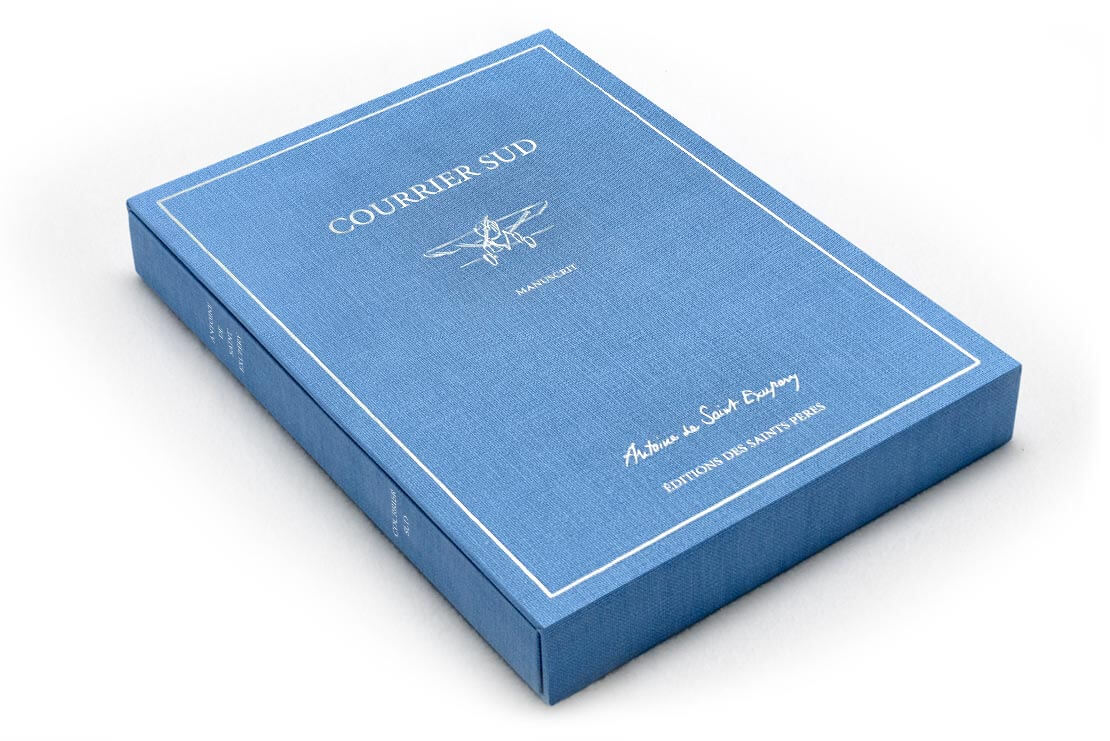 Deluxe edition
Numbered from 1 to 1,000, this Sky blue edition is presented in a large format handmade slipcase.
Printed with vegetal ink on eco-friendly paper, each book is bound and sewn using only the finest materials.
Skye blue edition
1,000 numbered copies
368 pages - 10 x 14"
Fedrigoni Deluxe Paper
Endband and bookmark
ISBN: 9791095457886