L'homme à tête de chou
12,5 in. x 17 in. frame
1 handwritten page - French
Limited edition
 Free Shipping
'L'homme à tête de chou': Serge Gainsbourg's manuscript
Was it spontaneously sketched out? Or rather slowly and methodically elaborated upon? One would have had to be at Serge Gainsbourg's side, looking over his shoulder as he wrote 'L'homme à tête de chou', to know for sure.
The song, as well as the album which holds the same name, first appeared in November 1976, and was later certified disque d'or in 1983. The title was inspired by a sculpture of a seated man with a head of cabbage upon his shoulders that Gainsbourg bought at a gallery on rue de Lille. The musician was mesmerized by this sculpture which, according to him, tells the story of a journalist's desperate passion for a mischievous hairdresser named Marilou. 
Limited edition: 2000 hand-numbered copies
This young and free-spirited Marilou, who dances to reggae and ends her life tragically murdered and buried under snow, is born in this very manuscript page (28 x 22 cm), written in black ink in 1976.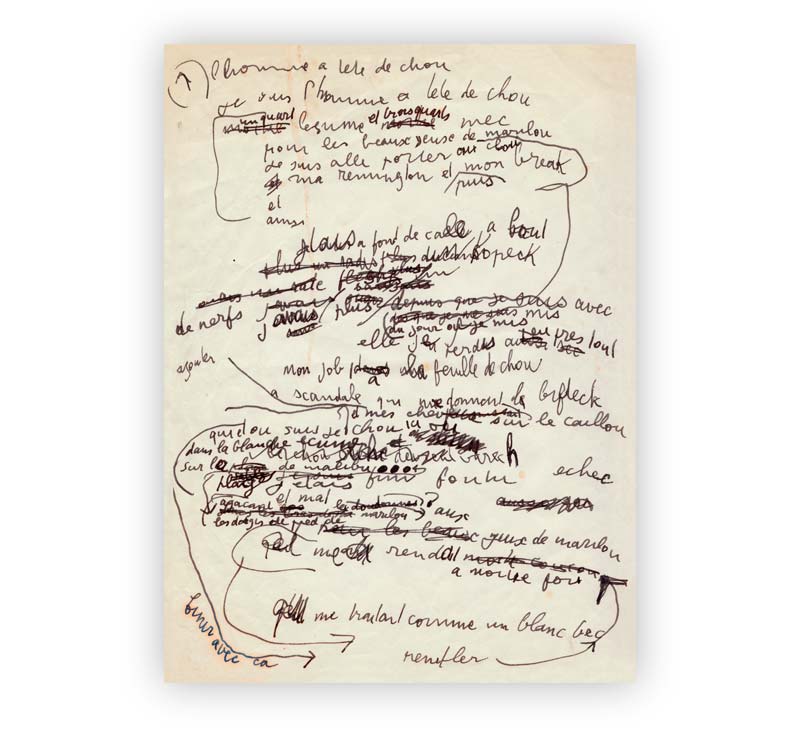 Source : collection 'Autographes des siècles', Lyon
© Serge Gainsbourg/Melody Nelson Publishing
Courtesy of la Succession Gainsbourg