Je t'aime, moi non plus
handwritten by Serge Gainsbourg.

Double-sided document
Double-glass framing
12,5" x 17" frame
Serge Gainsbourg : Je t'aime moi non plus
The most beautiful woman in the world inspired this song, which became cult after its first broadcast in 1967: Brigitte Bardot asked Gainsbourg to write an unforgettable love song. The result was "I love you ... me neither", composed the same night as "Bonnie and Clyde".
The tube, which was banned by Brigitte Bardot's husband, Gunter Sachs, was recorded again by Jane Birkin in London, and appeared in the album Jane Birkin - Serge Gainsbourg (1969). It was a great success, even if the critics showed no interest in the opus and in the song, considered bad and obscene.
Limited edition : 1000 numbered copies
The autograph manuscript consists of a page written by Serge Gainsbourg in black ink.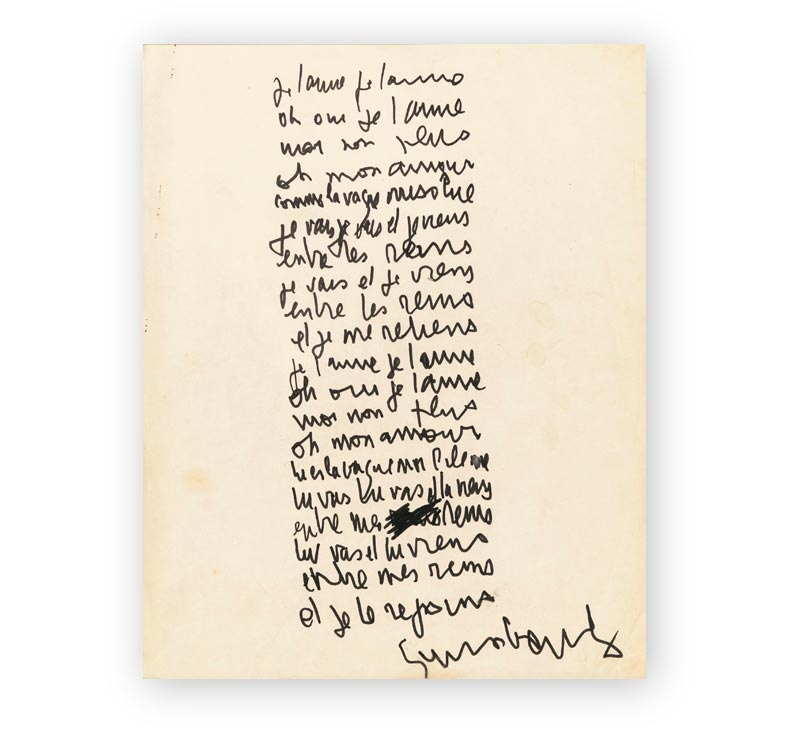 © Serge Gainsbourg / Melody Nelson Publishing
.
.
Double-sided document presented in a double-glass framing (13 x 17").
Wooden frame, made in France. Each frame is hand-assembled in our workshops in Cambremer.
Double-glass framing
Frame: 13 x 17 inches
Manuscript: 7,8 x 10 inches
Cotton paper
Assembled by hand
ISBN: 9791095457350