Portrait of Jeanne Duval
A drawing by Charles Baudelaire
Double-glass framing
9'' x 13'' frame
 Free shipping

Jeanne Duval, a drawing by Charles Baudelaire
Charles Baudelaire's reputation today rests on the sulphurous poetry of that iconic masterpiece of world literature, Les Fleurs du mal (The Flowers of Evil). His life work, published in 1857, it created such a scandal that six of the poems were banned by a Paris court. The involvement in the visual arts of this Parisian dandy is less well-known. Baudelaire is now seen as the most important art critic of his time, an early theorist of modernism who identified and supported some of its founding figures – Delacroix and Manet notably. His particular love of drawing and his own gift for it are even less known, but in fact he readily turned his pen from poetry and art criticism to sketching figure studies, portraits and self-portraits.
It is in his book of intimate jottings, Mon cœur mis à nu (My Heart Laid Bare), that Baudelaire declares his 'great, unique, original passion' for art, with the famous injunction 'glorify the cult of images'. His publisher, Auguste Poulet-Malassis, who owned a number of Baudelaire's drawings, commented that they were 'all the more striking in that when he took up the pencil or the pen it was on the spur of the moment, as if to unburden himself of some face or figure definitively imprinted on his memory, and to fix it in a few decisive strokes'.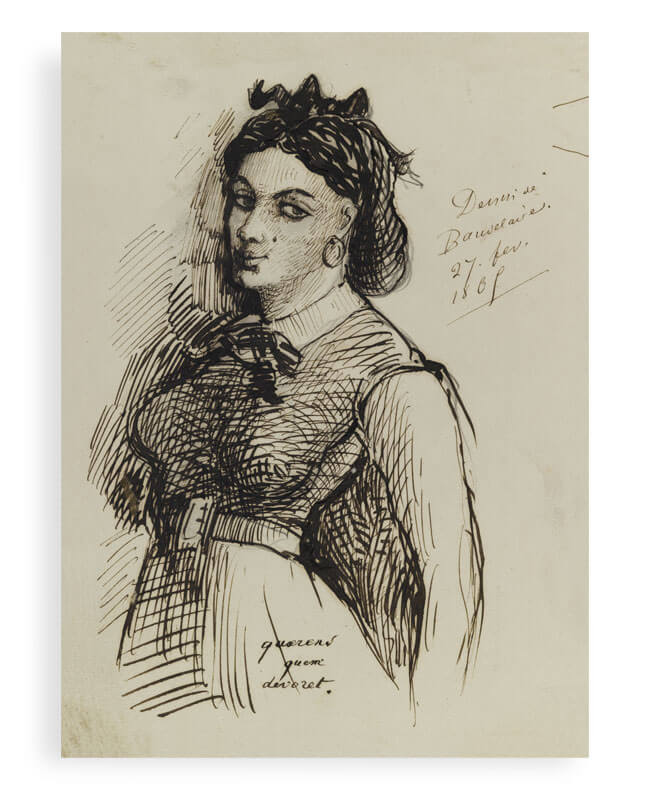 Jeanne Duval, the poet's muse
Baudelaire particularly sought to capture the striking looks of his lover, Jeanne Duval, met in 1842 when he was only twenty-one. Almost nothing is known of this mysterious actress, thought to have been born in Haiti and nicknamed 'the Black Venus'. She and Baudelaire had a long stormy relationship, punctuated by separations and reunions, and marked by letters that have unfortunately not survived. She was his muse and obsession and the inspiration for a complete cycle of eighteen poems within Les Fleurs du mal, one of which was among those condemned by the Paris court.
Drawn in Indian ink
This magisterial drawing in pen and Indian ink dated 27 February 1865 by Auguste Poulet-Malassis, was purchased during a sale at Hôtel Drouot in 1988, and is now in the collection of the Musée d'Orsay, in Paris. It is inscribed by the artist with the Latin phrase 'Quaerens quem devoret' - 'seeking whom they may devour'. Baudelaire's view of Jeanne Duval as a devouring beast had earlier vividly been encapsulated in his despairing poem Le Vampire, where it is nevertheless balanced by his love for her. This drawing, done from memory several years after he stopped living with her, is vivid evidence of the enduring yet highly equivocal nature of that love. For Baudelaire the act of drawing was a struggle between nature and the artist. Here, in powerful pen strokes, he has perhaps succeeded in revealing both the troubled essence of his model and of his feelings for her.
Double-glass framing
The drawing is presented in a double-glass framing (9 x 13").
Wooden frame, made in France. Each frame is hand-assembled in our workshops in Cambremer.
Double-glass framing
Frame: 9 in. x 13 in.
Drawing: 6 in. x 8 in.
Coton Paper
Assembled by hand
ISBN: 9791095457824