N°1-50: Deluxe edition (out of stock)
N°51-1000: Steel grey cover
French edition
Numbered from 1 to 1,000
Large format (10 x 14'')
 Free shipping

A new collection: rare and illustrated books
We are pleased to introduce our new collection of rare and illustrated books: Reprints of rare editions, often illustrated by renown artists. To begin this new collection of deluxe editions, we are glad to present Orphée, by Jean Cocteau. There will always be two press runs for each title of this collection: 1000 copies including 50 special copies on cotton paper.
.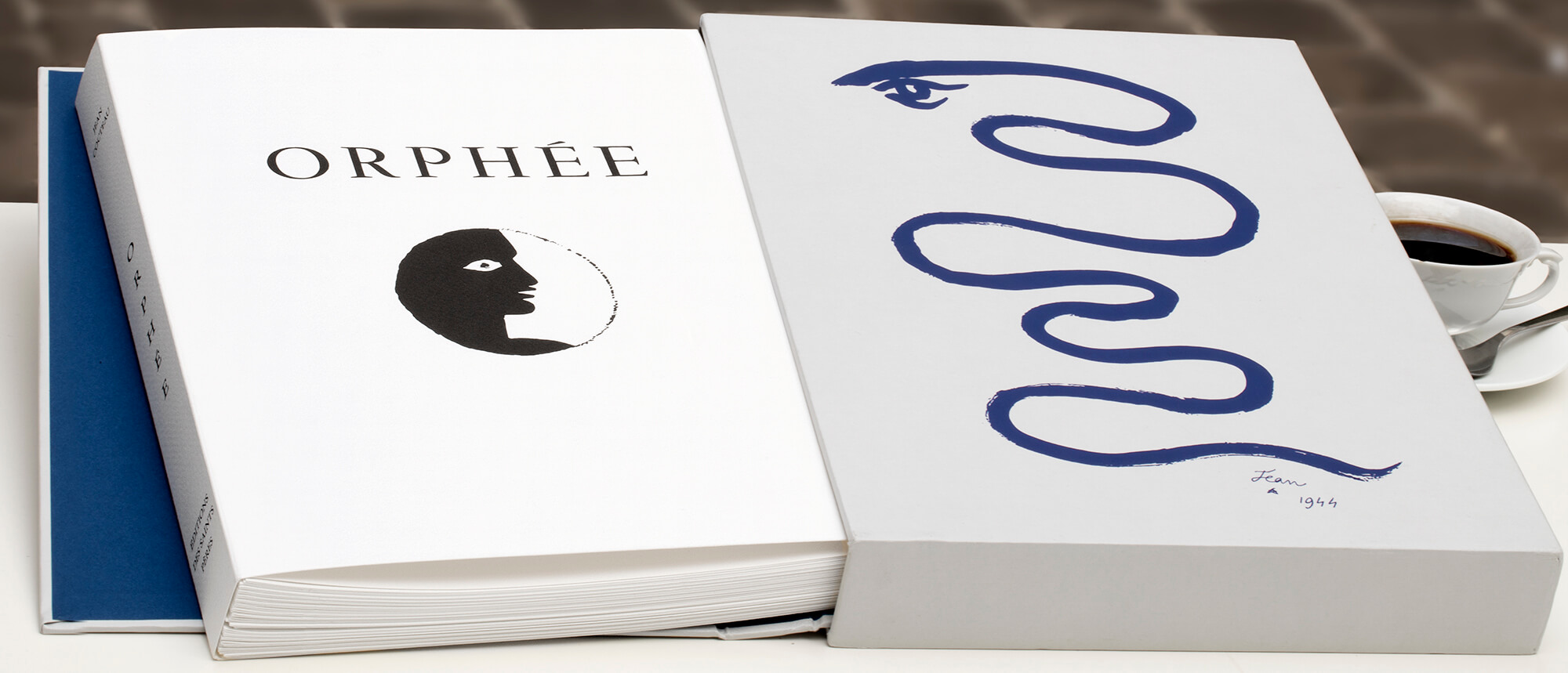 A contemporary transposition of the myth of Orpheus
Jean Cocteau started to write the play Orphée during the summer of 1925. However, he had likely been thinking about transposing myths into contemporary texts for years.
.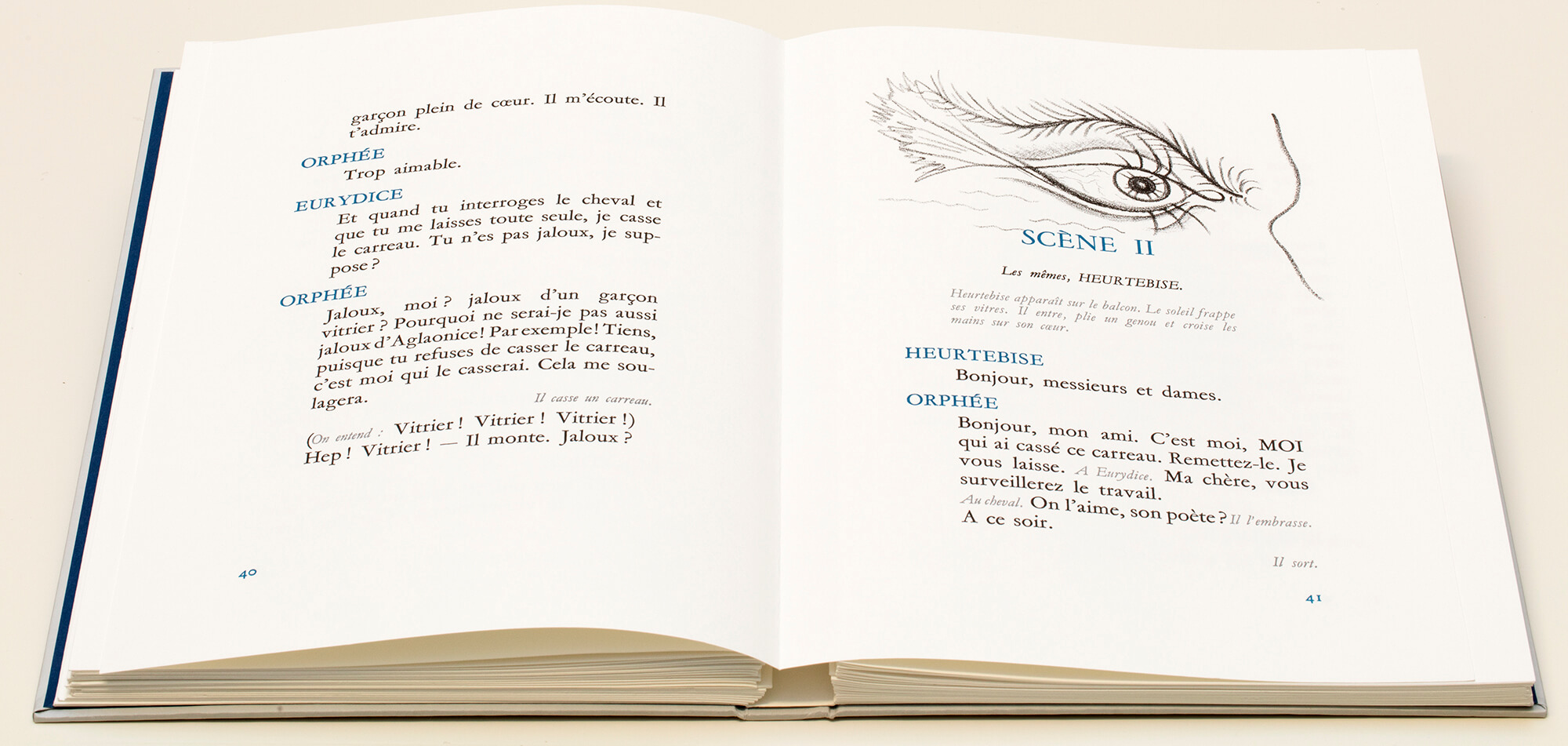 .
He summarizes the story of the mythic poet Orpheus with these words: "You know the myth: Orpheus, the great Thracian poet, was renowned for taming the beasts. Yet, he had just accomplished something much more difficult: he had just charmed a young woman, Eurydice. He had just saved her from the evil sphere of the Bacchae. Furious, the queen of the Bacchae poisoned the young woman. Orpheus decided to go and look for her in the underworld. But the pact forbade him to look back; if he looked back, he would lose her forever. And he did. The Bacchae assaulted and beheaded him and, beheaded, his head still called for Eurydice."
.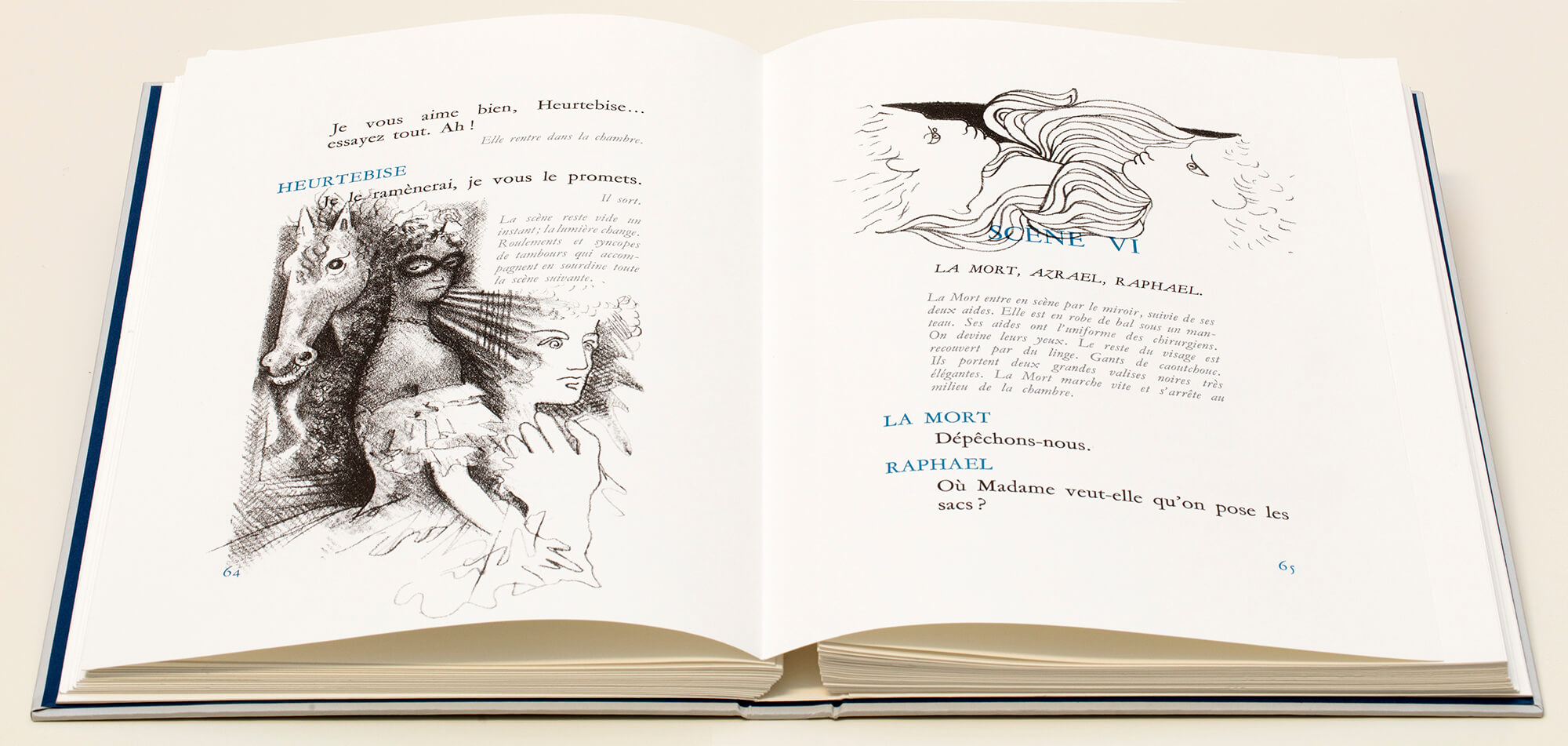 .
Jean Cocteau followed the tragic story step by step to turn it into a modern play.
Next to Orpheus and Eurydice, Jean Cocteau created new characters: Heurtebise, the guardian angel in a blue coat whose role is to watch over Orpheus' destiny and to reveal to him "the secret of secrets"; Death, who appears as "a young and very beautiful girl in a bright pink ball gown" and is "treated like the Mysteries of the Middle-Ages". There are also a commissioner, a bailiff and a white horse. Orphée premiered on 17 June 1926, at the Théâtre des arts de Paris, and was published the following year by Stock, Delamain and Boutelleau Publishing.
.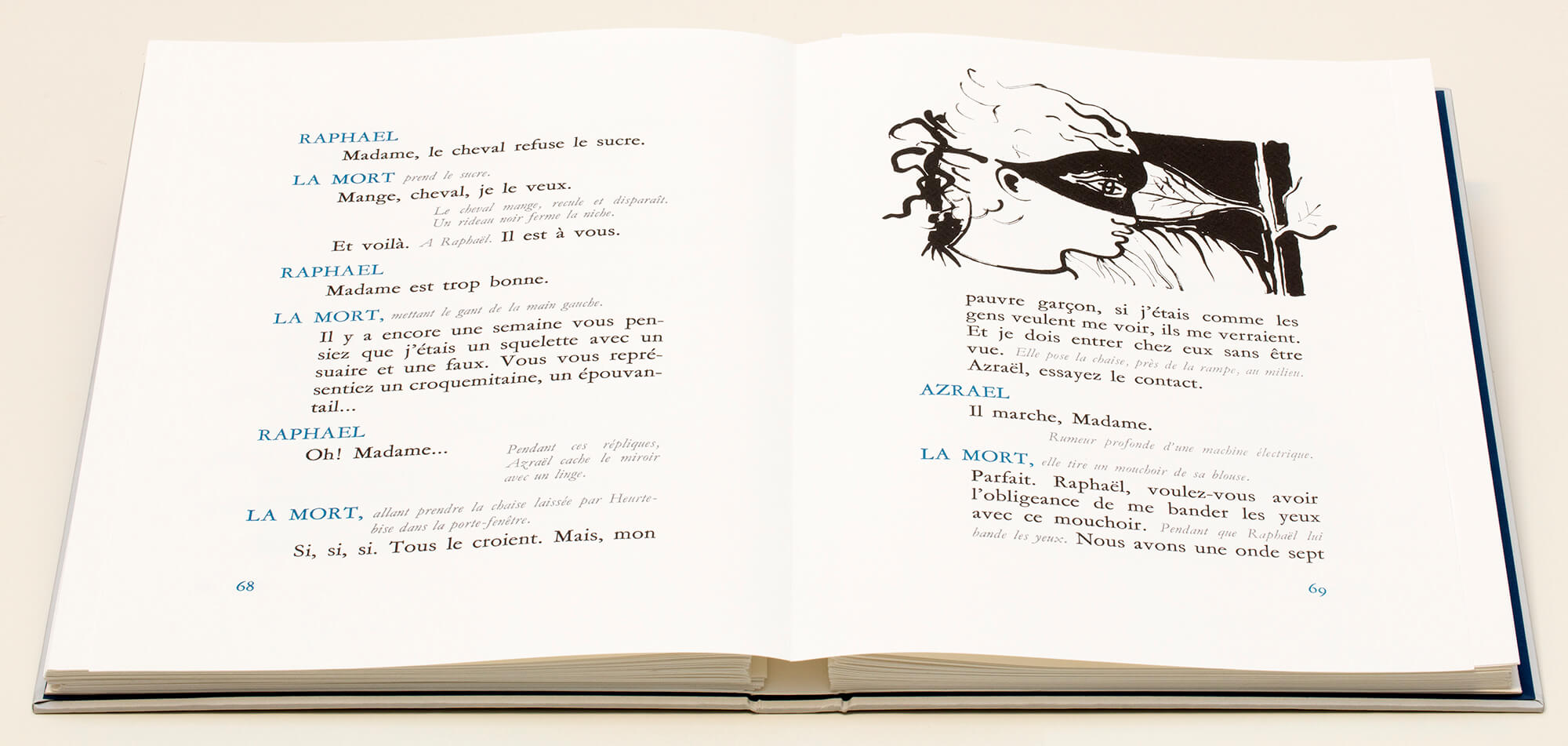 "The deluxe edition of Orphée will be released tomorrow. It is a very, very beautiful book" (Jean Cocteau to a friend, 1944)
In 1944, the publishing house Rombaldi released a deluxe edition of Jean Cocteau's "tragedy in one act and an interval". The extremely rare and beautiful volume was presented in an illustrated slipcase and contained 40 breath-taking lithographs drawn by Jean Cocteau. The volume is almost unobtainable today.
.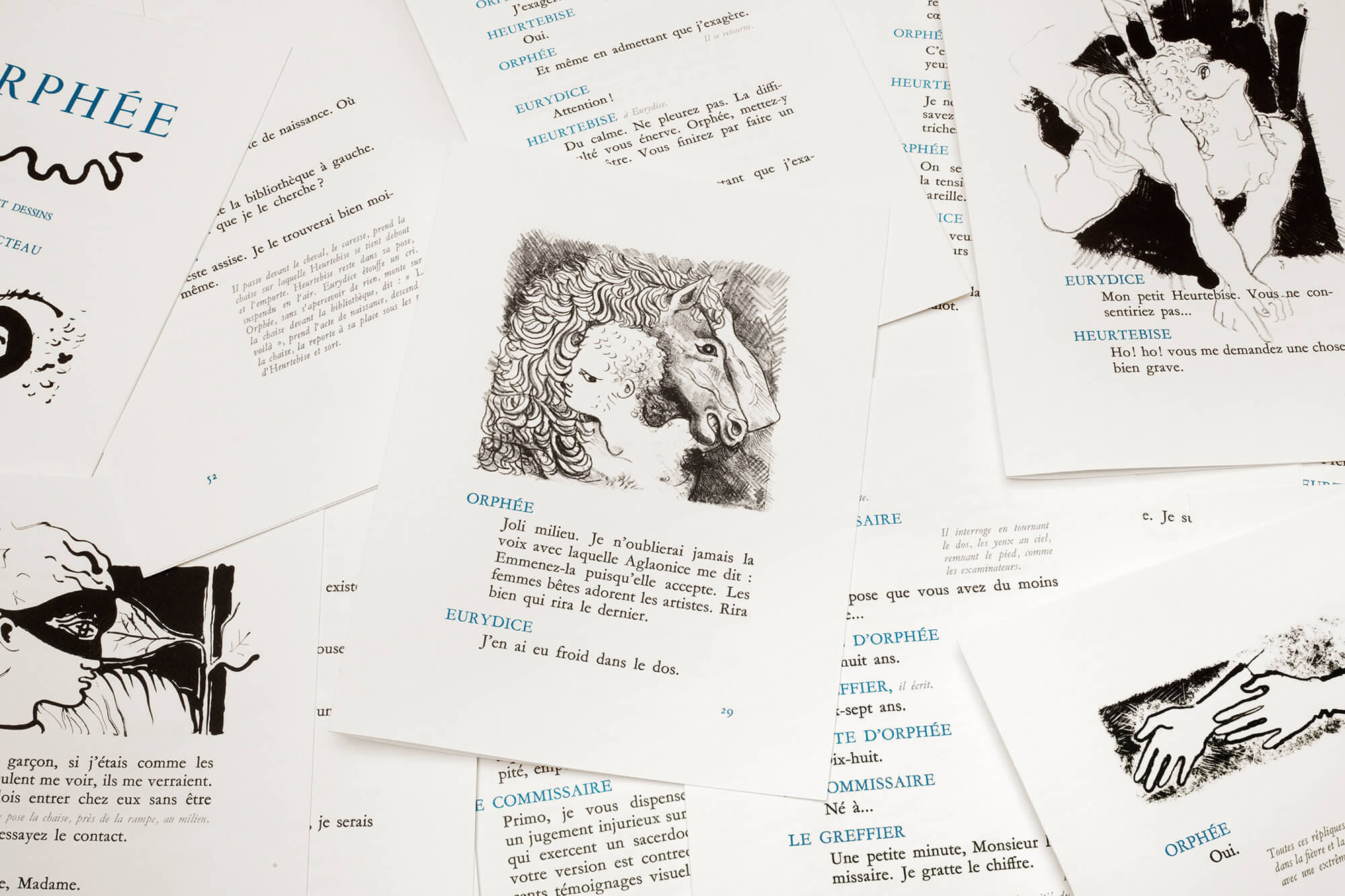 A rare and precious volume, composed of two different print runs
This edition presents the original text and the drawings of the Rombaldi edition. The text is printed in black and blue and the full-page drawings create dreamlike windows, like the "doors by which Death comes and goes".
Fifty copies of this book are bound in a blue slipcase with white silkscreen printing and numbered from 1 to 50. An additional 950 copies are bound in a grey slipcase with blue silkscreen printing.

N°1-50  : First print run bound in a blue slipcase. Cotton paper (sold out)
N°51-1000 : Grey slipcase.
.
The first print run is sold out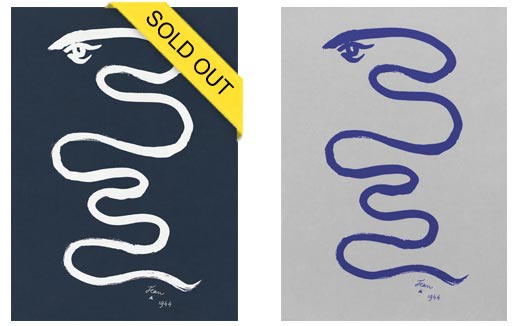 .

.

.

The first print run is sold out
(blue slipcase, 50 copies).
Sign up for our newsletter
to gain exclusive access to
our upcoming publications!

An afterword by Dominique Marny
Dominique Marny is a writer and curator and president of the Jean Cocteau Committee. She has devoted five of her books to her great-uncle, Jean Cocteau.

Coutumiers des rééditions d'ouvrages historiques, dans leur version manuscrite, les Saints-Pères inaugurent une nouvelle collection. Livres rares et illustrés seront désormais au cœur d'une nouvelle occasion de s'offrir de beaux livres. Splendides même.
(...)