"I Accuse!"
Steel grey edition
French edition
Numbered from 1 to 1,000
Large format (10 x 14'')
"J'accuse", Émile Zola's manuscript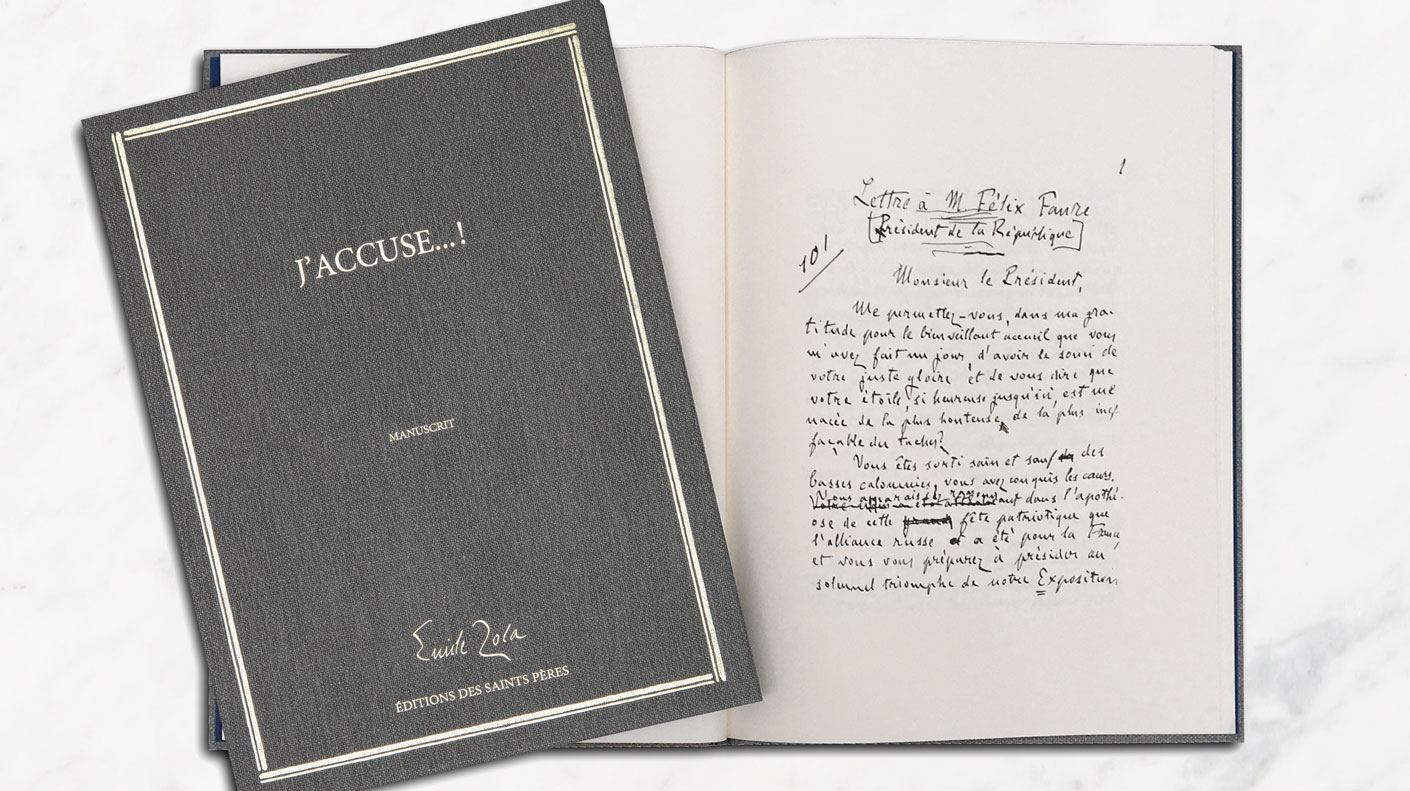 « His brave words have awakened France » (Anatole France)
1898. The Dreyfus affair divided France. Following the acquittal of Ferdinand Walsin-Esterhazy, Emile Zola put his pen to paper. The text, written as an open letter to the President made the front page of "L'Aurore" January 13.



A precious historical manuscript
In 1987, this 39 page document emerged in auctions. The minister of culture, François Léotard, takes a stance: « I have decided that, like a historical moment, it will not leave France. » The document is now held at the BNF.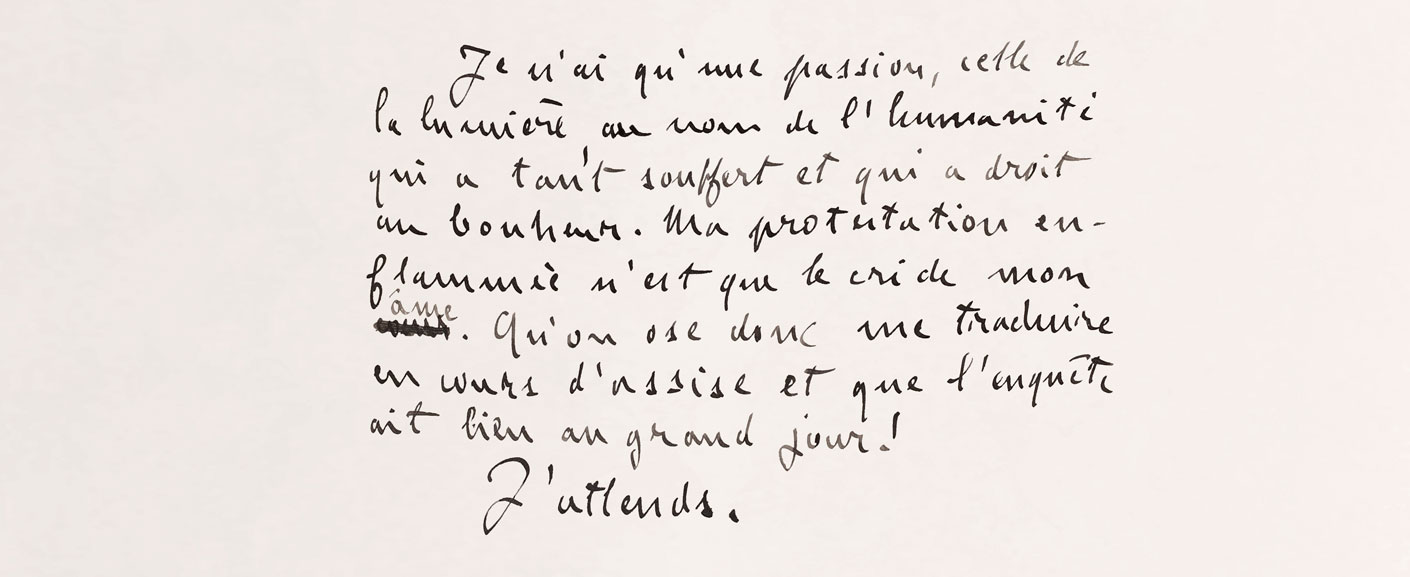 Foreword by Jean-Marie Rouart, from the Académie française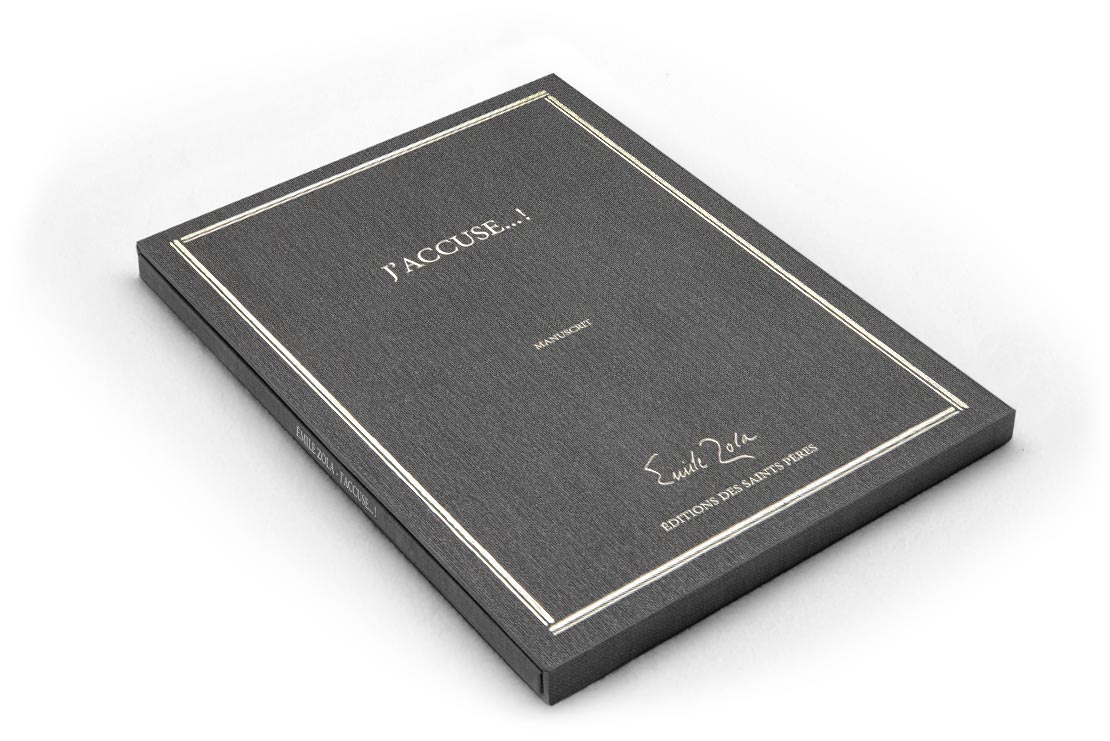 1,000 hand-numbered copies
Deluxe Edition. Numbered from 1 to 1,000.
Each book is presented in a 14x10'' steel grey handmade slipcase,
bound, and sewn using only the finest materials.
Canevas: steel grey
Fedrigoni Avorio paper
ISBN: 9791095457374
 
Pour les 120 ans du texte, les 39 pages manuscrites sont retranscrites dans un facsimilé en édition limitée (...)
 
Les éditions des Saints Pères, une maison spécialisée dans la publication de manuscrits, propose (dans une édition limitée à un millier d'exemplaires) le fac-similé de cette lettre qui appartient à l'histoire de la presse et est devenue un symbole du combat pour la justice et la vérité (...)
 
Le nouveau manuscrit des éditions des Saints Pères n'est autre qu'un monument de l'histoire française (...)
 
Les Éditions des Saints Pères annoncent la publication du manuscrit de "J'accuse!...". Jean-Marie Rouart, de l'Académie française, engagé au service de causes diverses (...)
 
Les Éditions des Saints Pères publient le manuscrit, un texte de 39 pages d'une valeur historique inestimable (...)
 
Le manuscrit de la lettre sur la machination antisémite contre le capitaine Dreyfus sera publié samedi, 120 ans, jour pour jour, après sa publication dans L'Aurore(...)