Think of the Most Delicious Abyss
A drawing by Jean Cocteau.

Double-sided document
Double-glass framing
13" x 17" frame
 Free shipping

Cocteau, love and art
 
"The verb to love is difficult to conjugate:
its past is not simple,
its present is only indicative
and its future is always conditional."
Difficult to conjugate, but not impossible: witness the entire oeuvre of Jean Cocteau. Throughout his life, he never stopped wanting to create art about love—extraordinary love in The White Book; marvellous love in the film Beauty and the Beast; doomed love in Orpheus; desperate love in the play The Human Voice.
Love was one of the most powerful driving forces behind Cocteau's creativity, whether guided by ephemeral angels, like Raymond Radiguet, or by solid and lasting relationships, as with Jean Marais. He saw writing solely as an act of love, and the same was probably true of drawing. His unmistakable pen and pencil strokes are a continuous to-and-fro between his visions, his desires, his dreams and the reality he so keenly portrays. 
 "

Think of the Most Delicious Abyss

" (1958)
In the 1950s, at the height of his fame, Cocteau never seems to have put down his draughtsman's pen and painter's palette. It was during this decade that he painted some of his unforgettable frescoes, such as those in the Saint-Pierre Chapel in Villefranche and the wedding hall at the Menton Town Hall.
In 1958, the year he drew Pense au plus délicieux gouffre (Think of the Most Delicious Abyss), Cocteau travelled often, to Rome, Vienna and Venice where he even learned about glassmaking in a Murano studio. In November, he exhibited his pottery at the Lucie Weill Gallery in Paris. Did he use art to forget the dizzying delights of love, into which the risk of sinking haunted him?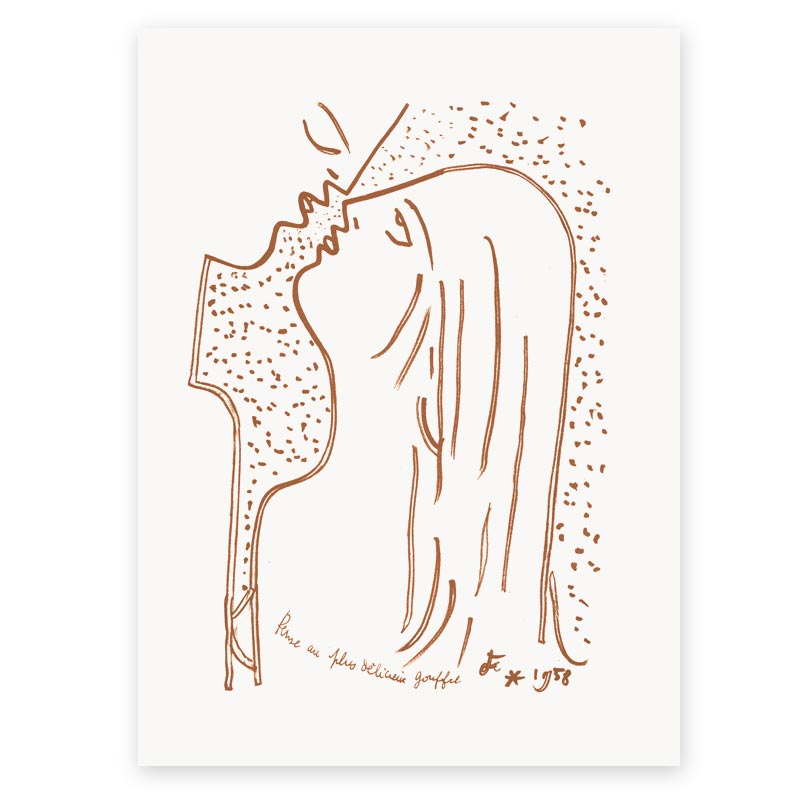 A drawing by Jean Cocteau
Jean Cocteau's family encouraged his early interest in drawing and passion for theatre. His father's suicide when he was just nine years old deeply affected him. Failing the baccalaureate four times dissuaded him from continuing his studies: another destiny awaited him. In Paris, when he was just 18, he quickly made a name for himself in literary salons. In 1909, he co-founded a review with Maurice Rostand, publishing articles, drawings and, in February, his first collection of poems, La Lampe d'Aladin (Aladdin's Lamp). This marked the start of a long, rich, varied artistic adventure strewn with books (novels, poems and essays), films and plays (Les Parents terribles, written in eight days) on which he collaborated with legendary artists, including Pablo Picasso, Coco Chanel, Serge Diaghilev and Édith Piaf. The poet, as he liked to call himself, could paint frescoes, turn pebbles into works of art, make stained-glass windows, design costumes and stage sets—the list goes on. He died in Milly-la-Forêt, his last home. His final resting place is the chapel he decorated, Sainte-Blaise-des-Simples.
He asked for these simple words to be written in his hand on his grave: "I am still with you."
.
Double-sided document presented in a double-glass framing (13 x 17").
Wooden frame, made in France. Each frame is hand-assembled in our workshops in Cambremer.
Double-glass framing
Frame: 13 x 17 inches
Drawing: 10 x 13 inches
Cotton paper
Assembled by hand
ISBN: 9791095457725