Black edition,
numbered from 1 to 1,000,
Guerre - War
French edition
Large format (14 x 10'')

Free shipping

Guerre, Céline's unpublished manuscript
In August 2021, a news story about lost manuscripts hit the French literary world like a bombshell – and these were no ordinary manuscripts. When it emerged that the rediscovered writings were from as celebrated an author as Louis-Ferdinand Céline, the quiet world of collectors and autograph dealers was not the only one buzzing with excitement – the whole world of culture took an enthusiastic interest.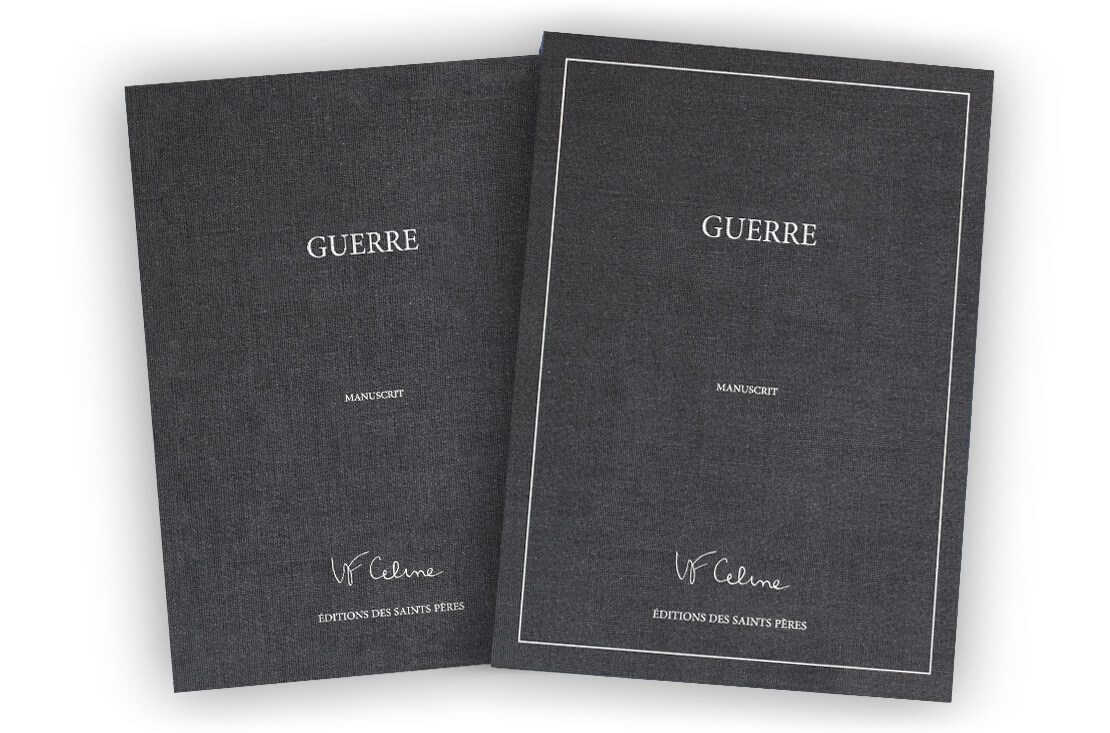 The transcript of Guerre, an unpublished novel, has been recently published by Gallimard. However, SP Books has created a reproduction of the manuscript with the permission of Céline's beneficiaries, François Gibault and Véronique Robert-Chovin.
The lost manuscripts of Louis-Ferdinand Céline
After sixty years of uncertainty about its whereabouts, the reappearance of the manuscript of Voyage au bout de la nuit (Journey to the End of the Night) in 2001 was a momentous event, and one which remains shrouded in mystery. Put up for sale at the auction house Drouot by the bookseller Pierre Berès, it was acquired by the BnF for just over twelve million francs.
However, specialists have long held that further manuscripts could resurface. In his lifetime, Céline claimed that thousands of pages – nearly six thousand sheets, many held together by clothes pegs – had been stolen from his apartment in Montmartre during Liberation of Paris, while he was on his way to Germany with his wife Lucette and their cat Bébert. This theft, formerly difficult to corroborate, was the object of renewed lamentations from the writer throughout the fifteen years after the war and until his death: 'They left me nothing, not a handkerchief, not a chair, not a manuscript1.'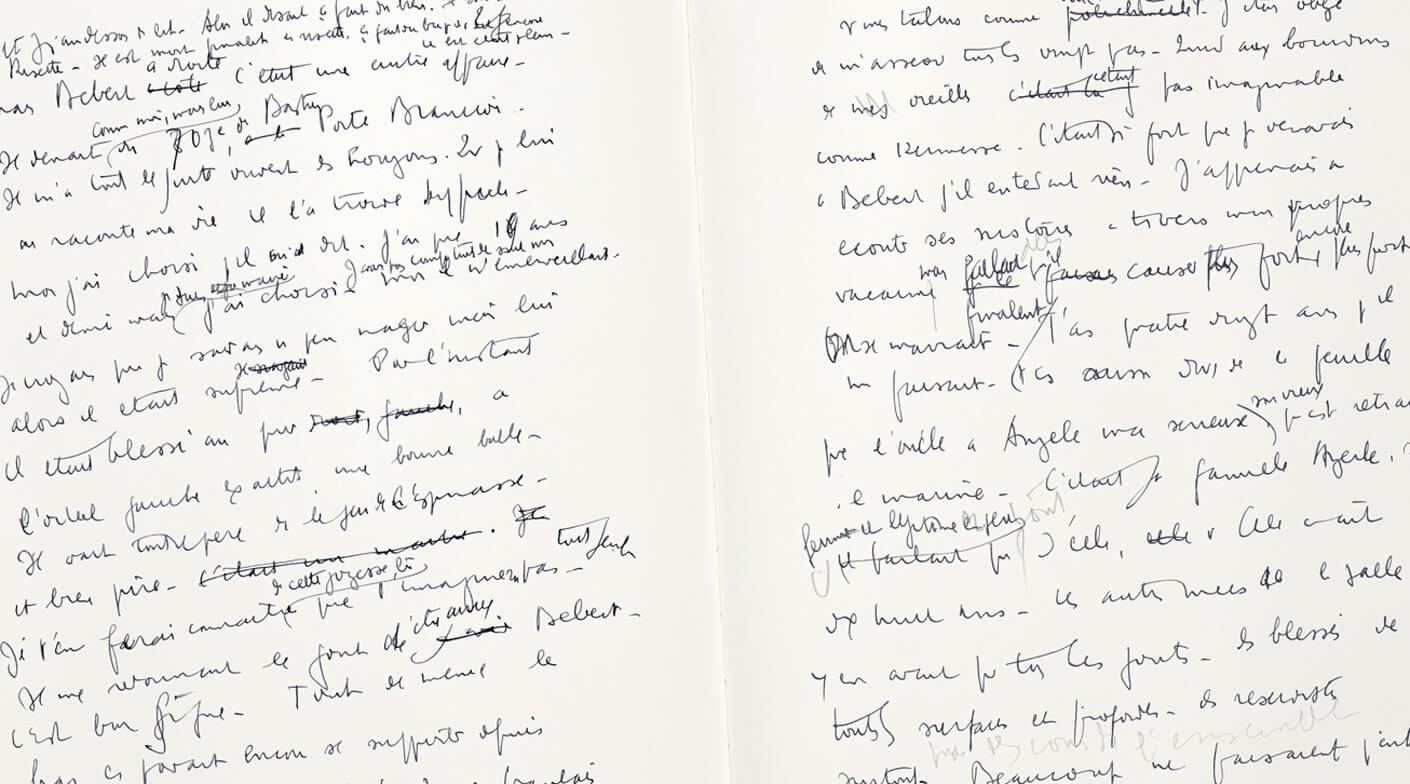 Unpublished novels and missing chapters
Within these rediscovered treasures there are numerous gems: the manuscript of Mort à crédit (Death on the Installment Plan); the missing chapters of Casse-pipe (Cannon-Fodder); La Volonté du roi Krogold (The Will of King Krogold), a medieval legend; an early typewritten short story, La Vieille dégoûtante (The Disgusting Old Hag); and two unpublished novels, Guerre (War) and Londres (London).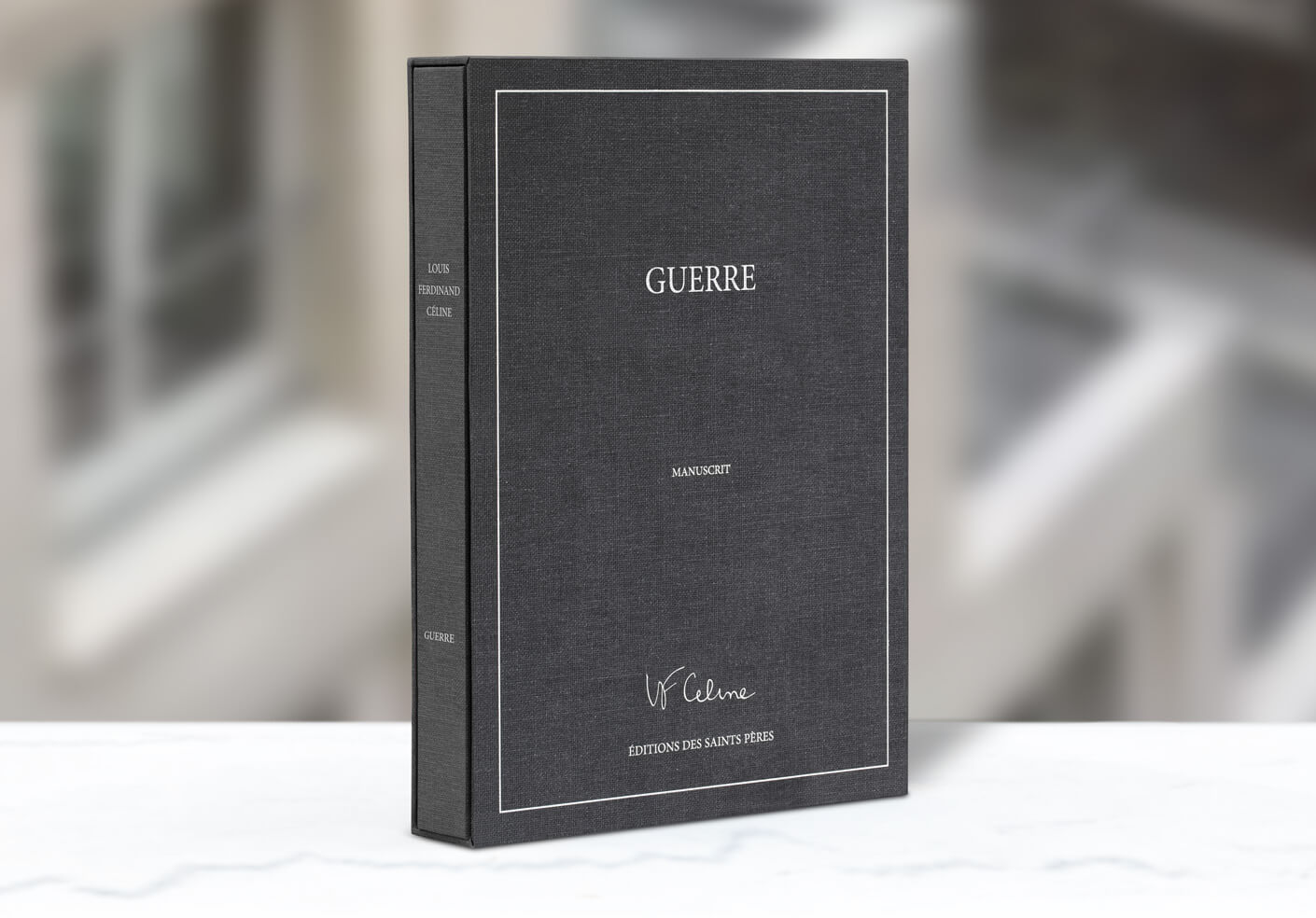 A unique publication
Comprising two hundred and nineteen pages, this document is the first draft of the novel. It is composed of six parts2, opening on a cryptic page headed by the number 10 written in pencil alongside the compelling words: 'Pas tout à fait. J'ai bien dû rester là encore une partie de la nuit suivante.' ('Not quite. I had to stay there again for part of the following night.')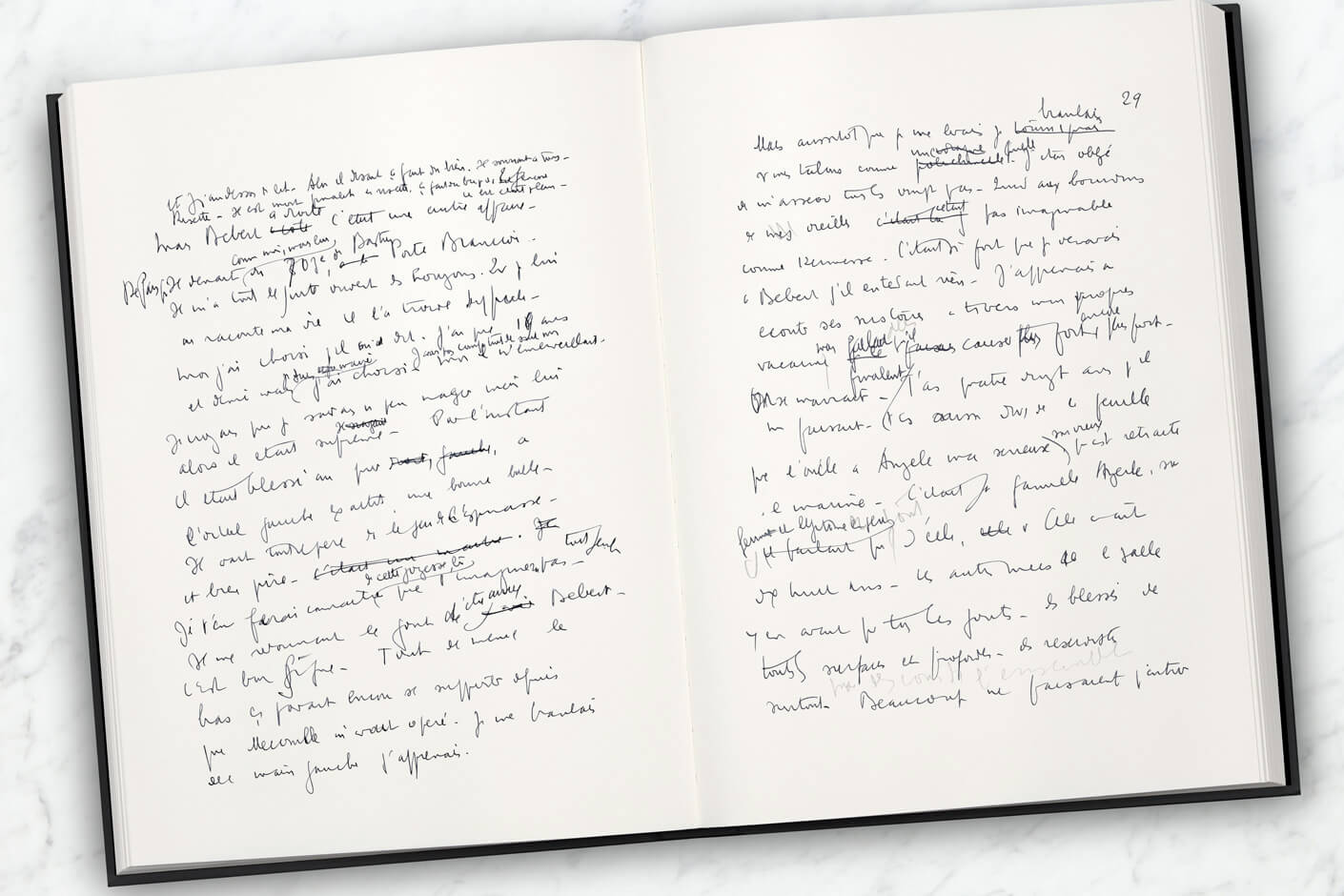 The following pages – which are numbered regularly – reveal his confident but sometimes difficult-to-read handwriting, in ink, with corrections and crossings-out marked in pencil. One of the pages is written on the back of a blank medical certificate issued by the township of Clichy. Several words in English ('What about your health') appear at the end of the eighteenth folio of part four, as well as the address of Elizabeth Craig3, in Los Angeles.
These clues suggest that Céline wrote this text in 1934, two years after the publication of Voyage au bout de la nuit. Accordingly, Guerre is not the missing chapter of another work, but a project in its own right, in which the author evokes his favourite themes with his signature cruel and poetic flair: life, death, sexuality and war.
Ferdinand, Celine's literary double
Guerre opens on Ferdinand, the main character, having been wounded at the front. It recalls Céline's experience as a soldier – in 1912 he had enlisted in the 12th Cuirassier Regiment stationed in Rambouillet, and volunteered to undertake a dangerous mission. He was wounded in the right arm on 27 October 1914, in Poelcappelle, then transferred to Hazebrouck to be operated on. His literary counterpart is commanded by English troops in Ypres, Belgium. In a field hospital there he enters into the erotic games of a nurse, Mademoiselle Lespinasse, with whom he also has an affair. Ferdinand subsequently befriends a pimp and a prostitute named Angèle, and ends up leaving France by boat and heading for London, as Céline did in 1915.
An oeuvre to be re-examined in a new light
Louis-Ferdinand Céline, whose real name was Louis-Ferdinand Destouches, was born in Courbevoie on 27 May 1894. A French doctor and writer, he became well-known to the public due to his radical style.
Céline grew up in a modest family. He would later draw on the profound influence of his childhood to write Mort à crédit, his second novel. He went through a succession of short-term jobs before enlisting in the army in 1912. When World War I broke out, his regiment was among the first to reach the front. His experiences of the war were filled with dread, but fundamentally inspired the writing of Voyage au bout de la nuit (1932), Casse-pipe (1949), and now Guerre.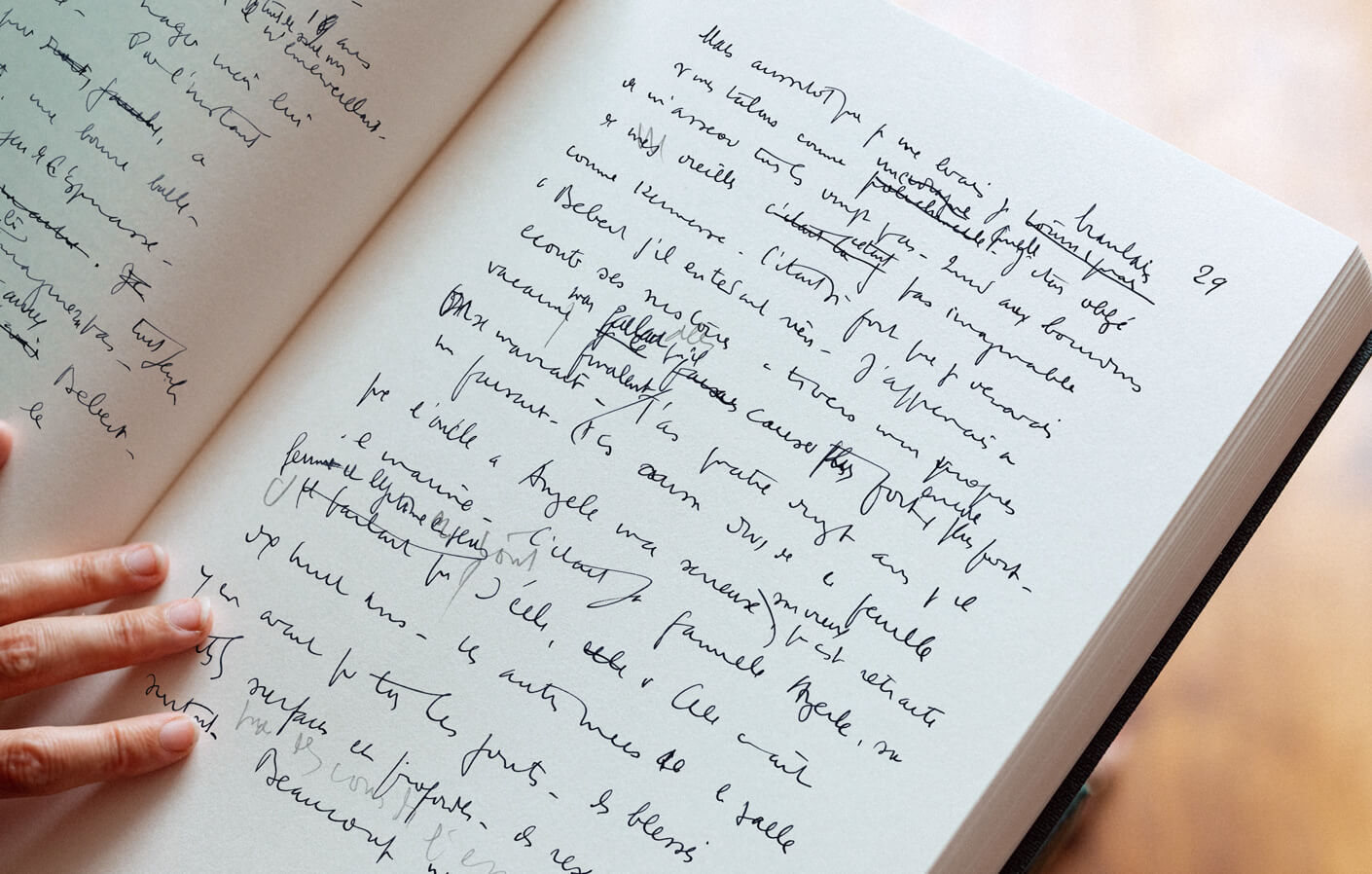 Despite winning the Prix Renaudot, the author remains divisive. His reputation is tarnished by his writing of racist pamphlets and his ideological stance during the Occupation. After the Normandy landings, he fled to Germany, then Denmark, with his wife Lucette. In 1950, he was tried and convicted by the French authorities, but was granted an amnesty on the grounds that he was a disabled World War I veteran. Before his death, the published a trilogy composed of the works D'un château l'autre (Castle to Castle, 1957), Nord (North, 1960) et Rigodon (posthumously, 1969), in which he takes the role of both character and narrator.
The recent discovery of Céline's manuscripts, now essential fragments of the Céline legacy, opens up new routes into understanding the work of one of the most controversial and brilliant French writers of the 20th century.
1. D'un château l'autre (1957).
2. The first, if the manuscript still exists, is currently untraceable.
3. Céline's first great love, to whom he had dedicated Voyage au bout de la nuit.
Discover the manuscript of Voyage au bout de la nuit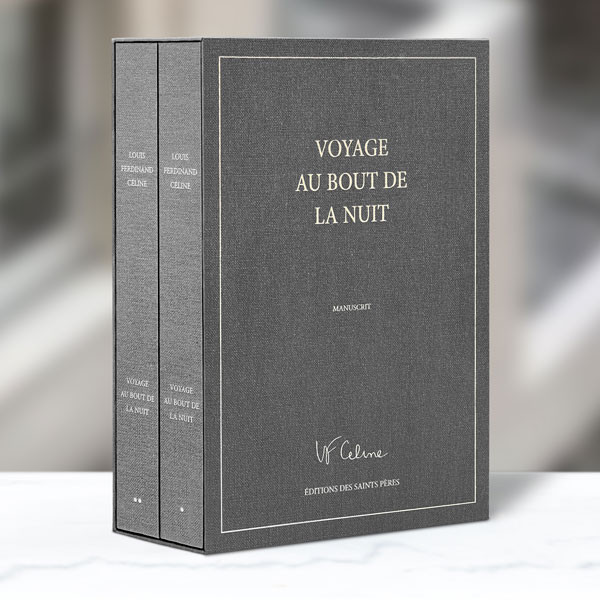 'Five years of work … food for an entire century of literature'... wrote Louis-Ferdinand Céline in a letter to Gaston Gallimard in April 1932. It was in these terms that he presented the manuscript of Voyage au bout de la nuit (Journey to the End of the Night), his first novel which ended up being published by Denoël & Steele.
Journey to the End of the Night:

See the manuscript

Free Shipping
Further reading:
David Alliot et François Gibault, D'un Céline l'autre. Bouquins (Paris, 2011).
François Gibault, Céline. 1894-1932. Le Temps des espérances. Mercure de France (Paris, 1977).
Louis-Ferdinand Céline, 1932-1944. Délires et persécutions. Mercure de France (Paris, 1985).
Louis-Ferdinand Céline, Guerre. Gallimard (Paris, 2022).
Louis-Ferdinand Céline, Voyage au bout de la nuit. Folio (Paris, 2014).
Louis-Ferdinand Céline, Romans. Tomes I-IV. Bibliothèque de la Pléiade, Gallimard (Paris, 1981, 1974, 1988, 1993)
Louis-Ferdinand Céline, Lettres. Bibliothèque de la Pléiade, Gallimard (Paris, 2009).
Devenir Céline : Lettres inédites de Louis Destouches et de quelques autres (1912-1919). Sous la direction de Véronique Robert-Chovin. Gallimard (Paris, 2009).
Véronique Robert-Chovin, Lucette Destouches, épouse Céline. Grasset (Paris, 2017).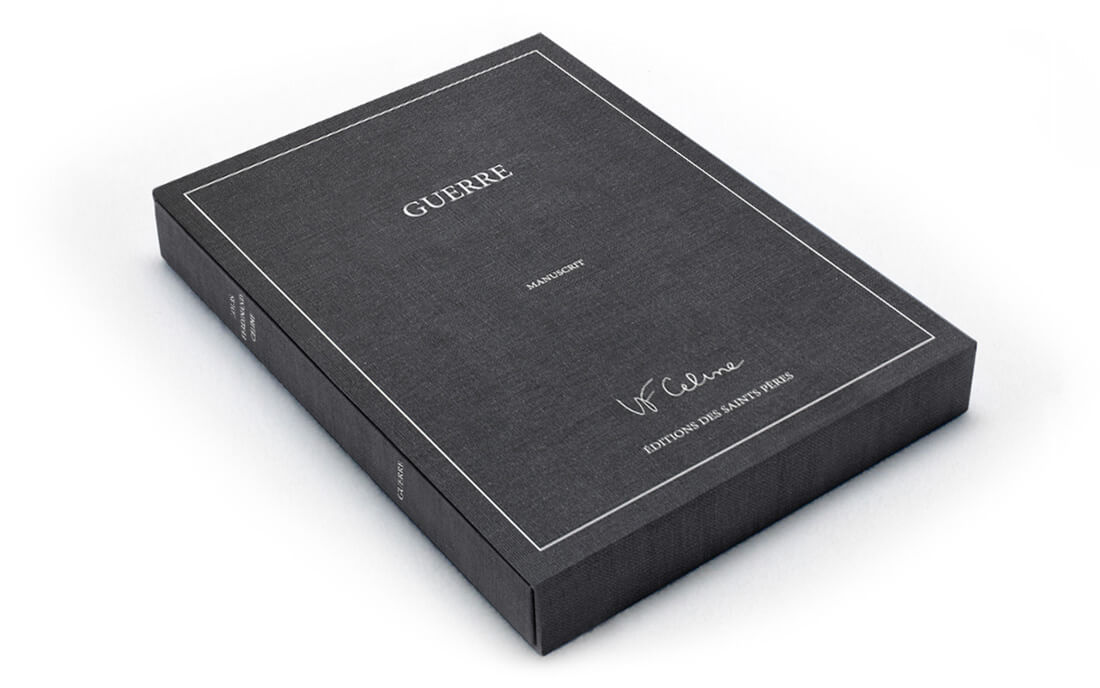 Deluxe edition
Numbered from 1 to 1,000, this Black edition is presented in a large format handmade slipcase.
Printed with vegetal ink on eco-friendly paper, each book is bound and sewn using only the finest materials.
Black edition
1,000 numbered copies
264 pages - 14 x 10"
Fedrigoni Avorio Paper
Endband and bookmark
ISBN: 9791095457107